Download Torrents On iOS 6 With BitTorrent Client iTransmission 3
Modern smartphones can handle a lot of file types and media formats. This is why a lot of files downloaded on a computer end up on your iPhone. While it isn't too difficult transferring an eBook or video from your computer to an iDevice, a lot of people like doing stuff wirelessly. For a long time, iTransmission has been a popular Cydia app for downloading and managing torrents right on your iPhone. Merely a few days after the iOS 6 untethered jailbreak, iTransmission 3 has been released to provide you with a neat torrent manager for newly jailbroken iDevices. Apart from supporting iOS 6, the latest version of the app packs in some new goodies as well. Let's find out more.
If you are new to iTransmission, it always pays to take a few moments to configure the tool. To adjust bandwidth limits, tap the speedometer icon in the bottom bar. Like all good torrent clients, iTransmission 3 has separate controllers for upload and download speed limits. You can also choose the maximum number of allowed connections, both overall and per-torrent. The 'Network Interface' section in the settings menu allows you to limit downloads to Wi-Fi only in order to save up on your mobile data use and costs.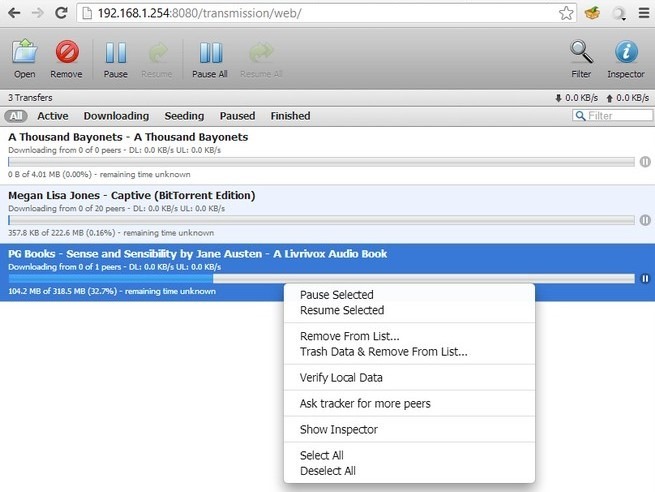 iTransmission has a web interface as well, which can be used to add new torrents and manage ongoing downloads remotely. Click the 'Open' icon to point the tool to a new torrent file or magnet link. You can filter the downloads section based on a keyword or the state of torrents. This remote access feature can be configured from the setting menu in iTransmission 3.
Other than the web interface, there are plenty of other ways you can start new downloads in the app. iTransmission makes Mobile Safari intelligent enough to recognize a torrent file and offer to open it with iT3. Hit the '+' icon in the bottom bar of the app and you will get two more options for adding torrents to the download queue. If you have a magnet link copied from somewhere, simply paste it in iTransmission. Another cool way of grabbing files is to use the built-in web browser that comes with iTransmission 3. The browser offers only the most basic browsing options, but those are enough to visit a website within the app to grab a torrent from it. As soon as a compatible link is tapped, the app recognizes it and starts the download.
All torrents added to the app are listed in the 'Transfers' section. Downloads can be paused and resumed by tapping the left edge of a file's progress bar. The thin bar at the top of the screen shows your current upload and download speeds. To view any torrent's details, simply tap on it and you'll see its download stats, current state, progress info and some other relevant information. You can even view the individual files that make up a torrent. Once the download is complete, iTransmission 3 generates an exact link to the location where the file has been stored. You can go to that location using iFile, and use the downloaded file on your device with any compatible app.
iTransmission 3 is a free app, and you can grab it by heading to the ModMyi repo at Cydia store.