How To Get The iOS 7 Photo Booth App On iPhone Or iPod touch
It might not be the most popular app on the iPad, but Photo Booth still has a considerable amount of fans. Many photo editors and camera replacement apps have tried to emulate Photo Booth on other platforms, but there is always a certain charm in using the real deal. Since Apple doesn't offer Photo Booth for iPhone, developers have been coming up with ports and alternatives for smaller screens. On iOS 7, Photo Booth (iOS 7) brings this classic iPad app to iPhone and iPod touch devices running the latest iOS firmware version. The port offered by the tweak is a little too simple, but serves the purpose for which it has been designed. You get all the popular camera effects, as well as a set of comprehensive sharing options.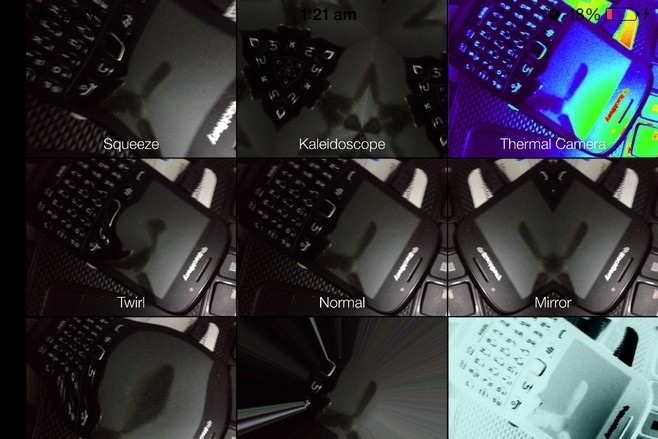 Photo Booth (iOS 7) shows up as a standalone icon on the iPhone Springboard. There are no options to configure in the stock Settings app, or within Photo Booth itself. Users are ready to start snapping photos as soon as they launch the new app for the first time. A total of eight real-time camera effects are on offer. By default, the front-facing camera is active in Photo Booth, but you can switch to the other lens by tapping any effect tile and then hitting the camera icon from the bottom bar.
The available effects in Photo Booth are as follows.
Squeeze
Kaleidoscope
Thermal Camera
Twirl
Mirror
Stretch
Light Tunnel
X-Ray
One of the tiles also shows the normal view of the scene in front of you. All the preview windows get updated in real-time, and any effect can be selected by tapping its corresponding tile once.
The capture screen offered by Photo Booth (iOS 7) resembles the stock Camera app quite closely. The bottom half of the screen displays a collection of the photos that have previously been snapped using the app. There aren't many other options on this screen, with the only buttons being shoot, back, and lens switch. In the Photo Booth gallery, there are additional buttons for sharing images and deleting them. The tweak uses the standard iOS 7 sharing menu, with options including SMS, email, Twitter, and Facebook.
Photo Booth (iOS 7) is a free tweak, and works quite well on all iDevices. However, some users have complained about a few crashing issues during the tweak's installation. Give it a go by heading to the BigBoss repo of the Cydia store.