How To Check If Your iPhone Is Factory Unlocked Through Its IMEI
The International Mobile Equipment Identity or IMEI number is a unique identifier for every mobile device ever manufactured in the world. It's not a mere serial number, and can tell you a lot about your phone. You just need to know what to look for in this 15-digit long string. If you have ever purchased a secondhand iPhone, you must surely have been concerned whether the device is factory unlocked or not. Your iPhone's IMEI number can reveal this information, and the great thing is that you don't have to do any extensive research to decipher the meaning of these seemingly random digits. There are quite a few online IMEI checkers that can do that for you, which makes them the easiest, fastest way to affirm your iPhone's SIM lock status, warranty and other information.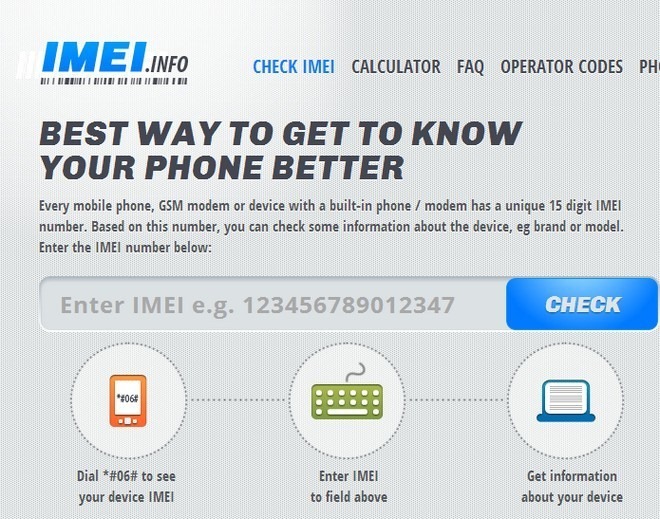 Although we're going to proceed from an iPhone point of view, IMEI checkers, including the one we are going to discuss here, can be used for all phones.
Instructions:
The IMEI number of any mobile device can be viewed by dialing *#06# on it. On an iPhone, an alternative method of viewing this number is launching the stock Settings app and navigating to the General > About section. You'll find the number under the field labeled IMEI.
Open any web browser, and go to the following address
https://www.imei.info/
Enter or paste your IMEI number in the main textbox provided on the webpage and hit the Check button.

The website will then display an information chart detailing the model, brand and specifications of your device. To get information regarding your iPhone's SIM lock status, hit the Free simlock status check button located in the bottom-right corner.
The screen that follows shows the required Simlock status and warranty. As the IMEI number is a static value, only devices that were manufactured unlocked (factory unlocked) should show an Unlocked Simlock status. If your iPhone has been unlocked using unofficial methods such as Ultrasn0w or Gevey SIM unlock, it should say Locked. The other field, Warranty to, is there to let you see if your phone is covered under any warranty, and tells you the date up to which that warranty is applicable.
This free service can help people who are looking to switch networks and aren't sure about their iPhone's SIM lock status, or are about to buy an iDevice and want to double-check things before paying the money.
[via iDownloadBlog]
Update: The service seems to have stopped working for now, and gives "False" as a SIM lock status of all devices.