How To Save An Instagram Live Video
Instagram live videos have a very limited life. If you catch one when it's live, you can watch it. Once a live broadcast is over, there is no way to view it. For anyone broadcasting live from Instagram, the experience is more or less the same. Once the broadcast is over, there is no going back to see how it was. Things have changed for users who broadcast live. Instagram has added a Save feature to its live videos. Users can now save an Instagram live video once it's over. Here's how.
You need to update the Instagram app if you want to save an Instagram live video.
The first step to saving a live Instagram video is to go live. Swipe right on your home feed to go to the stories screen. Swipe right on the camera screen to go to the live mode and tap the record button.
Go ahead and broadcast for as long as you want. Your followers will join and watch the broadcast. You can comment during the broadcast and your followers can likewise add comments. Nothing you do during the broadcast will impact the final video that you save.
When you end a broadcast, Instagram tells you how many people viewed it. On this same screen, it will give you an option to save the video. Tap the Save button at the top right.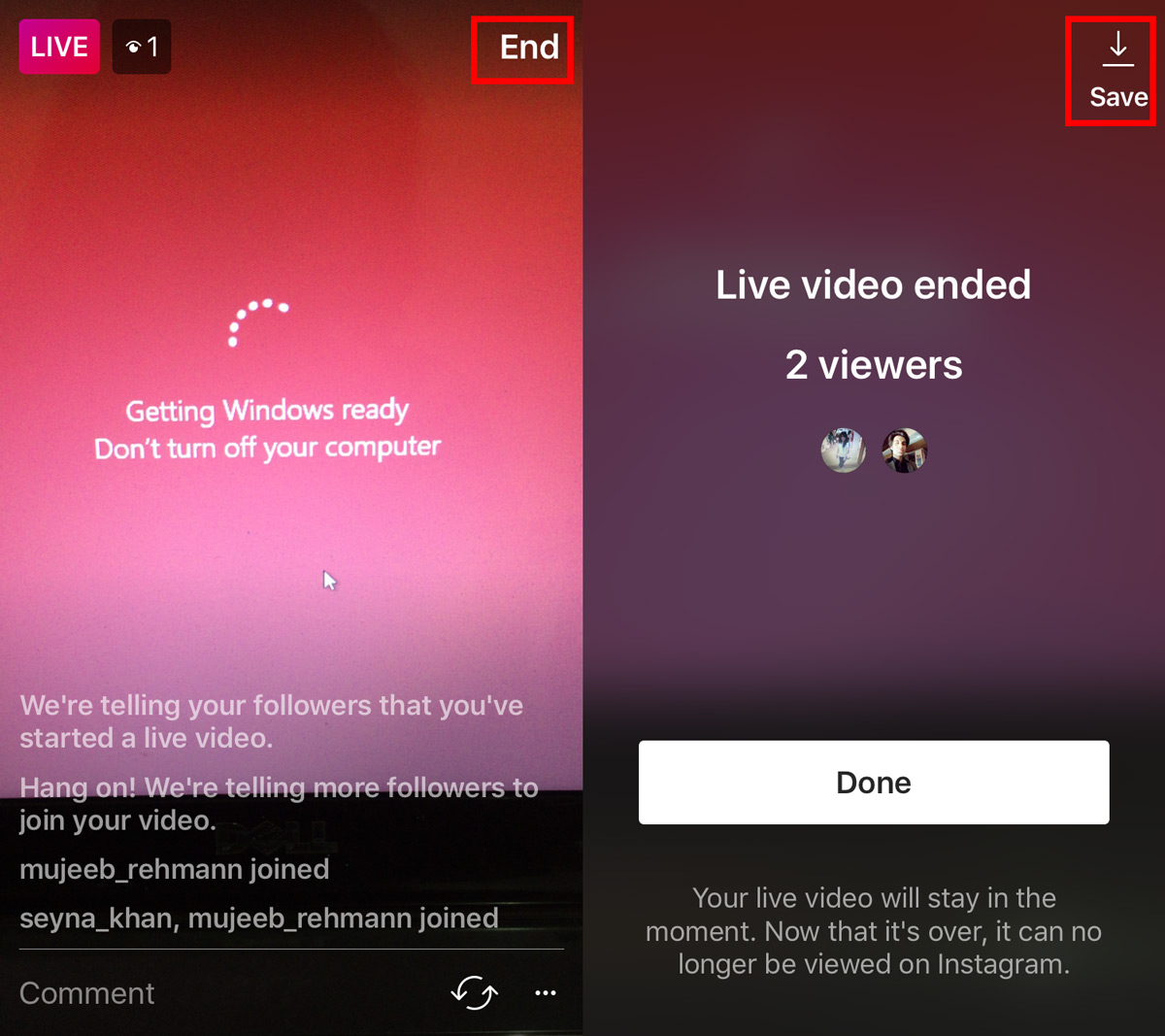 Instagram will save the live broadcast to your phone. It will include only whatever you broadcast via the camera. The video will not show any comments that you made, or that your followers left during the broadcast.
The video you get in the end looks like it was recorded via any ordinary  camera app. It isn't possible to tell the video was a live broadcast or not, or that you recorded it on Instagram.
The save option only appears for your own live broadcasts. You cannot save someone eles's live broadcast after it ends.
Instagram records the stream while it is live. When the broadcast ends, you get a one-time option to save it. At that point, Instagram has the entire video saved to its cache.This is why the video saves so quickly. It's also why there is no option to go back and save an old broadcast.
You can upload the saved video to your Instagram account if you want. The new save feature is great if you want to share a live stream with followers who were unable to watch it live. You can also upload it to any other app of your choice including Facebook and Twitter. The video saves in MP4 format which is a common format most apps support.
The feature has rolled out to all Instagram users.