The Six Best Features In Firefox For iOS
Firefox is now available for iOS. The browser that is hugely popular on desktops has been around on the Android platform for a while now. As of today, it is now available to download on an iOS device. Firefox has always had very powerful features on the desktop and the Android platform. With the iOS version it faces restrictions that it normally wouldn't face on other platforms, thus limiting what it can and can't do. That said, it's still managed to offer a few unique features and improve on those already offered by Safari and Chrome. Here's a look at the five best features in Firefox for iOS.
Dark Theme
Firefox has a dark theme. It isn't a feature whereby you can choose to switch between dark and light themes. The default UI of Firefox is just dark and it's very pleasant on the eyes. The dark theme doesn't affect web pages so the background of a web page will still be bright if it's set to be a bright color but it's a massive improvement.
Read/Unread Items In Reading List
Firefox comes with a reading list feature, much like the one Safari has but without font control. It does let you manage the size of the text, set a dark, light, or sepia theme for the reading mode. It also has a mark as read/unread option. Items you add to the Reading list can be marked as unread so that when you open your list, you can see which links need reading. The reading list is of course separate from the bookmarks. When you open a link in the reading list, it is automatically marked as 'read', however, if you like you can mark it as unread again.
Manage Brightness For Your Device
You can manage the brightness of your device from inside Firefox. More precisely, you can manage it from inside the reading mode in Firefox. Accessing the brightness slider on an iOS device isn't a problem with the control center but if you suddenly find the web page you're reading too dim, or blindingly bright, you can dim the screen from the reading mode.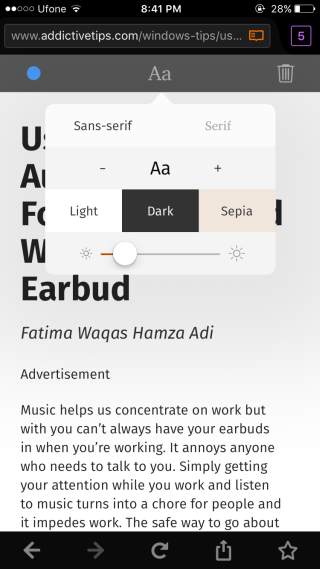 Search Engines
Firefox offers Amazon.com, Wikipedia, and Twitter as options for your default Search Engine. It also offers Google, Yahoo, Bing, and DuckDuckGo but these four are offered by Chrome and Safari as well so they aren't a big deal. You can turn search suggestion On/Off for a selected search engine.
Close Private Tabs When You Exit
All browsers offer a private mode for browsing and Firefox is no different. Like other browsers, Firefox has a sync feature that lets you sync open tabs across devices which means the tabs you have open on your iOS device will appear on your desktop. To help you keep your private tabs private, prevent them from syncing to a connected device, or just you accidentally opening them when you launch Firefox, there is a feature that closes all private tabs when you leave private browsing. The feature can of course be turned On/Off to suit your needs.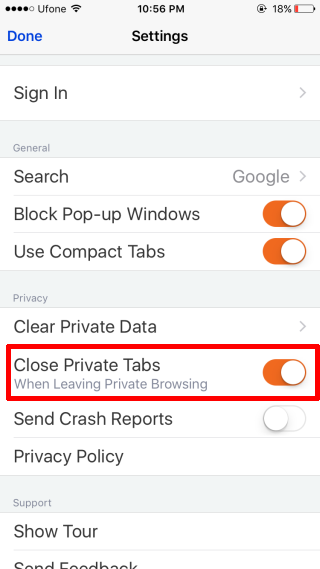 Tab Switching View
Firefox has a really awesome thumbnail based tab switching view. It gives you a much better preview of the other tabs you have open. If you aren't a fan of the speed dial like view, you can always switch to the simple compact view from the settings.
Now that Firefox has finally arrived on iOS, it's only a matter of time before some truly awesome features are made available. Even for the first official stable version, it's done well. There isn't much here for developers and the app is mostly aimed at end users but considering Firefox is hugely popular with the developer community, it isn't likely to disappoint them. Let's see if the app is updated alongside the next version of Firefox for Desktop and Android.
Download Firefox From The App Store