How to use Siri to remember where you parked on iOS
Siri has access to your location data and it uses the information to show you the weather and run shortcuts that need to use your location, among other things. Location data is generally used by map apps, weather apps, or any other variation of these that help you find some sort of location. Apps like Snapchat or Instagram may use it to tag photos and load related filters, and your camera app adds the location to a photo's metadata. The point is, it's used in all sorts of different ways, with or without Siri. As far as Siri is concerned though, you can use location data and have Siri remember where you parked.
Siri: Remember where I parked my car
Make sure Siri has access to your location data. Open the Settings app and go to Privacy>Location Services. Make sure location services are on, and then look for Siri & Dictation. Make sure it has access to your location data.
Once you've made sure Siri can access your location, you can ask it to save where you're parked. After you're parked, activate Siri and say 'Siri, remember where I parked my car'.
Siri will show you a Map with a pin dropped on where you're parked to show it's saved the location. When you need to find where you're parked, activate Siri and ask it to tell you where you parked by saying, 'Siri, where did I park my car?'
Siri will bring up the location on the map. You can tap it and it will open Apple Maps which you can then use to navigate to the location where you parked your car.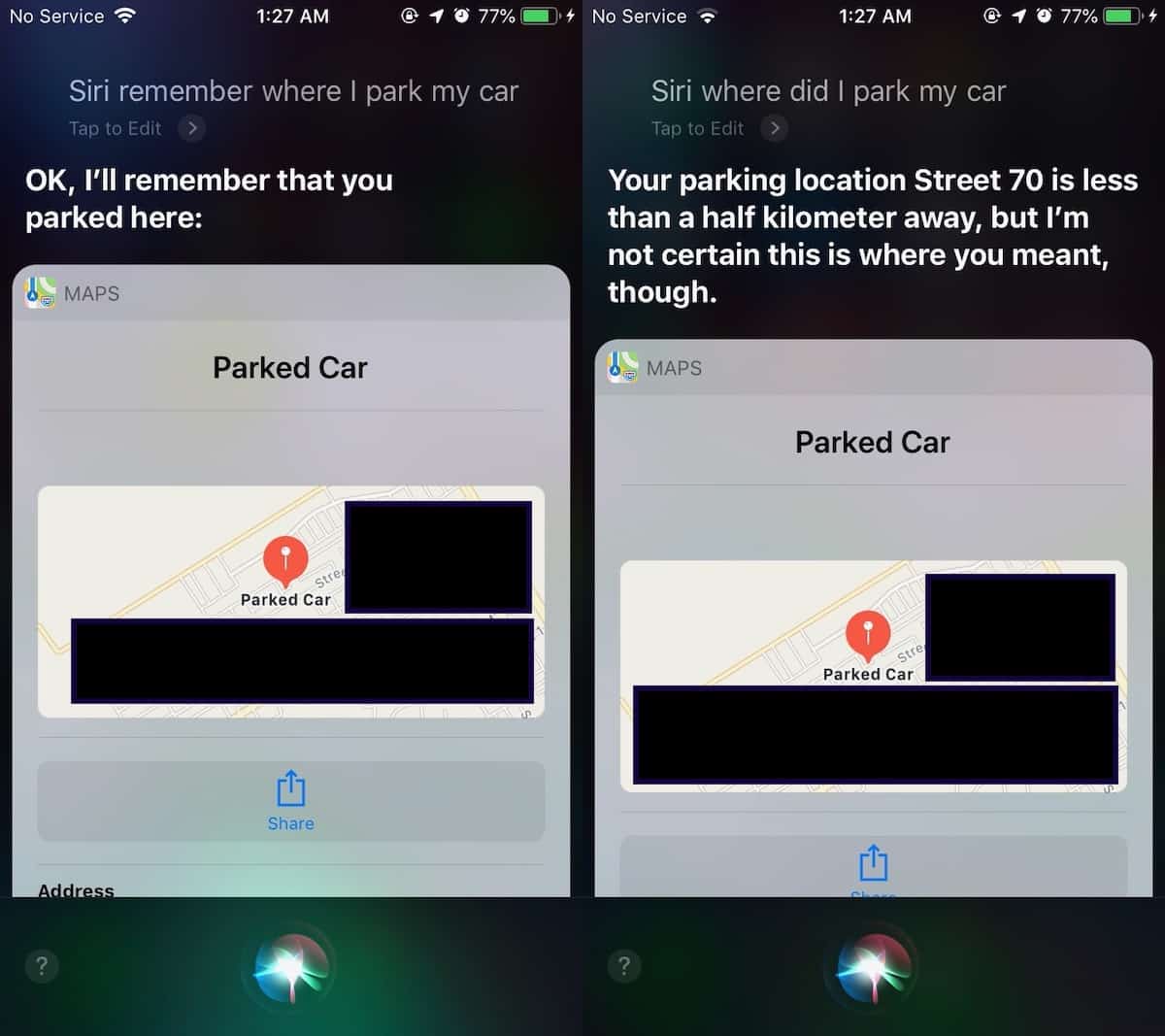 You can share the location as well but this has a limitation: accuracy. The location is correct up to 500 meters which, while not a lot, will not always pin point you to the exact place your car is parked.
When you've found your car, and are ready to drive away, don't forget to tell Siri to also discard the information. To do that, activate Siri again, and tell it 'Siri, forget where I parked my car'. Siri will confirm that it will forget your parking location. If you don't have Siri forget the location, it may mix them up the next time you use it to save another one.
One hack that a lot of people use when trying to remember where they parked is to take a photo of the surrounding area, making sure to include something that is unlikely to move e.g, a store front or a sign. You can use this trick to work around the accuracy limitation that Siri has.