TopHat Folders Menu Lite: Access Your Favorite & Most Used Folders From Menu Bar [Mac]
A while back, we reviewed TopHat App Menu, a Mac app that lets you view and access your favorite and frequently used apps from the menu bar. TopHat Folders Menu Lite is a Mac app from the same developer that enables you to access your favorite, frequently accessed, and recently opened folders from the menu bar. Favorite folders can be added by dragging them over the app window. You can open the folders from both the app's window and menu bar. When accessed from the menu bar, the app shows the folder hierarchy, letting you browse the folder's content and open any sub-folder or file with a click.
The app window has 2 panes; the top pane allows you to drag folders to add them as favorites, while the bottom pane populates itself as you access folders. Regardless of where you access folders from, i.e., the app window, the menu bar or from Finder, this application will add it to Recent or Most Used folders. To choose how long the app will keep track of Most Used and Recent folders, use the drop-down menu present in each tab. You can change the recent folder views to show recently modified files by checking the Modified Within option and then selecting a period in minutes, hours, days or weeks.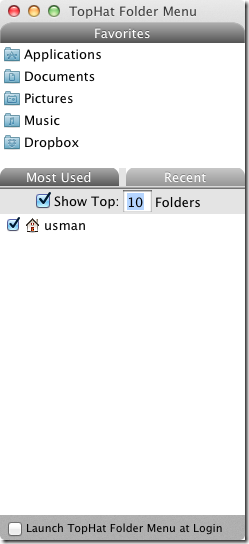 The application adds an icon to the menu bar. Just click this icon and all folders you've added as favorites will be listed. Hovering mouse pointer over the listed folder will show its content.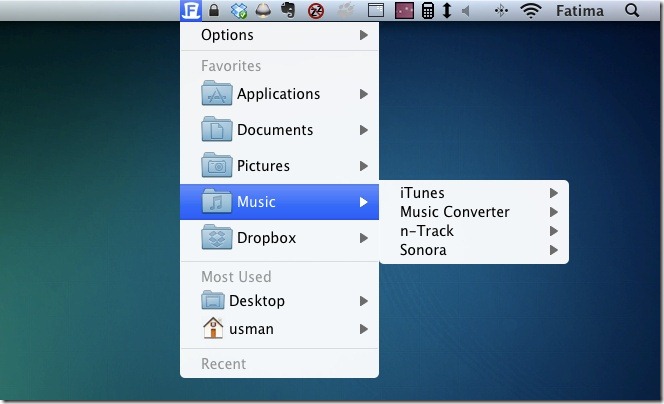 The app is a stripped down version of Professional version. The Pro version costs $2.99, and comes with an additional feature to run without a Dock icon. You can close the lite version of the app and it will continue to run in the Menu Bar; the icon will stay in the Dock but $2.99 is a bit pricey just to get rid of an icon.
Get TopHat Folders Menu Lite From Mac App Store