simpLoupe: Zoom Webpage Content To Read Smaller Text [Chrome]
Using the default zoom function to enlarge the content of a webpage isn't always effective. It enlarges ads and images as well and you may only want to see larger text. It can also result in elements in a webpage overlapping each other. A simple magnifying glass might be more helpful since it would allow you to magnify what you want without upsetting the elements on the page. simpLoupe is a Chrome extension that acts as a magnifying glass you can control with your mouse. It lets you zoom the content of any webpage to easily read smaller text. Since it mimics a magnifying glass in functionality, it will enlarge anything (text or image) that it is moved over. Using the Ctrl+Alt+L hotkey, you can bring up the magnifier.
Once the extension is installed, a simpLoupe option is added to the right-click context menu. You can either select this option to zoom in or use the Ctrl+Alt+L shortcut to enable the loupe. When you come across text or images that are too small to read or view, use the simpLoupe option to bring up a magnifier for zooming-in the required webpage section.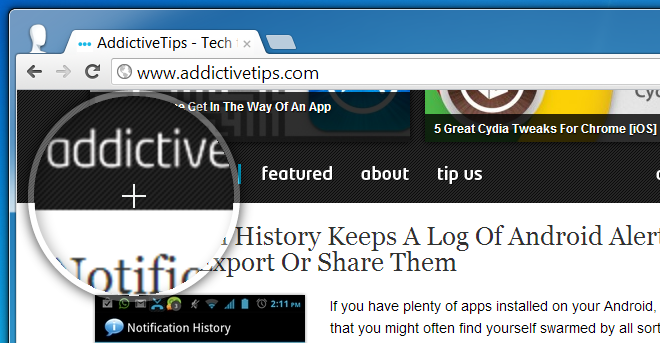 The simpLoupe Options includes three basic categories, which are Type, Size and Zoom Scale. From the Type option, you can select the shape of the loupe. It can be set to a circle (the default shape) a square or a rectangle. The Size option allows you to choose the size of the loupe itself. It is set to Medium by default. The size refers to the area that the loupe covers. Lastly, the Zoom Scale option lets you set the degree of magnification. You can magnify an object, two, three or four times its original size.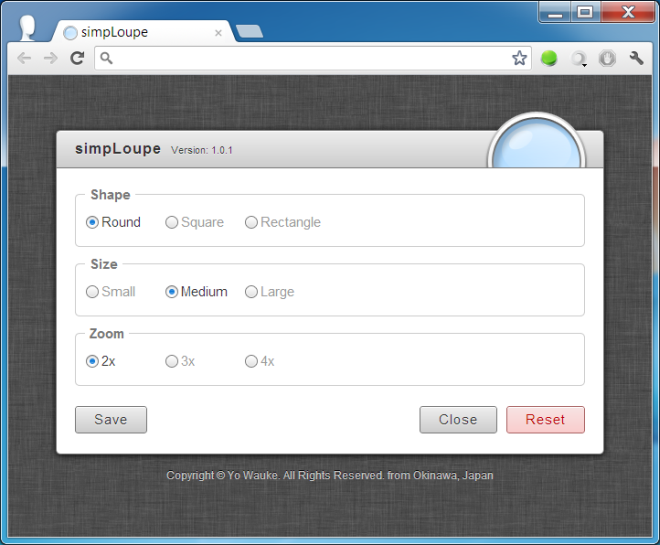 While testing, there appeared to be a bit of a lag in the responsiveness of the loupe. The cursor also begins to drag a little and the loupe takes a noticeable amount of time to catch up to it. Additionally, when enabled, the extension renders the cursor useless for anything other than move the loupe. You cannot click a link or even a text input field. You can, however, scroll the page and also access the right-click context menu which is fortunate since you will need it to turn the magnifier off once you're done.
Apart from the cursor lag, the extension is fairly useful and possibly better than zooming in the entire website itself. For websites that have text in particularly obscure formats, this tool can be of considerable help. It isn't recommended, however, that you stop using your prescription glasses and rely solely on this extension.
Install simpLoupe for Google Chrome