How to control Apple Music from the menu bar on macOS
iTunes has been a part of macOS for a long, long time. The media keys on a MacBook's keyboard were able to open the app, and control it. If you connected an iPhone to your Mac, iTunes would open. iTunes is gone now and as far as your music is concerned, the new Music app is what's taken its place. The app's interface is almost exactly what iTunes was. Before iTunes became obsolete, a particular type of app was very popular; an app that could control iTunes from the menu bar. Now that Mac users have to work with Music, you will likewise need an app to control Apple Music from the menu bar. Consider using Music Bar.
Control Apple Music from the menu bar
Music Bar is free so go ahead and download it. When you run the app, it automatically goes straight to the menu bar. If you click the app's menu bar icon, a little pop-up will open with controls for going to the next or previous song, and for playing/pausing it. You will also see a seek bar that you can use to jump to any point in the song/audio file that's playing.
The app's menu bar icon shows the last, or current song that's playing.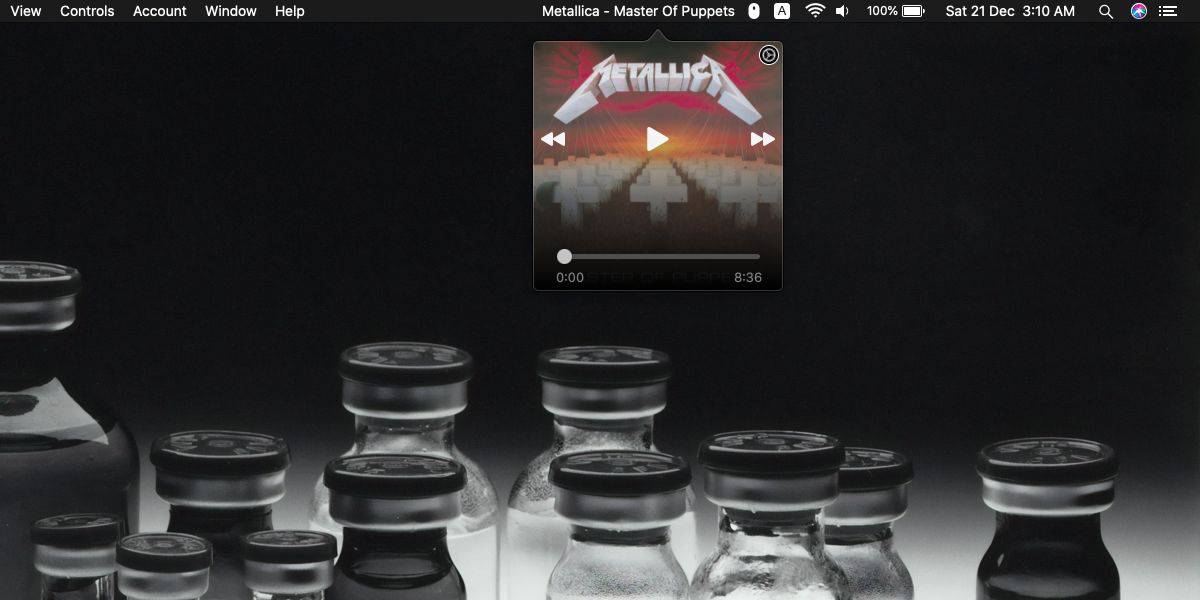 Music bar has both a light and a dark theme that is consistent with the light and dark theme on macOS. In Catalina, there's an option to automatically change the theme based on the time of day which is something that Music bar has replicated. The feature is independent of the theme setting in macOS. Select 'Auto' for Appearance under the Display tab to enable it.
Music bar lets you choose the album artwork quality and you can also choose how the currently playing song's title is displayed in the menu bar.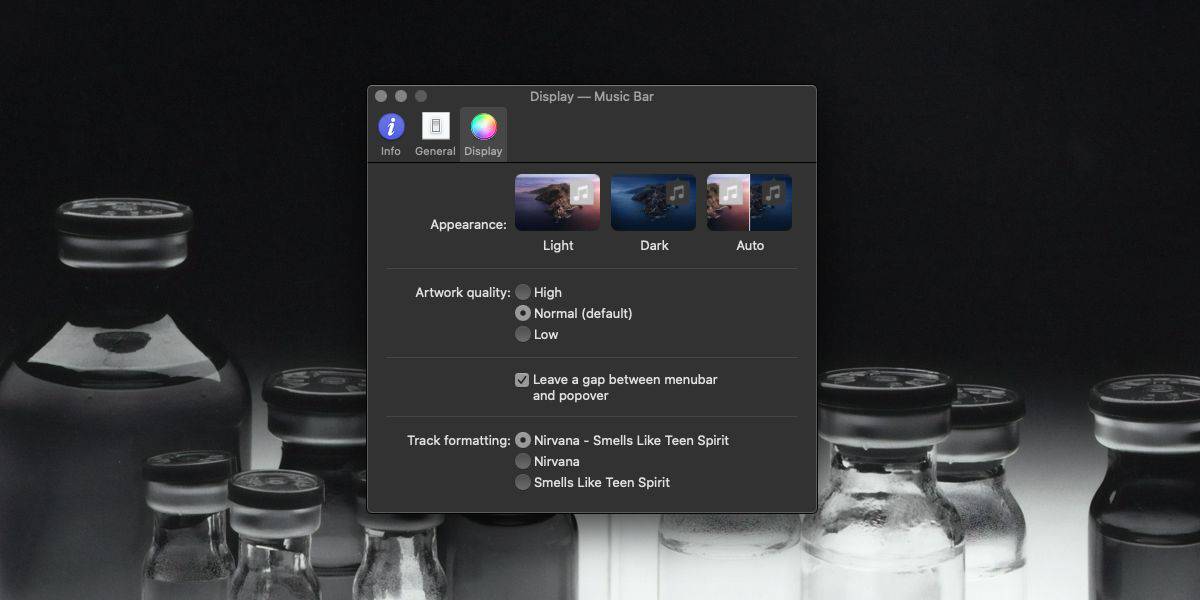 Music bar is open source and basic. We've seen a lot of apps that were developed for controlling iTunes from the menu bar and they had all sorts of features such as search, liking/favoriting a track, adding tags, repeating and looping songs and playlists, accessing playlists, and more. There are plenty of features that can be added but Catalina isn't even one year old yet. It's likely that better apps for its new Music app will be developed, eventually.
What remains to be seen is if the Music app is as popular as iTunes was. iTunes was something many users had to use but as far as music players are concerned, there are some great third-party choices available.