How to control brightness for external displays on macOS
External displays have their own set of keys for controlling brightness and contrast. The brightness keys on the keyboard cannot change the brightness of an external display regardless if you're on a Mac or a Windows 10 PC. That said, you can use an app and control brightness for external displays with your keyboard. Here's how to do that on macOS.
Control brightness for external display
Download and install ExternalDisplayBrightness. This app needs special accessibility access. Once granted, you will see the app's preferences that allow you to choose which keys will control brightness for external displays. You will have to set two keys; one for increasing the brightness and one for reducing it. You can only set one of the function keys to do the job.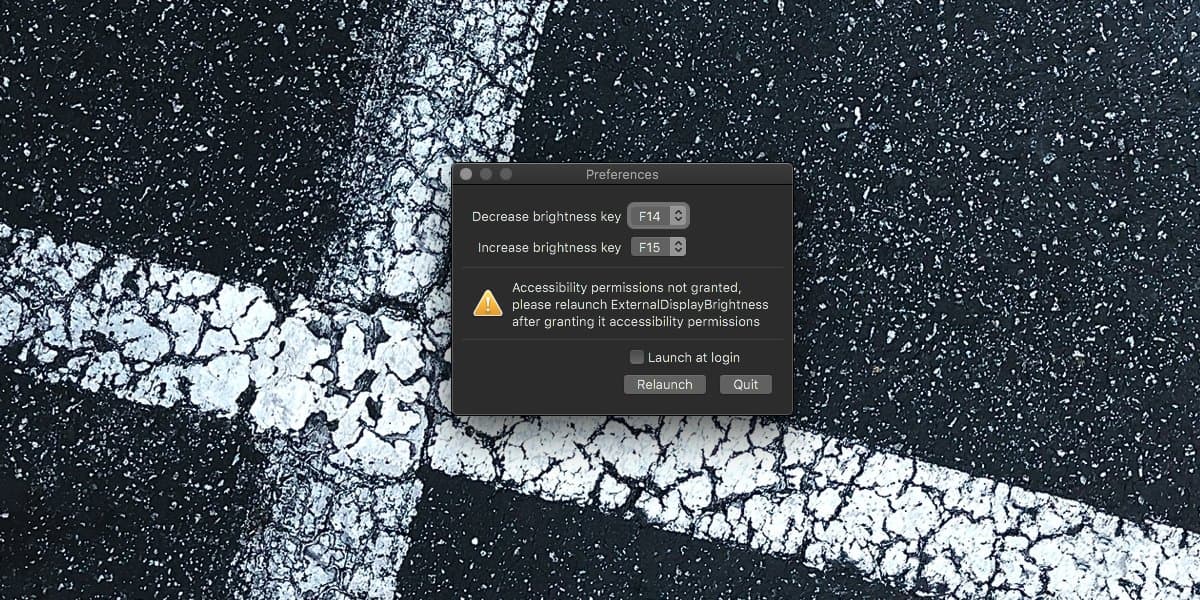 Changing those keys is all you need to do. Close the app window (do not click the Quit button). The app will disappear from sight without leaving an icon in the menu bar or the Dock.
When you tap the keys you selected, the brightness on your external display will change. On the external display that we tested this on, the change in brightness was reflected on the screen and also in its own brightness controls. This is how the app is designed to work. You will see macOS' brightness control appear on the external display making it easier to manage it.
While this app should be able to change the actual brightness of the external display, it is possible that some external displays prevent it from doing so. This will be a restriction placed by the manufacturer of the display and not a shortcoming of the app. In this case, there's nothing you can do unless you're up to buying new hardware.
ExternalDisplayBrightness works with one external display. If you have more than one external display, the second one's brightness will not change. This app will not  change the brightness of an internal display i.e., your MacBook's screen. Remember that the app uses function keys and if you're using a MacBook or an Apple keyboard, the primary function of the Fn keys is likely set to control brightness, media, volume, etc. In order to change the brightness with ExternalDisplayBrightness, you will need to hold down the Fn key on your keyboard and then tap the function key you set in the app's preferences.
To quit the app, open Activity Monitor and look for it there. To change the keys that you've set, run the app again. You don't have to quit it first if you want to change the keys for controlling the brightness.