How to create a to-do list that triggers on shut down on macOS
A to-do list is a good way to remember things you need to do. All you need to do is remember to consult it at the right time. A smart to-do list app can remind you at a specific time, or in a specific location that you have something to do. If you have a set of tasks you need to do right before you shut your Mac down, and you often forget to do them, you need a to-do list that triggers on shut down. beforeShutdown is the app for the job.
Shut down to-do list
Download and run beforeShutdown. Enter a task in the field at the bottom, and click Add. Keep adding tasks and when you're done, close the list. beforeShutdown will go to the menu bar.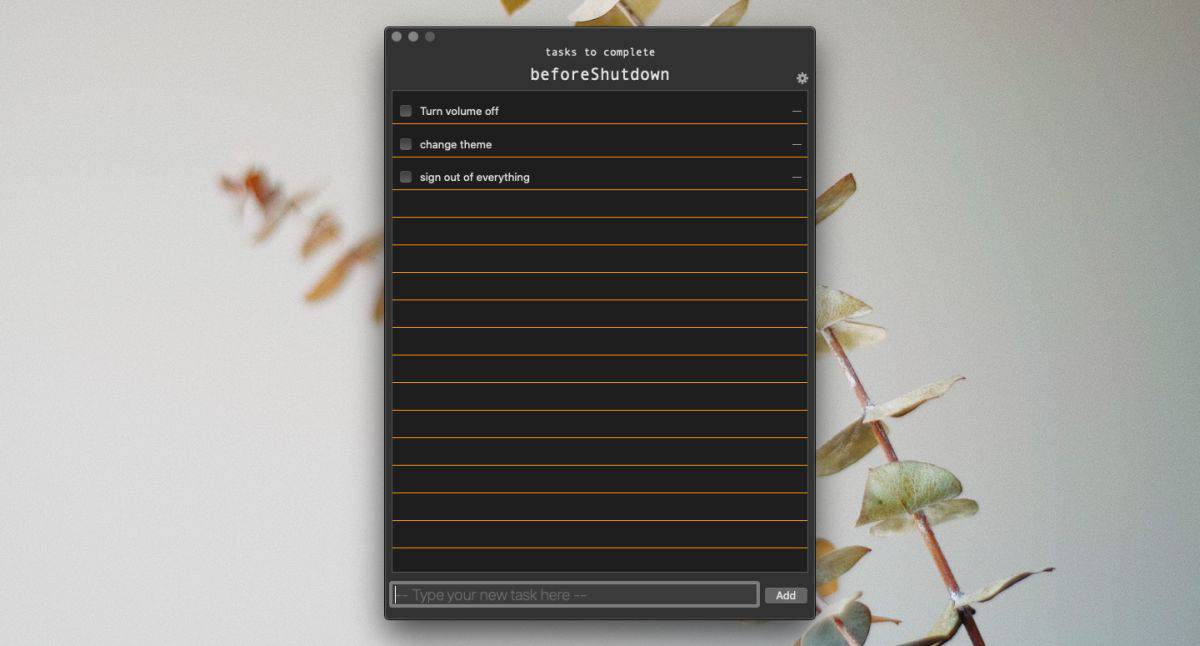 When you shut the Mac down, or more precisely, when you give the Shut Down command, the app will block shut down. You will see a prompt telling you there are a few things you need to do before shut down. If you've already done them, you can click the 'Kill the app' button and proceed with the shut down. If you haven't done them, or you've missed a few things, you can click the 'Oh, wait!' button. This will allow you to cancel shut down and get to the list of things you need to do.
beforeShutdown is free but there's an optional email feature that requires a $1/month subscription. It allows you to get the to-do list via email after you've shut your system down. It's not necessary if you just need the desktop reminders.
The app has a pretty good concept; lots of people need to run through a list of tasks before they shut their system down. If they forget, they will have to turn the system back on, possibly open a few apps, and maybe even a few files before they can get to the list of things they need to do. beforeShutdown saves you quite a bit of trouble and a little time. It can also help you remember things you might forget since it's not just a tool that prevents shut down.
The items on the list can be checked off if they're for the current day or you can keep them unchecked if you need to do a specific task daily at the end of the day e.g., send an email or upload a file.
As far as features are concerned, beforeShutdown does this one trick. It supports both a light and dark theme, and it's compatible with Catalina.