How to hide/unhide desktop icons from the menu bar on macOS
macOS has lots of useful commands that you can run to change small settings and there are of course useful setting in the System Preferences app that should be easier to access but aren't. Switch Manager is a free Mac app that puts a few of these useful switches in the menu bar, one of which lets you hide and unhide the desktop icons. It also gives you quick access to the brightness slider, the volume slider, and the sleep, restart, and shut down function.
Hide/unhide desktop icons
Download Switch Manager and move it to the Applications folder. Run the app and it will add an icon to the menu. When you click the icon, it will show you a list of the switches that it supports, one of which is 'Hide Desktop Icons'. Use it to toggle desktop icon visibility. The icons hide immediately and there's no need to quit Finder or Dock.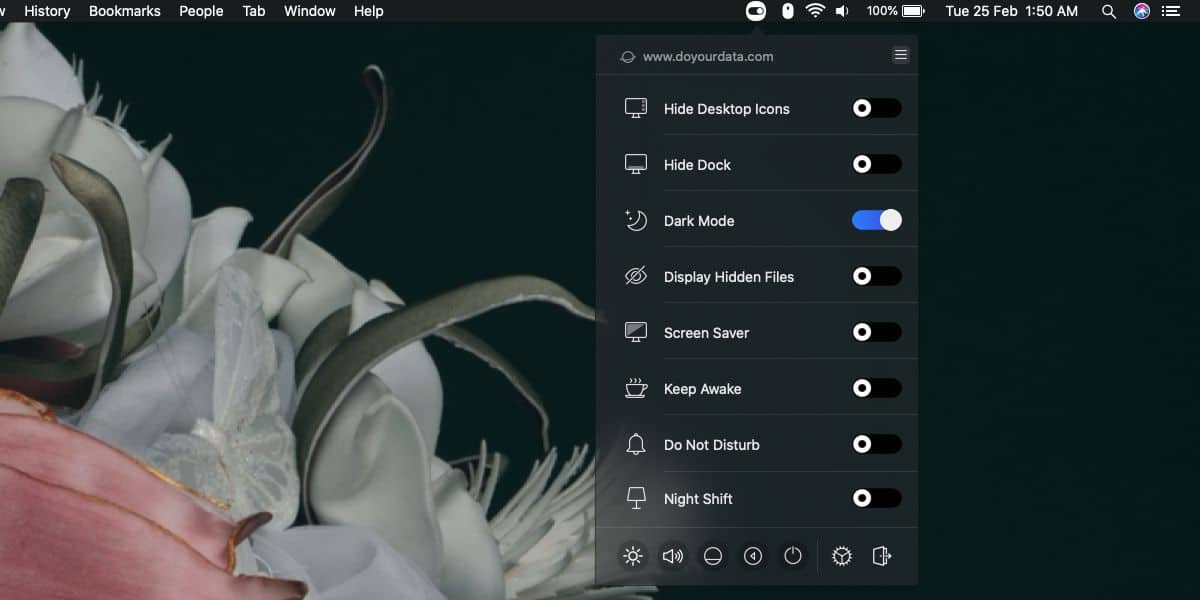 The other switches on the menu let you prevent your Mac from sleeping, enable Do Not Disturb, enable Night Shift, and toggle hidden file visibility. There's also a toggle for the dark mode but it didn't work when we tested the app. The Hide Dock switch doesn't seem to work either.
The brightness and volume controls, as well as the sleep, restart, and shut buttons are all at the bottom. The gear button, when clicked is supposed to open System Preferences but that too didn't work.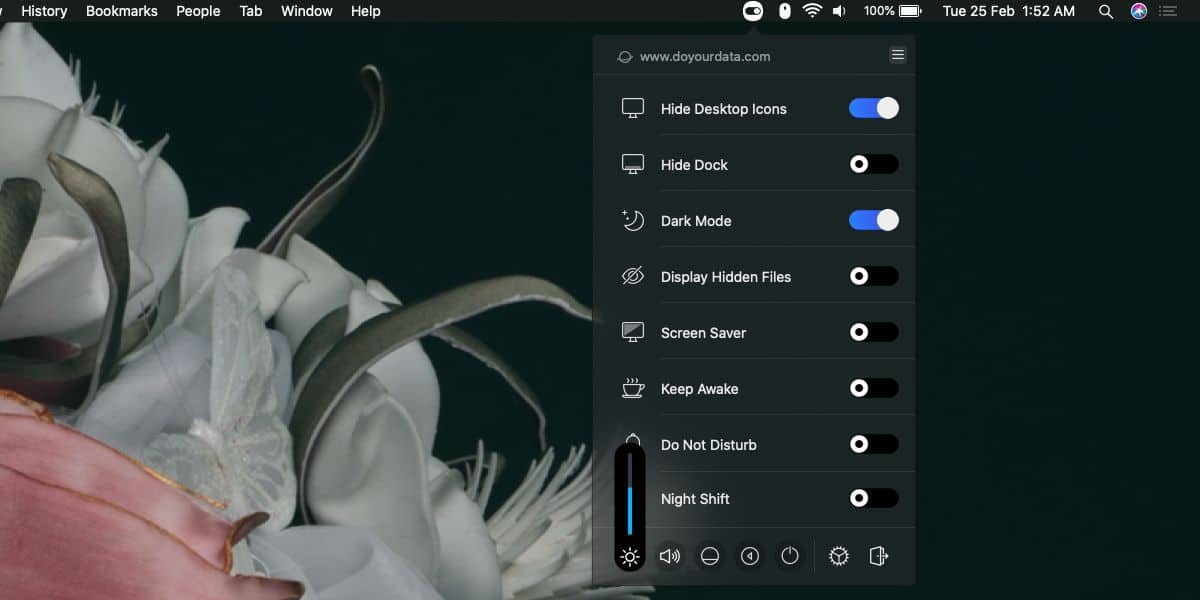 The app doesn't offer any unique features that you won't find on other apps e.g., if you want to keep your system awake, you probably use Amphetamine and it's just as easy, if not easier to use, than Switch Manager but, Switch Manager offers that and more. It's basically a collection of quick settings that most users might need to access and having them all in one place is great.
As for the switches that do not work, it seems odd that they don't. We did try restarting the app a few times but it didn't help. Switch Manager is on version 2.3 at the moment so it's not exactly a new app and it supports macOS 10.7 and later so it is Catalina compatible. The app is free so there isn't much to complain about and it might just be that all the switches aren't working the way they're supposed to because of some obscure, system-specific change on the test Mac. Give it a try and see how well it works for you.