KeyboardClean: Disable The Keyboard To Easily Clean Between Keys [Mac]
We've all eaten with our laptops and netbooks resting on our laps; some of us prefer to lean back in bed and get comfy with a bag of chips while we browse online for a few lulz, while others just plainly use any space that the keyboard and touchpad leave free to set a drink or bowl of nachos on. This means you might have enough crumbs between your keys to satiate an ant farm, and possibly, enough grease on your screen to make a few curly fries. While you can wipe the screen down any time, spills on the keyboard are best cleaned promptly (I once waited too long to clean a ketchup spill at my home system, and it haunts me to this day). KeyboardClean is a simple Mac app that locks your keyboard and allows you to clean it without worrying about doing/executing something.
The interface is pretty much a no-brainer to understand; you have one button that says Click to start cleaning mode/lock the keyboard, click it, and your keyboard will no longer respond to your input commands. The mouse will remain functional, so that you can quit the app once you're done cleaning. Find a good way to clean your keyboard (Windex isn't a good option, and neither is letting the cat lick it).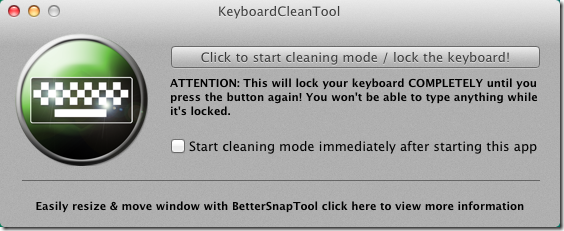 Once you've cleaned your keyboard, you can exit the app and continue using your Mac. The app icon on the window will have turned red to indicate the keyboard is disabled, and the button will read Click to stop cleaning mode/unlock the keyboard. Click this button, and your keyboard will once again be responsive. If you use a USB keyboard you might not find this app all that useful but if you don't want to disconnect and reconnect it (read: you are running for President of Procrastination), this free app can't hurt to have around.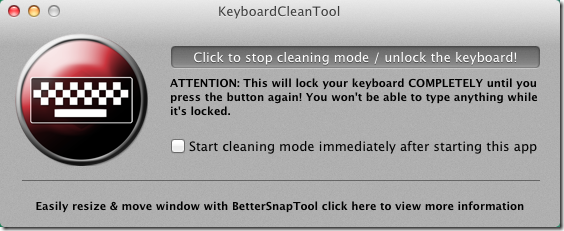 The app can be really useful where the only choice for cleaning a keyboard is by turning the system off. Otherwise, pulling out the USB cable might not seem that bad, either.
[via Lifehacker]