Phone Disk Mounts iPhone, iPad, iPod Touch In Finder As USB Disk Drive [Mac]
The same developers behind the popular iPhone Explorer have launched another useful tool called Phone Disk for Mac, which can automatically detect iPhone, iPad, or iPod Touch (when connected) and mounts it in Finder as a USB Disk Drive. It can mount multiple devices as local drives so that the content becomes much easier to access.
The application does nothing except sit in the system tray and monitors for Apple devices. When it finds an iPhone (or iPod Touch, or iPad), it will automatically mount it to your file system so that the files can be accessed directly using Finder or any other program.
Full operations, such as, preview, open, edit, and save can be performed just like it is a USB Device connected. You can even access the files using 3rd party applications, such as, document editing, graphics editing, and more such programs.
It integrates fully in Mac OS X, once launched, you will be able to access the program from the system tray.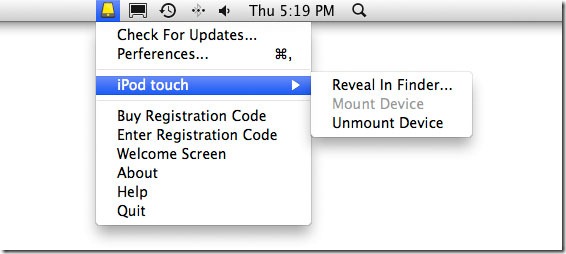 You can access every file in your device (with full control) just like it is a USB Drive. The screenshot below shows how easy it is to access the files.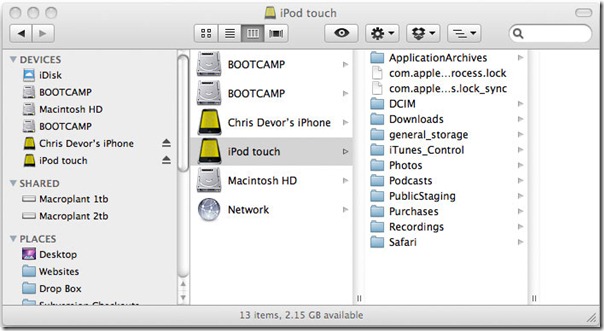 There is one interesting feature you will notice, the developers have added a custom feature which allows all images copied to the DCIM folder to be viewed directly in the Photos app. This means any photo you might have taken using your iPhone 2G, iPhone 3G, or iPhone 4 can be accessed from the Photos app on the desktop once the device is mounted.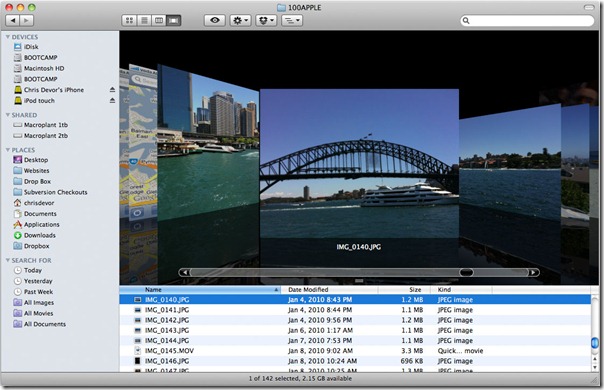 The main aim of the developers, however, is to make browsing iPhone in Finder easier. It supports all versions of iPhone, iPad, and iPod Touch. Since there is no limitation, multiple devices can be mounted once connected.
Don't get scared away only because it is free for a limited time. The developers have provided registration code on their product page which users can use before 1st September. Users who has unlocked this software before 1st September will get free upgrades and can enjoy full version of the program for lifetime without worrying about it getting expired.
It runs on Mac OS X 10.5, 10.6, and later, and supports iTunes 8, 9, or later.
Editor's Note: Screenshots in this article are taken from the product page.