Fix iPhone Recovery Mode Loop With RecBoot
It is certainly a nuisance to drag your iPhone out of the recovery by using the restore option in iTunes. Although stock iPhone might feel fine with it, but this caused the jailbreak users trouble as they needed to restore the custom firmware and then apply jailbreaks.
RecBoot is a wonderful small application that lets you put your iDevice into and out of recovery mode without using the restore option in iTunes. It is available for Windows, Mac, and Linux but you will need to add a proprietary iTunes DLL file in the root folder before launching this program in Windows OS.
To move your iDevice into or out of recovery without disturbing previous installed OS or settings, first download RecBoot and extract the folder to your desktop (or wherever you prefer).
Now open the readme.txt file and follow the instructions to add the iTunes DLL file to the program. This step is compulsory for Windows OS and skipping this step might cause your iDevice to permanently brick! Mac users can skip this step.
Now connect your iPhone to the computer and launch RecBoot.exe. You will see a screen giving you options to enter and exit recovery mode; select as per your preference.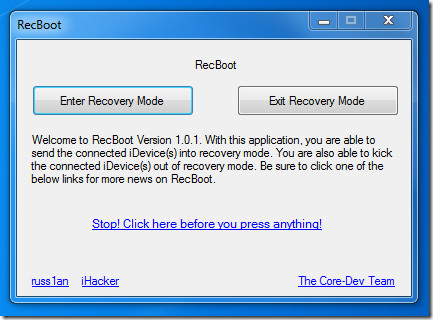 Mac users will see two options; RecBoot and RecBoot Exit Only, the later will take your device out of the recovery mode. In a nutshell, this tool will help you recover from continuous recovery loop when downgrading from iOS 4 to iOS 3.1.2. It works with iPhone 3G, iPhone 3GS, and iPhone 4. We tested it on our Windows 7 32-bit system.