Quickly Change Public DNS Server Address On-The-Fly
DNS (Domain Name System) acts as a database repository for internet and translates hostnames to IP addresses. It is structural naming system for all the components or resources connected to Internet. Recently many DNS servers have been made public which uses far better protection layers and promises improved speed. Some of them among the long list are; OpenDNS, Google, Norton, etc. Changing DNS server address in Windows is not that easy for novices, as it requires some advanced steps to be taken. To instantly change the DNS server to your own customized list or using other open DNS servers, you can try out Public DNS server Tool.
It is a small tool which allows you to enter list of desired DNS servers or select an open DNS server from the given list. It holds list of open DNS servers address to quickly switch between them whenever required, some of which includes; Google DNS, OpenDNS and OpenDNS Family, Norton DNS, DNS Advantage, etc. All you'd require is to select one from the list and click Change to instantly switch to the specified DNS server.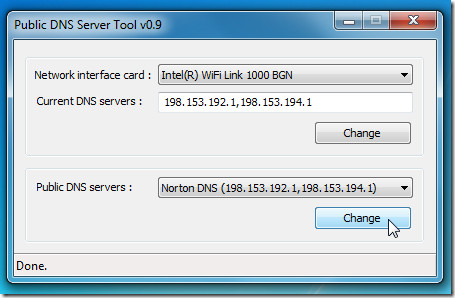 As aforementioned that it lets user enter any local DNS server address. Use comma to separate primary DNS server address from secondary DNS server address.
(Primary DNS server address, secondary DNS server address)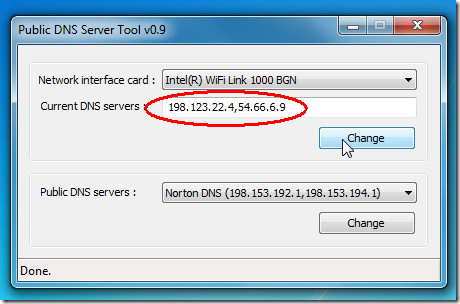 This little tool will also come useful when your ISP provided DNS servers are down. As usage is very simple, you can easily change DNS server address without having to roam around the web to find the correct IP address.
It runs on all Windows based OS, including the latest Windows 7. Testing was done in system running Windows 7 x86.
Download Public DNS Server Tool