Progressive Downloader Is All-in-One File Download Manager For Mac
If you're looking for a free feature-rich download manager for Mac, have a look at Progressive Downloader. It is a massive file downloading program which provides almost all the features and file downloading options that you'd expect from an all-in-one file downloading program. The application also offers extensions for Safari, Firefox, and Google Chrome, so you wont have to manually bring it up each time to start downloading files. The Progressive Downloader observes Mac pasteboard for download links; once copied, just open it to begin downloading file right away. Additionally, you can schedule downloads, limit downloading speed, specify post download actions, and run file hash check before starting the download process. The application supports HTTP, FTP, SFTP (SSH), and MMS protocols, multi-thread downloading, and mirror search to find alternative sources for resuming failed downloads.
The main interface shows all the basic configurations related with downloads. However, it offers an extensive configuration console to let users customize features in the way they like. On toolbar, you will find options to put system in hibernation state after a defined time interval, limit downloading speed, and to start, pause and edit selected download settings.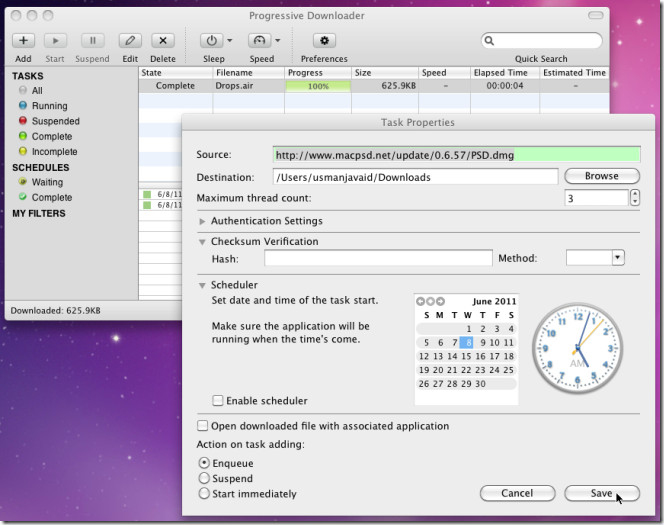 Adjacent to Sleep, you will find download limit pull down menu. By default, it doesn't apply download speed restriction, but you can choose limit from 1.0 KB/ sec to 100 MB/ sec range.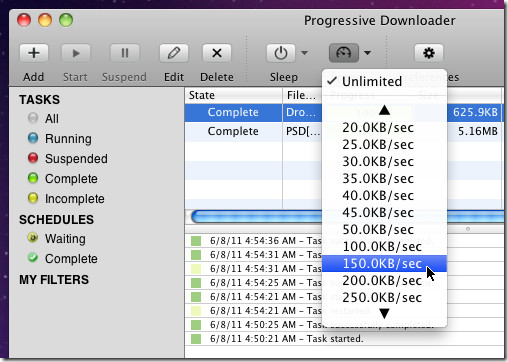 Since it uses multi-thread download technique, you won't get any irregular downloading speed while downloading multiple files at a time. When download process(es) is finished, you can access it from Complete window. Just right-click the downloaded file and open it in Finder. Log events for each download are maintained in real-time. In bottom window, you can see when a certain downloads got started and finished.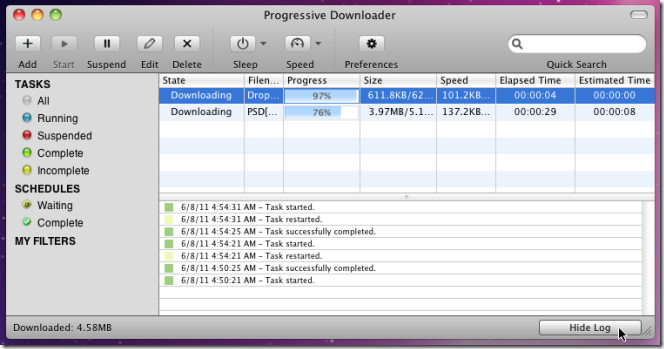 The Preferences button will open main configuration console, where you can tweak with options for all the features it has to provide. Under Integration tab, you can specify files to filter, enable password management, and open direct link to download extensions for your browser(s).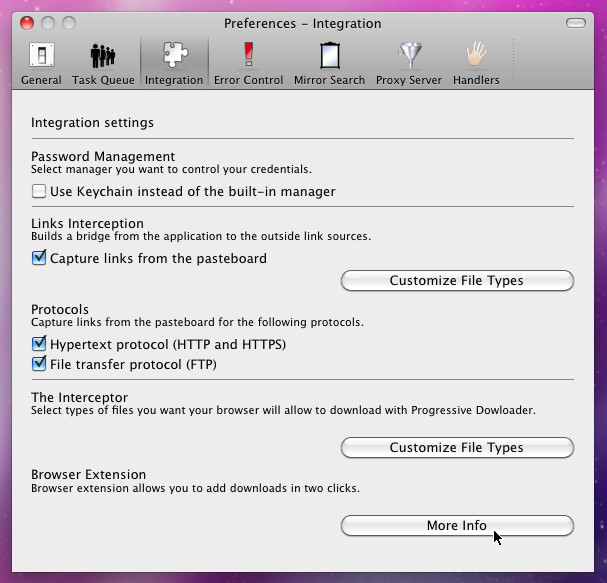 Mirror Search feature is disabled, by default. You can enable it from Mirror Search window. It searches for file mirrors from 7 online resources, including, findfiles, globalfilesearch, filebay and so on. If you've been hanging on to browsers default download managers, you should give Progress Downloader a shot, as it provides a dozen of file downloading options which you wont find in any browser. It works on Mac 10.5 – 10.6.6. Versions for both 32-bit and 64-bit systems are available.
Download Progressive Downloader