Screen Vault: Enable Widgets, Themes & Padlock Lockscreen On Mac [Paid]
We've covered a few lockscreen apps for Mac this month, out of which Screensavery and Screensaver+ Free are worth mentioning. Lockscreens may not be a very popular concept when it comes to a desktop system or even on Mac, still, Screen Vault is a Mac app worth $4.99 in the Mac App Store that is bound to change your mind. It comes as close to the lockscreen you're used to seeing for smartphones, as possible. The app lets you lock and unlock your screen either by drawing a pattern or using your trackpad to enter a combination for the vault-like lock. It additionally lets you add system information to the lockscreen, snap pictures whenever someone enters an incorrect password, and customize every bit of the theme that you want.
Screen Vault adds a padlock icon to the menu bar, which you may click to go to the app's preferences and set up your password. Setting up a drawable password isn't difficult and you can use your mouse to draw it. Setting a vault password is much more complex. You must have a trackpad (on your Mac Book) or an Apple Magic Trackpad to unlock the screen. To get the hang of it, you should first make sure the app is not set to launch at login or to lock at launch. You can then set the vault combination from the Security tab in preferences. There will be three turns involved, and the degree of turns will be defined from the dropdown once you check the Enable Vault Lock option. If you find yourself unable to enter the vault password, you can restart your system. You will need to practice this kind of password, so it is best to keep the app from starting at login until you get the hang of it.
To enable the app to take screenshots or record whoever tries to unlock your system, check either or both the Enable Snap Shots and Enable Videos options, and define where the videos and snapshots should be saved.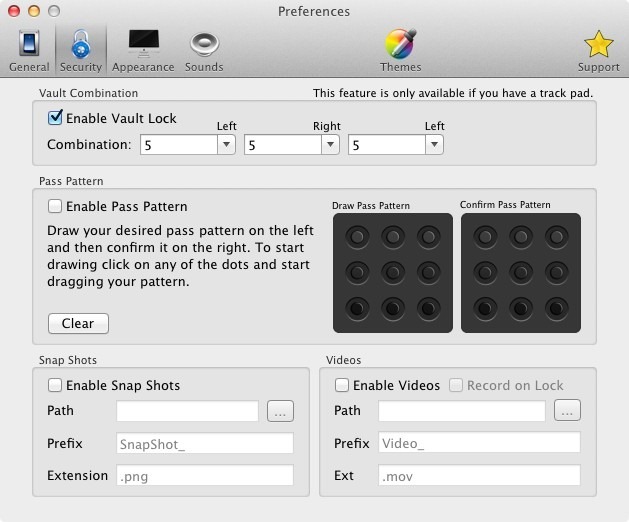 To customize the background picture that appears when your screen is locked, go to the Appearance tab in preferences and pick an image. The app does not seem to support GIF format, but both PNG and JPG work perfectly. From the Appearance tab, you can also add widgets that will be displayed on your lockscreen. The Combo Lock Tutorial shows you how to enter a vault password when the lockscren is enabled. It is best to check this option when you're just getting the hang of your password. From the General tab, select the idle time that should result in the lockscreen being activated.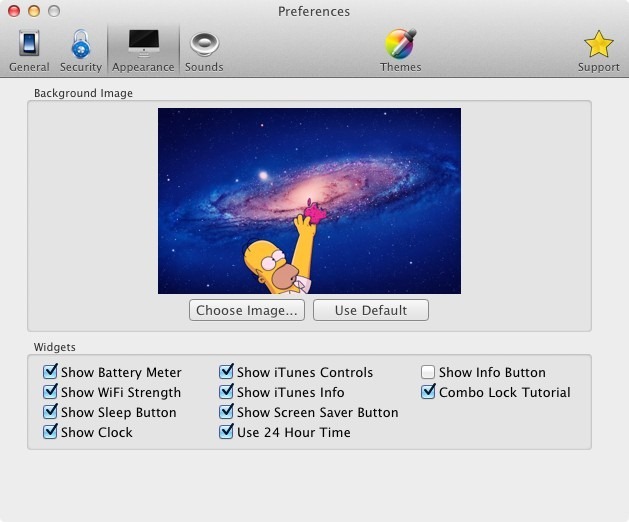 To preview your lockscreen, click the lock icon in the menu bar and select Lock now or press Command+L to lock your screen.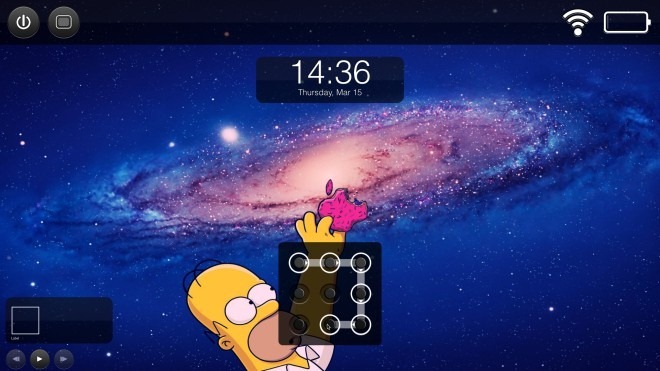 To view a list of how many times someone has tried and failed to access your system, click the app's icon in the menu bar and select Intruder Log… To customize the theme, select Theme Designer from the menu bar options. Overall, the app is absolutely amazing and well worth its price tag. There are few lockscreen apps available for Mac, and this one is definitely a strong contender.
Get Screen Vault From Mac App Store