Show/Hide User Library, Desktop Items & Empty Trash With DesktopUtility [Mac]
If you don't want to use Mac Terminal for performing tiny system tasks, such as, hide desktop items, toggle file visibility, etc., and need an application that can provide one-click access to such commands, DesktopUtiltiy may help you in performing numerous system tasks quickly without having to learn Terminal commands. It is a menu bar application for Mac developed to provide some unique system tasks which are not natively supported by Mac or require entering commands in Terminal everytime you need to perform them. DesktopUtiltiy lets you easily hide/show Invisible files and user Library (for Mac Lion), forcibly empty Trash, and hide desktop items with a single click.
The application sits in system menu bar letting you access all provided functions. The Hide Desktop feature is quite different from one provided in Finder Preferences which allows hiding only Hard disks, External disks, CDs, DVDs, and iPods, and other connected servers. When you select Hide Desktop, it re-launches desktop without showing any type of items on it. Similarly, the Show Invisisble files lets you view all user/system hidden files, such as, .DS_Store files, on disk.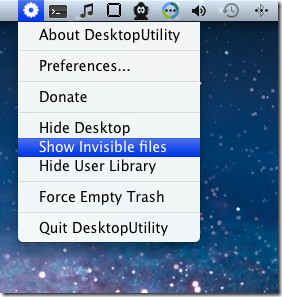 The Hide User Library options works on Mac Lion only. If you've upgraded to Mac 10.6.6 or higher to Lion and don't want to show Library folder in User location, this option will allow you to hide it instantly. The Force Empty Trash will attempt to forcibly delete all the files in Trash. DesktopUtility doesn't have any configuration console; from Preferences, you can only enable launch DesktopUtiltiy at Login option. It works on Mac 10.6.6 or higher.
Download DesktopUtility (3rd tool from top)