View Your Twitter Feed On Mac Screen Saver With TwitterTicker
Mountain Lion came with Twitter and Facebook integration and there still aren't a lot of ways for users to take advantage of it. Even the integration itself is very basic with no support for keyboard shortcuts, and surprisingly, there isn't a crazy number of apps in the Mac App Store to take advantage of it either. TwitterTicker is a free Mac app that makes a screen saver out of your Twitter feed. The app is very basic and allows you to choose how many recent tweets should be shown and how long each tweet should stay on the screen. The tweets themselves are displayed with subtle hints to make them easier to read, Hash tags are brighter than the rest of the text and links are slightly dull to highlight the main text of the tweet. Previews for images uploaded directly to Twitter are shown; however, links to images uploaded to Instagram etc. are not.
Since the app is, in fact, a screen saver, installation is slightly different yet still very simple. Extract the zipped file and run it. System Preferences will launch and ask you to install it first, after which you will find it listed in the 'Screen Saver' tab within 'Desktop & Screen Saver' settings. Click 'Screen Saver Options' and wait a few minutes for the app to prompt you for permission to access your account. Revisit the options after granting the app permission and uncheck the "Follow @ttickerapp" box if you don't want to follow the developer.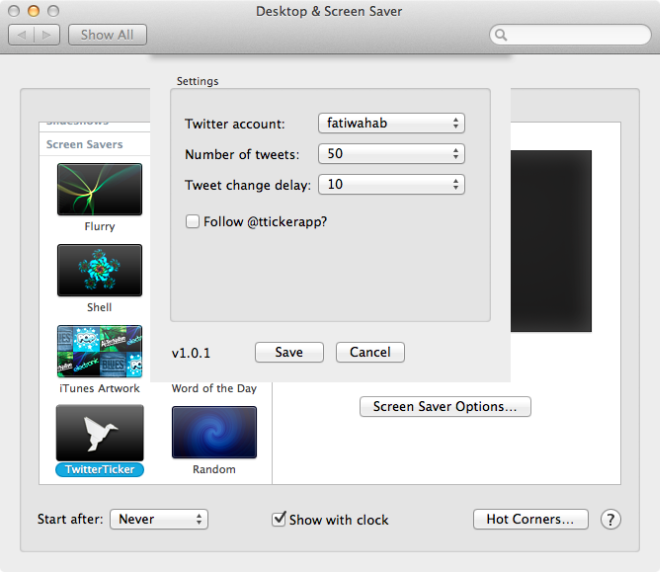 When the screen saver runs for the first time, there will be a little delay before the tweets load, but you shouldn't have a problem after that. The clock still appears with the tweets, though you can disable it if you like. Profile pictures and Twitter handles are displayed, obviously, but you can't tell if a tweet is original or it has been retweeted.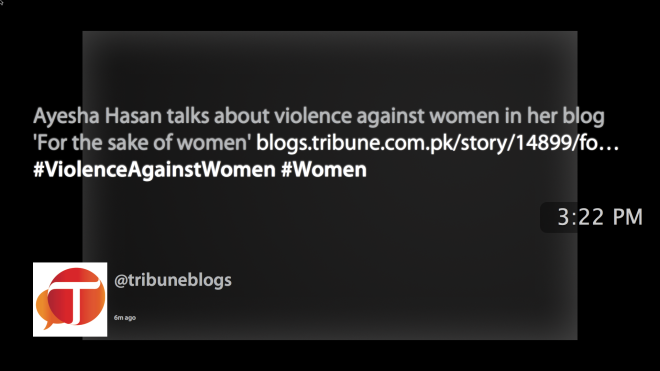 Overall, the app worth a try, but there's still so much that can be done now that the entire OS is connected to two of the largest social networks out there, that it seems a shame no one has yet to come up with a way to view feeds unobtrusively within the Notification Center and other parts of the UI.
Getting back to the app itself, it leaves a few things to be desired. The tweets are refreshed automatically, though you cannot change how often the app checks for new ones. There is no extensive list of color schemes for you to choose from, so you'll have to make do with the grey, black and white backgrounds.
Download TwitterTicker For Mac