How to connect an Xbox controller to a Mac
Macs are not popular for gaming. Apple has released models of its desktop system that are supposed to be able to handle modern games but they have not been a hit. That said, some games can still run on a Mac. You won't be splurging on one if you're looking to enjoy modern games but if you happen to have a Mac that you'd like to occasionally game on, some titles may be playable.
Xbox Controller on Mac
macOS does not automatically install drivers for peripherals and it certainly doesn't support controllers out of the box. If you want to connect an Xbox One, Xbox 360, or any other generic Xbox controller to your Mac, you will have to manually install drivers.
Need to connect Xbox controllers to a Windows 10 system? Check out this post.
1. Xbox controller drivers for macOS
There are no official Xbox controller drivers for macOS. Only thrid-party drivers are available.
Download the 360Controllers app from Github. Take note of which release is compatible with your version of macOS.
Install the package and Restart the Mac.
2. Connect Xbox controller
Once the driver has been installed, follow these steps to connect it.
Open System Preferences.
Go to the Xbox 360 Controllers preference.
Connect your controller either through the attached wire, through a Microsoft adapter (a physical device), or pair it via Bluetooth.
The dropdown at the top will show the device that has been detected. To test it, press a button or move one of the joysticks.
To map the buttons, go to the Binding tab.
3. Uninstall Xbox controller drivers
If you later decide that you don't want to use a controller with your Mac, or you need to remove and install a different version of these drivers, you can easily remove them.
Open the System Preferences app.
Go to the Xbox 360 Controllers preference.
Go to the Advanced tab.
Click the Uninstall button at the bottom.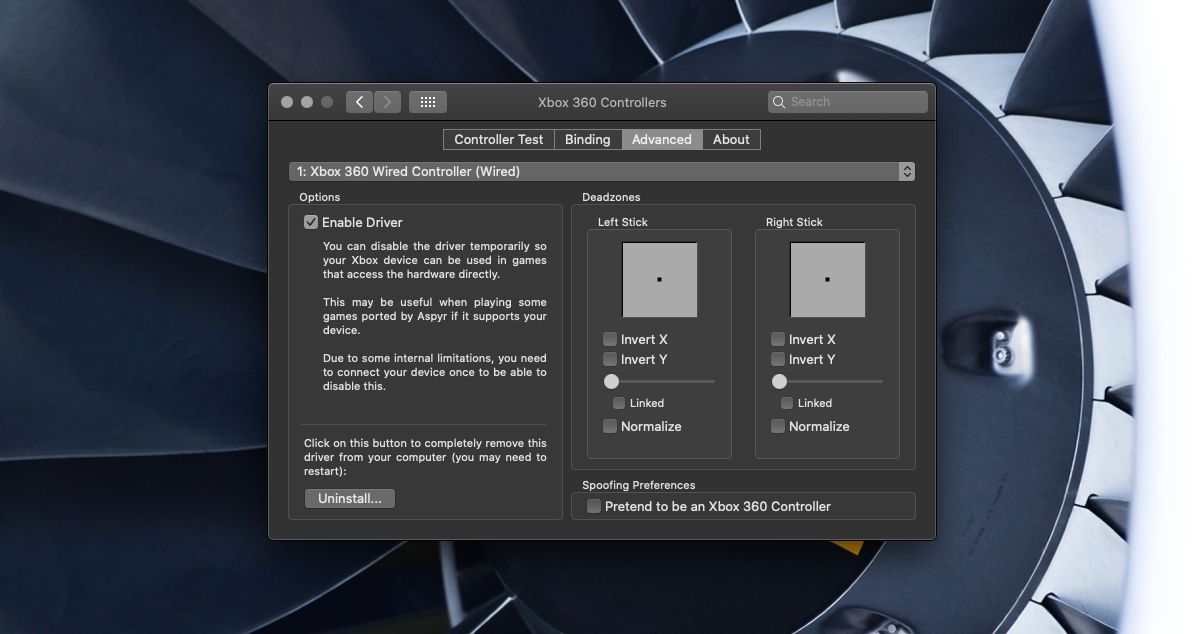 Conclusion
Apple has Macs with some of the best, top-tier hardware you will find but these machines still do not run games well. The price tag they carry is an entirely different issue but you can normally get two power gaming rigs in the price of one game-ready Mac which doesn't serve as much of a recommendation. While Apple has been pushing itself as a gaming platform, it's only had success with its iOS and iPadOS devices. With macOS, it still lacks something as basic as controller support and there doesn't seem to be any effort underway to fix this either.