We are reader supported and may earn a commission when you buy through links on our site.
Learn more
Use The BBC iPlayer on Firestick / Fire TV Outside The UK
If you're a fan of British TV, the BBC iPlayer will certainly hold an appeal. The BBC iPlayer is, first and foremost, a website that offers a ton of streaming content from the BBC. Some of their best shows and movies are available free of charge on the service. Wouldn't it be great if you could access the BBC iPlayer right from within your Amazon Fire TV Stick? And wouldn't it be even greater if you could do that from anywhere, not just from the UK? Read on as we tell you how to use the BBC iPlayer on the Amazon Fire TV Stick from outside the UK.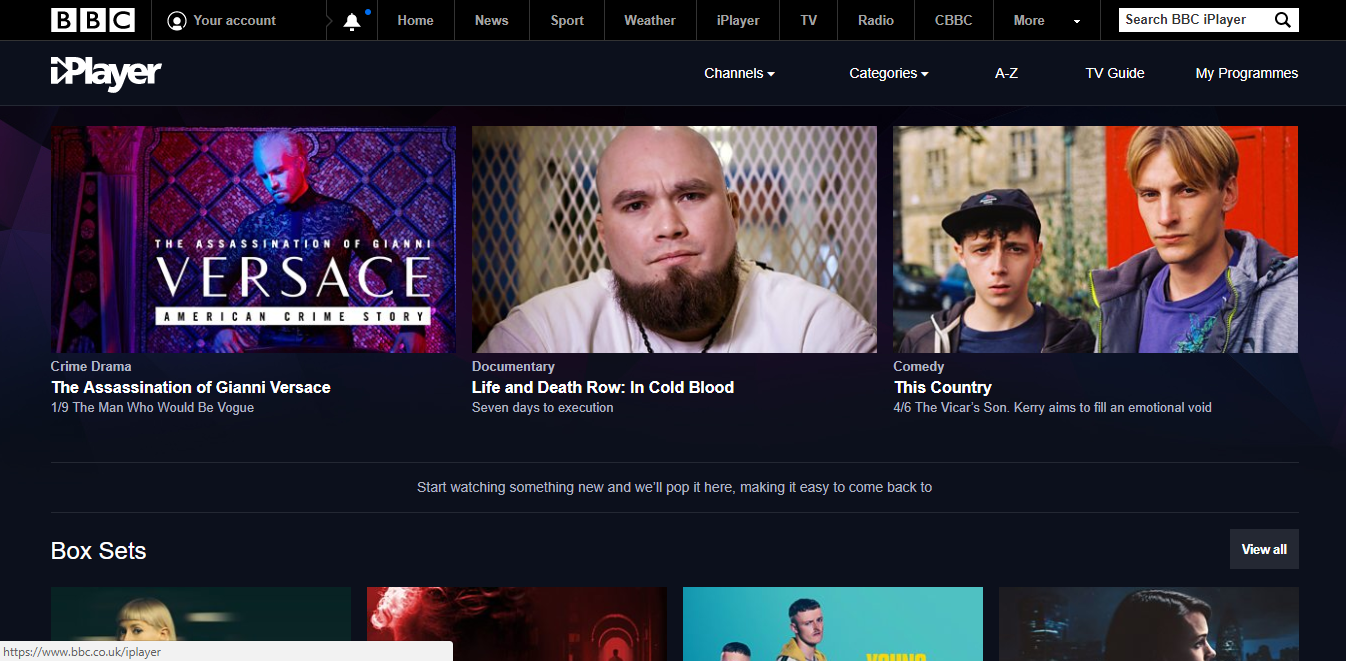 We begin our article by briefly introducing the BBC iPlayer and what content you can expect to find. We will then describe the Amazon Fire TV Stick before revealing how you can run the BBC iPlayer on it, thanks to the BBC iPlayer app for the Amazon Fire series of devices. After we show you how to install it and run it on your Amazon Fire TV Stick, we'll show you how a Virtual Private Network can let you use the BBC iPlayer app from anywhere in the world. And to help you choose a suitable VPN provider, we'll introduce you to a few of the best ones we've found for the Amazon Fire TV devices.
30-days money back guarantee
What Is The BBC iPlayer?
As we've indicated in our introduction, the BBC iPlayer is, first and foremost, a website from where you can watch video streams from the BBC. There's a mix of on-demand and live content as well as a mix of movies, TV shows, news contents, and more. In one sentence, the BBC describes it as follows: "The BBC iPlayer is where you can watch BBC programmes online." And this is, indeed, the easiest way it can be described.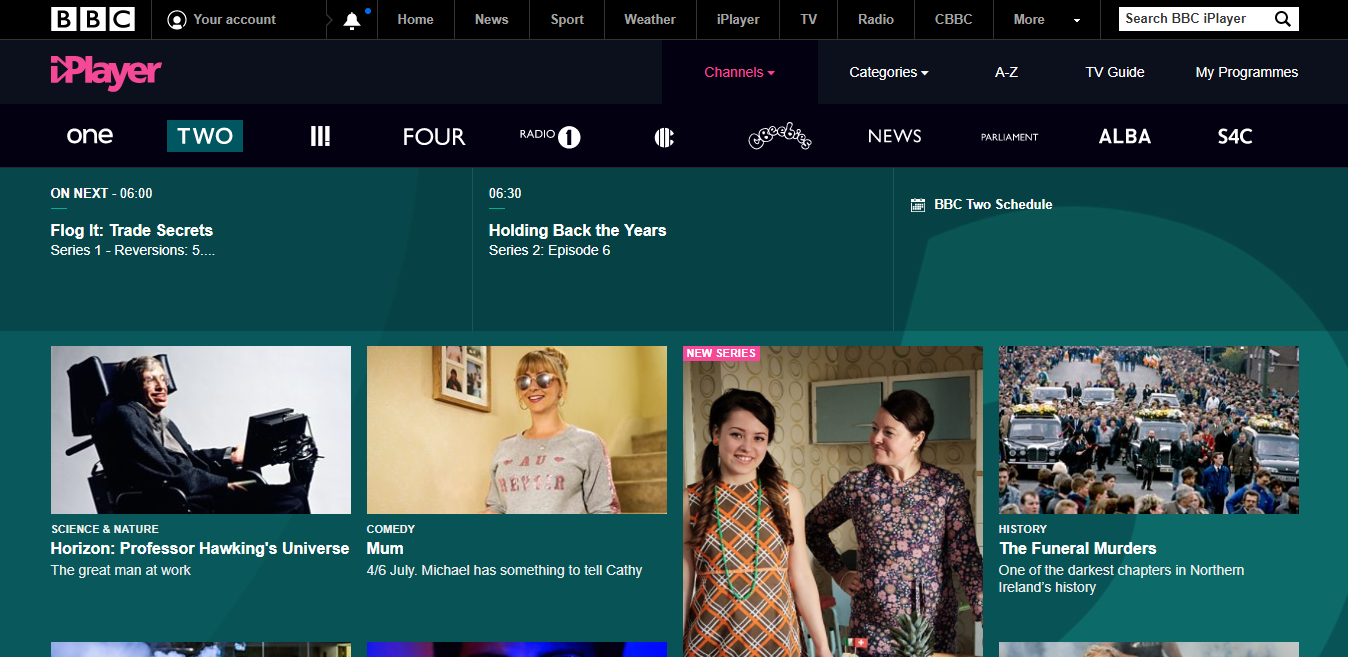 Concretely, the BBC iPlayer will let you watch live online feeds of all the BBC TV channels. But that's not all–nearly all their programming is also available on-demand. Programs are usually made available very shortly after airing and are normally available for up to 30 days.
Like they'd say in an infomercial: "But wait! There's more!" The BBC iPlayer also proposes content from the BBC archives, live events, and a few online exclusives. It really is a dream come true for fans of British TV.
And to make an already good experience even better, the Live Restart function that's built into the iPlayer will let you go back to the start of the current live show whenever you miss the start time. And last but definitely not least, the BBC iPlayer also lets you download programming to your device for offline viewing. You could, for example, download a show on your tablet for viewing later while on the train commuting to work.
When using the BBC iPlayer on a computer, a smartphone or a tablet, you need to sign in. This is optional on connected TV and most set-top boxes at the moment. If you choose to sign in, one of the benefits you'll get is a more personalized experience. Other than that, the available content selection will be exactly the same.
Accessing The BBC iPlayer
But–and this is where it gets even better–the BBC iPlayer is not just a website. There are also apps for mobile devices running Android or iOS. And even more interesting, there are apps for many smart TVs, TV set-top boxes, and gaming consoles. In fact, there are not that many devices that won't support the BBC iPlayer app.
Of particular interest to users of the Amazon Fire TV Stick, there's a free BBC iPlayer app available on the Amazon app store. And this is not some third-party app; it is the real app that's developed by the BBC.
There's only one real drawback to the BBC iPlayer: it is only available in the UK. This is not totally unexpected and many broadcasters throughout the world are imposing similar limitations. They are due to distribution rights and broadcasting contracts and there's not much we can do about that. But don't worry, as we'll show you, there are ways this limitation can be circumvented.
And How About The Amazon Fire TV Stick
Although its official designation is the Amazon Fire TV Stick, this device is often referred to as the Firestick or Fire Stick. It is the Amazon Fire TV's little brother. While it has similar functionality, the smaller and less powerful device won't play UDH or HDR video, only 1080P. It currently sells on Amazon for $39.99.
As far as looks are concerned, this device probably won't won't impress you much. It is quite plain, somewhat looking like USB memory stick of 5 years ago. It has an HDMI port on one side that needs to be connected to the back of your TV. At the other end of the stick, you'll find a micro USB port that's used to power the device. The device is designed to be hidden behind a TV set so it's no real wonder no efforts were made to make its design more attractive.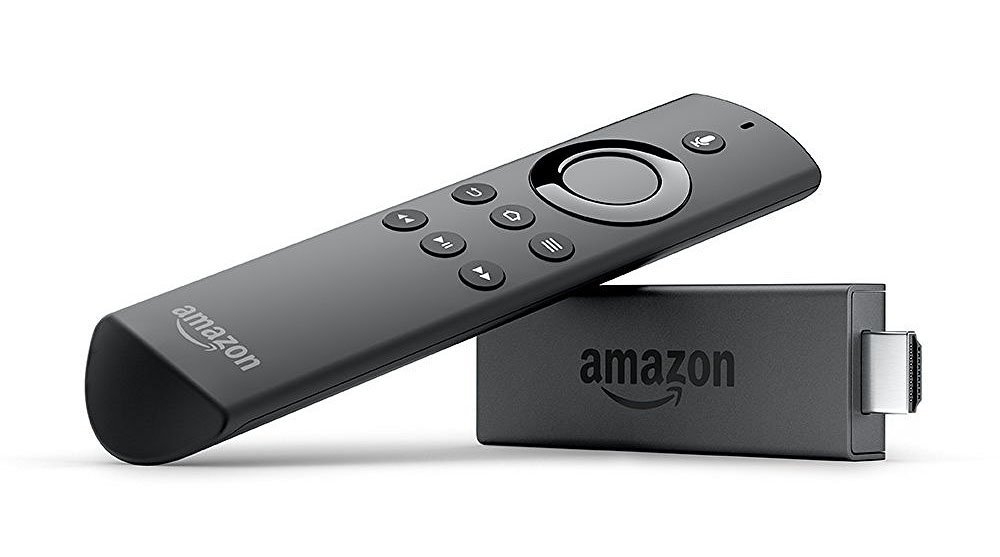 More impressive is the remote that comes with the device. It is about five and a half inches long with a glossy circle towards the top. It serves as a navigation pad and boasts an Enter button at its centre. One thing you're bound to notice is the button with a microphone on it. This is a tell-tale sign that the remote features the Alexa voice search feature. Although you might initially think that this is just another gimmick, you'll soon realize–after trying to enter any sort of text using the remote control–how valuable this feature is. The simplistic button layout of the remote makes it very easy to use and learn.
Features
More than its outside appearance, what sets the Amazon Fire TV Stick apart is what's inside. The Amazon Fire TV Stick is powered by a fairly powerful MediaTek ARM Cortex-A7 quad-core processor running at 1.3GHz. It also boasts 1GB of RAM and 8GB of storage. Not bad for such a small device. For graphics, the device is equipped with a Mali 450 GPU. While this somewhat limited hardware won't play 4K or HDR video, it's more than enough for 1080P HD resolutions. As far as connectivity goes, the device has WiFi for home networking and Bluetooth. There is a micro USB port on the device but it's only there to power the device and won't provide any kind of connectivity.
Does The BBC iPlayer Run On The Amazon Fire TV Stick?
As we've told you before, there's a BBC iPlayer app available on the Amazon app store so yes, the BBC iPlayer will run on the Amazon Fire TV Stick. The app was actually developed with the Amazon Fire series of tablets in mind but since the Fire TV Stick runs a compatible version of Fire OS, it should run without issues on the Fire Stick. We say should because there have been reports of the app refusing to load on the Fire Stick. If this happens to you, the BBC recommends uninstalling the app and reinstalling it, ensuring you get the latest version.
Installing The BBC iPlayer On The Amazon Fire TV Stick
Although the BBC iPlayer is an "official" Amazon Fire app, installing it when you're not in the UK can be a tad tricky. The problem has to do with the BBC's geographical restrictions. Although Amazon user accounts are universal and will work on most–if not all–localized Amazon websites, you won't be able to install the app if your Amazon account was not registered in the UK. This is apparently not something you can fix by either using a VPN or adding a fake UK delivery address to your Amazon account.
Your best option, then, is to revert to some mirror site that hosts app. On such site that can be trusted is called APK mirror.
Before you begin, on your Fire TV Stick go to Settings / Device or System / Developer Options and turn on Apps from Unknown Sources.
If you have a browser app on your Amazon Fire Stick, one that supports downloading as not all of them do, the easiest way to go about doing that is to access the APK Mirror site directly from your Fire Stick.
Scroll down the page until you find the Download section and click the version number.
Then, scroll down the next page until you see the Download APK button and click it. The app will be downloaded to you Fire Stick.
Once it's downloaded, launch the downloaded file to start installing the app. It will only take a few seconds as it's already been downloaded.
Once the installation completes, you'll be ready to use the BBC iPlayer app.
Using The BBC iPlayer Outside The UK
Now that we've addressed the issue of installing the BBC iPlayer app from outside the UK, we need to take care of its usage limitations. As we've indicated earlier, the BBC will block requests originating outside of the UK. Are you wondering how they do that? It's simple, they use your IP address. An IP address, in case you don't know, is a unique identifier that's assigned to every computer connected to the Internet. It is similar to a postal address which uniquely identifies every household. And just like a postal address, part of the IP address identifies your physical location.
The Solution? Virtual Private Networks!
Virtual Private Networks–or VPNs are we often call them–are systems that were originally designed to allow remote workers to securely access private networks from unsecured public ones such as the Internet. Today, they are mostly used to improve security and privacy when using the Internet.
Here's how they operate. A VPN creates a virtual tunnel–hence the name–between a client app running on the source device and a remote VPN server. All data in and out of the source device is encrypted using strong algorithms by the client before being sent to the server through the tunnel. At the far end, the server decrypts the data and sends it to its destination on the Internet. When the response comes back to the VPN server, it is encrypted and sent through the same tunnel back to the client app on the originating device.

Anyone intercepting your data would only see encrypted–therefore meaningless–data going to a VPN server with no way of knowing what you're doing or where you're going. This is why VPNs are often used to protects against all kind of snooping from hackers, ISPs or authorities. They also allow one to bypass Internet usage restrictions that are all too common when using public Internet accesses.
How Does A VPN Help?
VPNs, and this is where it gets interesting for us, also have a very useful side effect that we're going to take advantage of. A VPN will let you bypass geographic restrictions. Here's how. When the VPN server receives data from the client and decrypts it before sending it to its destination, it first changes the source address to its own. That way, the response will come back to it and it will be able to transmit it back to the client. It's easy to figure that to access a resource that block connections from outside the UK, all you need it to connect from anywhere to a VPN server in the UK.
Two Great VPN Providers For The Amazon Fire TV Stick
There are a lot of VPN providers out there. And with so many VPN providers to choose from, finding the best for your purposes can be a challenge. There are many factors to consider. Among the most important, a fast connection speed will reduce buffering, a no-logging policy will further protect your privacy, and no usage restrictions will let you access any content at full speed. And in this specific situation, a few additional factors should be considered. First, there should be a client app available for the Amazon Fire TV Stick. Unfortunately, not many VPN providers offer it. Also, and this is just as important, your chosen providers should have servers in the UK.
We've searched the Amazon app store for the best VPN providers and found at least two we can recommend, ExpressVPN and IPVanish.

ExpressVPN is best known for its speed–it is simply amazing! With today's media-intensive apps–such as the BBC iPlayer–speed is everything. ExpressVPN has consistent speed across all its servers while still making no compromise on security. Express VPN has over 1500 servers spread across 94 countries, including the UK, as you would have guessed. It uses OpenVPN connections encrypted with 256-bit AES as default. And their 4096-bit DHE-RSA keys are identified by an SHA-512 hashing algorithm.
Being based in the British Virgin Islands means ExpressVPN is not legally required to retain any user data at all. And while they don't have a full zero logging policy, they don't keep usage data. The client apps feature a "network lock" that will keep your traffic private by stopping it completely if the VPN connection drops.
Pros
SPECIAL OFFER: 3 months free (49% off - link below)
3,000+ super fast servers
Very simple and easy to use
No logging policy well enforced
24/7 Live Chat.
Cons
Slightly more expensive than some other options.
2. IPVanish – Stay Hidden Online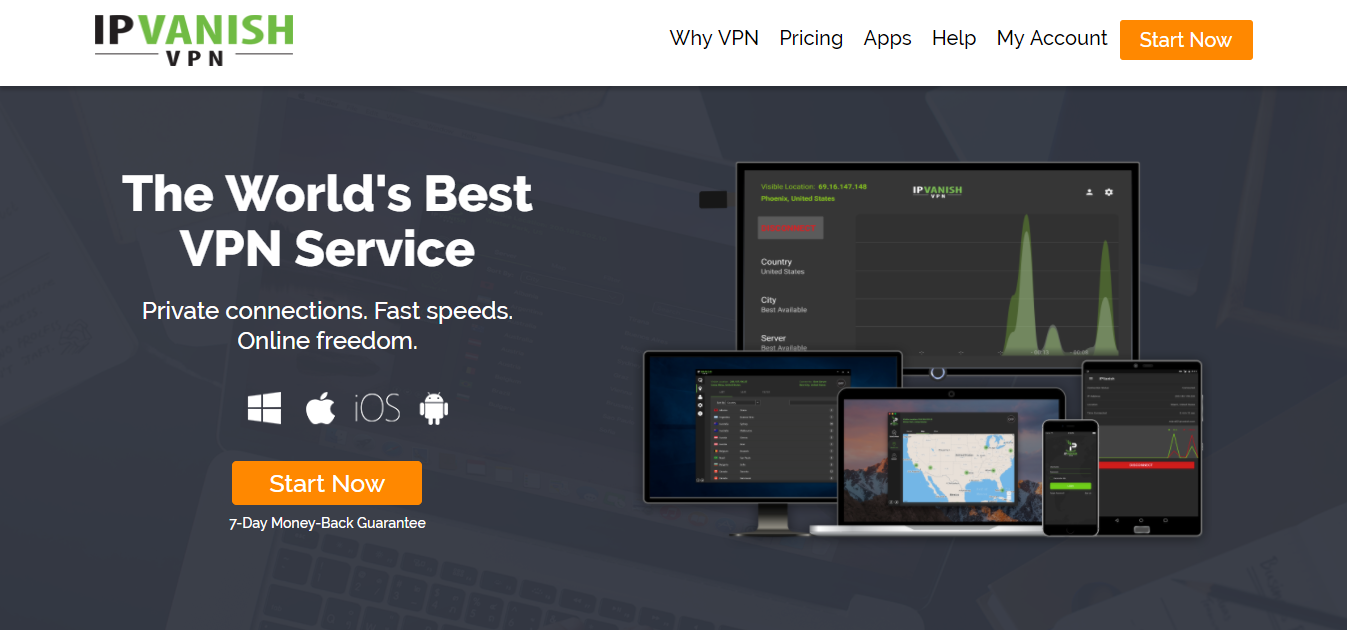 IPVanish is one of the biggest players on the VPN market, and it is one of the best. Its reputation for top-notch security and privacy is truly second to none. By default, IPVanish uses the OpenVPN protocol using 256-bit AES encryption. In addition, the service features an automatic kill-switch (which will block your internet connection should the VPN connection go down). IPVanish's no-logging policy is one of the most comprehensive you can find anywhere. Even their own employees have no way of knowing what you're doing with the service. This is how private it is.
IPVanish offers fast and consistent connection speeds plus a network of more than 850 servers in over 60 countries around the world, including the UK, of course. And last but not least, IPVanish offers a dedicated app on the Amazon app store.
READER SPECIAL
: IPVanish has a special offer that is exclusive to Addictive Tips readers! You can 
get a huge 60% discount on the yearly plan
, which brings the cost down to only $4.87 per month. And they even offer a 7-day money-back guarantee so you can try their service risk-free.
In Conclusion
Although installing the BBC iPlayer on your Amazon Fire Stick can be somewhat of a pain, it can be done and it is well worth it. Install it and you'll find it offers tons of excellent content to satisfy your craving for British TV. And with a proper VPN app running on your Fire Stick, accessing it from annywhere in the world won't be a problem.
Are you a BBC iPlayer user? Are you using it on an Amazon Fire TV Stick? How was your experience downloading and installing it? Use the comments below to share your thoughts with us.