Watch The Best 50 Netflix Original Movies
We all have those moments when we want to watch a movie and do not know what to start with. Unless you have a specific title in mind, you're left checking out endless lists on Netflix, wondering what to watch. Well, we're going to figure out which are the best 50 Netflix original movies to watch.

After we got a list of Netflix originals, we dived into the various ranking platforms to order them up. We checked out IMDb, Rotten Tomatoes, and Metacritic and averaged out the rankings from both critics and audiences, resulting in the list below.
We have comedies, we have documentaries, we have horrors and thrillers and action flicks. Netflix has it all, catering to all tastes, so you'll certainly have lots of things to watch here. We can only expect Netflix to create even more great movies in the future.
1. Athlete A – 9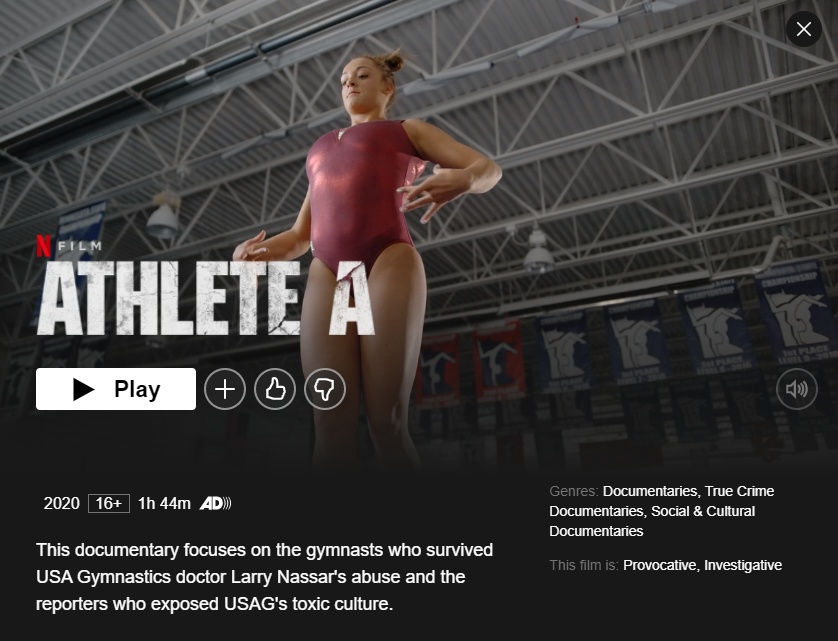 We're kicking off our list with a 2020 documentary film that follows the harrowing experiences young gymnasts went through at the hands of doctor Larry Nassar. We get to check in with the investigative journalists from The Indianapolis Star who broke the story, as well as gymnasts who have decided to speak out.
2. The Irishman – 8.72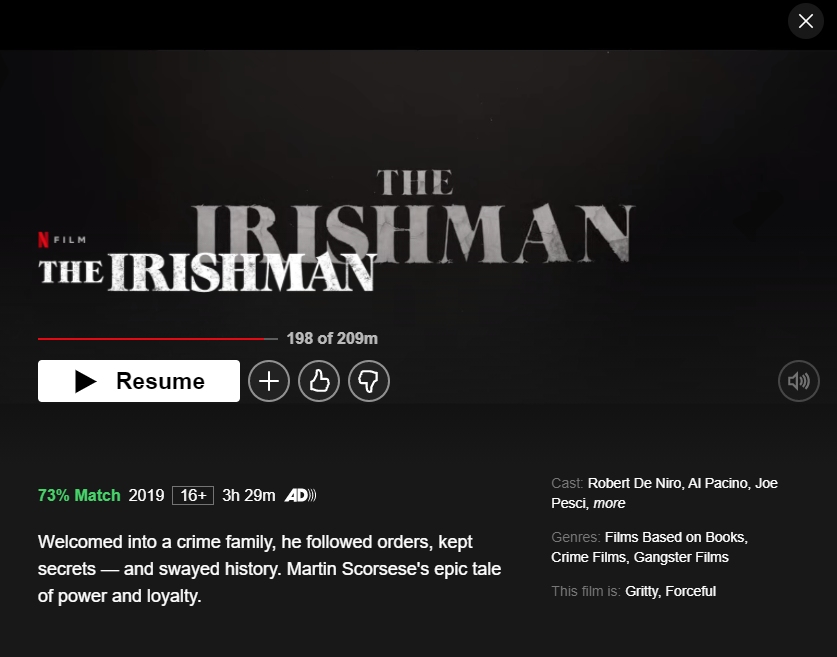 This is one of the films that is a must-see for multiple reasons. This three and a half hour movie was directed by Martin Scorsese, and it features Robert De Niro, Al Pacino, Joe Pesci, Ray Romano, Bobby Cannavale, Anna Paquin, Harvey Keitel, and many others. We follow the story of Frank Sheeran, played by De Niro, who recounts his life as a hitman for a crime syndicate, his relationship to Jimmy Hoffa, and the aftermath of John F. Kennedy becoming US president, as well as Hoffa's disappearance. The Irishman used some cutting edge visual effects to de-age the actors. In total, The Irishman received 238 nominations at all sorts of award shows and managed to win 65 of them. Although the film did not win any of the Oscars, it did get ten nominations.
3. Marriage Story – 8.7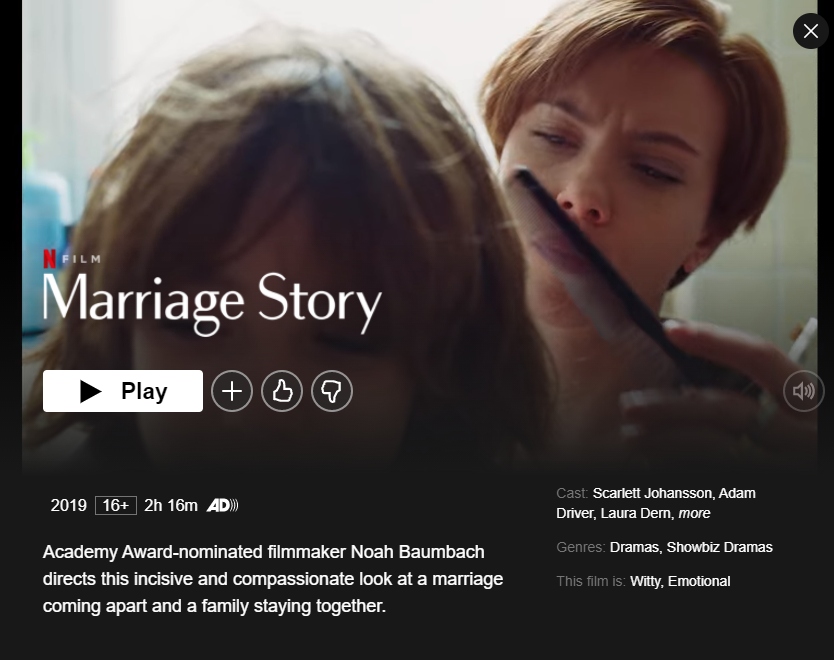 Released in 2019, Marriage Story follows a couple that has quite a few problems, but they're trying to work things out until they realize that divorce is the best option for them. We get to enjoy Scarlett Johansson and Adam Driver in the main roles, as well as Laura Dern, Ray Liotta, and Alan Alda. The film was nominated for six Oscars, and Laura Dern won the trophy for the Best Supporting Actress.
4. A Secret Love – 8.64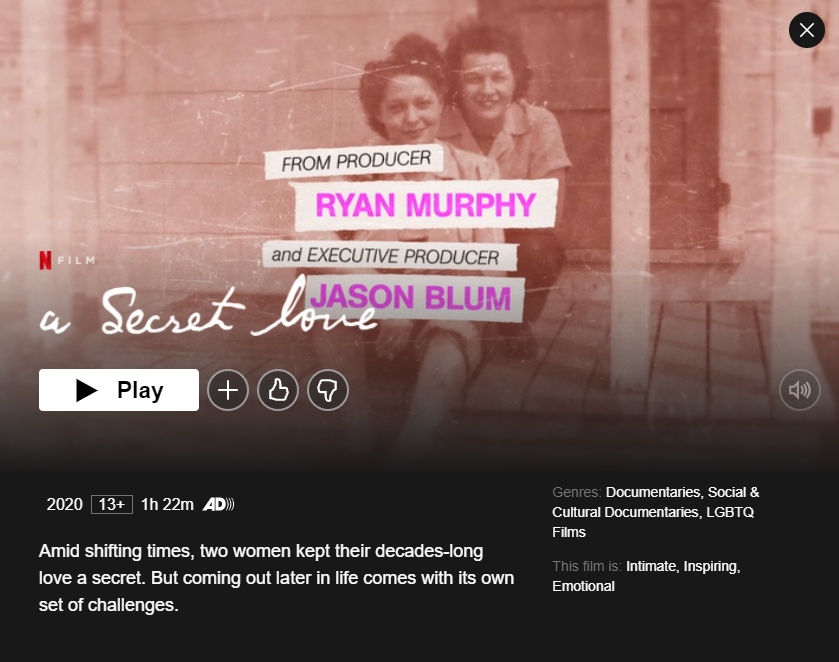 A Secret Love is a documentary released in 2020. The documentary tells the story of Terry Donahue, a former All-American Girls Professional Baseball League player, and her partner, PAt Henschel. Not only have they been successfully running an interior decorating business for decades, but they've also kept their relationship a secret from their families during all this time.
5. My Happy Family – 8.6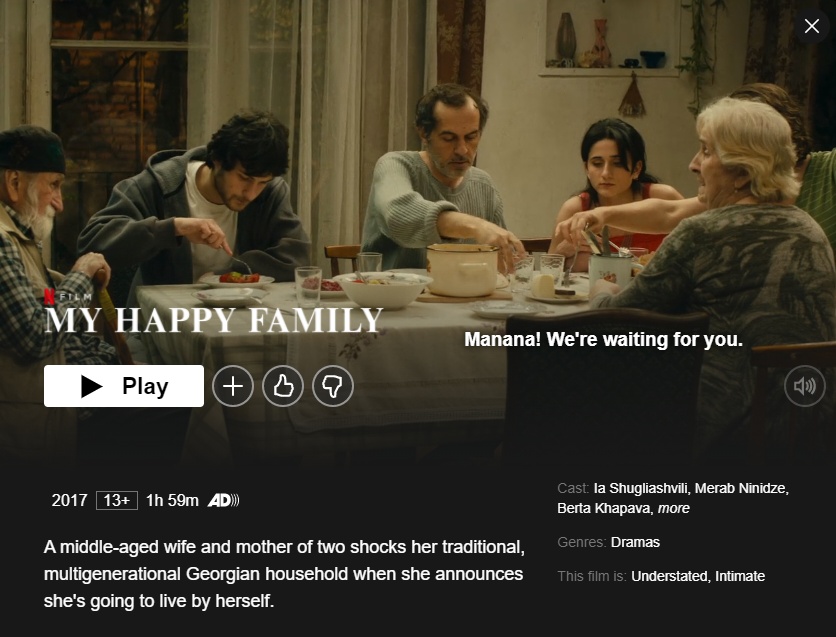 This film tells the story of a Georgian woman who decides to leave her family at 50 years old. Throughout the movie, we find out the reasons behind her sudden departure, about her husband's affair and resulting child, about her family's troubles, and so on. It's a story that will keep you in your seat, thanks to the talented cast.
6. Crip Camp: A Disability Revolution – 8.48
Back in the '70s, in New York, there was a camp called Camp Jened, where teens with disabilities could have some fun. Now, Crip Camp is telling the story of this summer camp where folks who went there turned into activists for the disability rights movement. As they fight on for accessibility legislation, we get to better understand what they went through.
7. Beasts of No Nation – 8.44
A book with this name was released in 2005, and 10 years later, a movie came along. This war drama film tells the story of a child soldier who tries to protect his village as the country falls into war. Later on, he tries to rediscover his childhood and get past the things he's had to do to survive. The film stars Idris Elba, Abraham Attah, Ama Abebrese, and plenty of others.
8. Roma – 8.38
Alfonso Cuarón wrote and directed Roma, a film that was released in 2018. The film is set in the early '70s and follows the life of a live-in housekeeper called Cleo. As the family she works for goes through a number of challenges, so does she after she falls pregnant. Still, she remains an important part of the household and has a strong bond with the children she cares for and the rest of the family. The film won Best Director and Best Foreign Language Film at the Golden Globes, as well as Best Film, Best Film Not in the English Language, Best Direction, and Best Cinematography at the British Academy Film Awards. At the Oscars, Roma won Best Director, Best Foreign Language Film, and Best Cinematography.
9. Taylor Swift: Miss Americana – 8.32
This documentary was released in 2020 and gave us a look into Taylor Swift's life, especially during the aftermath of the scandals that forced her to take a step back from the public eye. We watch Taylor go through a series of issues before finding her voice again, coming out stronger than before. We watch her battle the toxic Internet culture, media scrutiny, her sexual assault trial, her mother's cancer diagnosis, and more.
10. I Lost My Body – 8.32
This is a French adult animated drama fantasy film that follows the adventures of a severed hand. Yes, a severed hand. It escapes from a laboratory fridge and starts traveling across Paris to reunite with its body, a man named Naoufel. We get to see Naoufel's story through flashbacks and how he came to lose his hand. The English dubs are covered by Dev Patel, Alia Shawkat, and George Wendt, to name a few (Hakim Faris, Victoire Du Bois, Patric d'Assumcao are the French voice actors for these roles).
11. Dolemite Is My Name – 8.24
We have a biographical comedy-drama next on our list. Directed by Craig Brewer, the film stars Eddie Murphy in the role of filmmaker Rudy Ray Moore, best known for his character Dolemite. Moore created Dolemite, a character that had immense charisma, telling tons of stories that would get everyone laughing, all the while he dressed as a pimp. The film features more than Eddie Murphy, including Keegan Michael Key, Mike Epps, Craig Robinson, Wesley Snipes, T.I., Chris Rock, and Snoop Dogg, to name a few.
12. The Trial of the Chicago 7 – 8.2
The Trial of the Chicago is a historical legal drama that draws inspiration from a group and anti-Vietnam War protesters from back in the '60s. Directed by Aaron Sorkin, the film features Sacha Baron Cohen, Yahia Abdul-Mateen II, Daniel Flaherty, Joseph Gordon-Levitt, Michael Keaton, Eddie Redmayne, and plenty others.
13. Mudbound – 8.14
In 2017, Mudbound was released – a historical drama film, starring Carey Mulligan, Garrett Hedlund, Mary J. Blige, Jason Clarke, and others. The story follows two WW2 vets – one white and one back. As they both return to Mississippi, they both have to address racism and PTSD in their own way.
14. Private Life – 8.1
This is a 2018 movie starring Paul Giamatti, Kathryn Hah, Denis O'Hare, and others. The story follows Richard and Rachel, a couple from New York City, who is trying to have a child by any means possible. The movie brings out the heartbreak that comes with fertility issues and the efforts to overcome them, as well as the toll of all the treatments.
15. The Two Popes – 8.08
The Two Popes is a biographical drama that follows the relationship between Pope Benedict XVI and Cardinal Jorge Mario Bergoglio, nowadays known ad Pope Francis. The story is set in Vatican City after the Vatican leaks scandal. We get to see the Pope ask Bergoglio not to resign as archbishop, especially as he prepares to abdicate. The movie features Jonathan Pryce and Anthony Hopkins in the main roles.
16. The Half of It – 8.02
This movie follows a young student who may not have any friends but definitely has a way with words, as she makes some extra money by writing homework for her fellow students. When she is asked to write a love letter for a girl she has a crush on, on behalf of one of the school's football players, she initially refuses before going forward with it. Whether or not she'll confess her feelings remains to be seen. The Half of It features Leah Lewis, Daniel Diemer, Alexxis Lemire, and Collin Chou.
17. The Ballad of Buster Scruggs – 7.88
This is an anthology film created by the Coen Brothers, encompassing six different stories, all of them taking place on the American frontier. The stories feature an impressive cast that includes James Franco, Liam Neeson, Tom Waits, Brendan Gleeson, Zoe Kazan, Tyne Daly, Harry Melling, and others. The film received three Oscar nominations but didn't win any awards.
18. To All The Boys I've Loved Before – 7.88
To All The Boys I've Loved Before is a film that has gotten a lot of attention, and there's even a sequel to the film. Released in 2018 and based on the same-named novel from 2014, To All The Boys I've Loved Before is a teen romantic comedy. We follow Lara Jean, a high school junior who is much too timid to actually make a move on the boys she likes but decides to write letters to them instead, letters that she stuffs away in her closet. When her letters reach the recipients, she is suddenly surrounded by all these boys who now know of her feelings. The movie features Lana Condor, Noah Centineo, Janel Parrish, Anna Cathcart, and others.
19. Okja – 7.87
This action-adventure film has a somewhat unusual topic. A powerful corporation creates a super pig. They place twenty-six such specimens around the world and vow to return ten years later to see which one of them has become the biggest. A young South Korean girl becomes attached to her grandfather's super pig, Okja. When the corporation declares Okja the winner and tries to take it back, the girl opposes it. A whole adventure starts here, and we see a story of PR, animal rights, and compassion. The film features Ahn Seo-hyun, Tilda Swinton, Paul Dano, Jake Gyllenhaal, Giancarlo Esposito, Lily Collins, and others.
20. El Camino: A Breaking Bad Movie – 7.84
Serving as a sequel and epilogue to the record-breaking series Breaking Bad, El Camino tells us the rest of the story of Jesse Pinkman and what came after that famous series finale. Aaron Paul reprised his role as Pinkman and was highly praised for his job. We also see some other Breaking Bad actors returning to their roles, including Bryan Cranston, Jesse Plemons, Krysten Ritter, Robert Forster, Charles Baker, Jonathan Banks, and Matt Jones.
21. Circus of Books – 7.82
For many years, a couple from California has kept a bookstore and gay pornography shop open, making for one of the oldest shops of this kind. Karen Mason and Barry Mason started out small, looking for a way to support their family. They Started with Hustler magazines, expanding to more and more content, as they also tried to keep everything as down-low as possible during a time when LGBT culture wasn't really accepted.
22. I Don't Feel At Home In This World – 7.72
Released in 2017, this is a comedy thriller that features Elijah Wood and Melanie Lynskey in the main roles. When her home is burglarized, nursing assistant Ruth tries to file a report with the police. When the police seem to be uninterested in helping out, she sets out on a dangerous adventure with her neighbor, Tony. The plot is absolutely insane, and we get to see Ruth and Tony go through some really tough situations before coming on top.
23. The Meyerowitz Stories – 7.68
The Meyerowitz Stories follows the Meyerowitz family. Family members slowly start gathering together in New York City, especially as father Harold feels that the art world has forgotten him and his decades of work. As he falls ill, his children learn how to cope with his new situation and how to take care of him. The film features Adam Sandler, Ben Stiller, Dustin Hoffman, Emma Thompson, Elizabeth Marvel, Grace Van Patten, Adam Driver, and others.
24. His House – 7.68
This horror film was released in 2020, and it follows a couple that flees from South Sudan alongside their daughter Nyagak. As they cross the Mediterranean, their daughter is lost at sea. When they reach London, they are offered to house, and immediately they feel as if they are not alone. They figure out an apeth is in the house, a spirit that demands they repay their debt. The film features Wunmi Mosaku, Sope Dirisu, Matt Smith, and others.
25. Gerald's Game – 7.62
This 2017 movie is a psychological horror-thriller that is based on a Stephen King novel from 1992. The film follows a married couple who decides to spice things up by spending some time in an isolated house. When the husband dies of a sudden heart attack, and his wife is left handcuffed to the bed, she must find a way to survive. We enjoy Carla Gugino and Bruce Greenwood in the main roles, alongside Carel Struycken, Henry Thomas, and Kate Siegel.
26. Atlantics – 7.62
Atlantics is a supernatural romantic drama that tells the story of Ada and her partner, Souleiman. We see a story that touches on the refugee crisis, loss, grief, class struggle, and so on. We have Mame Bineta Sane and Ibrahima Traore in the main roles. For the most part, the film features unknown actors, but that didn't stop it from being selected to compete for the Palme d'Or in 2019. Mati Diop, the film's director, has also become the first black woman to direct a film that was featured at the Cannes Film Festival.
27. Tramps – 7.6
This 2016 film is a comedy directed by Adam Leon. We follow Callum Turner and Grace Van Patten in the roles of Danny and Ellie, two young people who fall in love while carrying out what turns out to be a rather shady deal. We also have Michal Vondel, Mike Birbiglia, and Margaret Colin on the cast list.
28. Uncut Gems – 7.6
Uncut Gems is a crime thriller that features Adam Sandler, Lakeith Stanfield, Julia Fox, Idina Menzel, and Judd Hirsch. Sandler plays the role of a jeweler with a gambling addiction. He finds himself having to retrieve an expensive gem to pay off his debts. Many critics believe this is the best performance of Sandler's career.
29. Divines – 7.57
This 2016 drama film tells the story of a teenage girl living on the outskirts of Paris in a Romani suburb. It's a story full of grief and the dangers of living mostly on the streets, of love and friendship. Divines feature Oulaya Amamra in the main role, alongside Deborah Lukumuena. The film won the Camera d'Or award at the 2016 Cannes Film Festival, as well as several César Awards. It was also nominated at the Golden Globe Awards for the Best Foreign Language Film but didn't win.
30. Our Souls At Night – 7.52
This romantic film from 2017 is based on the same-named novel by Kent Haruf. Starring Robert Redford and Jane Fonda, the film tells the story of a widow and widower who lived next to each other for years, who barely have a relationship at all. Everything changes when Addie, Fonda's character, puts in the effort to get to know Louis (Redford) better. The actors were praised for their performance, and so was the chemistry between the two main actors.
31. The Kindergarten Teacher – 7.52
The Kindergarten Teacher is a drama that's based on the Israeli film with the same name from 4 years prior. Maggie Gyllenhaal plays Lisa, a kindergarten teacher from Staten Island, who starts dedicating more of her time to nurturing one of her students who appears to be a prodigy in poetry. Her obsession with the child's genius reaches unhealthy levels after the child is moved to a new kindergarten. The cast also includes Parker Sevak, Michael Chernus, Gael Garcia Bernal, Anna Baryshnikov, Ajay Naidu, Rosa Salazar, and others.
32. American Murder The Family Next Door – 7.46
This is a true-crime documentary film that tells the story of the 2018 Watts family murders in Frederick, Colorado. We're going to watch archival footage, social media posts, some recordings from the law enforcement officers, and tons of other content that will help us get a better understanding of what happened. Christopher Lee murdered his pregnant wife, as well as his two young daughters in August 2018, and he was sentenced to five life sentences.
33. Always Be My Maybe – 7.38
This Netflix film is a romantic comedy, and it may be just what you need this holiday season. Featuring Ali Wong and Randal Park, as well as the charming Keanu Reeves, the film was well-received by audiences and critics alike. Sasha Tran and Marcus Kim have been friends since childhood, but their relationship fell apart later on. When they reach adulthood, Sasha is a celebrity chef while Marcus is still holding on to his unsuccessful band while living with his father. Whether they will fall in love once they reunite remains to be seen.
34. The Other Side of the Wind – 7.36
This particular Orson Welles film was released in 2018, but it spent forty years in development. Filming began back in 1970 and resumed on and off over the decades. Even more interesting is the fact that this is a film within a film. The cast includes John Huston, Oja Kodar, Peter Bogdanovich, Susan Strasberg, Norman Foster, Bob Radom, Lilli Palmer, Edmond O'Brien, and many others.
35. I Am Mother – 7.36
This science-fiction thriller was released in 2019, and it follows a girl in a post-apocalyptic bunker named Daughter. She's being raised by a robot who's trying to aid the repopulation of Earth, called Mother. As Daughter becomes more curious about the outside world, she encounters another human. The movie features Hilary Swank, Clara Rugaard, Luke Hawker, and Rose Byrne.
36. The Boys in the Band – 7.28
The Boys in the Band is a name that has come up a few times over the years, starting with a play by Mart Crowley in 1968, followed by a 1970 movie. The film follows a birthday party in 1968 when a surprise guest attends the meeting, and they start off a drunken game that leaves these gay friends with unspoken feelings. The movie's cast includes Jim Parsons, Zachary Quinto, Matt Bomer, Andrew Rannells, Charlie Carver, Robin de Jesus, Brian Hutchison, Michael Benjamin Washington, and Tuc Watkins.
37. Set It Up – 7.28
This romantic comedy will put you in a good mood! Starring Zoey Deutch, Glenn Powell, Taye Diggs, and Lucy Liu, the film follows two assistants and their bosses. When they figure out both bosses are in need of some romance, the two assistants try to set them up for a date and help steer their relationship. Will there be a happy ending for their bosses, or will their meddling ruin things? Is there something more between the assistants too?
38. The Platform – 7.26
Perhaps one of the most disturbing movies we've seen in a while, this Spanish 2019 film tells a story we have yet to see. Set in a large tower, this is a Vertical Self-Management center where residents are moved between floors every 30 days. A platform comes down every day, filled with food, but those on the bottom floors rarely get to eat anything. As some of the residents decide that everyone has to eat something and to better regulate how much some people eat, madness ensues. The film features Iván Massagué, Antonia San Juan, Zorion Eguileor, and Emilio Buale Coka.
39. Tallulah – 7.1
Tallulah is a comedy-drama film that features Elliot Page, Allison Janney, and Tammy Blanchard. The film follows a young woman who takes on caring for her mother's baby, pretending it's her child. When she asks for help from her ex-boyfriend's mother, telling her it's her granddaughter, things get complicated. It's a complicated story, but it's rather endearing in the end.
40. Tigertail – 7.06
This 2020 drama follows the story of a young boy from a poor family in Huwei. Following his father's death, he goes live with his grandparents, where he meets a girl from a wealthy family, growing up together. Years later, they reconnect. Tigertail stars Tzi Ma, Christine Ko, Hayden Szeto, Lee Hong-chi, Kunjue Li, and James Saito.
41. Enola Holmes – 7.02
Enola Holmes is a mystery film that has an impressive cast, including Stranger Things' Millie Bobby Brown, Henry Cavill, Sam Claflin, Fiona Shaw, and Helena Bonham Carter. We follow Enola Holmes on her journey to find her mother Eudoria, even as her brothers, Sherlock and Mycroft try to find and stop her. She goes on an adventure, solves mysteries, and saves a life, proving she's every much the detective her brother is and that she deserves to have a freedom that Mycroft thinks does not befit a young woman of that time.
42. Da 5 Bloods – 7
Da 5 Bloods is a film about four aging Vietnam War vets who return to Vietnam in search of the remains of their squad leader, as well as a treasure they hid away. Whether they manage to find everything they came out to or if they find some trouble instead remain s to be seen. The 2020 film was directed by Spike Lee, and it stars Delroy Lindo, Jonathan Majors, Clarke Peters, Paul Walter Hauser, Chadwick Boseman, and Jean Reno.
43. Win It All – 6.97
This movie will have you laughing from start to finish. Win It All tells the story of a gambling addict who works as a parking attendant. Before long, Eddie finds himself in a pretty tough situation, as he needs to store a mysterious duffel bag full of money. The movie features Jake Johnson, Aislinn Derbez, Joe Lo Truglio, and Keegan-Michael Key.
44. The Devil All The Time – 6.96
This is a psychological thriller that features Tom Holland, Harry Melling, Bill Skarsgard, Sebastian Stan, Robert Pattinson, Jason Clarke, Riley Keough, Eliza Scanlen, and others. The story is set after the Second World War when Marine Williard Russel returns home. Years later, Russel's son, Roy, starts having trouble figuring out what's real and what's not after he gets bitten by a spider.
45. Cam – 6.92
If you're in for a psychological horror, Cam is certainly going to fit the bill. This film tells the story of a camgirl on a website that broadcasts sexually promiscuous live shows. As she becomes obsessed with her rank on the site, she becomes more entangled into this world, even as her family and friends become worried about her. Cam features Madeline Brewer, Patch Darragh, Melora Walters, Devid Druid, and Imani Hakim.
46. The Old Guard – 6.92
This year, we had the opportunity to enjoy a new type of superhero film where the heroes are immortals. Featuring Charlize Theron, KiKi Layne, Matthias Schoenaerts, Marwan Kenzari, Harry Melling, Luca Marinelli, and others. The immortals form a team of mercenaries that take on jobs no one else can. When their secret is outed, they go on a revenge job.
47. High Flying Bird – 6.86
High Flying Bird is a sports drama film that is directed by Steven Soderbergh. The film features Andre Holland, Melvin Gregg, Zachary Quinto, Zazie Beets, Jeryl Prescott, and others. We get to watch a sports agent who must convince his client, a new basketball player, to take up a controversial opportunity. The bad news for him is that he only has 72 hours to do so. This film was entirely filmed on the iPhone 8.
48. Uncorked – 6.86
Starring Mamoudou Athie, Courtney B. Vance, Sasha Compere, Niecy Nash, and others, Uncorked is a drama. We get the story of Elijah, who works for his family's local barbecue restaurant, which he is expected to take over. However, his interest is to become a master sommelier. Whether he'll accomplish his dream or not, go ahead and watch the movie and see if the critics were right about how great the film is.
49. Dumplin – 6.84
Adapting on a young adult novel with the same name, Dumplin' stars Jennifer Aniston and Odeya Rush, as well as Danielle Macdonald. Will is a young girl who's raised mostly by her aunt Lucy, while her mother remains committed to various pageants, which is something that deeply bothers her, especially as she calls her Dumplin'. However, along the way, mother and daughter finally grow closer.
50. I'm Thinking of Ending Things – 6.78
The last movie on our list is a psychological horror directed by Charlie Kaufman. Based on a same-named novel, the film follows the story of a young woman who travels with her boyfriend to his parent's home. Once there, strange things keep happening, and the story winding down a strange path. There's a surreal feel about the film, leaving you feeling unsettled. Nonetheless, the film is a must-see if you like the genre. I'm Thinking of Ending Things features Jesse Plemons, Jessie Buckley, Toni Collette, David Thewlis, and Oliver Platt.