We are reader supported and may earn a commission when you buy through links on our site.
Learn more
How to Watch 'Fargo' on Netflix from the USA
There are many series that will keep you interested along the way, but Fargo is certainly a special one. Thankfully for those who want to keep up with the show or start fresh, you can head over to Netflix.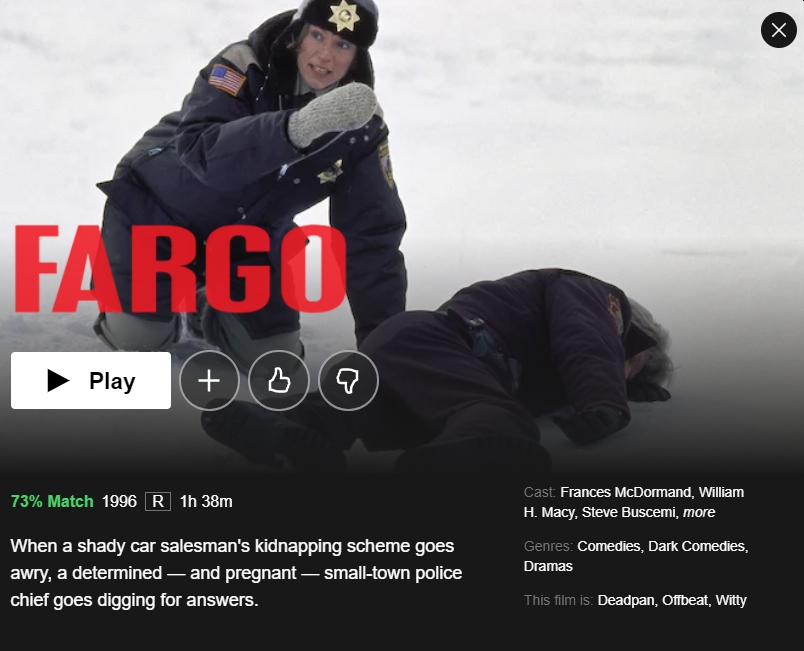 This crime drama-comedy anthology is created and written by Noah Hawley but features the Coen brothers as executive producers. The Coen brothers are actually the ones who wrote and directed the original film in 1996, which inspired the current series, so it's a cool deal that they've given their seal of approval by participating in the show.
Since the series has an anthology format, it means that each season has a different cast and a different story and is set in a new era and location. For instance, the first season was set in 2006, and it features Billy Bob Thornton, Allison Tolman, Colin Hanks, and Martin Freeman. The second season is set in 1979 and features Kirsten Dunst, Patrick Wilson, Jesse Plemons, Jim Smart, and Ted Danson. The third season is set in 2010 and stars Ewan McGregor, Carrie Coon, Mary Elizabeth Winstead, Goran Bogdan, and David Thewlis.
The first season was released in 2014, the second season was released in 2015, and the third one in 2017. They each feature ten episodes.
The fourth season, which is set in the 1950s, features Chris Rock, Jessie Buckley, Jason Schwartzman, Ben Whishaw, and Jack Huston. The series only just premiered at the end of September and will feature 11 episodes in total.
Is Fargo on Netflix?
Fargo is available to stream on Netflix, but it really just depends on where you live. For instance, you won't be able to find Fargo in the United States on Netflix. Since the show is an original FX series and FX has its own streaming platform, as well as a collaboration with Hulu, it won't be shared with Netflix.
We did manage to find Fargo in several countries, however, and if you know just how to do it, you'd be able to stream it as well, even if it's not locally available.
30-days money back guarantee
Is Fargo on Netflix Canada?
Fargo is available to stream on Netflix Canada and you'll find all the first three seasons that have already aired. The newest season will likely be added soon, but we don't have a timeline for that as of yet. However, it is quite likely that this will happen in the few months after the series ends streaming.
Is Fargo Season 1 on Netflix?
We managed to find Fargo on several Netflix platforms, specifically Canada and Australia. In both countries, all three seasons of Fargo were available to stream.
One of the biggest issues we have with Netflix is that even though we all pretty much pay the same subscription price no matter what country we're in, we don't have the same content available to watch. Of course, this is understandable because there are multiple streaming platforms across the world, so there is a bit more competition. Even in the United States, the issue comes with the collaboration between FX and Hulu, which has the right for the series locally. However, in other countries, you'll be able to find Fargo just fine. Thankfully, if you use a VPN, you'll be able to watch the series regardless of whether it is locally available on Netflix or not.
Netflix is available in close to 200 countries, and its presence is marked with individual libraries to better respond to the likes and dislikes of people in those locations. However, it seems each of these libraries is also geo-blocked. In short, you won't be able to watch the series and movies designed for your neighbors. You can fix the problem with the help of a VPN, which can route your internet connection through a foreign server of your choice, so you appear to be in that location.
Our recommendation is to use NordVPN, which is a really great tool with thousands of servers all over the world and some great privacy features. NordVPN has great encryption protocols that will ensure your privacy no matter what pages you visit and what else you do online.
Here's what you need to do:
First, you'll need to subscribe to NordVPN, which takes a few moments. Grab the deal as they offer 3 months for free and a big discount for the 2-year plan, and you don't want to miss it!
Then, you need to get the apps for your device and log in to your account. Find a server in Canada or Australia and connect to it.
Once the connection is established, you can load Netflix in your browser or relaunch the app on your device. Netflix will believe you are in this new country you chose and display all the content for that specific area, including Fargo.
That's it! That's all you have to do to watch Fargo, even if they don't display the series for you in your country.
What do I do if Netflix figures out I'm using a VPN?
Netflix has indeed banned people from using VPNs on its platform, but it really comes down to whether or not they catch you doing it. Netflix has the technology to detect when people are using VPNs. Still, it doesn't necessarily always work because it's generally figuring out when many people use the same IP address, so it blacklists those. With NordVPN, we haven't had any issues with Netflix, but it doesn't mean that it can't happen at one point or another in the future. If you face any problems, you have to try another server in that country and maybe even clear out your cookies.
If you can't do it on your own, it is also a good idea to contact the NordVPN customer support team, which is available 24/7. They will help you find the right server that will work with the platform you are trying to access, so you'll easily overcome the problem. Since they are available around the clock, you won't have any issues in reaching someone on customer support, which is sometimes a problem with various online tools if you don't live in a certain country.
Why can't I use a free VPN instead?
Free VPNs can be quite problematic due to many reasons which we'll go through immediately. First of all, free VPNs are the first to get blacklisted by Netflix, so it is quite unlikely that you get to watch anything if you use one of these apps. Even if you did get to bypass the blockade on Netflix, you have other problems, such as the ability to actually stream Fargo.
Editor's note: NordVPN is our #1 choice for unblocking Netflix. Sign up for the 2-year plan with NordVPN at $3.49 per month, as well as 3 months for FREE. A 30-day money-back guarantee is included on all plans, so you can cancel any time and get your money back.
Free VPNs have limited funds, so they also have a limited number of servers at their disposal. Even though they have few servers, they are free – so they will have lots and lots of uses. When you put a lot of people on the same server, you'll discover that you get a lot of lag. This means that your internet speeds will be rather low and make your streaming dreams of Fargo borderline impossible.
There are also some other risks when it comes to installing free VPNs on your computer or mobile devices. Security researchers have detected time and time again so-called free VPN apps in app stores that were actually carrying malware. Once installed, the malware would start collecting people's information, which could then be used against them, whether it's financial information that could lead to your bank account being cleaned out or other more sensitive details that they could blackmail you with at one point or another. It could even lead to your employer's servers getting breached, so you simply can't take that risk.
There are also other VPNs that will use peer-to-peer routing, which is also rather dangerous due to other reasons. These apps will basically allow you to use them for free as long as you give them access to your computer's resources. When you do this, they will allow other users to use your device as a type of server so they can bypass various other blockades of their own. However, this whole thing can have a strong impact on your own device's performance, which is not something you want. Furthermore, the app continues working even when you are no longer using the tool, which is also not ideal.
With some of these apps, researchers have also discovered that they never use encryption, which exposes your data to any type of tracker. Furthermore, they go one step further and even keep a log of your internet activity, which is a big red flag when it comes to VPNs.
Final thoughts
Paying for a VPN is not something that you probably put on your monthly budget, but it's something that will provide you with lots of freedom online and a lot of privacy and security. Ultimately, it's a good investment to make. Even better is the fact that you get to watch Fargo even if it's not available specifically for you on Netflix.