We are reader supported and may earn a commission when you buy through links on our site.
Learn more
How to Fix Netflix m7111-1331-5059 Error
If you've been trying to watch some Netflix content and got the dreaded m7111-1331-5059 error, you've come to the right place as we're about to give you some tips on how to fix the Netflix m7111-1331-5059 error.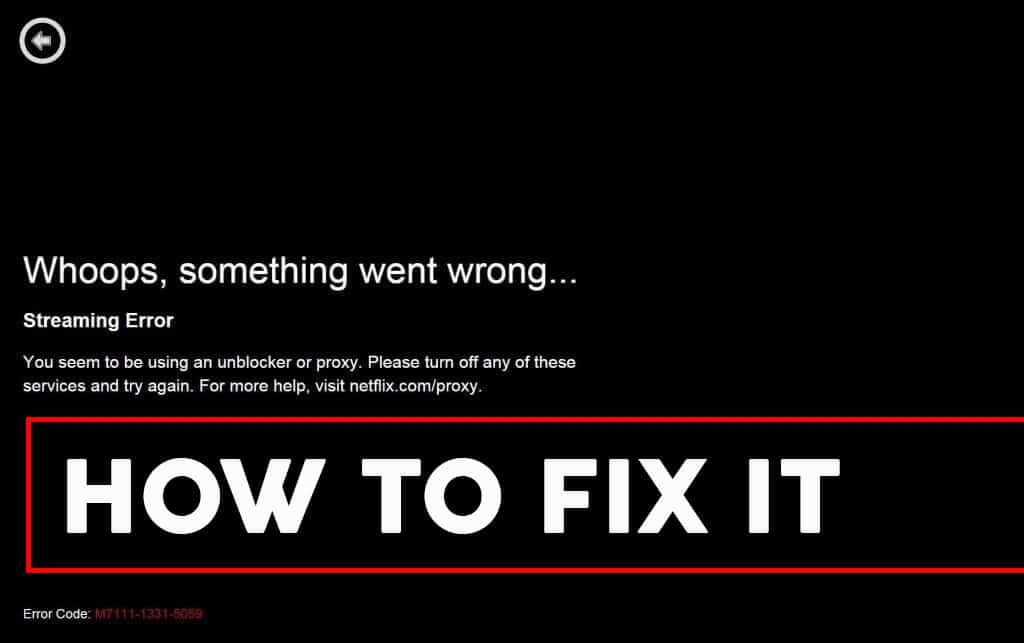 Well, our tips are actually about circumventing it rather than fixing it but the result is what matters: allowing you to watch your Netflix content, no matter where you are. This is not about defrauding Netflix or watching content without a valid subscription but about giving you the freedom of using your subscription even when you are on the move. As you're about to see, the fix is actually relatively easy and it gives you several other advantages too.
First things first, we'll begin our exploration by explaining what the Netflix M7111-1331-5059 error is. We'll explain how this is not an actual error but instead a restriction imposed by Netflix. We'll then do our best to explain why Netflix imposes such restrictions followed by a short discussion on geo-blocking and then explain how a VPN works and how it can help you with that problem. After all, geo-blocking is what all this is about. Next, we'll show you how to fix—or rather work around—the Netflix M7111-1331-5059 error. As you'll see it's pretty simple. The only challenge is finding a VPN provider that works with Netflix and luckily for you, we've done the hard work of weeding them out and have come up with a list of five providers that work fine with Netflix. We'll briefly review each of these providers and present their main features and their respective pros and cons.
30-days money back guarantee
What Is The Netflix m7111-1331-5059 Error Code?
The "official" error message associated with the Netflix M7111-1331-5059 error code is "You seem to be using an unblocker or proxy. Please turn off any of these services and try again." Concretely, what it means is that Netflix won't let you watch the content because you're using some type of means to circumvent their geographical restrictions, or so they think. In reality, you might be using a VPN for security reasons because you're sitting in an Internet café or a public library. You could also be connected to a network that uses some sort of transparent proxying leading Netflix to misjudge your intentions. Or perhaps you're on vacation abroad and don't want to miss the latest episode of your favourite TV show.
Why is Netflix Doing That?
There is a simple reason why Netflix doesn't want users to use a VPN to connect to their service: licensing. The media content that Netflix makes available for your viewing enjoyment is often licensed for very specific markets. Netflix, for instance, might have the right to distribute a given TV series only to users located within the US. In different markets, the broadcast rights to the same series might be granted to some other content provider.
For example, Netflix owns the streaming rights to the immensely popular TV show The Big Bang Theory in some European markets but not in the US. Similarly, some of Netflix's original content is often available in some markets on broadcast regular TV through agreements that forbid them from making it available on Netflix in these markets. Riverdale is a good example of a Netflix Original series that airs on the CW rather than on Netflix.
Geo-blocking Explained
To enforce these distribution restrictions, Netflix makes heavy use of a technique called geo-blocking. It ensures that users can only access their service locally. It is done mainly by filtering traffic based on source IP address. An IP address is a unique identifier assigned to every computer connected to the Internet. It is used to route data to and from different Internet-connected computers. Every request transmitted to Netflix's server is marked with your IP address. This is what we refer to as the source IP address. You may think of it as the return address on a piece of postal mail. This is how Netflix's servers will know where to send the video stream you requested.
Just like postal addresses, there is a direct correlation between IP addresses and physical location. Netflix can extrapolate your location by cross-referencing your IP address and can then block your requests if it finds you're not in an authorized location.
How Does A VPN Work And Help With Geo-blocking?
Although the original use of Virtual Private Networks, or VPNs, was to provide added security and privacy, they can help you connect to Netflix from anywhere in the world. A VPN builds a virtual tunnel—hence the name—between your device running a VPN client and a VPN server in a remote location. All data in and out of your computer is sent through the tunnel after being encrypted using strong algorithms that make it impossible to crack. When data from your computer arrives at the VPN server, it is decrypted before being sent out on the Internet.
This is where a VPN helps you access Netflix. When the decrypted data leaves the VPN server, its source IP address is not that of your device but the VPN server's IP address. Netflix, therefore, will "think" that you're located wherever the VPN server is. So, to access the US Netflix from outside the US, all you need to do is connect to a VPN server located in the US, right? Well, not necessarily.
The problem is that Netflix is aware that some users are using a VPN to access the service from a foreign location. To prevent that, the service will often block incoming connections coming from IP addresses known to be used by VPN providers. They do that because they have no way of distinguishing between legit users using a VPN for increased security and users using a VPN to access content that they should not be allowed to access.
How To Fix The Error?
So, if you have the Netflix M7111-1331-5059 error, here's a simple fix. Well, it's actually a workaround rather than a fix but it will get the job done.
Sign up with one of the 5 VPNs reviewed below – (we recommend using ExpressVPN)
Download and install the appropriate provider's VPN client software for your operating system
Open the VPN client software and pick a server located in the country from which you want to access Netflix (this could be the USA, Canada or Japan, for example)
Clear the cookies on your browser to ensure that Netflix no longer sees you as a VPN user
Open Netflix and try the geo-restricted content. It should now be unblocked
If the content is not unblocked, do not despair. It may well work with another server. Go back to step 3 and pick a different server in the same country. If you're using one of our recommended providers, you should eventually hit one that works with Netflix.
Note: If your provider has a "Netflix" option for connection, pick that one as it should automatically pick the best VPN server for watching Netflix.
The Best VPN Providers For Netflix
Not all VPN providers work well with Netflix. As we've explained, Netflix is actively working at blocking access from VPNs. The best providers, therefore, are those that work as actively at circumventing Netflix's filtering either by regularly changing their public IP addresses or by using other stealth techniques. We've done some research and have identified at least five providers which, at the time of this writing, work with Netflix. Let's briefly review each one.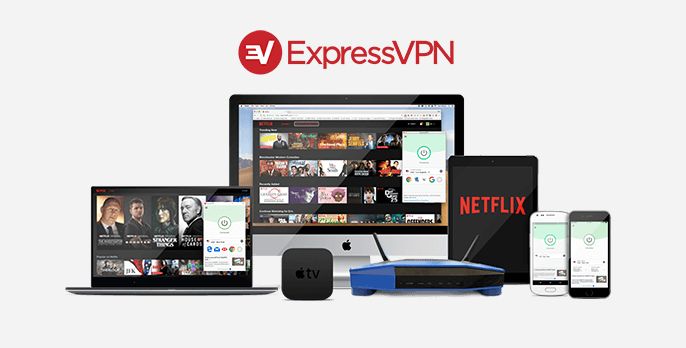 ExpressVPN is one of the fastest VPNs and considering today's media-intensive apps such as Netflix, you know speed is important. This provider offers consistent speed across all its servers and it does so without compromising security. But more important to that task at hand, it seems like this provider does an excellent job of staying under the radar when it comes to connecting to Netflix or other streaming services with similar practices.
ExpressVPN uses resilient encryption standards like OpenVPN connections encrypted with 256-bit AES as default. The service's 4 096-bit DHE-RSA keys are protected by an SHA-512 hashing algorithm. For an excellent level of privacy, this provider only retains minimal individual data. It is based in the British Virgin Islands and is, therefore, not legally required to retain any user data at all. The client app features a "network lock" which is equivalent to other provider's kill switch that further protects your privacy by blocking all network traffic if the VPN connection ever drops, which is a rare occurrence with such a reliable provider. Although ExpressVPN may not be the provider with the largest number of server and the most server locations, what it lacks in the number of servers, it makes up for in speed and quality.
ExpressVPN's client applications are available for most platforms and are very beginner-friendly. And if you do encounter an issue, the providers offer 24/7 customer support. I had one to use the live chat support and received a reply within a few seconds.
Pros
It can be used to unblock Netflix, the BBC iPlayer, Hulu, and many more streaming services from anywhere in the world
It offers reliable and fast connections
It uses AES-256 encryption
It does not keep any personal usage log
Live chat support is available.
Cons
It tends to be slightly more expensive than some other providers
The client apps lack some configuration options for advanced users
Get more info about ExpressVPN and its excellent software and features in our full ExpressVPN review.
BEST VPN FOR NETFLIX
:
ExpressVPN is our top choice
. They have the fastest speeds and best apps for any device. Take advantage of our exclusive 49% discount on the yearly plan, and get 3 extra months free. 30 day money back guarantee included.
NordVPN is one of the oldest VPN providers. It has been around for over a decade and its ongoing popularity is still going strong, thanks in part to its huge server network and excellent value for the money. The provider's servers fleet is impressive and it is one of the largest over 5000 servers located in 61 countries around the world. Having so many options means you're unlikely to encounter geo-restrictions. Using NordVPN, we consistently had no issues accessing Netflix as well as other streaming services such as Hulu and BBC iPlayer. Furthermore, this is a VPN that guarantees 99.9% uptime. While the company has been criticized in the past for suffering from speed issues, it is a thing of the past as NordVPN has deployed fruitful efforts to solve that.
NordVPN provides 256-bit encryption on OpenVPN with 2 048-bit Diffie-Hellman keys as standard. The service also offers several additional useful security features including a kill switch and shared IP addresses. Privacy is the provider's strongest point and being based in Panama means they are free to not retain any user information whatsoever. Other unique features include double VPN servers (where your data is encrypted twice and rerouted through two successive VPN servers for extra protection) and Onion over VPN servers (where your data is redirected through the TOR Network as well as a VPN for even better security).
Pros
There are over 5,000 servers worldwide
Consistently unblocks Netflix, Hulu, BBC iPlayer, and more
The Android client app has a Google Play user rating of 4.3/5.0, better than most providers
The service uses 2 048-bit SSL keys and DNS leak protection
An extra-secure, Double VPN option is available for stronger data encryption
30-day money back guarantee
Cons
Some unreliable servers

are still remaining although they are scarce

The provider

can take up to 30 days to process refunds

if you ever need one
Learn more about the NordVPN software and overall experience in our complete NordVPN review.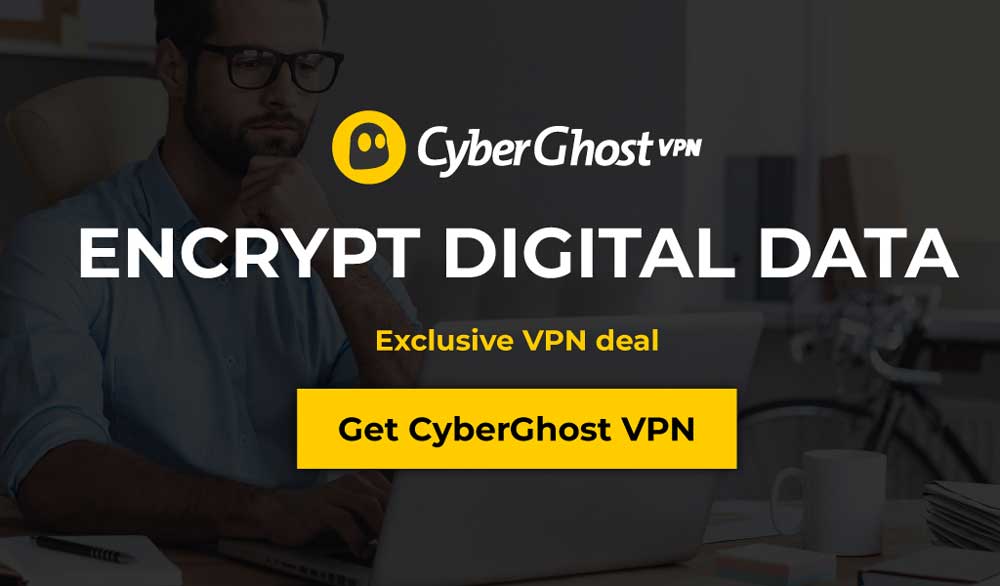 CyberGhost is another immensely popular VPN provider. It made our list because the service works great and delivers what's expected. This provider has over 1300 servers in some 30 different countries. Among these, 150 servers are located in the US. This makes CyberGhost an excellent option to unblock many kinds of American geo-blocked content such as Netflix or other streaming services. And with servers in multiple other countries, you should be able to bypass most geo-blocking.
By default, CyberGhost uses the OpenVPN protocol with 256-bit AES Encryption and 2 048-bit keys. For ultimate security, the provider also uses perfect secrecy. By generating a random key for each session, intercepting the connection is made much harder. Furthermore, the provider has a strict zero-logging policy; it doesn't even keep user's email addresses. Instead, it chose to have all purchases processed by resellers so the only personal information it ever has about its users is their usernames. Other important features of the service include the ubiquitous Internet kill switch that will automatically disconnect your network if the VPN connection goes down as well as DNS and IP leak protection. As for the VPN client apps, they are available for Windows, Mac OS, iOS and Android.
Pros
Will Unblock Netflix as well as Amazon Prime Video (among other streaming providers)
Very fast speeds which are ideal for streaming
The client apps are easy to use
The service can be used on up to 7 devices simultaneously
Reliable and knowledgeable 24/7 live chat support
Cons
There have been reports of a WebRTC IPv6 leak in the Mac OS client app
A Linux client app is not available
Learn more about CyberGhost's fast speeds and privacy features in our complete CyberGhost review.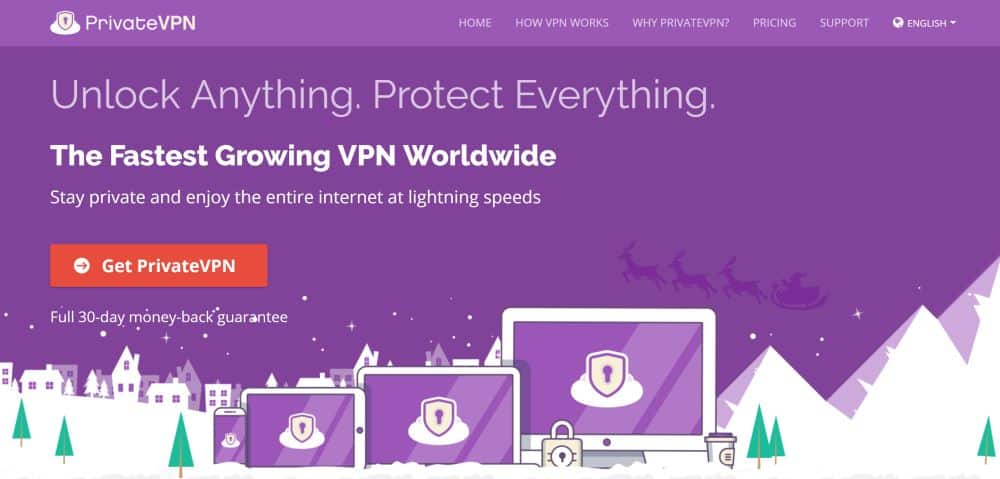 PrivateVPN, the next entry on our list, is another excellent provider. Using this VPN, you will be able to safely stream, surf, and download content from the web. It can also let you simply check social media accounts or your e-mail with full anonymity and from anywhere. The two most Important features of the service are its speed and its ease of use. It is one of the best VPNs for general daily use. As for the client software, it is available for smartphones, desktop and laptop computers, and even Fire TV, a great advantage if this the platform you're using to watch Netflix content, and it boasts a lightweight and easy to use interface. This provider is a great option for anyone who wants to use a VPN but doesn't want to have to deal with complicated interfaces.
PrivateVPN's network is comprised of over 100 servers in 56 different countries. While this is no match for some of its competitors' hundreds if not thousands of servers, the provider seems to be doing a good job of remaining unnoticed by Netflix. This is a provider that can deliver the speed, the security, and the location variety that you're looking for. On the security front, it uses 256-bit AES encryption and it keeps your connection safe with the usual automatic kill switch and DNS leak protection. Furthermore, the supplier has a zero logging policy on all traffic for an excellent level of privacy.
Pros
One of the fastest VPNs available
It can Unblock Netflix, the BBC iPlayer, and many other geo-restricted streaming platforms
The client applications are very user-friendly
The subscription allows up to 6 simultaneous connections
Both a free trial and a money-back guarantee are available
24/7 support, including live chat, is available
Cons
Server performance can be inconsistent
Despite its no logging policy, the provider collects your IP address and uses cookies
The service boasts a smaller network of servers
Live chat support is rarely available
Read more about PrivateVPN's intuitive software and features in our complete PrivateVPN review.