We are reader supported and may earn a commission when you buy through links on our site.
Learn more
How to Update Amazon Fire TV Stick with New Software
It's important to keep your Amazon Fire TV device up to date. Not only does it patch security holes, but it also brings along new features and even new content. Today, we show you how to manually update your Firestick's software, and share a few tips to squeeze every drop of performance out of your streaming stick.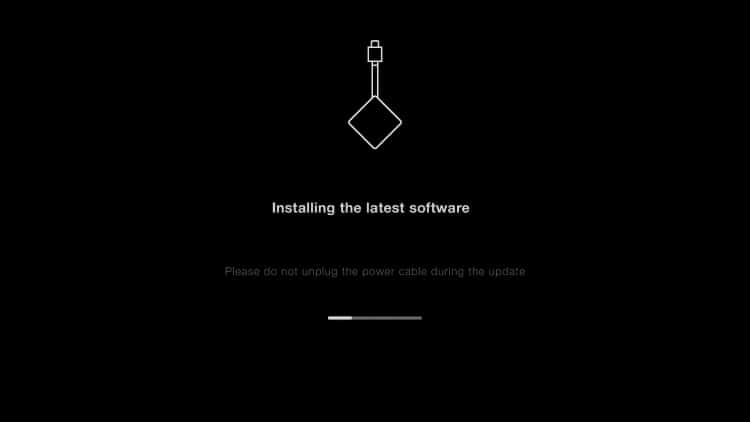 The Amazon Fire TV family of devices, which includes Firestick, Fire TV Cube, and the Fire TV Stick 4K, has quickly become one of the world's favorite streaming devices. They're fast, efficient, inexpensive, easy to jailbreak, and amazingly straightforward to use, offering full access to a ton of movies and TV shows right from the convenience of your own home.
Keeping your Fire TV devices up to date is important. Not only do you get the best performance, but you'll also take advantage of security updates and new features released by Amazon on a regular basis. If you own an older Fire device, though, you may need to manually update them to the latest software. Don't worry, it's not as complicated as it might seem. We'll guide you through the entire process below.
30-days money back guarantee
First, remember to use a VPN for safe streams
Online privacy is a huge concern in the modern world, even for Firestick and Fire TV users. Government agencies spy on our activity, ISPs record traffic and sell personal information, and cyber criminals would love to get their hands on some private data. VPNs can prevent all of these threats from becoming a problem, but only if you install a reliable service first.
Virtual private networks (VPNs) encrypt data leaving your device to provide a safe tunnel between you and the internet. Some services are faster than others, though, which means you need to do a little research before taking the plunge. We've simplified the process by narrowing down the market to our favorite service:
NordVPN – Best VPN for Fire TV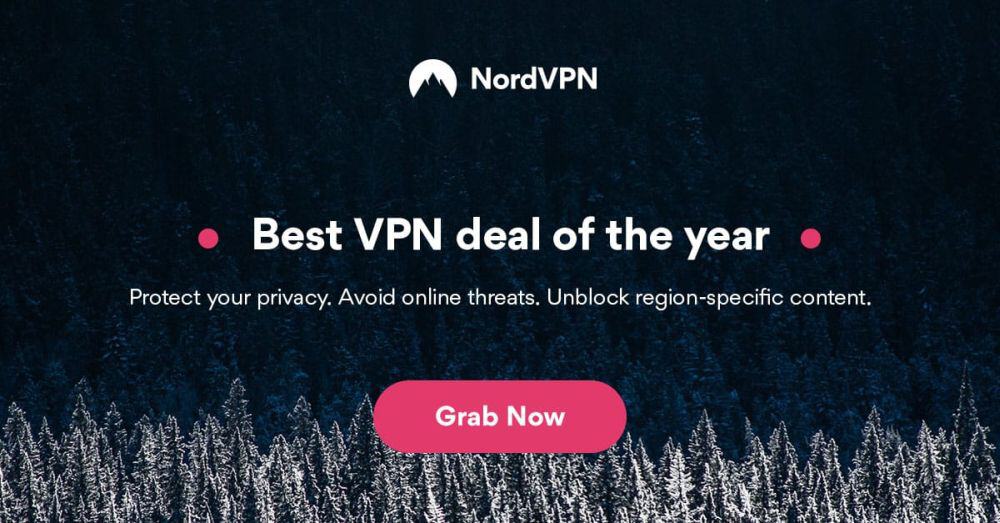 Sure, you could use Firestick without a VPN, but you'd be giving up an awful lot. And when you consider that top-tier providers like NordVPN are available for a fraction of the cost of popular streaming sites like Netflix, it becomes an increasingly difficult value proposition to argue against.
For one, NordVPN opens up an entire world of previously inaccessible streaming content hidden behind unfair geoblocks. Say you want to watch Netflix Japan–normally no-can-do if you live outside of that country. But with NordVPN, you need only connect to a Japanese server, which reroutes your traffic and labels it with the right IP address. Suddenly, you're enjoying the same anime as folks connecting from Internet cafes in Tokyo.
Now, take this concept, and expand it to over 5,800 servers in 59 countries. That is a ton of content accessible, all with the convenience of your Fire TV remote. And the best part is no one will know about your spoofing; it's all hidden behind unbreakable 256-bit AES encryption courtesy of the ultra-fast NordLynx protocol. There's no slowdown or latency, so you can say goodbye to the buffering wheel as well as ISP throttling. And as a full show of dedication to your anonymity, NordVPN maintains a rock-solid no-logging policy that purges any trace of your activity.
Read our full NordVPN review.
Pros
Optimized servers for unblocking Netflix
Most VPN servers with different IP addresses
Allows multiple connections (6 devices)
No logs and encrypted connections for total privacy
Live Chat Support.
Cons
Automatic server selection can be unreliable
Apps can be a bit cumbersome to use.
Updating your Fire TV with new software
New software updates come along at a regular pace on Fire TV, Fire Cube, and Fire Stick. Most of the time these devices will automatically update to the latest version while you sleep. It's always a good idea to manually check from time to time just to make sure you're getting the best experience possible, however.
How to manually update Fire TV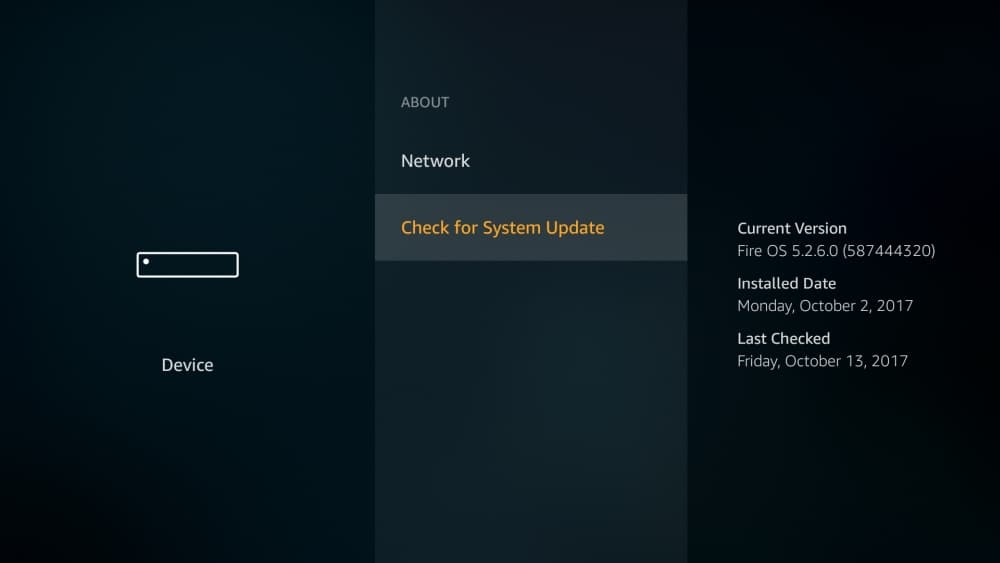 The option to manually update your Fire Stick is kind of hidden from view, but once you know where to look it's not all that difficult. Using the steps below you can check for new releases and install new software with just a couple of clicks.
Open your Fire TV interface and go to the home menu.
On the menu items at the top of the screen, scroll to the right and choose Settings. You may need to press up on your remote to highlight the menu before you can navigate.
Scroll right through the icons and choose Device
Scroll to About and select it.
Move down to Check for System Update
The info on the right shows when you installed the last update and the last time you or the Fire Stick checked for a new version.
Click the Check for System Update option. Fire TV will check for a new release.
If a new release is available you'll be prompted to download and install immediately. Simply follow the pop-ups and you'll be updated in no time.
If no new release is available, head back to the home screen and watch a movie!
Once the update is complete your Firestick/Fire TV should automatically restart. If it doesn't, you may need to reboot it yourself. To quickly do this from any screen, hold the middle button on your remote along with the play/pause button for about five seconds.
Automatically update your Fire TV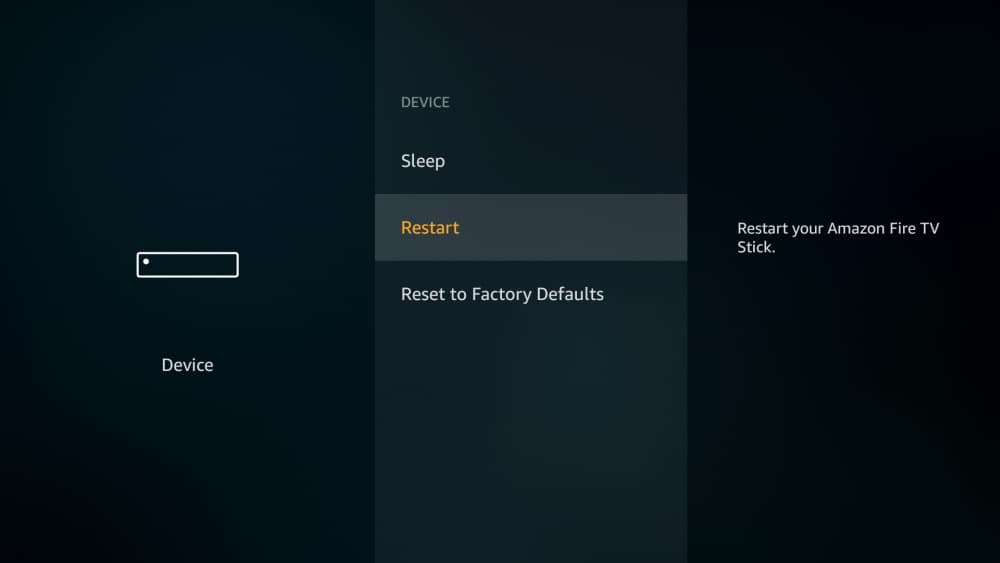 You don't have to manually check for updates every time you use your Fire device. Most of the time Fire TV will look for new versions without your intervention, usually at night while the device rests in sleep mode. Updates will be downloaded and automatically installed, ready to run the next time you want to watch a TV show.
Fire TV has automatic updates turned on by default, so most people won't need to do anything to get started. However, if you want to double check that you're on the latest version, make sure your Fire Stick can access the internet, then follow the steps below.
Open your Fire TV interface and go to the home menu.
On the menu items at the top of the screen, scroll to the right and choose Settings.
Scroll right and select Device
Choose Restart and confirm in the next window.
The Fire TV Stick will reboot. After it does, it will automatically look for updates.
Once the updates are downloaded, follow the prompts to reboot Fire TV and initiate the new software.
Factory reset Firestick for faster performance
Did the latest software update slow down your Fire TV? This can be surprisingly common on some devices, especially older releases of Fire TV and Fire Stick. If you encounter menu lag or other slowdown issues after an update, follow the quick factory reset instructions below.
There are two main methods for performing a factory reset on Fire TV/Firestick. For the first and most straightforward, navigate to Settings, followed by Device. Scroll to the bottom and choose the Restore to Factory Defaults option. Confirm your selection and the Fire TV will automatically carry out the reset.
The second way to factory reset is to hold down both the back button and the right key on your Fire TV remote. Keep them pressed for 5-6 seconds. A factory reset warning will eventually pop up. A timer counts down before the process carries out on its own, so if you change your mind, you only have about 20 seconds to cancel.
Check out our full guide on speeding up your Amazon Firestick.
Managing and updating app software on Fire TV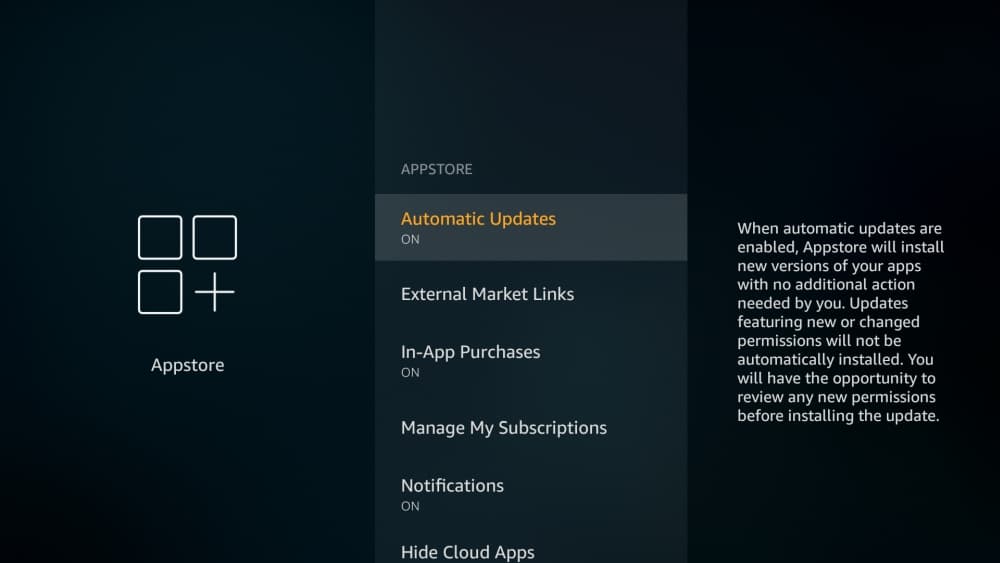 Fire TV devices can hold a lot of apps. Sometimes this software won't stay up to date, even if you keep the Firestick's operating system on the latest version. To ensure your apps are fresh and fast, follow the advice in the sections below.
Manually update Fire TV apps
Software you install through Fire TV's main interface lets you access a ton of streaming content, including Netflix movies, TV shows through Hulu, YouTube videos, and more. Most of the time these apps will automatically update themselves. In case they don't, simply go through the steps below.
Open your Fire TV and go to the home menu.
Scroll to the row marked Your Apps & Games
If the app you want to update isn't in the list, scroll right and choose See All
Highlight the app image and press the triple line menu button on your remote. This brings up a small menu with a few options at the bottom right corner of the screen.
Highlight More Info and click the remote to confirm.
If an update is available a new option will appear next to Open. Clicking it will bring up a prompt to confirm downloading and installing the update.
If no update is available you won't see any special notifications. Feel free to go binge watch Westworld instead!
Automatic app updates on Firestick
You can set your Fire TV Stick to automatically scan and update apps in the background, keeping them on the latest version without you having to lift a finger. This is usually turned on by default, so chances are you won't have to change the option manually. It's not a bad idea to double check and make sure the setting is switched on, though, just to save time in the future.
Open your Fire TV interface and go to the home menu.
On the menu items at the top of the screen, scroll to the right and choose Settings.
Scroll right and select Applications followed by Appstore.
Go to Automatic Updates and toggle it to on.
Exit the settings menu.
Reboot your Fire TV and the apps will automatically update.
Update sideloaded apps on Amazon Fire TV
Sideloading apps is the best way to get unsupported third party content on your Fire TV, such as our favorite media player, Kodi. It's surprisingly easy to do and doesn't involve any kind of hacking or rooting, just a simple alternative installation method. The best part is that apps installed using this method can be managed just like native apps on your Fire device, allowing you to update or uninstall them without too much trouble.
If you're already familiar with sideloading, you won't need to memorize anything new to update sideloaded apps. Simply follow the same methods you used to sideload in the first place to add updated software to your Fire TV. If you're new to sideloading, check out our guide on how to sideload apps on Fire TV for the full scoop, or just follow the steps below.
First, make sure your device is ready by going to the Fire TV Stick's settings page.
Choose Device > Developer Options and set "Apps from Unknown Sources" to ON. If you previously sideloaded an app, it will probably already be set correctly.
Accept the warning message about installing external apps.
Go to Settings > About – Network and write down the IP address of your Fire TV Stick.
Visit the adbLink website on your PC and download the program for your operating system.
Run and install adbLink.
Click new next to the devices box and add your Fire TV Stick.
Type the IP address of your Fire TV Stick into adbLink.
On your PC, download the new version of the app you want to upgrade.
In adbLink, click the Install APK button.
Browse and select the .apk update file from the adbLink interface.
Click yes when the Install APK prompt appears.
The update will automatically install over the old version of the app. Depending on the software, your account and customization data will usually be preserved.
Conclusion
Fire TV, Fire Cube, and Fire Stick devices offer a lot of entertainment in a surprisingly small package. They're inexpensive, easy to use, and deliver a ton of movie and TV show options right to your fingertips. If you keep the software and apps up to date, you're guaranteed the best experience possible, every time you turn on the Fire TV!
Did we miss your favorite method on how to update Fire TV software? Let us know in the comments section below!