We are reader supported and may earn a commission when you buy through links on our site.
Learn more
How to Install CKay TV on Fire Stick and Fire TV
Can't get enough entertainment on your Fire TV or Fire Stick? Have all the movies, TV series, games, and apps run their course? Don't worry, Amazon's unassuming little device still has some surprises in store. The best way to access all of these extras is to sideload apps on Fire TV. Through these safe alternatives you can access a massive variety of content, all for free.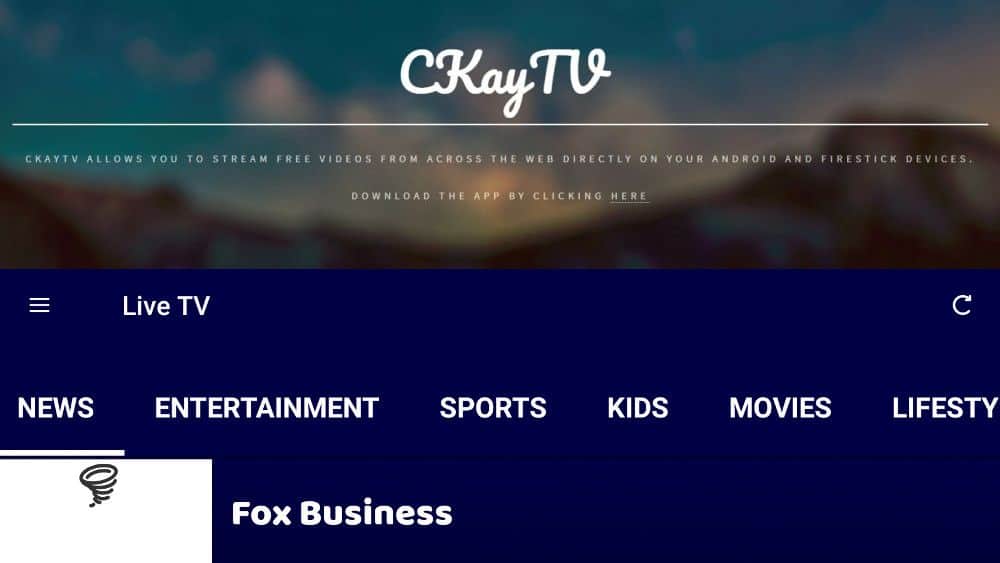 The CKay TV app is one of the best third party resources for streaming free content. The service has a little bit of everything on it, including TV shows, movies, music, news networks, lifestyle, even kids shows and live sports. CKay TV is incredibly easy to jump on and start streaming episodes or even series, so once you've got it installed on your Fire TV, you're free to enjoy it all you like!
30-days money back guarantee
Remember to Use a VPN with Fire TV
VPNs have become indispensable tools on the modern internet. It doesn't matter if you're installing Kodi on your Fire Stick, running a sideloaded copy of YouTube on Fire TV, or just streaming movies from the default Amazon service, it's always a good idea to keep a VPN running in the background.
Virtual private networks encrypt every piece of data that leaves your device, thus making it anonymous and secure. Without a this veil of cryptography protecting your data stream, anyone can spy on your activity, including cyber criminals, government surveillance programs, and nosy ISPs.
Getting the best VPN to use on Fire Stick means researching a lot of information and comparing dozens of important features. We've simplified the process by providing a list of top criteria below, each of which should receive top billing when researching a potential VPN for Fire Stick.
Device compatibility – To use a VPN with Fire Stick or Fire TV, it has to be compatible with the platform.
Good download speeds – Good VPNs work to offset the slower speeds created by encryption and traffic rerouting. You'll need that for high quality CKay TV streams.
Network size – The more servers a VPN runs, the better.
Zero-logging policy – A strict zero-logging policy for true online privacy and security is the only way to use a VPN.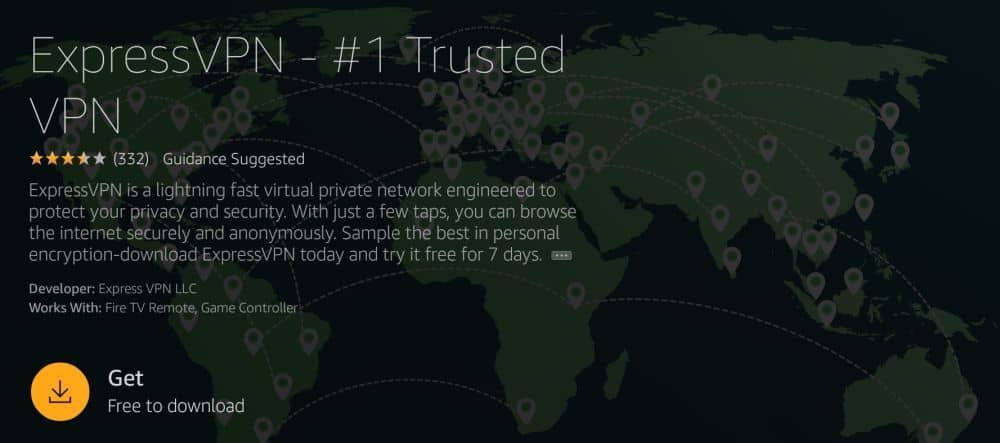 ExpressVPN has been ranked as one of the fastest VPNs on the market for years. This, combined with lightweight, Fire TV-compatible software, makes it a great choice for streaming CKay TV on your Fire Stick. Speed is paramount when your main activity is watching videos, after all! Along with its fast servers and excellent privacy features, ExpressVPN offers a smart interface that automatically connects to the fastest server the moment you launch the app. You can even install it directly from Fire TV's app store!
ExpressVPN runs a network of over 2,000 servers in 94 different locations, giving you plenty of connection options no matter where you live. Data is secured with 256-bit AES encryption to keep it locked down tight, along with a zero-logging policy on traffic, DNS requests, and IP addresses. ExpressVPN also has DNS leak protection and an automatic kill switch to form a complete privacy package for your Fire TV or Fire Stick.
Learn more about ExpressVPN's features, including speed test results, by checking out our ExpressVPN review.
Pros
Unblocks Netflix and other streaming sites
Super fast servers
No DNS/IP leaks found
No personal information logs kept
24/7 Customer Service.
Cons
Power-users configuration options.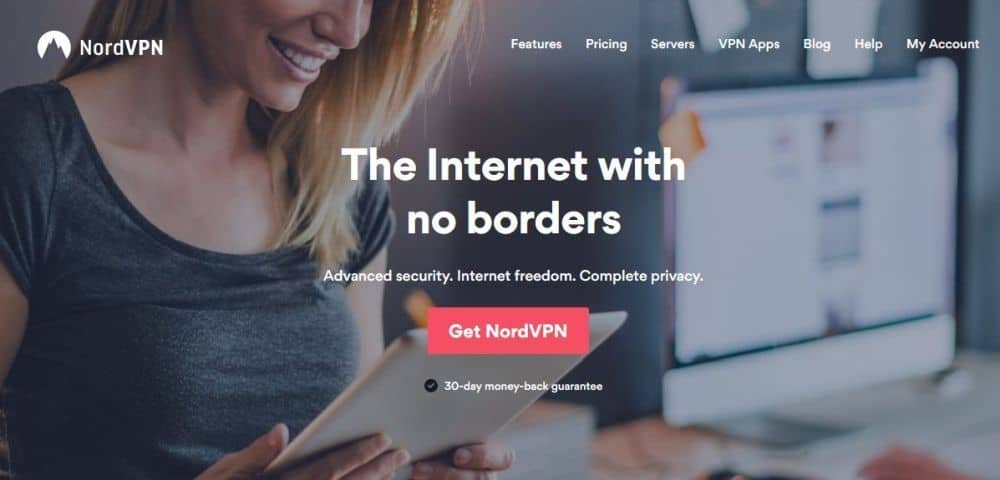 NordVPN combines the best VPN features on the market into one smart, safe, and secure package. The company also runs one of the largest networks in the business, currently sitting at over 5,000 servers in 62 different countries, each of which delivers amazing speeds. This makes it easy to stream HD movies and TV shows on Fire Stick, all without sacrificing your privacy. There's also a few unique services only NordVPN offers, including protection against DDoS attacks, double encryption, and onion over VPN, all of which are accessible simply by connecting to the right servers.
NordVPN bundles DNS leak protection and an automatic kill switch on all custom versions of its software to keep data nice and secure. Information is protected by 256-bit AES encryption, and a zero-logging policy on bandwidth, time stamps, traffic, and IP addresses prevents data from going into long term storage. These features along with ease of use and incredible speeds make NordVPN one of the best VPNs for Fire TV.
Learn more about the NordVPN experience in our full NordVPN review.
Pros
SPECIAL OFFER: 2-yr plan (68% off - link below)
Fast and stable connections
Up to 6 simultaneous connections
No logs and encrypted connections for total privacy
Money back guarantee policy (30-days).
Cons
Automatic server selection can be unreliable
Sometimes slow in procesing refunds (but always do).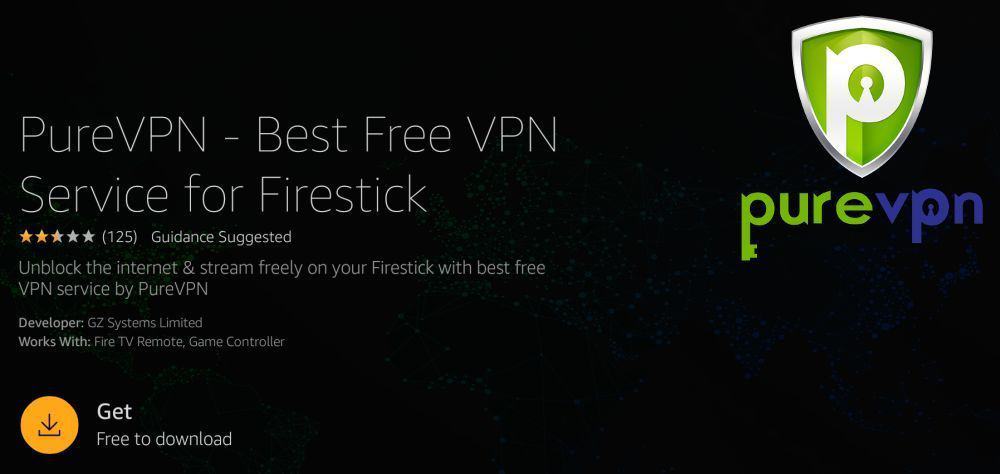 PureVPN is a versatile provider with a ton of wonderful features Fire Stick users will love. It bundles both privacy and encryption protection with added extras that protect you from most major threats on the web. With PureVPN, you get access to malware shields, app blocking features, and DNS website filters, all without installing separate apps. Everything you need to stay safe is built into the VPN, so you can surf and stream with complete security every time you connect. You can also install PureVPN directly from your Fire TV's app store for added convenience!
PureVPN's network is over 2,000 servers strong, covering and amazing 140 countries and 180 locations, with dozens of options in major cities around the world. Data that passes through this network is secured with 256-bit encryption and protected by a zero-logging policy on traffic, as well. PureVPN also includes DNS leak protection and an automatic kill switch in every version of its software for a solid foundation of VPN privacy and VPN security.
Preparing to Install CKay TV on Fire TV & Fire Stick
CKay TV is an amazing little app. It offers full access to live TV channels, sports, kids programming, movies, and a lot more. And all you have to do is grab the software and launch it to start enjoying. CKay TV doesn't natively support Fire TV, which means you'll need to sideload it to gain access. That process only takes a few minutes, so follow our guide below and you'll be streaming before you know it.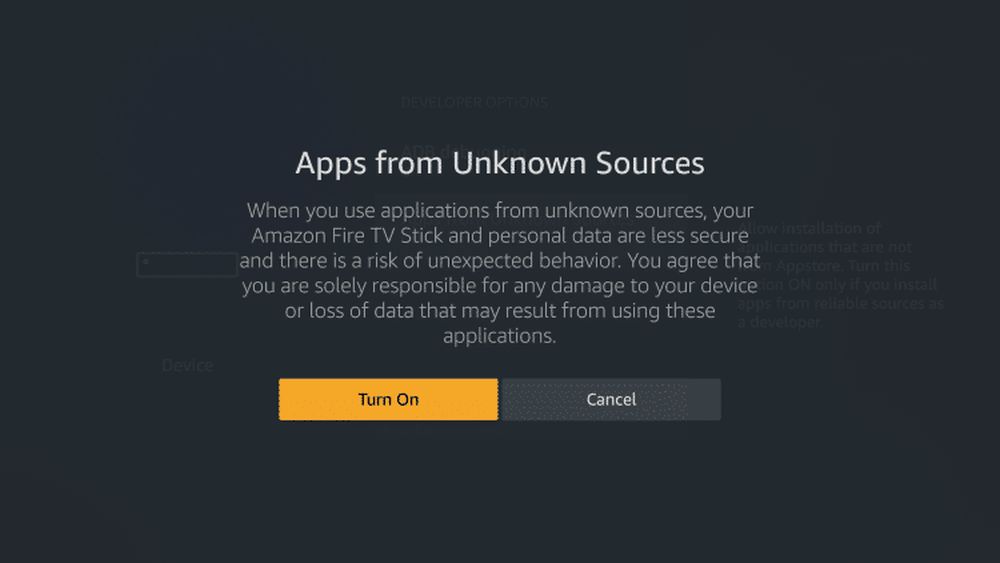 All About APK Files and Fire TV
APK files are like the Android version of zip files; they contain all the resources necessary to run an app, all packaged in a single repository for easy installation. The Fire TV and Fire Stick operating system is based on Android and can run most apps compatible with Android. Just get your hands on the apk file, sideload it to your Fire TV, and you can enjoy a ton of third party content for free.
Is it Safe to Sideload APKs to Fire TV?
Sideloading isn't the same as jailbreaking, hacking, or rooting, all processes commonly seen on hardware like Android TV or iPhone. In fact, the process doesn't change your hardware at all! What's more, it can be undone as easily as you would uninstall any standard-install app. With sideloading, all you're doing is accessing the device and adding software without going through Amazon's appstore. You're not tampering with the operating system or doing anything the Fire Stick can't handle, so it's perfectly safe to do.
The only drawback to Fire TV sideloading is you may run into compatibility issues with certain apps, as not all of them were made to run on TV screens or be controlled via remote. This doesn't cause any harm to your device, however, it's just frustrating when you can't run the software you want without fumbling through clumsy menus.
Can't Use a Sideloaded App? Try This Solution
CKay TV runs fine on Fire TV, but the interface was clearly designed for touch screen use, not Fire remote access. To make things easier to control, you might want to install the Mouse Toggle for Fire TV app for Android, or Remote Mouse for Fire TV (Android, iOS). These clever pieces of software will walk you through a quick installation process, and give you the ability to control a Fire TV using your smartphone touch screen as if you were using a touchpad mouse.
Be Sure to Allow Unknown Sources
The Fire TV operating system has a built-in setting that disables external installations and prevents sideloading by default. You won't be able to add anything until you disable it. Amazon made it pretty easy to toggle, however, so you can just follow the steps below to allow unknown sources and start sideloading content right away.
Go to your Fire TV's settings page located at the top of the home menu.
Scroll right and choose Device
Move down to Developer Options
Set Apps from Unknown Sources to ON.
Accept the warning message about installing external apps.
How to Install CKay TV on Fire Stick
Got your VPN installed, unknown sources enabled, and your Fire TV turned on and ready? Now it's finally time to get CKay TV up and running so you can watch some movies, live sports, and TV shows!
Step 1 – Choose a Sideloading Method
There are multiple ways to get files from the internet to your Fire TV/Fire Stick. All of them have pros and cons, so which one you choose is largely a matter of preference. To help you decide, we've created an article discussing which sideloading method is best.
We'll stick with the adbLink method for the tutorial below, as it's one of the more powerful methods of sideloading available. We'll also give quick instructions for a secondary method in the following section, just in case adbLink isn't your style.
Step 2 – Download CKay TV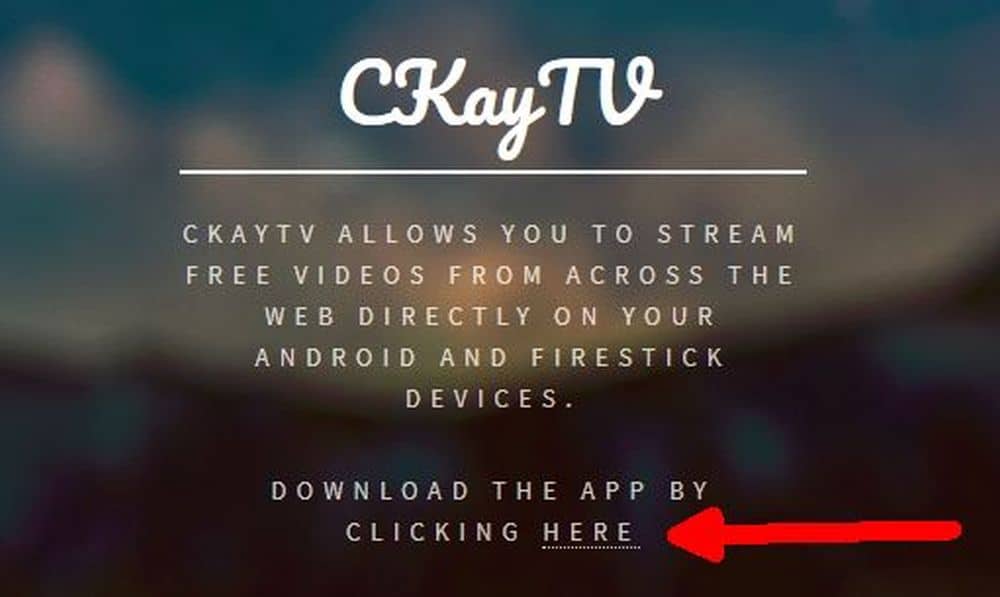 The first step is to download the CKay TV apk file and have it ready on your computer. Visit the CKay TV website in a browser access the download section. Click the link that says "Download the app by clicking HERE". Your browser should automatically download a file called app.apk. Save it somewhere easy to access, like your desktop, as you'll need to use it in just a moment.
Step 3 – Set up adbLink
Next it's time to download and set up adbLink. On your PC web browser, head to the official adbLink website, scroll down and download the file for your operating system. Install it right away, then launch it.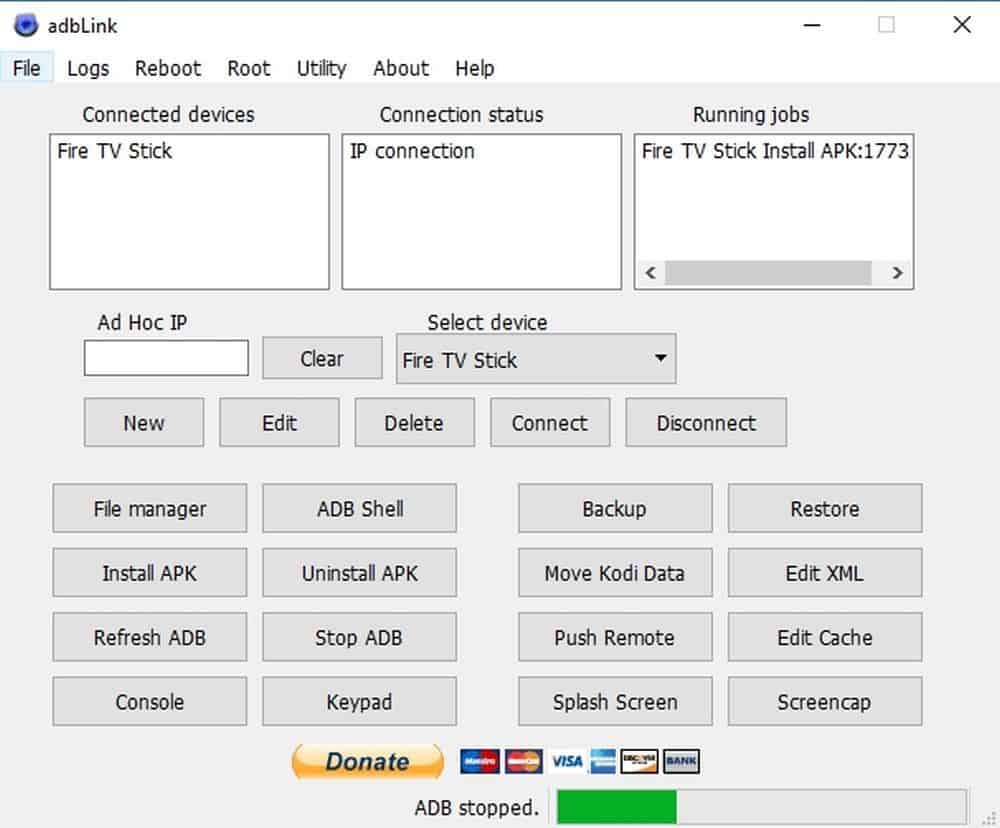 Go to your Fire TV device and navigate to Settings > About – Network. On the right you'll see information about your connection to the internet, including device's IP address. Write this down or memorize it, as you'll need to enter it on your PC in just a moment.
Back in adbLink, click the New button next to the devices box and add your Fire TV. In the next window, type a unique description in the box ("My Fire Stick" is fine), then enter the device's IP address you retrieved above. Save the changes. adbLink will now be able to interface with Fire TV, provided both devices are on the same network.
From the adbLink main screen, choose the Fire TV you just entered by clicking the "Select device" dropdown box in the center. Click Connect just beneath that. The connection will take a moment to resolve. Once it completes, you should see the device and status listed in the white boxes at the top of adbLink's screen.
Step 4 – Install the CKay TV apk
Now it's time to put everything together and actually sideload the CKay TV app. In adbLink, click the button marked Install APK. A file dialog will open. Navigate to where you saved the apk downloaded above, then choose app.apk. adbLink will confirm you want to install the apk. Click Yes, then the process will begin.
While the installation proceeds, you should see an item in the Running Jobs box at the top, along with a progress bar at the bottom. It may take a few minutes for the installation to complete, but once it does, adbLink will notify you via dialog window.
Step 5 – Run CKay TV
Now it's time to watch some videos! Launch CKay TV on your Fire Stick or Fire TV by finding it under the Apps & Games section. You'll see the main interface right away and can navigate through the app's offerings with ease. If you're having trouble moving through the menus, try installing one of the mouse emulator apps mentioned above.
How to Install CKay TV with Downloader App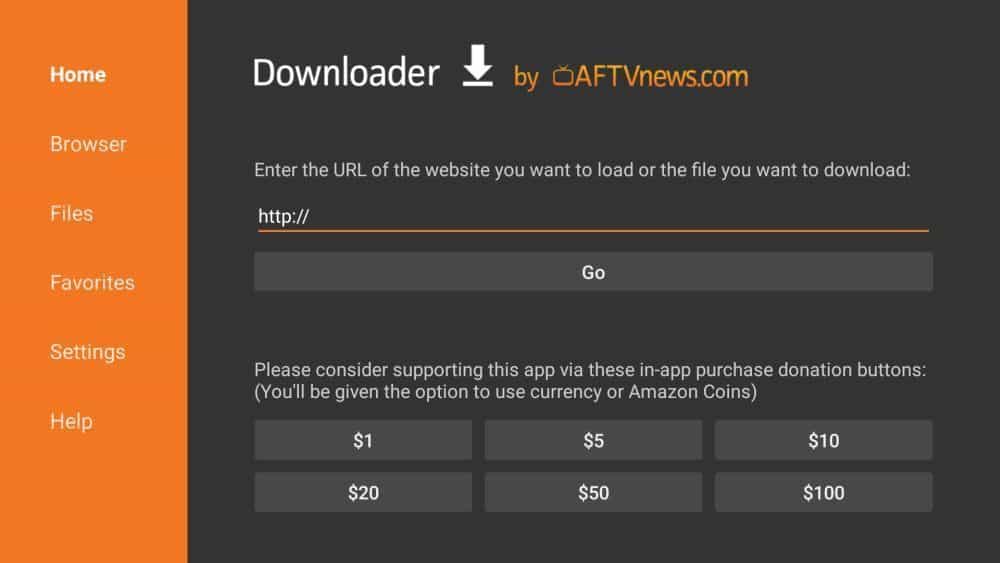 If you're not keen on using adbLink to install CKay TV, the arguably simpler and more straightforward option is to try the Downloader app. This handy piece of free software installs directly to your Fire Stick and can be used to grab remote apk files, no PC required. It can be a little more frustrating to use since you'll have to do a lot of typing with a cumbersome remote, but otherwise it's one of the easier ways of sideloading content to your Fire device.
Open the Amazon app store on your Fire TV.
Search for Downloader and install the program.
While that installs, locate the URL for the CKay TV apk. It should be the following: https://ckaytv.com/Latest/app.apk
Open Downloader and type in the URL. Be sure to enter it exactly as it appears above
Download the apk file using the Downloader interface. Once complete, install it right away.
Access the CKay TV program from the Fire TV main menu at any time, and enjoy the streams!
What's on CKay TV?
A little bit of everything, that's what! This fast and free service accesses hundreds of non-local sources for all the TV, movie, and live broadcast streams you can handle. It's a great general purpose app that fulfills your everyday entertainment needs, all thanks to the categories listed below, each of which is filled with countless live channel streams.
News – Dozens of live broadcast channels from Fox to BBC to CNN. Includes business, technology, and world news channels, as well.
Entertainment – Cable and network channels streaming all of your favorite shows. Get ready to binge!
Sports – Live sports streams from around the world, including sources such as BeIN and Sky.
Kids – Need some cartoons for the little ones? This category will set you up in no time.
Movies – Watch tons of classics along with the latest blockbuster releases.
Lifestyle – Documentaries, educational content, cooking, exercise programs, and more.
Music – Spice up your day with some live streaming tunes.
Conclusion
Apps like CKay TV serve as the perfect alternative to Netflix or alternative to Hulu, and they can save you a bundle on monthly subscription costs, as well. As long as you don't mind a little in-app advertising, this free piece of software will make your day. With CKay TV on your Fire TV or Fire Stick, you've got full access to thousands of shows, and all you have to do is install and enjoy!
If you have any questions about side loading CKay TV or any other software onto your Fire Stick, reach out to us in the comments below!