How to Install SPMC on Amazon Fire Stick
Amazon's Fire TV Stick, also known simply as the Fire Stick, is a tiny piece of hardware which you can plug into your HDMI-supporting TV to transform a simple television into an Android-powered media centre. The low cost of the device and its sophisticated functionality have won it many fans since its release three years ago. While the out-of-the-box Fire Stick experience is solid, you can use the Fire Stick for so much more if you install some extra optional software onto it.
Today we're going to show you how to install SPMC on your Amazon Fire Stick. You might already know about Kodi, the free open source media centre software which you can install on all sorts of devices, including Fire Sticks. However, there's a special version of Kodi called SPMC which is specifically designed for Android-based devices like the Fire Stick. SPMC was created and is maintained by the lead Android developer for Kodi, so although it's an unofficial fork of Kodi, it's extremely well coded and gives a consistent experience.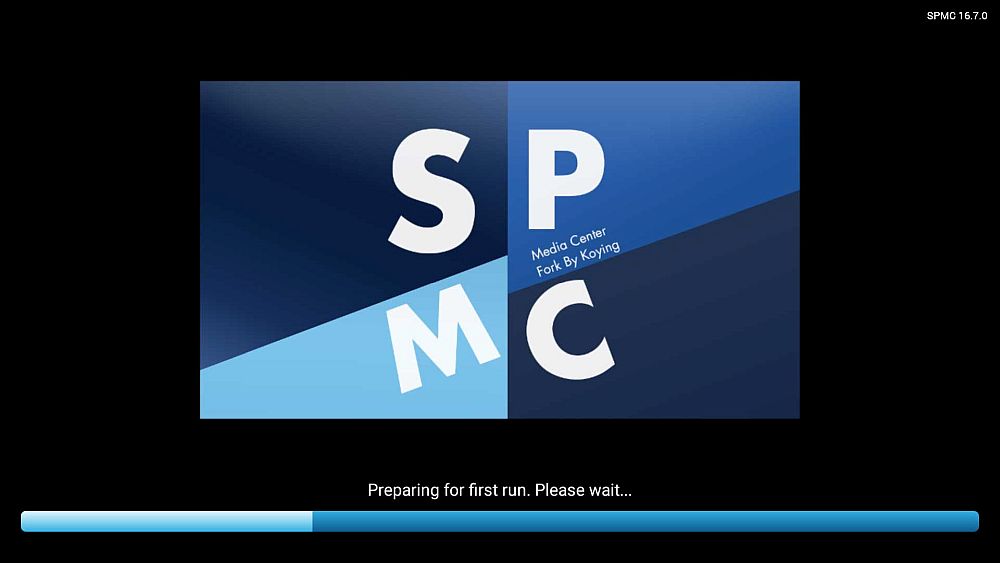 If you were to use SPMC and Kodi side by side, they'd seem quite similar on the surfce. After all, the main differences between the software are primarily small optimisations for Android along with some small bug fixes. One useful thing to note is that SPMC and Kodi have different application IDs, so you can install both on your device simultaneously and try them both to see which one you prefer.
Overall, we recommend using SPMC rather than Kodi on your Fire Stick due to its neat optimisations and fewer bugs. Below we're going to show you how to install SPMC onto your Fire Stick, and then show you how to use it to watch movies, TV shows, sports, and more.
One thing to note before we begin is that you need to set up your Amazon account on your Fire Stick first before you install any new apps. Even though the SPMC app is free, you need to have linked your Fire Stick with your Amazon account before you can download anything. So if you have just got a brand new Fire Stick, then go through the usual set up procedure before following the instructions below.
30-days money back guarantee
Why You Should Get A VPN Before Using SPMC
Before you install SPMC onto your Fire Stick, you need to think about security. Although the SPMC software itself is a branch of Kodi, which is free, open source, and totally legal to use, some of the add-ons that you can install to SPMC or Kodi allow you to stream copyrighted content, which puts them in a legal grey area. You could face a fine or prosecution for using these add-ons over an unsecured internet connection.
So how do you keep yourself safe when using SPMC? The best thing to do is to use a VPN. This software encrypts all of the data which is sent from your device over the internet, heading to a server run by your VPN provider where it is decrypted and sent on its way. This means that no one can see if you are streaming content over the internet.
What features should a good VPN provider have? We think the most important are:
Fast connection speeds
Support for different operating systems – in this case, Android in particular
Plenty of servers in many different countries
No logging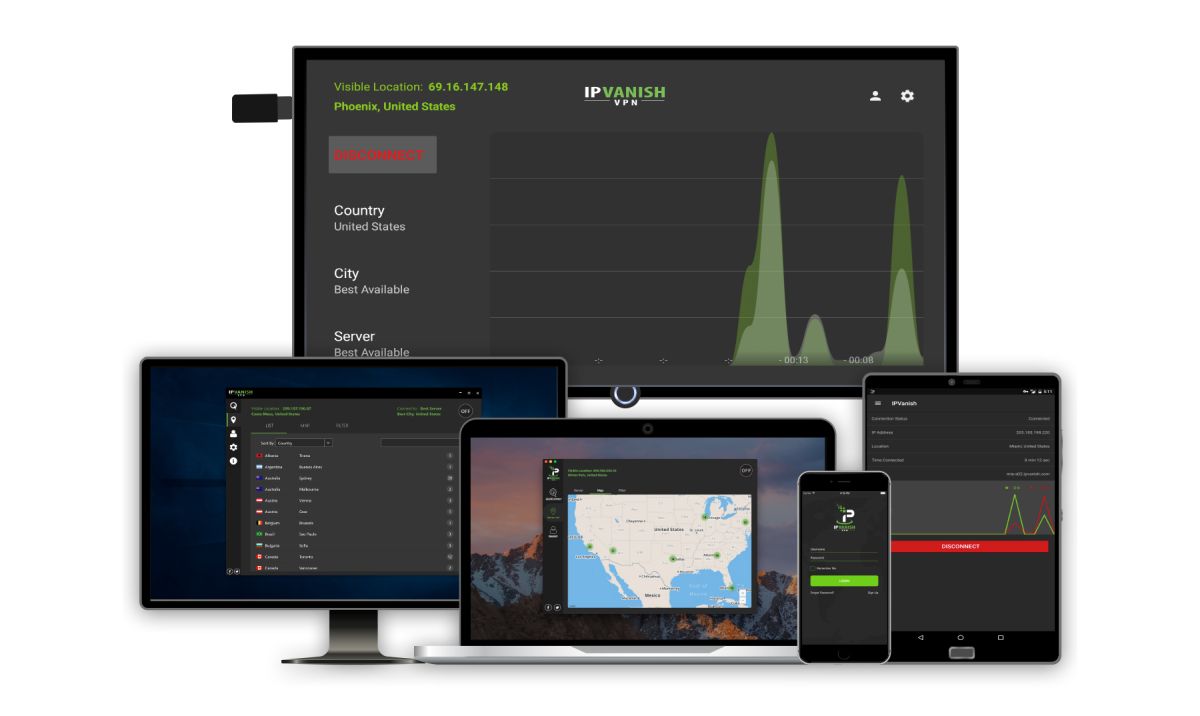 The VPN we recommend for use with SPMC is IPVanish. It has fast connection speeds, over 850 servers in more than 60 countries, a strict no-logging policy, and software support for Android as well as PC, Mac, and iOS. It meets all of our requirements and is easy to install and use.
EXCLUSIVE: Take advantage of a special offer for Addictive Tips readers — get a huge 60% discount on the yearly plan, which works out to only $4.87 per month. There's even a 7-day money-back guarantee so you can buy in confidence.
How to Install SPMC on Your Fire Stick
Once you have your Fire Stick set up and your VPN installed, we can start installing SPMC on your Fire Stick. To do this, we first need to enable the installation of apps from unknown sources, and then to download SPMC from its developer's GitHub page and install it. Here are step by step instructions on how to do this:
Start on your Fire home page
You'll see toggles for enabling various options. The settings we want to change are enabling Apps from Unknown Sources and ADB debugging.   Toggle these options and then confirm by selecting Turn On from the popup which appears 
Go back to your Fire home page
Now click left to open up the search function, then type in Downloader to search for this app
Now you'll see a screen with details of the Downloader app. Click on Get from the menu at the bottom, and then press OK
Once it is installed, which shouldn't take long, press the click the Open button that replaces the yellow Get button on the app preview page (you can also press the large orange icon to open the app from the home or apps menu)
A screen showing the app's new features will open. Press OK to acknowledge
Now you'll see a text box when you can enter a file location in order to download it. Enter the URL of the file you want to download, which is as follows: https://github.com/koying/SPMC/releases/tag/16.7.0-spmc. Double check to make sure that you typed it correctly, then press Go
This will open the developer's GitHub page. As we are downloading from GitHub, this means that you can be sure you're getting the latest and most up to date version of SPMC. Currently SMPC is on version 16.7.0, meaning it is equivalent to Kodi v16, aka Jarvis. Use the red circle as a mouse and scroll down to the Downloads section of the GitHub page 
The file will begin downloading. Wait a second for it to finish downloading 
Now a popup screen will appear asking if you want to install the SPMC application. Scroll down to the bottom of the text and choose INSTALL 
The installation will begin. Wait for a minute for it to complete
You'll see a notification that the app is installed and is ready to launch 
Select OPEN from the bottom of the screen
You'll see the SPMC logo and the app will open
That's it! The SPMC app is installed. Now we just need to set it up and you can start watching content on your Fire Stick
How to Set Up SPMC on Your Fire Stick
Now you have the basic version of SPMC installed on your Fire Stick. You could use the SPMC app to install whatever add-ons and skins you want to customise your usage, and if you have experience with Kodi then you can go ahead and do that. But for new users, it can be confusing and time consuming to add new sources and try to find out which add-ons work and which do not. So instead, we recommend installing a build instead. A build is a pre-bundled set of apps, sources, and skins, so you only have to install one thing in order to totally customise your SPMC experience. The build we're going to recommend is from One Alliance, a well-known Kodi developer group. This build has enough add-ons that you'll be able to watch all the movies, TV shows, and sports that you want, but not so many add-ons that you'll be overwhelmed. We think this is a great built for Fire Stick users and for those who are new to Kodi.
Here's how to set up the One Alliance build on your Fire Stick:
Starting from your Fire home page
Go to Apps, then scroll through the icons and click on SPMC
When you open SPMC, you'll see that it looks just like Kodi v16, aka Jarvis. So it will all be very familiar to experienced Kodi users. But if you're new to Kodi, don't worry, we can show you what to do
Go to SYSTEM then to File manager
Go to Add source
An input box will appear on screen. Type in this URL: https://onealliance.xyz/repo/, being sure to remember the https:// and being careful to type the URL exactly correctly. Click on OK and the give the repo a name by typing into the lower input box – we'll call it "onealliance"
Go back to your home screen, then go to SYSTEM then to Settings
Go to Add-ons
Select Install from zip file
Now navigate to onealliance, then find the file called plugin.program.onealliancewizard.zip and click it
Wait for notification that repository has been installed. This may take a while, so be patient
Now go back to the add-ons section and click OneAlliance Wizard
The first time that One Alliance is installed, a popup will appear asking if you want to keep your settings. Select any settings you do want to keep then press Continue
Another popup will appear. Now press Build menu
This will take you to a screen showing the OneAlliance builds. Scroll down to the item [16.2] OneAlliance Build (v3.0.2) and press ok
Now choose Fresh Install and press ok
A popup will ask if you want to restore to default settings before installing. Click on Continue
The wizard will begin downloading the build. Wait for a few minutes while it downloads as this can take a while
A notification will ask if you want to Reload Profile or Force Close. Click on Force Close
This will close the SPMC add-on. Now go back to your Fire home screen
Go to Apps, then scroll through the icons and click on SPMC
When it opens, you'll see that thanks to the One Alliance build, your SMPC has a new interface. Wait a few minutes while everything installs and updates
Now you're ready to use SPMC!
How to Use SPMC on Your Fire Stick
With all the installation done, now you can use your Fire Stick for streaming content and watching whatever you like.
When you open SPMC, you'll see menu options like Live Sports, TV Listings, On Demand, Music, Movies, TV Shows, and lots more. You'll notice that it has the Aeon Nox skin installed for a different look. If you want to change this, go to SYSTEM then to Interface and select Skin. Click on the Skin button and you can swap back to the default skin or install a new skin for a different appearance.
This build comes pre-installed with lots of the most popular add-ons for watching all sorts of content, like BOB unrestricted, Elysium, BBC iPlayer, Exodus, Maverick TV, UK Turk Playlists, and many more. To use SPMC, just select any menu option like MOVIES, then choose an app from this menu such as Elysium. This will take you to the add-on from where you can stream new releases, featured movies, top rated movies, and more.  Alternatively, got to the TV SHOWS menu option to see add-ons like Covenant which allow you to stream the latest episodes of TV shows. Finally, you can also go to LIVE SPORTS and choose from options like Nemesis which allow you to stream sports events such as football matches.
Conclusion
Now you have a Fire Stick which is loaded up with SPMC and has add-ons pre-installed for streaming content and a new skin for a fresh look. The One Alliance build is a great starting point for beginners as it has all the essential bases covered.
If you have any problems installing SPMC on your Fire Stick, then let us know in the comments below and we'll do our best to guide you through the process. Happy watching!