We are reader supported and may earn a commission when you buy through links on our site.
Learn more
How to Update to Kodi 17.5 on Firestick or Fire TV
A new version of Kodi is upon us! The XMBC Foundation which develops Kodi has dropped Kodi Krypton version 17.5. It is expected to be the last version of Krypton before they launch Kodi 18. This is already in development and is keenly awaited by all Kodi users. But that is no reason not to download this latest update in the meantime.
Kodi 17.5 contains a number of fixes on issues which have been identified previous versions. We have outlined these fixes in more detail below. And the XBMC development strongly recommends all users update to the new version to enjoy the best possible user experience and also to ensure the software they are running is as secure as possible. In this article, we will explain how to update to Kodi 17.5 on Firestick as well as detail the fixes in this latest version and how Firestick users will benefit.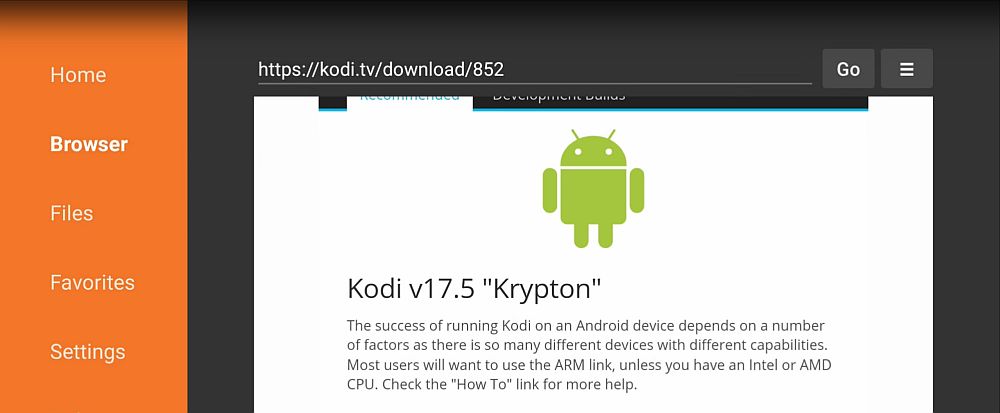 Before you use Kodi 17.5 – Reminder
It is highly advisable to use a VPN when streaming content through Kodi regardless of which version of the software you are running. This is because, while the Kodi software itself is 100% legal, some of the unofficial addons which are popular with users can be used to access content illegally. Some users have received legal notices and even faced further legal action as a result of streaming content through Kodi.
But a VPN offers you protection for two reasons. When using a VPN, your internet connection is encrypted which means all your data is secured. And a VPN will also hide your IP Address which renders you anonymous when using Kodi. This means that VPNs users are protected from some of the possible legal consequences of streaming copyrighted content on Kodi. But there are a lot of VPNs on the market at the moment, and the big dilemma facing many Kodi users is which to choose. When making this decision, the following four criteria should be the basis your decision:
Fast connection speeds – Any online media streaming requires fast connection speeds, but using a VPN can affect these. Kodi users must, therefore, seek a provider which has a minimal effect on your internet speeds.
Strong privacy settings – All Kodi users need a VPN which has the strongest possible encryption and privacy provisions to help keep them secure and anonymous when streaming content.
No restrictions on data or traffic – Content streaming can use various different file-types, but some VPNs restrict which type of files you can use. Some also have data limits which are no good for streamers. Kodi users should always seek out a provider with no such restrictions.
Broad server availability – The greater the number of servers available, the faster speeds a VPN can offer and the more geo-restricted content Kodi users will be able to unblock. So, a general rule for Kodi users is, the more servers the better.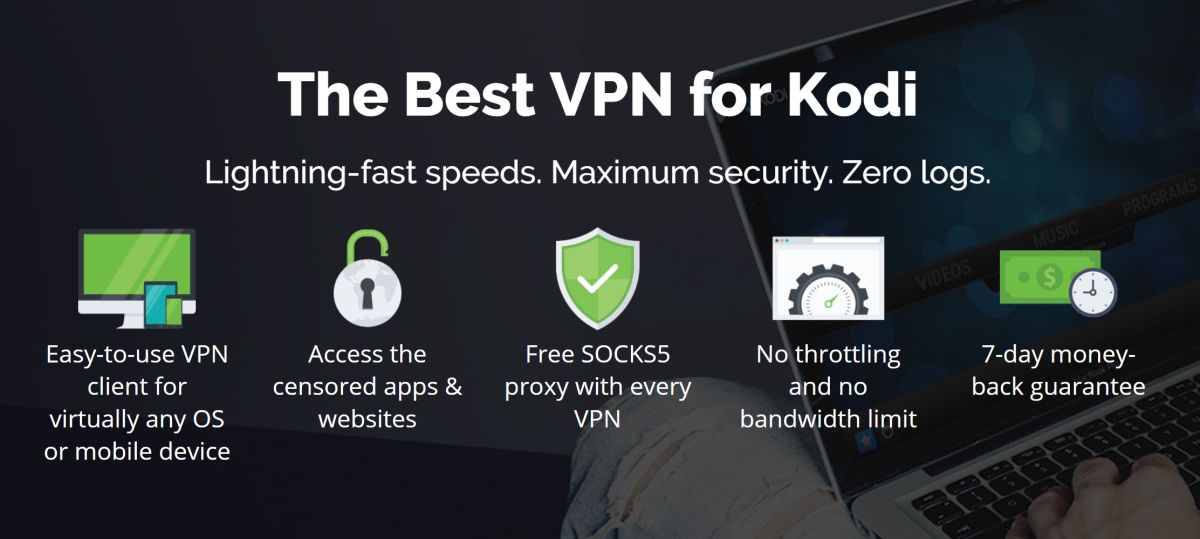 Based on these four key criteria, IPVanish is the best VPN for Kodi users. It has some of the best security and privacy provisions around, with 256-bit AES encryption as standard as well as extra features such as DNS leak protection, an automatic kill switch, and a guaranteed no-logging policy. Their speeds put them up there with the fastest providers too and importantly these speeds are consistent across all servers. IPVanish offers more than 850 servers across 60+ countries around the world and they also have no restrictions on either file types or data amounts. All in all, IPVanish ticks all the boxes and because it can be used on almost every device through their dedicated apps, including the Firestick thanks to their Amazon app, IPVanish is, without doubt, the best VPN out there for Kodi users.
IPVanish offers a 7-day money back guarantee which means you have a week to test it risk-free. Please note that Addictive Tips readers can save a massive 60% here on the IPVanish annual plan, taking the monthly price down to only $4.87/mo.
Why download Kodi Krypton 17.5?
A few Kodi users have been asking why they should bother downloading Kodi version 17.5. Most users are more than happy with the earlier versions on Krypton and many are happy to wait until Kodi version 18 drops. By their own admission, the XMBC Foundation which develops Kodi is already working on version 18 and it is likely to go live, at least in beta form, in the not too distant future.
However, there are a number of reasons why it is advisable to download Kodi Krypton 17.5. Firstly, the no less an authority than the XMBC Foundation says that you should. In the statement announcing this latest version on their website, the XMBC Foundation says, "We recommend everyone to upgrade to this version once it's available for their platform to have the best experience possible." User experience is one factor, but security is too. In fixing many of the bugs users have discovered in earlier versions of Kodi, the XMBC Foundation has also tightened the software's security, which should make users more secure too.
Kodi Krypton 17.5 Fixes
The XMBC have confirmed that Kodi Krypton 17.5 has a number of fixes on specific issues which have been identified with earlier versions of the software. These fixes are:
Joysticks: Fix accelerometers preventing screensaver
More robust way of handling audio output on variety of Android devices
Fix playback of DVD file over network on Linux
Update to FFmpeg 3.1.11
Fix up and down buttons on IR remotes with macOS High Sierra
Added latest Apple devices to allow retina support
Fix not being able to add content manually to video library
Fix power message handling for CEC
Fix jumping timeline while switching channel groups in Guide window
Because Kodi 17.5 is a bugfix, there are no new features included. These will not appear until Kodi 18 is released.
Addendum: Because some users have experienced issues with downloading and installing Kodi 17.5, the XMBC Foundation has already launched Kodi 17.5.1. If Addictive Tips users do encounter any problems themselves, we recommend repeating the process below using this newly updated file.
How to update to Kodi Krypton 17.5 on Firestick
Before proceeding to update to Kodi 17.5, please note that these guides all presume that you are updating from an earlier version of Kodi 17 Krypton. If you are updating from Kodi 16 Jarvis or an earlier version, we highly recommend you do a clean reinstallation rather than following the methods outlined here.
Downloading and installing the latest version of Kodi Krypton 17.5 is a simple process for Firestick users. To get it done quickly all you need to do is follow the simple step-by-step guide below. Please note, if you already have the Downloader app installed on your Firestick, you can skip straight ahead to step 8.
Switch on the Firestick and on the home screen navigate to Settings on the menu at the top of the screen.
In the Settings menu, click on Device and then scroll along and choose Developer Options.
There is an option in this menu called Apps from Unknown Sources. Make sure this is switched On.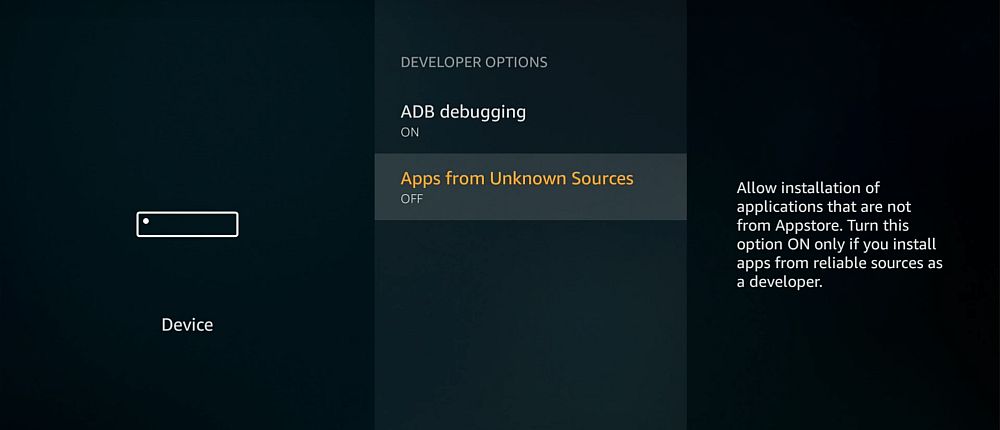 Go back to the Firestick Home Page and this time click on Search, which is the magnifying icon in the top left of the screen.
In the Search feature enter Keep an eye below the keyboard and when the word Downloader appears, scroll down and click on it.
Click on the Downloader App icon which will appear under the Apps and Games subtitle and will be bright orange.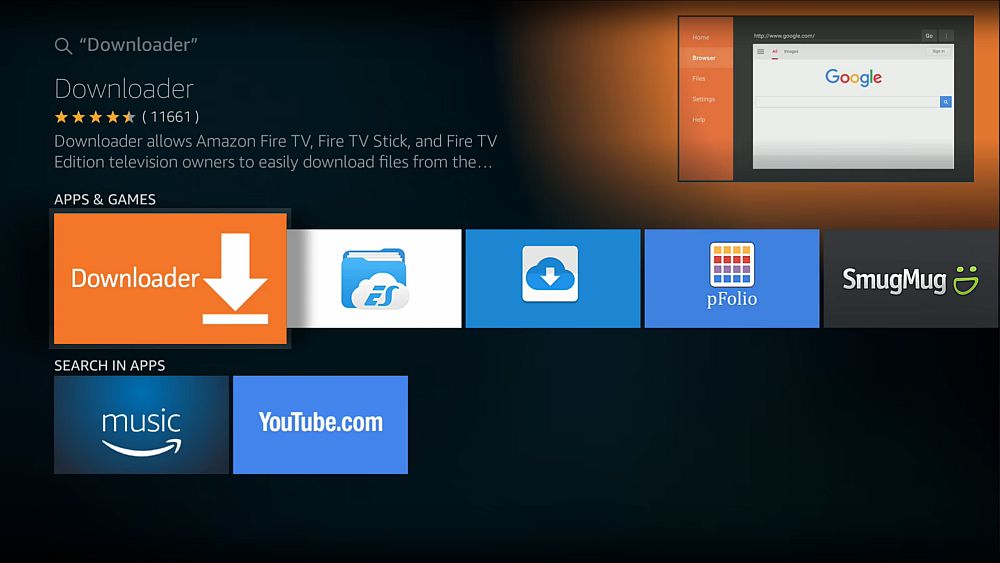 Select Download to download and install the Downloader App onto your Firestick.
Open the Downloader app and in the address box enter https://kodi.tv/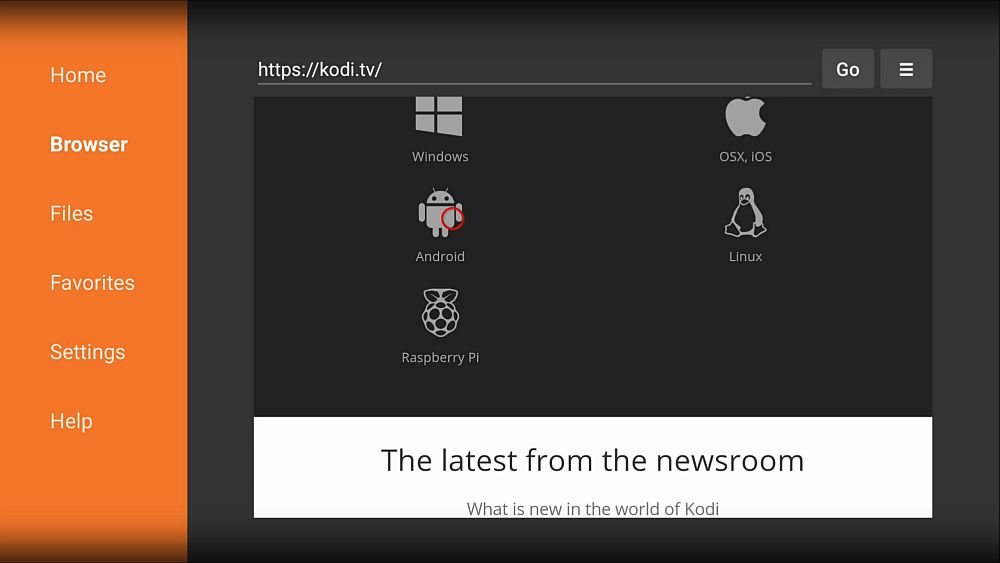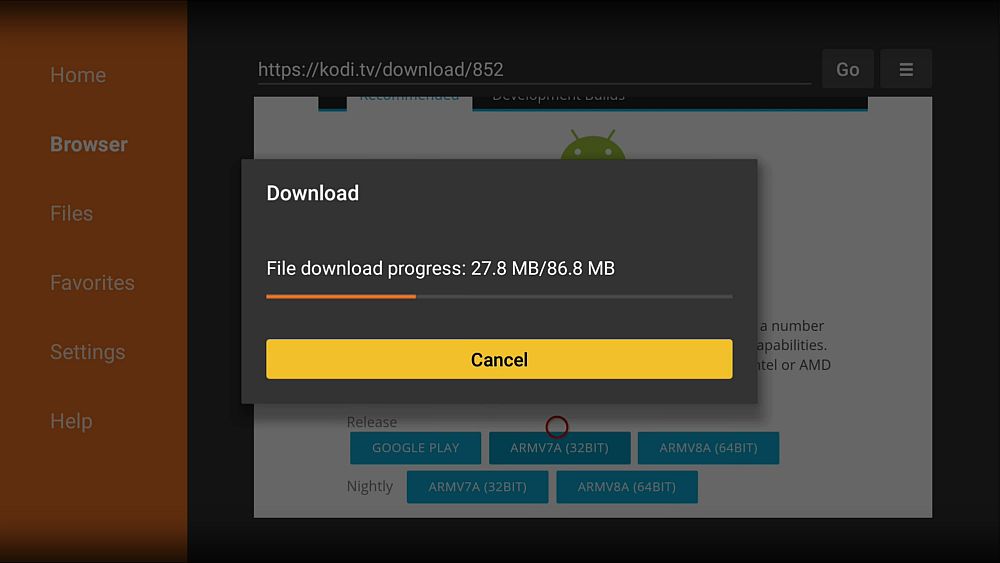 Alternatively, if this doesn't work by default, use the following URLs exactly: https://bit.ly/kodi1751kftv. If you have problems with that URL, try this one instead: https://bit.ly/kodi175kftv2. And if you need to try Kodi 17.5.1, you will need to use this URL: https://mirrors.kodi.tv/releases/android/arm/kodi-17.5.1-Krypton-armeabi-v7a.apk
You will need to wait a few moments for the new version of Kodi to download. Once the process is complete, the installer should launch automatically.
You will then be asked Do you want to install this app? or Do you want to install an update to this existing application? depending on whether you have an existing version of Kodi or not. Click on Install.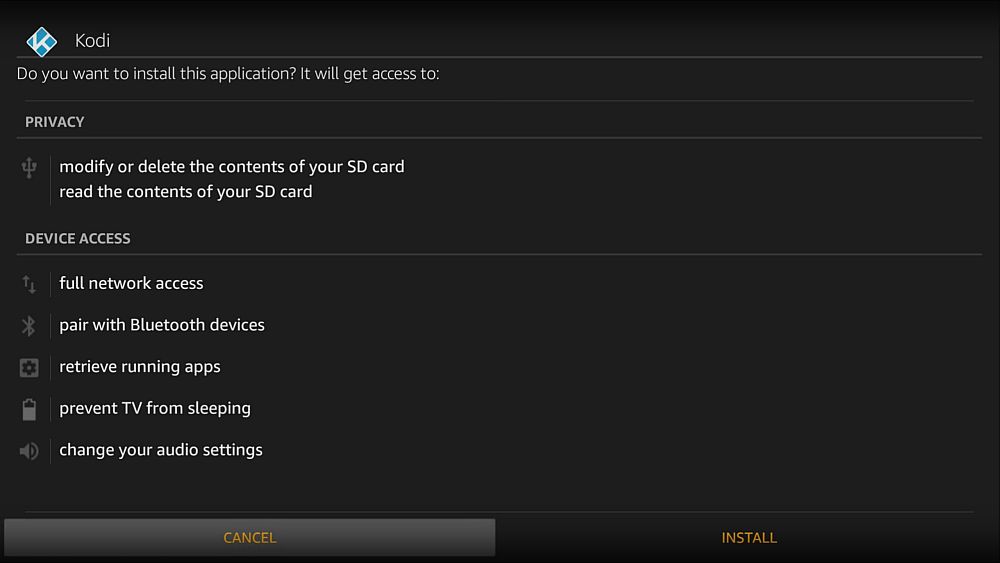 Once you receive a notification saying App Installed you can then open Kodi.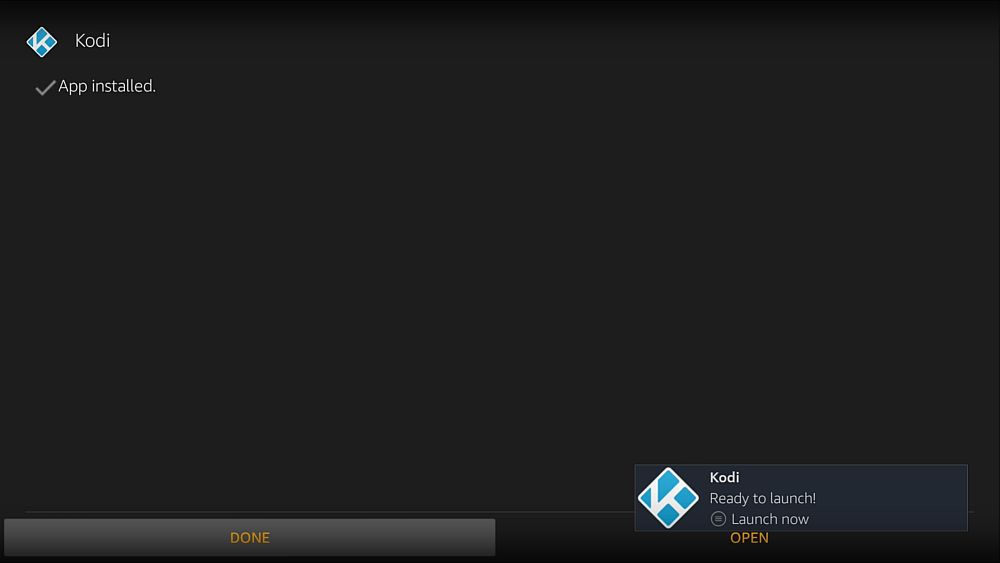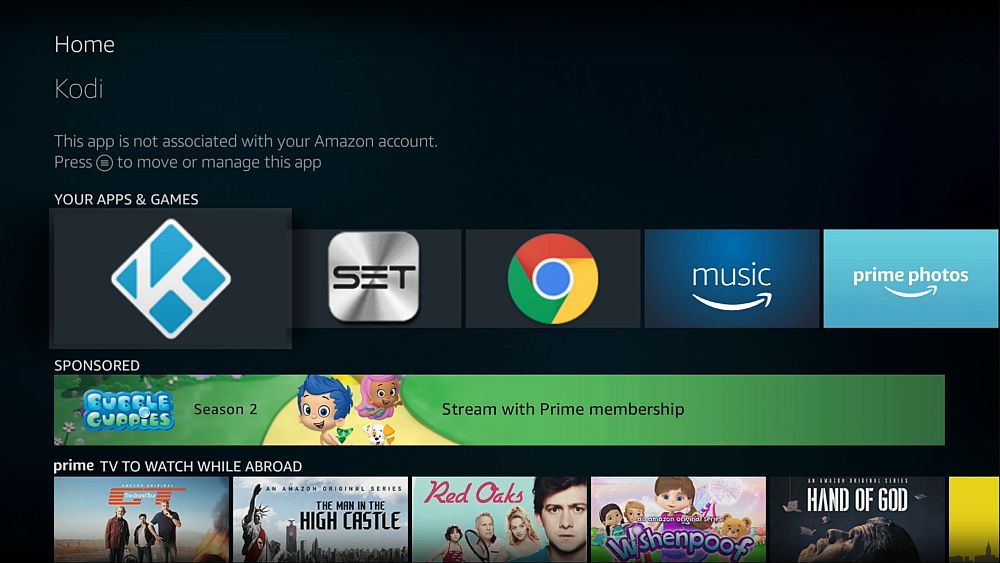 You should see a launch page stating that you are now running Kodi v17.5 Krypton. You will then see a message stating Preparing for First Please wait. When this disappears, the new version of Kodi is ready to use.
Let us know about your experiences downloading and installing Kodi 17.5 Krypton on Firestick in the comment boxes below. Did this method work ok for you? Did you need to use Kodi 17.5.1 to get it to install? We always welcome your views and experiences.