We are reader supported and may earn a commission when you buy through links on our site.
Learn more
iTV Player Kodi Add-on – How to Install iTV Player and Guided Tour
iTV is a UK TV network, and their online iTV player allows residents of the UK to enjoy their content on desktops, laptops and smart devices without needing to tune into the actual TV channels themselves. Any web video service eventually gets its counterpart in a Kodi add-on, and today we'll be teaching you how to install and use the iTV Player Kodi add-on.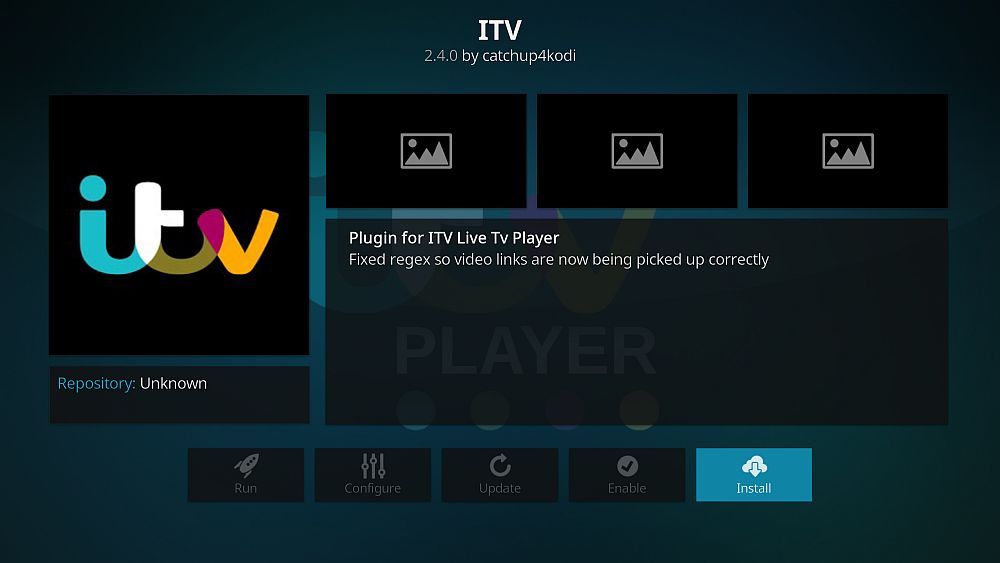 Before we dive into all of that, though, we need to take a moment to talk about VPNs, so that you can maintain your privacy and security when streaming online — but also to ensure that the service is going to work the way you expect.
30-days money back guarantee
Streaming with Kodi? Use a VPN
When streaming on Kodi, you should always use a VPN. A VPN, or Virtual Private Network, will encrypt and anonymize your traffic, making it impossible for third parties to snoop into what you're doing online or trace you based on your activity. This not only protects you from malicious independent agents on the internet, but also from copyright trolls and your own Internet Service Provider.
Expanding on the ISP point, ISPs are known for behavior throttling Netflix, YouTube and other video-streaming sites despite advertising high speeds capable of managing streams from those sites. When using a VPN, ISPs won't be able to track what you're doing online and will have much less success throttling your video streaming without throttling your connection altogether, which they are likely to avoid doing due to the risk of backlash. In the case of iTV, you may want to watch iTV from outside of the UK. Perhaps you're traveling abroad, or just want to see what it has to offer: regardless of your reasons, you need a VPN to pull it off. In addition to encrypting and anonymizing your web traffic, a VPN is capable of "spoofing" your location, making sites and services believe that you're somewhere you're not.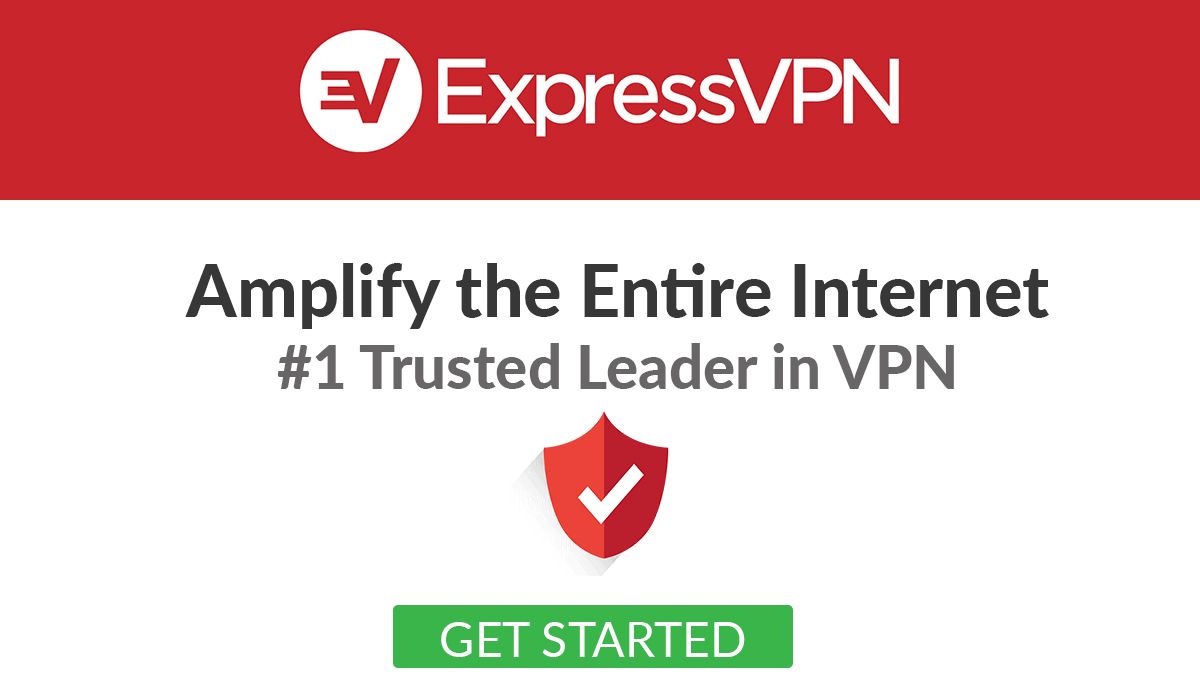 Not all VPNs can pull this off successfully, but ExpressVPN can! ExpressVPN can successfully convince iTV that you're streaming from within the UK, regardless of where in the world you actually are. In addition advanced location spoofing capabilities, ExpressVPN also offers speed and security considered by many to be the best in the entire industry. For that reason, ExpressVPN is our recommended solution in this article.
Pros
Unblocks US Netflix, BBC iPlayer and other streaming services
94 countries, 3,000+ servers
Secure encryption & VPN protocols
No logs for personal data
24/7 Customer Service.
Cons
Limited configuration options
Slightly pricier than competition.
EXCVLUSIVE: Sign up for a year of service with ExpressVPN at just $6.67 per month and get 3 months FREE! Also take advantage of ExpressVPN's 30 day "no questions asked" money back guarantee for a fast and secure risk-free VPN.
How to Add iTV Player to Kodi
Before Installing – Enable Unknown Sources
Since this repository comes from a non-official source, make sure that you have this option enabled in Kodi. Otherwise, the rest of this guide will not work!
In Settings, select "System Settings".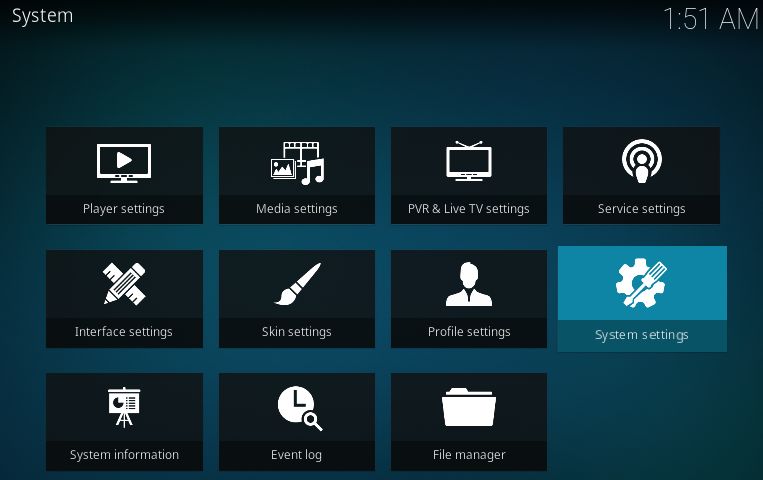 Now, select "Add-ons," and make sure that "Unknown sources" is enabled, like below.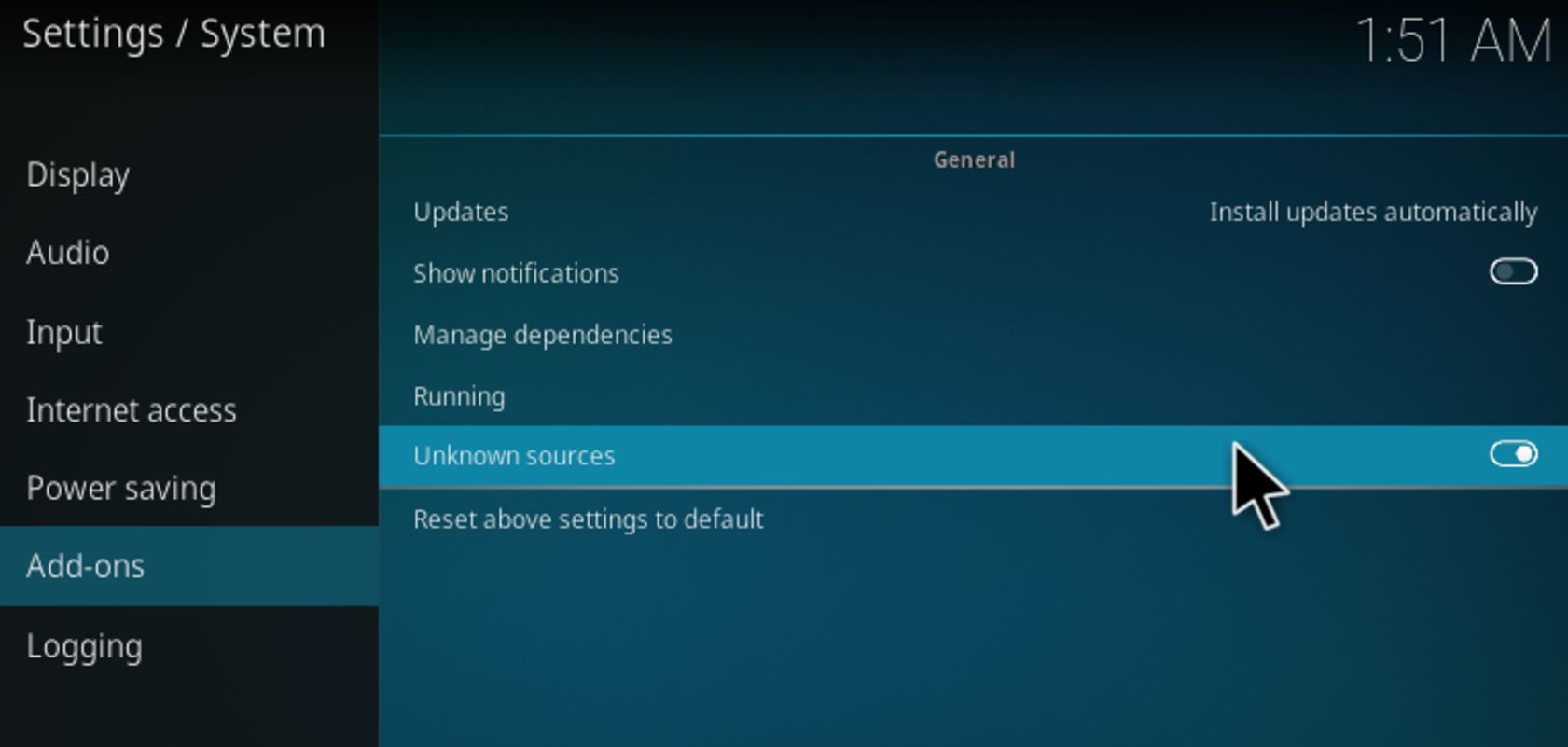 Installing the Noobs and Nerds Repository
In order to access the iTV Kodi add-on, we need to install the third-party Noobs and Nerds repository that contains it. Start by opening up Kodi and heading to your System menu.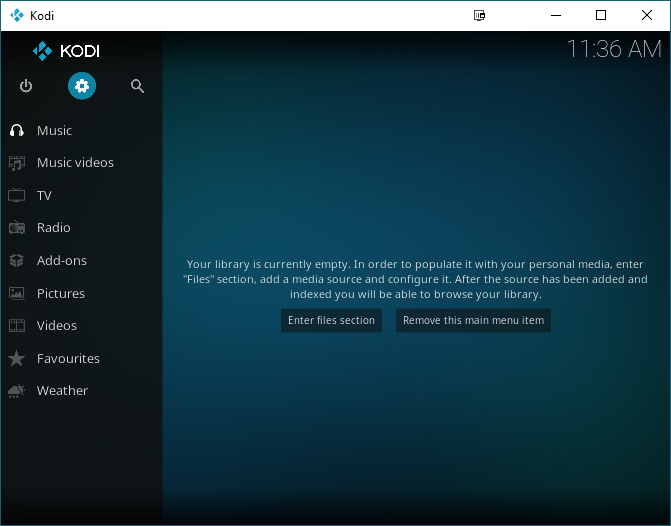 Within System, select File manager.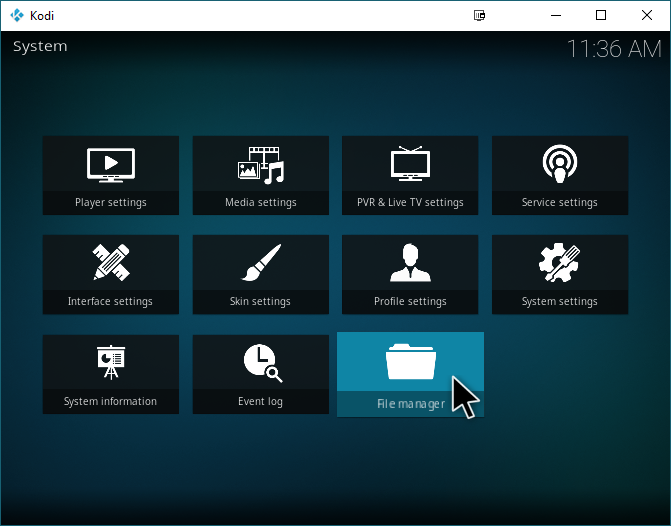 In File manager, double-click Add source. To get access to the repository zip file, we need to add its web address as a source in Kodi.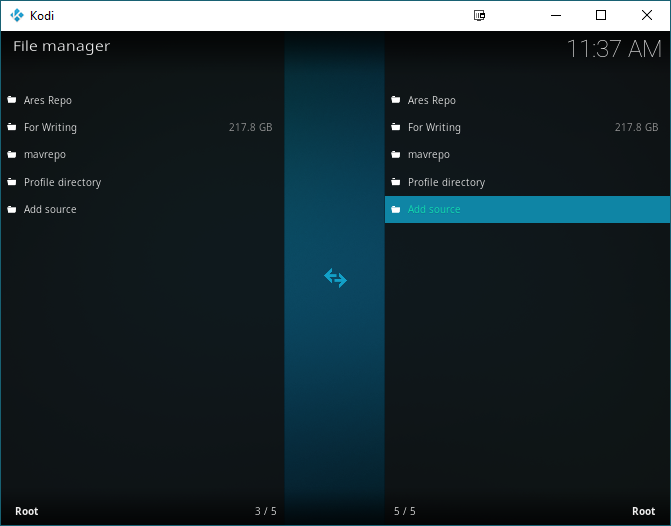 Now, paste https://nan.aftermathwizard.net/nanrepo/ inside the <None> box and name this file source something you'll remember. I recommend Noobs and Nerds, but you can use any name you want. Your end result should look something like below before you click OK.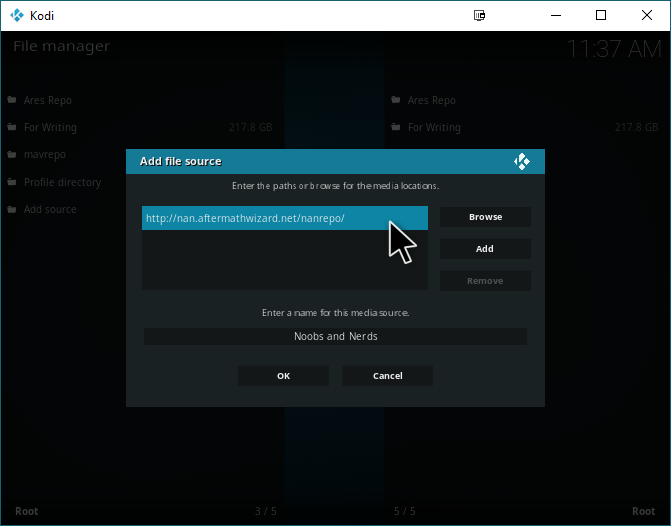 With that done, head back to the main menu. Hover over Add-ons, then select "My add-ons".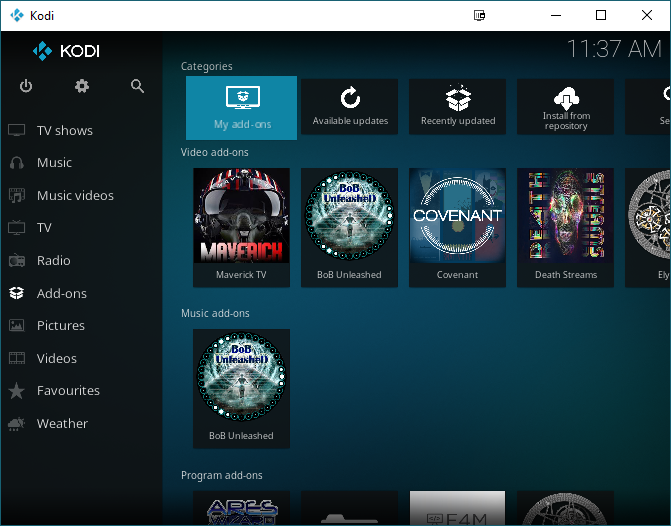 Within My add-ons, select the ".." at the top of the window.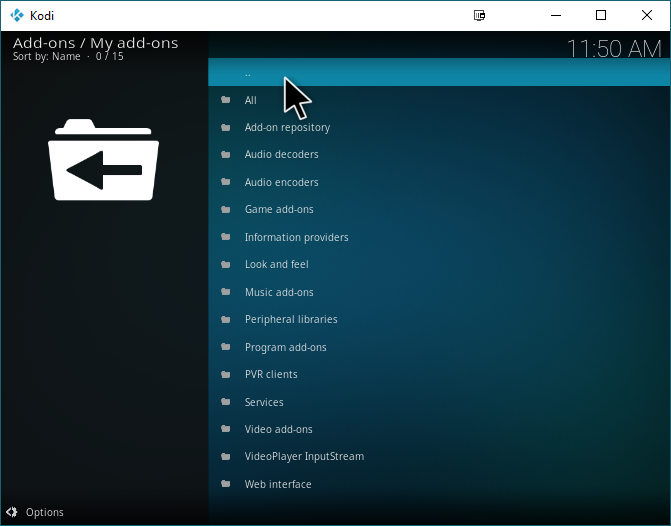 Now we're in the proper Add-on browser. Select "Install from zip file".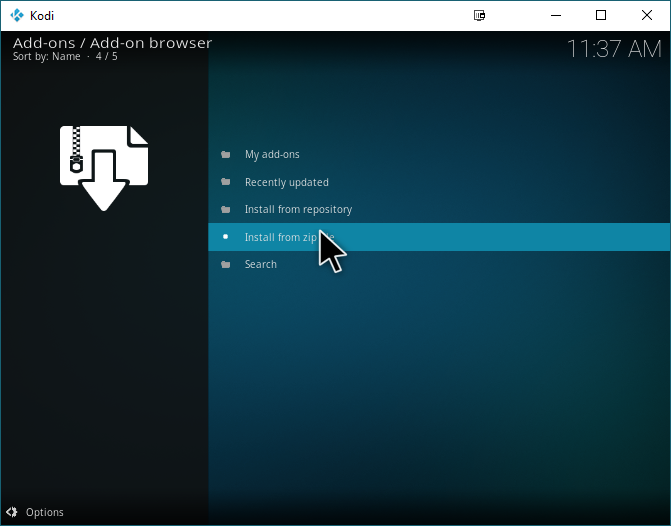 Remember the source we created earlier? Find that source and click it.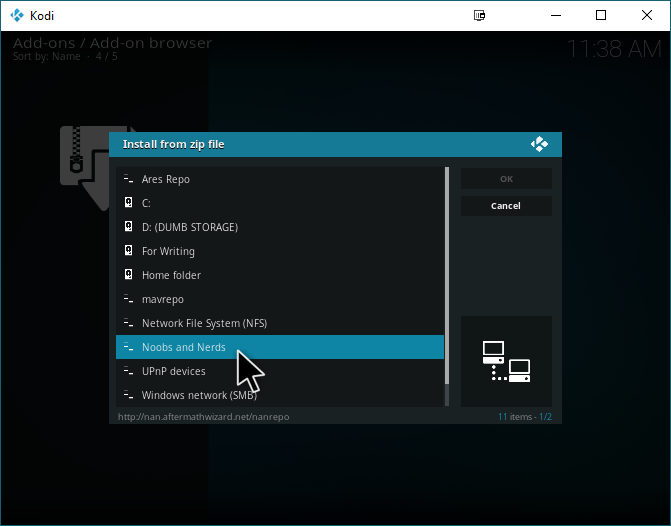 Now, click the Noobs and Nerds Repo zip, as shown below. This will install the repository onto your system.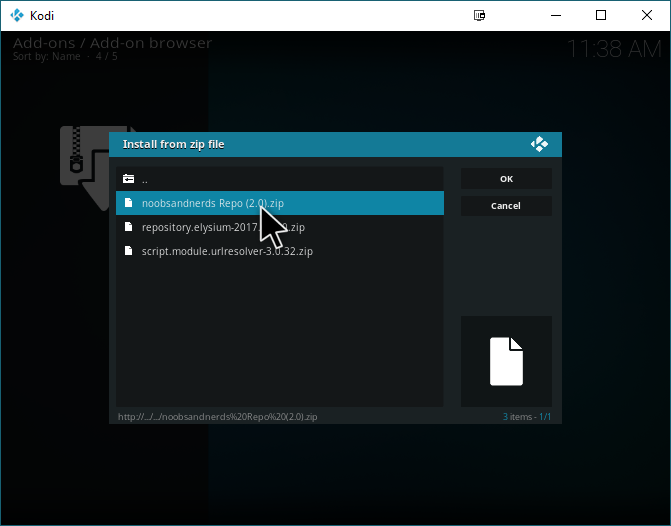 Installing The iTV Player Add-On
With the repository installed, you can now access the wealth of add-ons stored within. Click "Install from repository".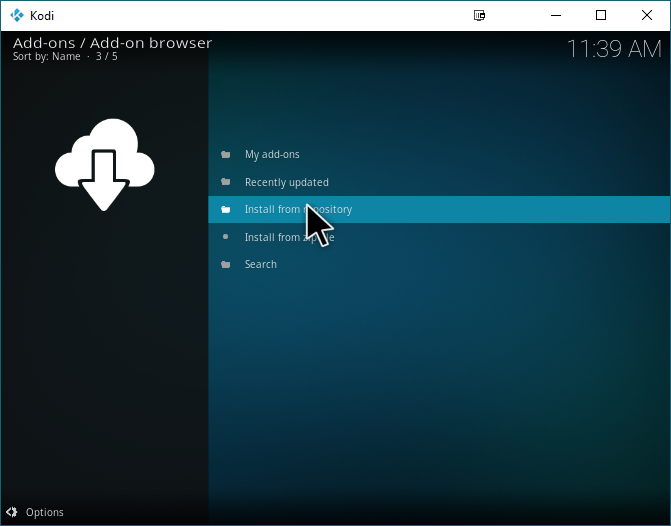 Now, select noobsandnerds Repository.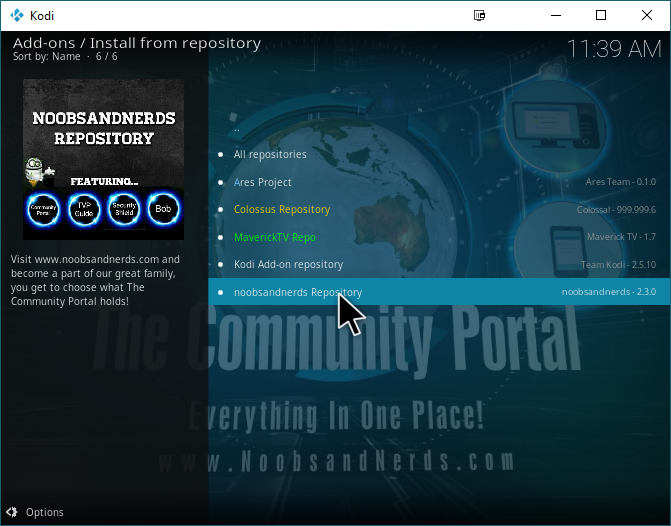 Click "Video add-ons".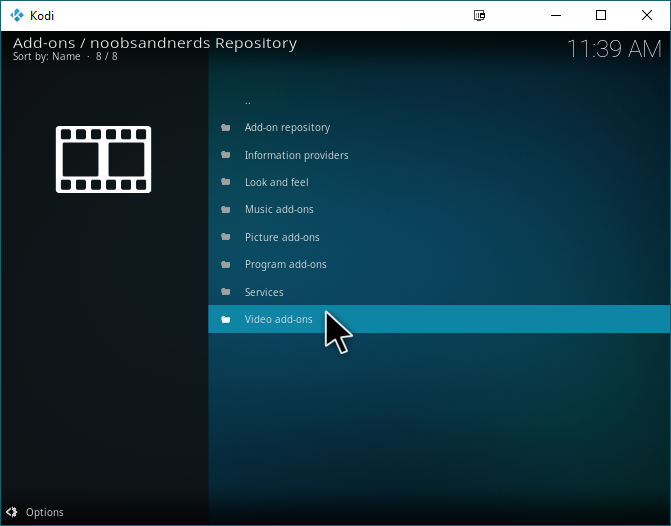 Click "ITV".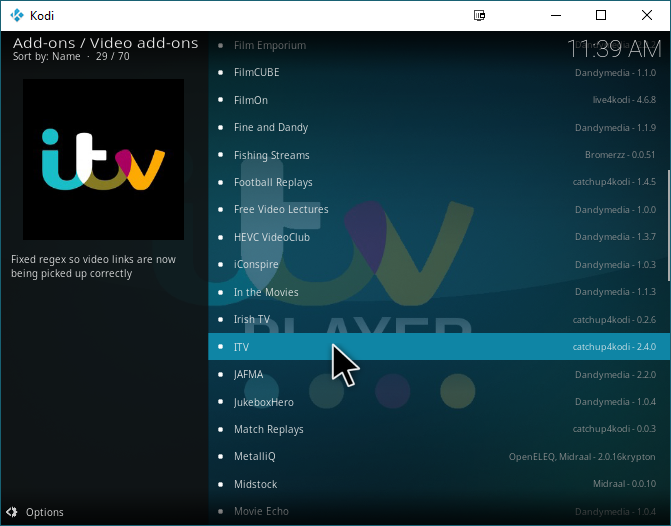 Select "Install". After a few seconds, iTV should now be installed on your system.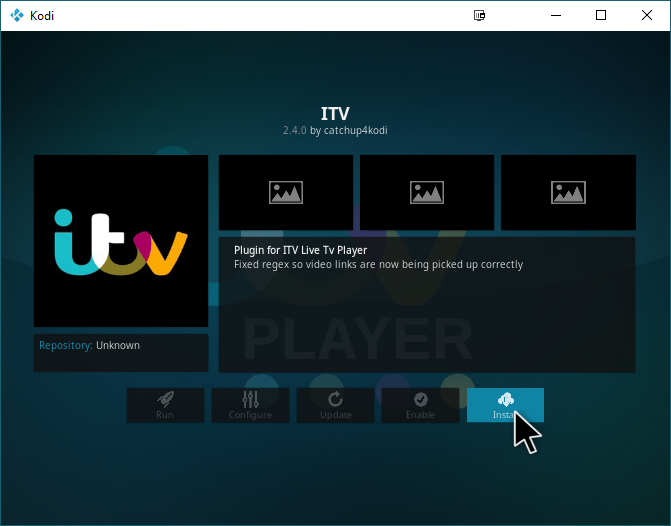 Open iTV again and click "Open" to launch right into the application.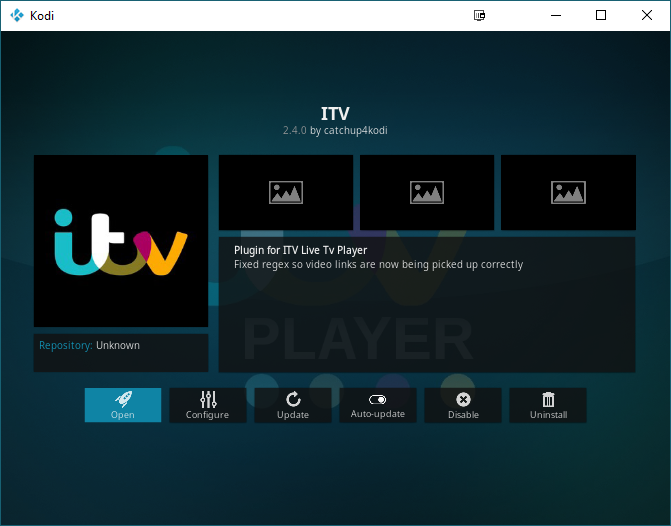 Using The iTV Player Add-On — Our Thoughts
Within the iTV player, there isn't too much to speak of. There's a basic folder structure through which you can access all of the content it has to offer- customizations and other settings do not seem to be present here, but that's okay. You're here for the content, after all. Let's start by giving a short guided tour of the application.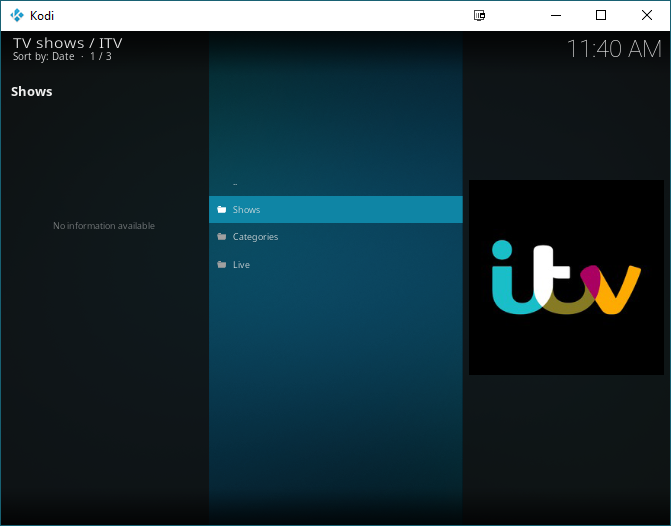 Within Shows are shows that iTV has the rights to air or store on their site. If you aren't accessing this add-on from within the UK or using ExpressVPN, however, any attempts to actually watch these shows will fail.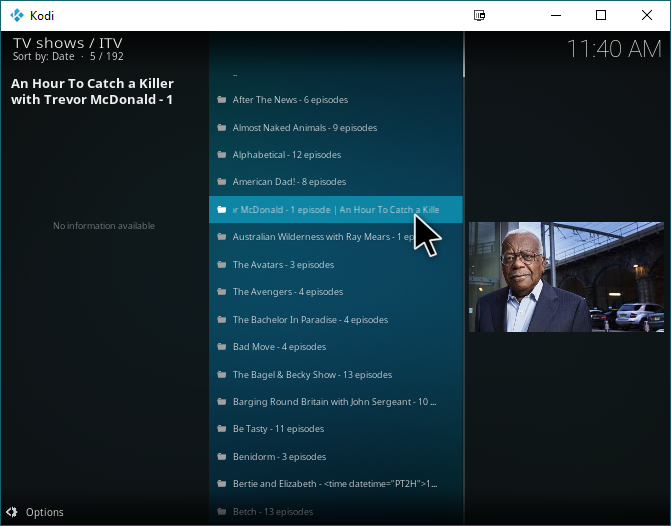 Heading back out to the main menu, there's a categories folder.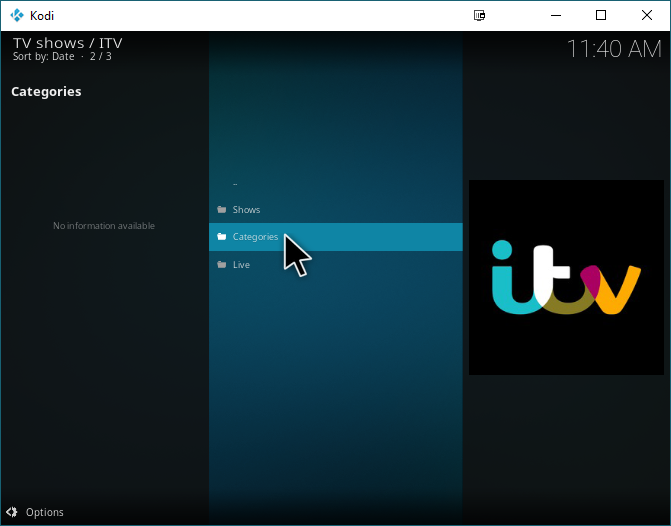 This is pretty much what you would expect. Categories for Dramas, Comedy, Sports and Children are to be expected. This is a TV network's service we're talking about, after all.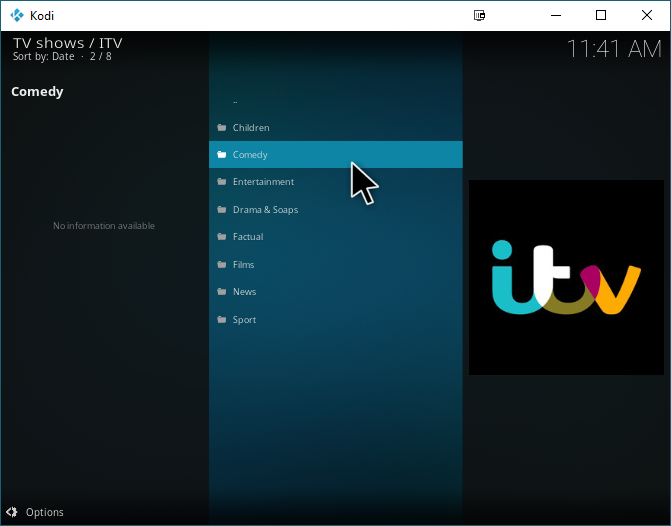 Heading back out one last time, and perhaps to the most interesting part of this application, is the Live tab.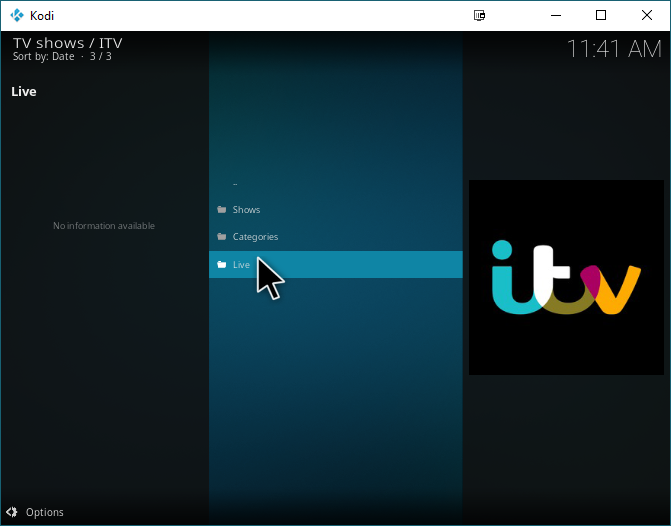 Within the Live tab are multiple live iTV channels that you can tune into at your leisure. Testing showed that these all worked quite well, so for those who want to use Kodi to catch their iTV airings in real time, you're in luck! This add-on is just for you.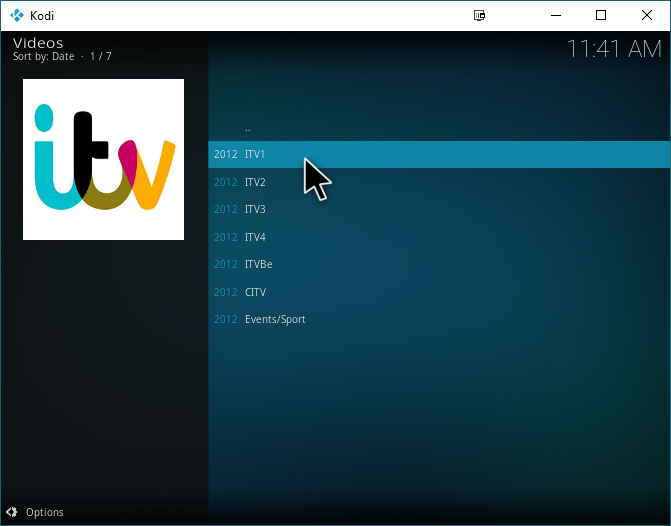 A part of your experience with the iTV Kodi add-on will depend on what hoops, if any, you had to jump through to access it. If you're a native UK resident, then accessing this add-on's content should've offered no trouble at all past installation. If you're a resident traveling abroad, or not living in the UK, then you will have a bit more trouble. In order to access iTV content in my country, we needed to use ExpressVPN and do a DNS flush on our own machine to get past the geographically-blocked streams. As far as the content goes, there are plenty of high-rated shows to choose from on iTV.
The only real downside is that the Kodi add-on could use a little more polish, but this is technically a community-made and maintained add-on for iTV services. Had iTV themselves made an official add-on, it would likely have much more polish and customization. But for what we have now, this is a solid add-on experience.
Parting Words
And that's it! Hopefully, this article helped you get iTV installed onto your system. Remember that without ExpressVPN (or similar caliber VPN service), you won't be able to access iTV content unless you're within the UK. Even if you are within the UK, we'd still recommend a great VPN, especially if you intend on streaming other shows via add-ons like Kodi Covenant.