We are reader supported and may earn a commission when you buy through links on our site.
Learn more
Best Alternatives to Castaway: Best Kodi Add-ons to Replace Castaway
As the name suggests, Kodi's Castaway add-on is one of the best ways to stream broadcast sports and live TV channels. Unfortunately, Castaway's creator announced in 2016 that development was officially suspended. Since then new updates have leaked through on some rare occasions, but the end result is you can't depend on the Castaway add-on like you used to. By now, Kodi fans are familiar with the drill: it's time to look at the best Castaway alternatives to keep the sports and TV streams alive!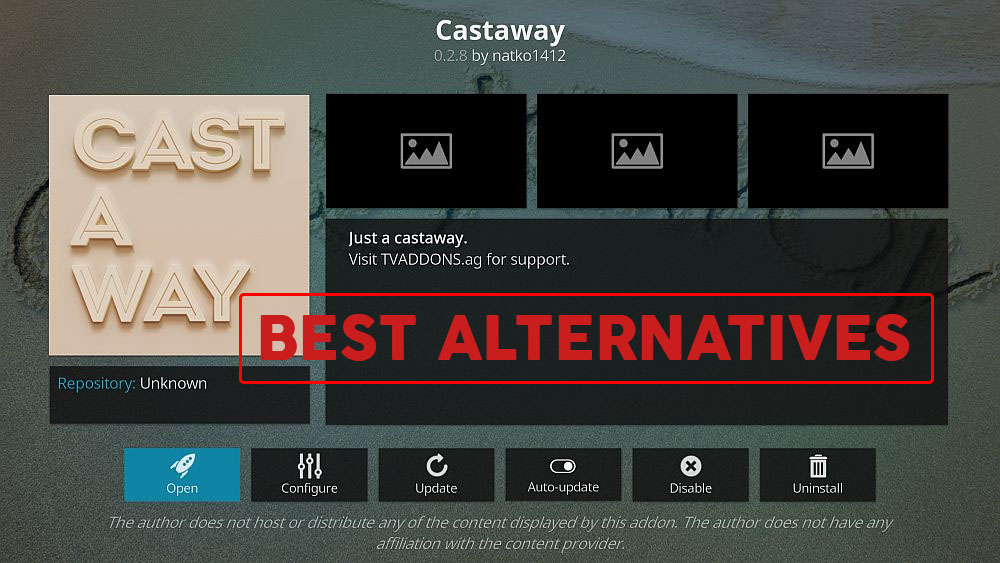 30-days money back guarantee
Always Use a VPN when Streaming with Kodi
The Kodi software is free to use and completely legal. Its add-ons sometimes bend those rules a bit, however, as they can access unverified and even pirated content sources without your knowledge. This is one of the many reasons why Kodi users have turned to VPNs to help them stay safe and anonymous online. With a VPN you can encrypt your data and hide your identity, preventing ISPs from throttling your downloads and government agencies from spying on your activity.
Choosing the right VPN can be a complicated process, especially if you want the best in the business. We've provided a recommended VPN below that can help you get started.
The Best VPN for Kodi – IPVanish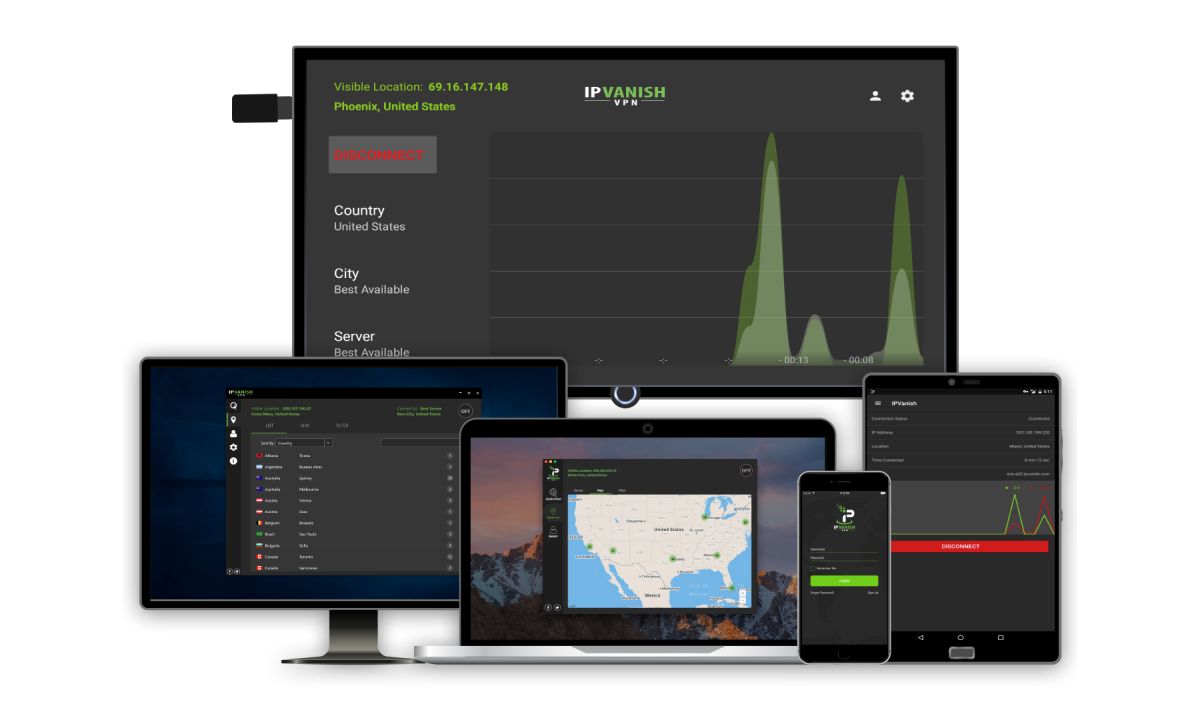 No other VPN hits as many sweet spots for Kodi users as IPVanish. The service has a perfect blend of features to supply an anonymous online presence along with wide server availability and fast streams for HD and 4K videos. It's easy to see how IPVanish does this as well, since one of the company's biggest features is a wide network of 850 servers in 61 different countries. No matter where you live or where you travel, IPVanish makes sure you always have a fast server to connected to.
Keeping your data safe is another of IPVanish's best features. 40,000 shared IP addresses creates a stable foundation for anonymity, and 256-bit AES encryption along with DNS leak protection and an automatic kill switch locks every packet of data down to ensure prying eyes can never sneak a peek. On top of that, IPVanish has a stellar zero-logging policy on all traffic, creating a safe environment for you and your Kodi streams.
*** Try IPVanish with our EXCLUSIVE deal! Sign up and score a 60% discount on yearly plans, only $4.87 per month. You can even use the seven day money back guarantee to try before you buy.
How to Install Kodi Add-ons
Kodi's community packs most of its add-ons into repositories. These zip files are stored and maintained by different groups and are designed to make it easy to find, download, and update add-ons. You can install repos in a number of ways, but we generally prefer Kodi's "external sources" method. Not only is it easier to use on smartphones and touch screen devices, but it also keeps the file clutter to a minimum.
Before adding repositories you'll need to enable Kodi's internal downloads feature. This is a quick toggle you can complete in four easy steps:
Open Kodi and click on the gear icon to enter the System menu.
Go to System Settings > Add-ons
Toggle the slider next to the "Unknown sources" option.
Accept the warning message that pops up.
Now that Kodi is configured, simply locate your repository URL, add it as a source, then let Kodi do the heavy lifting. You can browse and install add-ons at your leisure without having to look for new URLs. The process is a little awkward at first, but before you know it you'll be adding repos in your sleep.
Note: Kodi's add-ons may link to unverifiable and possibly even illegal video sources. AddictiveTips does not condone or encourage any violation of copyright restrictions. Please consider the law, victims, and risks of piracy before accessing copyrighted material without permission.
Best Unofficial Add-on Alternatives to Castaway
Castaway had two main features users loved: easy access to a pre-built list of live sports, and the ability to play custom streams. You could also watch a selection of movies and TV shows, but sports fans were Castaway's target audience. It's tough to find a single add-on that replicates all of these features as thoroughly as Castaway did. We collected a few alternatives that do their job so well, however, you might not miss Castaway so much!
Pro Sport
One of the fan favorite features Castaway provided was the ability to grab live sports streams from different sources and play them in Kodi. Reddit had a number of subreddits dedicated to this very purpose, so with Castaway and a few URLs on hand, you could watch anything you wanted with ease. After Castaway's demise a new add-on rose in popularity to fill this specific gap.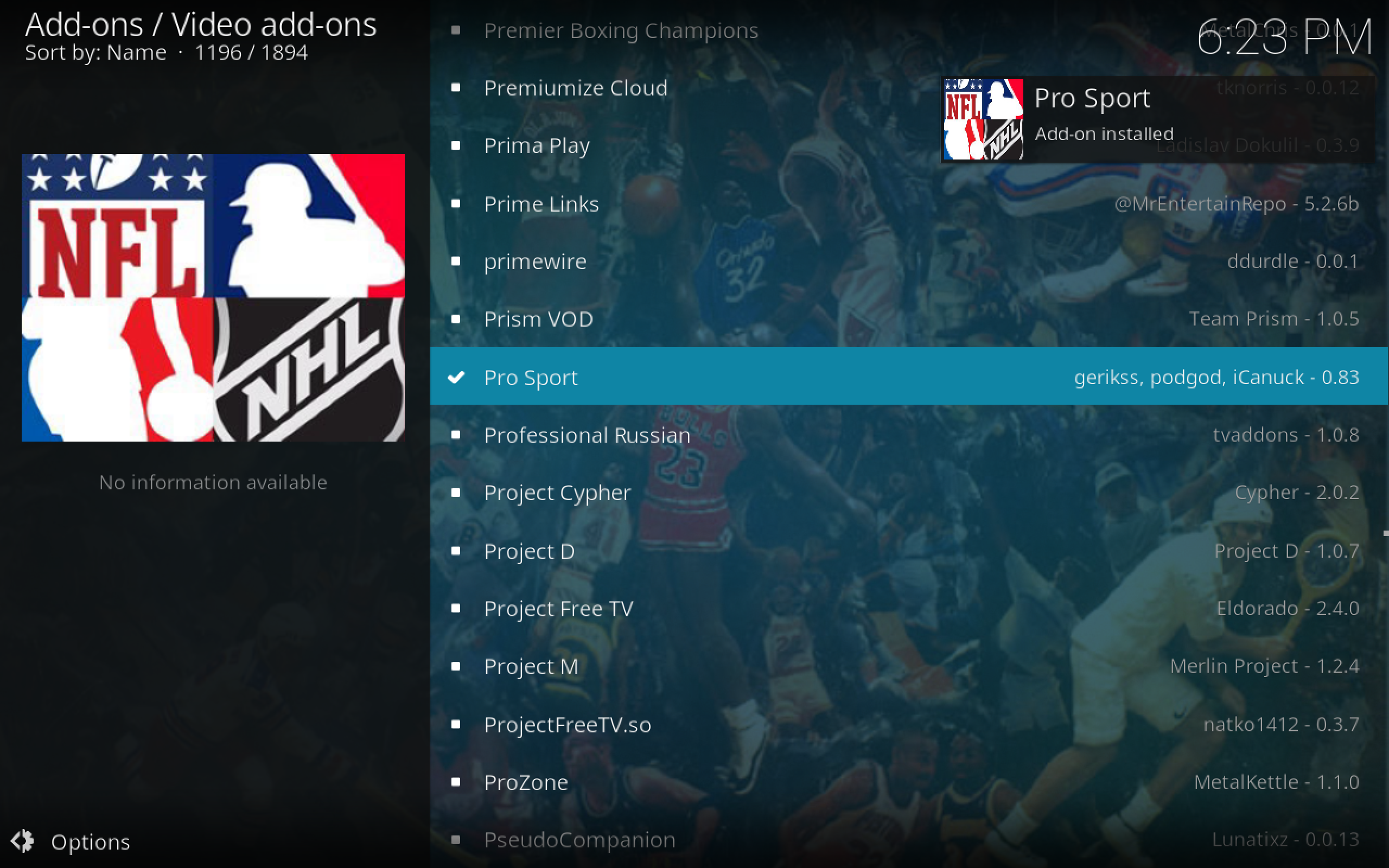 Pro Sport is one of the best ways to stream live sports from Reddit. Grab the add-on and fire it up to see a handful of easy to use categories, including NBA, NHL, NFL, and MLB games. Each folder holds a number of streams for upcoming games, all sourced from Reddit. There's also an archive with a small selection of stored content as well as a section to add your own subreddits for custom streams. Pro Sport is easy to use and offers a no fuss method for live sports streams, plain and simple.
To install Pro Sport, you'll first need to add the SuperRepo repository to your system. Please note that some users have reported inconsistencies in their experience using SuperRepo, so if your add-on installation fails, be persistent and try again.
How to install Pro Sport on Kodi:
Open Kodi on your local device.
Click on the gear icon to enter the System menu.
Go to File Manager > Add Source
Type in the following URL exactly as it appears: https://srp.nu
Name the new repository "SuperRepo"
Click "OK".
Go back to the Kodi main menu.
Select "Add-ons"
Click the open box icon at the top of the menu bar.
Choose "Install from zip file"
Select "SuperRepo" followed by your version name of Kodi.
Select "All" to install the entire SuperRepo set of add-ons.
Go back to the Add-ons menu and click the open box icon again.
Choose "Install from repository"
Find and click "SuperRepo All"
Scroll down to "Video Add-ons"
Locate "Pro Sport" and install.
Access Pro Sport from the main menu when the installation is complete. 
SportsDevil
SportsDevil is one of the best sports add-ons for Kodi, hands down. This powerhouse is constantly updated with new content and new streams, focusing largely on high quality content and either live or recent events. With SportsDevil you'll be able to catch new UFC matches, watch boxing, football, soccer, baseball, basketball, and so much more. Almost all of the internal sources work like a charm, and the organization is impeccably done so you can find what you need and start watching in seconds.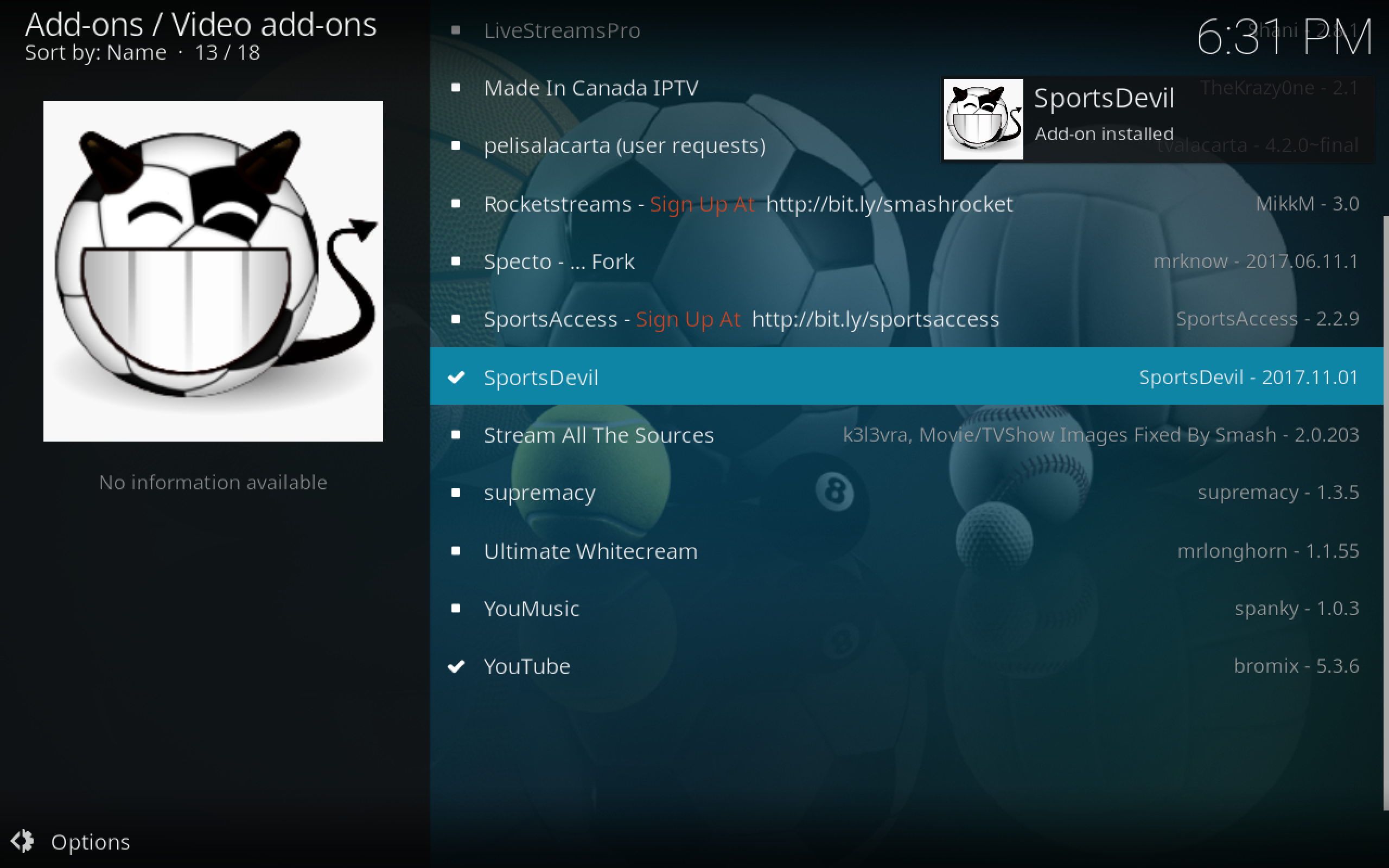 SportsDevil is available from several different repos, but we'll use the reliable Smash Repository for purposes of these instructions.
How to add SportsDevil to Kodi:
Open Kodi on your local device.
Get to the System menu by click on the gear icon.
Go to File Manager, then Add Source
Type in the following URL exactly as it appears: https://mediarepos.org/kodistuff/
Name the new repository "Smash"
Go back to the Kodi main menu.
Select "Add-ons"
Click the open box icon at the top of the menu bar.
Choose "Install from zip file"
Select "Smash
Install the file named reposmash.zip
Go to the Add-ons menu and click the open box icon.
Choose "Install from repository"
Find and click "-SMASH Repo"
Go to "Video add-ons"
Choose "SportsDevil" and install the add-on.
You can now access SportsDevil from the main add-ons menu.
Made in Canada
It may not have been a direct competitor to Castaway, but Made in Canada is a solid add-on that provides reliable access to a tremendous amount of content, including sports streams like UFC and hockey. Made in Canada features a variety of high-quality Canadian IPTV channels with categories devoted to sports and live AceStream channels. What this means for Castaway fans is you can catch most of the same sources for live sports content along with a handful of extras. Better still, most of Made in Canada's streams are high quality, and it's rare to bump into a link that doesn't work.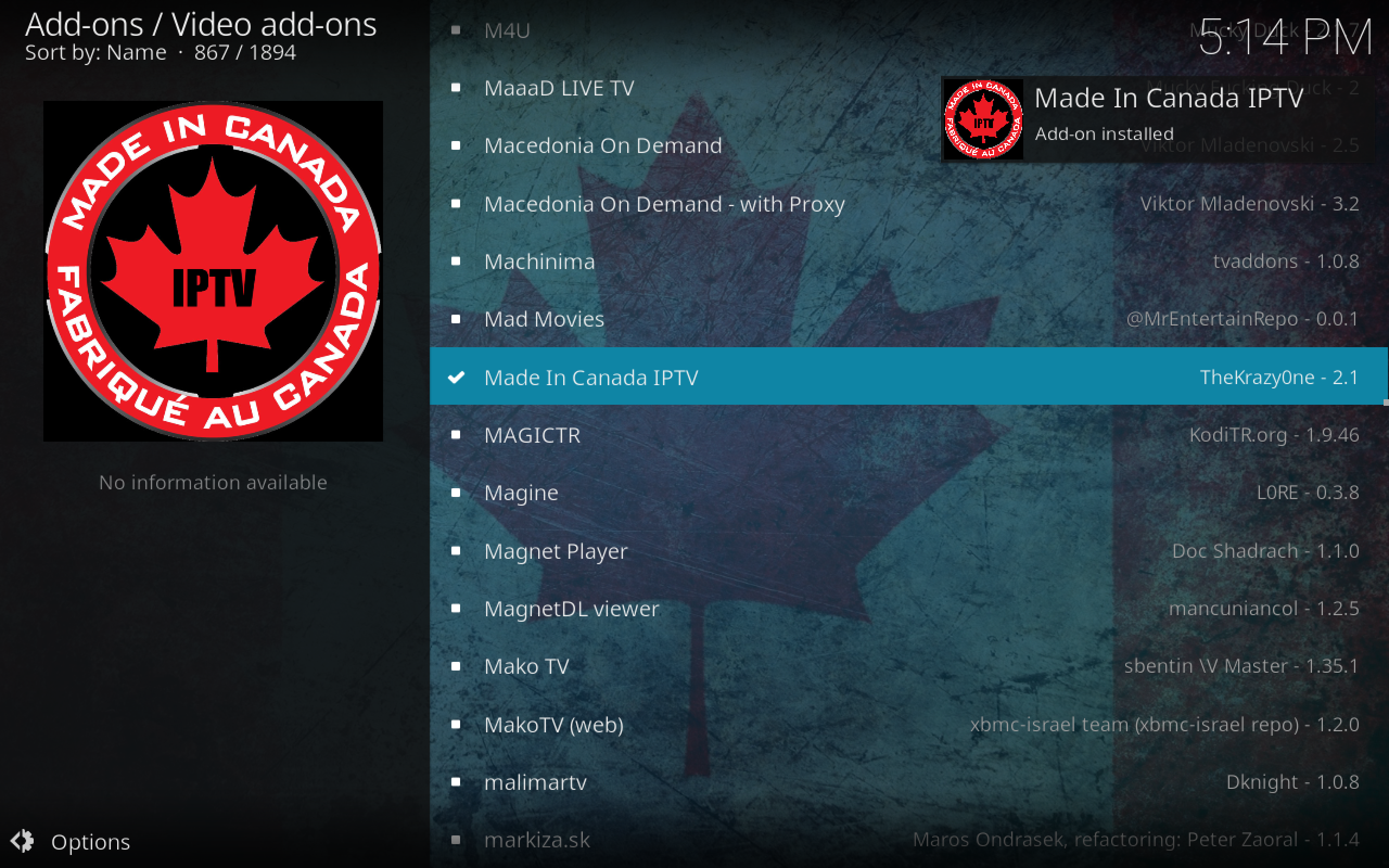 Note: To use some of Made in Canada's live streaming features you'll need to install additional plug-ins, including SportsDevil, Plexus, and the F4M Tester. Instructions for SportsDevil are above, and Made in Canada will walk you through the Plexus installation process. The F4M instructions can be found below.
How to install Made in Canada from the Simply Caz repo:
Install the Smash repo along with SportsDevil by following the steps above.
Then, go to the Add-ons menu and click the open box icon.
Choose "Install from repository"
Find and click "-SMASH Repo"
Go to "Video add-ons"
Choose "Made in Canada IPTV" and install the add-on.
You can now access Made in Canada from the main add-ons menu.
Installing the F4M Tester Add-on
Some Kodi streaming add-ons require a separate installation to manage their live content. Many add-ons handle the installation themselves, but some don't. If you get an error with any of the above add-ons that says F4M is required, follow this quick guide to install it so you can get back to streaming.
Make sure you have Smash installed on your system. If you don't, the instructions are above.
Go back to the Add-ons menu and click the open box icon.
Choose "Install from repository"
Find and click the Smash repository.
Scroll down to "Video add-ons"
Locate "f4mTester" and install.
Try your previous add-on again and it should work without error.
Is Castaway Really Dead?
The short answer is yes, but the longer answer is not quite; Castaway is no longer under active development. The add-on relies on external sources for its video streaming, sources that are constantly changing and disappearing. Without updates Castaway isn't able to keep up with new streaming sources or remove the old ones, making it effectively useless as a media supplier.
Not all of Castaway's functions are dead, however. The add-on is available via Github and a few of the internal links still work. Some minor updates do occasionally make their way to the page, but on the whole you won't find much worth using. Best to stick with the alternatives above to get your streaming fix.
Is it Safe to Install Kodi Add-ons?
Kodi's add-on community has something of an undeserved negative reputation. The majority of its developers work hard to provide easy and free access to all the content you can imagine. Some creators use the open-source nature of Kodi to pirate videos or even distribute malware, however. It's rare to encounter an add-on that actively harms your system, but it doesn't hurt to take a few simple precautions before diving in.
The biggest thing you can do for your Kodi safety is to stick with reliable repositories. Repo managers verify add-ons before including them in their zip file, providing an extra layer of protection against malicious code. It's also not a bad idea to keep your anti-virus and firewall apps running while using Kodi, and of course you should always have your VPN turned on. We also download and verify all add-ons featured in our articles, so if it appears above, it's working and safe to use.
Reader Favorite Castaway Alternatives
There are thousands of Kodi add-ons out there, some of which the world has yet to discover! Do you have a favorite alternative to Castaway you like to use? Share your thoughts and suggestions in the comments below!