We are reader supported and may earn a commission when you buy through links on our site.
Learn more
Listen to Podcasts On Kodi with the Apple iTunes Podcasts Add-on
Podcasts are a great way to stay informed and learn interesting new facts about a whole host of hobbies and interests. A podcast is simply a regular audio show (like a radio show) on which a particular topic or theme is discussed each week. You'll find a ton of podcasts on all sort of topics, from food and cooking to cars, music, the environment, and much more. These are often presented by amateur enthusiasts who record at home and then put up their work for others to listen to. You'll also come across fictional podcasts like the spooky-but-delightful Welcome to Night Vale or the charmingly surreal Alice Isn't Dead.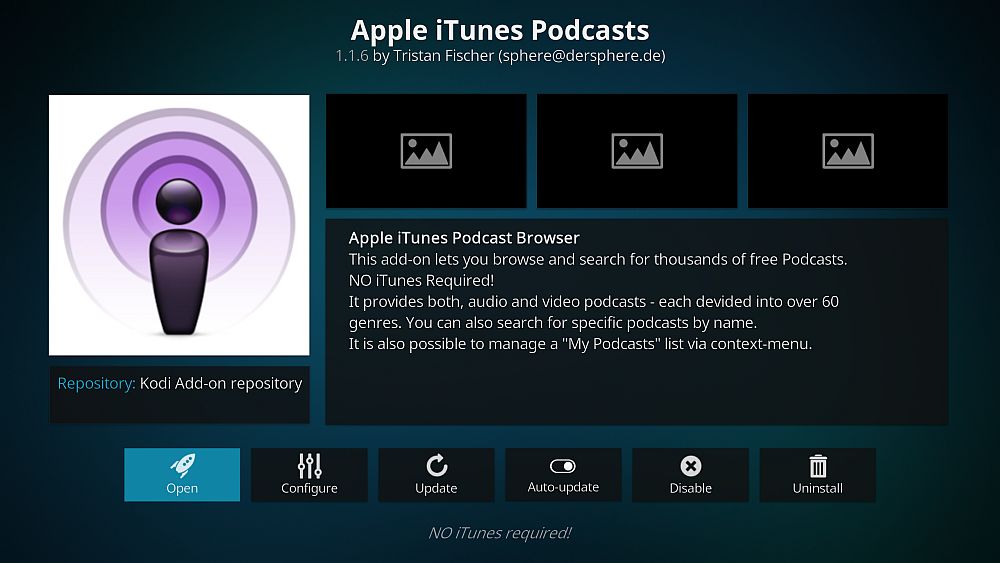 Lots of people like to listen to podcasts while they wake up, while they travel or drive, or while they're relaxing or working around the house. As the files are audio and are often an hour or more long, they're perfect to pop on in the background while you go about your day. As such, many listeners choose to listen on their mobile devices, and the Apple iTunes app on the desktop is also a popular way to listen.
But what if you want to listen to podcasts on your Kodi system? The good news is, there is a simple and easy way for you to do just that. Using an add-on, you can check for new episodes of your favourite podcasts and listen to them through your Kodi system. Below we'll show you how to listen to podcasts on Kodi with the Apple iTunes Podcasts add-on.
30-days money back guarantee
Kodi Users Should Have a VPN
We'll get right into how to install and use the podcast add-on, but first we need to flag up an important issue of security. As you may know, the Kodi software itself is open source and fully legal to use. And some add-ons for Kodi are fully compliant with the law too. However, other add-ons can allow you to access copyrighted content like movies or music illegally. And even if you didn't know that the add-on was illegal, you could still be liable for a fine or for prosecution if you are caught using them.
To keep yourself safe when using Kodi add-ons, we strongly recommend that users install a VPN. This can help you in the following ways:
Protect your device from hackers when you use a public network like those at coffee shops or airports
Make sure that neither your ISP or the government can spy on your internet use
Get around region locks so that you can see web content from any country
Be sure that you won't be harassed by copyright holders or patent trolls because of your internet use
For Kodi Users, We Recommend IPVanish
The VPN that we recommend for Kodi users is IPVanish. This service is one of the most popular among serious internet users and it meets all of our requirements. It offers industry-leading connection speeds and more than 850 servers in over 60 countries. The software supports Mac, PC, Android, and iOS, and can even be installed onto your router directly to automatically protect all of your network traffic. The service ha extra features like DNS leak protection for extra security and a kill switch which will shut off your connection if your VPN is interrupted so that you don't accidentally use an unsecured connection. The service is smooth, reliable, and easy to use. 
*** IPVanish offers a 7-day money back guarantee which means you have a week to test it risk-free. Please note that Addictive Tips readers can save a massive 60% here on the IPVanish annual plan, taking the monthly price down to only $4.87/mo.
How to Install the Apple iTunes Podcasts Add-on for Kodi
Now that you have a VPN installed to keep you safe, we can move on to the instructions for installing the podcasts add-on for Kodi. Fortunately, this add-on can be found in the official Kodi add-ons repository, so it's very easy to install and requires no extra steps. You don't need to add a new third party repository to your Kodi system, as the official repository is already available by default. Here's how to install the add-on:
Start on your Kodi home screen
Click on Add-ons
Click on the icon that looks like an open box
Go to Kodi Add-on repository
Go to Music add-ons
Scroll down to Apple iTunes Podcasts
Click on it and a box describing the add-on appears. Click install on the bottom menu
Wait a minute and you'll see a notification once the add-on in installed
That's it!
How to Use the Apple iTunes Podcasts Add-on for Kodi
With the podcasts add-on installed and ready to go, here's how you can use it to listen to your favourite podcasts and to discover new ones:
Start on your Kodi home screen
Go to Add-ons
Go to Music add-ons
Click on Apple iTunes podcasts
If you go to Browse by genre, you'll get a list of podcast topics such as Education, Games & Hobbies, Religion & Spirituality, and Business. Also you'll see subcategories such as Games & Hobbies – Automotive, Games & Hobbies – Aviation, or Games & Hobbies – Video Games. If you click on a category or subcategory, you'll be taken to a page which lists podcasts in that category. When you hover over the name of a podcast, you'll see an image for it and a description of it on the left. Click on the title of a podcast to open its page. It might take a second to load, so wait for the loading bar to fill
Once you're inside the podcast section, you'll see a list of episodes in reverse chronological order. If you want to change to a different ordering system for episodes, such as alphabetically or by size, just navigate to the far left of the screen. You'll see a slider appears with options on it. From here, choose Sort by and you can pick an option for how to sort the episodes. When you hover over an episode title, you'll see a description of the episode on the left
Click on the title of any episode and it will begin playing.
To search for a particular podcast, start at the main menu. Then go to Search. Enter the keywords that you're looking for into the text input box and press enter. Now you'll be taken to a list of podcasts which match your query. Click on the title of any podcast to open it up
If there's a podcast you particularly like and want to access easily, you can add it to your favourites. To do this, find the title of the podcast you're looking for, either by browsing the categories or by using the search. Then right click on the title of the podcast and choose Add to "My Podcasts". Now when you go back to the main menu and click on My Podcasts, you'll see your favourite podcasts listed and you can easily check them for new episodes
A Final Word on Your Security While Streaming
We already covered the importance of maintaining your privacy when using Kodi earlier, but there is one final point to make before you start streaming with your newly installed Apple iTunes add-on. Don't use a free VPN! Why are we circling back to this? Well, Kodi users are under increased scrutiny by ISPs and copyright holders, regardless of whether their activity is lawful or not. Late 2017 saw a series of crackdowns against repositories, and while there hasn't been a particular uptick in individuals having the book thrown at them, it's a fair to assume the entire Kodi ecosystem is at risk. You can't afford not to invest in your privacy.
You will find many different free VPN providers online. Again, we strongly recommend against you using a free VPN. These free services always come with a catch, and if the companies are not making money from subscriptions then they must be making their money elsewhere. Free VPNs have been found to engage in a variety of predatory practises, from injects ads into your web browser to stealing and then selling off data about their users to other companies. Some free "VPN" services have been found to not even encrypt any web traffic – they do literally nothing whatsoever!
Rather than a dodgy free VPN, we recommend that you go with a reputable paid VPN provider.
Conclusion
If you love to listen to podcasts, then you'll love the Apple iTunes Podcasts add-on for Kodi. It's a simple but extremely effective add-on which will let you find and listen to the podcasts that you love through your Kodi system. The favourites function means that you can easily find your favourite podcasts to listen to later, and the categories make it fun to search for new podcasts to listen to too.
What's your favourite podcast? And do you ever use Kodi to listen to podcasts, or is there another way in which you prefer to listen? Tell us about it in the comments below!