We are reader supported and may earn a commission when you buy through links on our site.
Learn more
Pac-12 Kodi Add-on, The Best One for College Sports
Are you a fan of college sports? The Pac-12 Kodi add-on is definitely for you. The software interfaces with the Pac-12 website to legally stream college basketball, football, field hockey, tennis, volleyball, and much more, all from the comfort of your favorite device. If you've got a few minutes to spare and want to ensure you'll always have a way to get your sports, fix, read on for our guide on how to install the Pac-12 add-on to Kodi.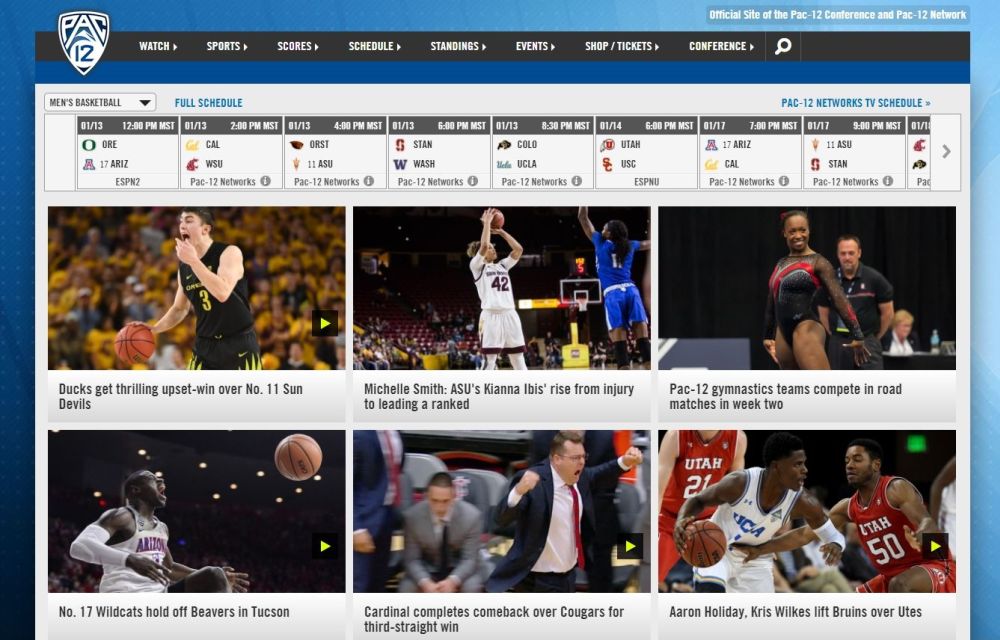 30-days money back guarantee
Stay Safe on Kodi with a Good VPN
Kodi is both free and legal to use, there's no question about it. Because the software is so extensible, however, some concerns have been raised about the type of content you can access via Kodi. Install the right add-ons and you can even stream pirated content, which breaks copyright laws around the world. This has led both governments and ISPs to block or throttle Kodi traffic, putting both casual and serious streamers at risk.
You can protect your online privacy in and outside of Kodi by running a good VPN. VPNs turn ordinary traffic into an encrypted stream of information, all without any extra work on your part. ISPs can't see through encrypted data packets and therefore can't throttle your connection or spy on your activity. You can also access a wide range of geo-restricted content with a VPN in place, all while staying safe, private, and anonymous.
IPVanish – The Best VPN for Kodi
IPVanish knows that Kodi users need the perfect balance of speed and security. The service delivers this by running a large network of over 950 servers in 60 different countries, each one perfectly tuned for fast video streams. Data that passes through this network is secured with 256-bit AES encryption and protected by a zero-logging policy on all traffic, as well. Your identity will also stay safe thanks to DNS leak protection and an automatic kill switch in every version of its custom software. All you have to do is sign up, connect, and you're ready to stream.
*** IPVanish offers a 7-day money back guarantee which means you have a week to test it risk-free. Please note that Addictive Tips readers can save a massive 60% here on the IPVanish annual plan, taking the monthly price down to only $4.87/mo.
Before Installing the Pac-12 Add-on
Pac-12 is a fantastic resource for sports fans, especially ones located in the western half of the United States. College games from over a dozen cities are collected here, along with articles, interviews, schedules, and more. Before you jump in and grab the add-on, there are a few things you might want to know.
Is Pac-12 Free?
Both the website and the Pac-12 add-on are both free. No account and no subscription is required to view either one. You will have to have an account with a cable TV or internet service provider supported by Pac-12 to view live streams on the website, however. There are over 35 currently connected with the service, so if you live in the area you'll likely have free access without any trouble. The Kodi add-on neatly circumvents that restriction, and it even allows you to use certain VPNs while watching sports.
Check the Website First
The Pac-12 add-on isn't an all-inclusive package. It's designed for streaming a handful of the most popular live sports channels, nothing more. To catch a particular game, or to watch a wider variety of content, you'll still need to use the Pac-12 website to reference schedules and similar data.
Pac-12 Mobile Apps
Pac-12 does offer smartphone apps for both Android and iOS devices. They offer more content options than the Kodi add-on, but they're notoriously slow and can be difficult to use. If you can't find the stream you're looking for with Kodi, try the apps as a second resort.
Enable Your Kodi Settings
Installing Kodi add-ons is a multi-step process, especially if you use unofficial sources. Since Pac-12 isn't an official add-on, you'll need to find a repository URL and complete a few tasks before you can start streaming. The first thing you need to do is enable external downloads from within Kodi. This lets the software fetch content and install it for you, and it's necessary to add any new plug-ins or repositories to your system.
Open Kodi and go to the main menu.
Click on the gear icon to enter the System menu.
Go to System Settings, then click Add-ons.
Toggle the slider next to the Unknown sources option to the right.
Accept the warning message that pops up.
How to Install Pac-12 for Kodi
The Pac-12 installation process handles just like any other Kodi add-on. Because most repos that carried the content have shut down, we'll be using files taken from the official Pac-12 add-on source, as maintained by the developer. Follow the steps below to download and install Pac-12 to Kodi on any device.
Start by opening your web browser and going to the official source for BludhavenGrayson's repository files. Look towards the bottom of the list for a zip file named repository.BludhavenGrayson-1.0.0.zip. The numbers at the end may change, but the rest should look about the same. Click the link and you'll see a new screen that's mostly blank. Click the small download button in the corner (pictured above) and the zip file repository will automatically download.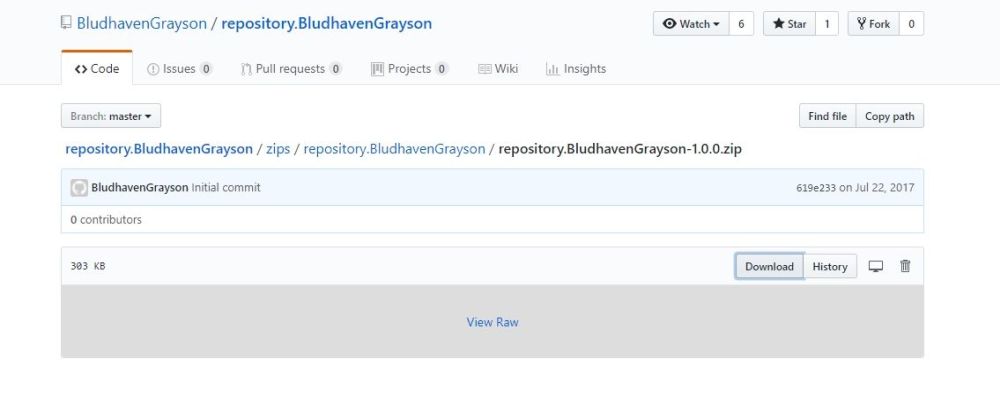 Leave your browser and open Kodi. From the main menu, click Add-ons, followed by the open box icon, then choose "Install from zip file". Navigate to the folder where you saved the zip file above, then install it from within Kodi.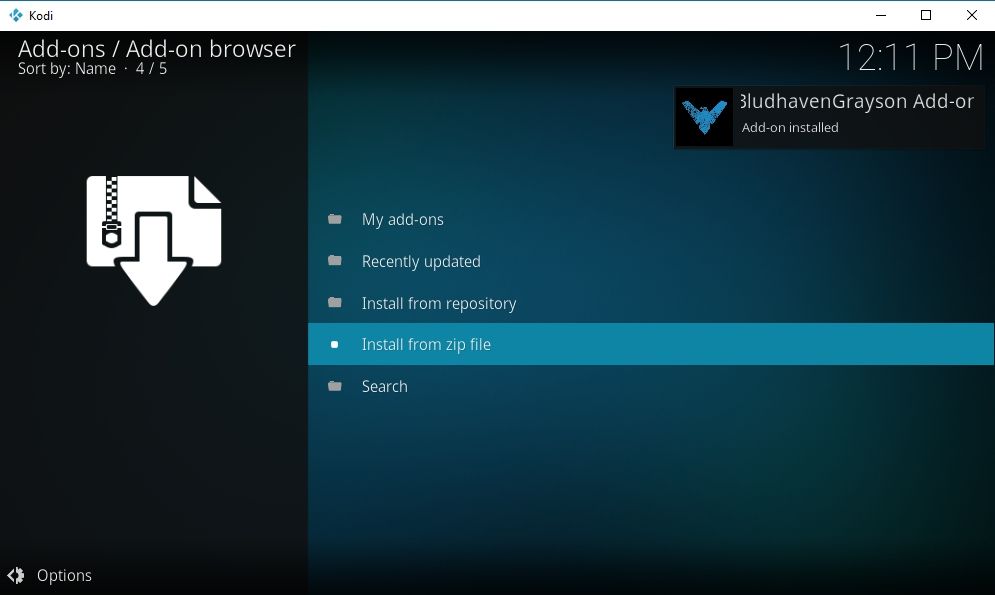 After the BludhavenGrayson repository is installed, Kodi will drop you back at the open box icon menu. Choose Install from repository, then select BludhavenGrayson Add-ons from the list. Open the Video Add-ons section and you'll see a list of plug-ins you can install. Pick PAC-12 Network near the top of the list.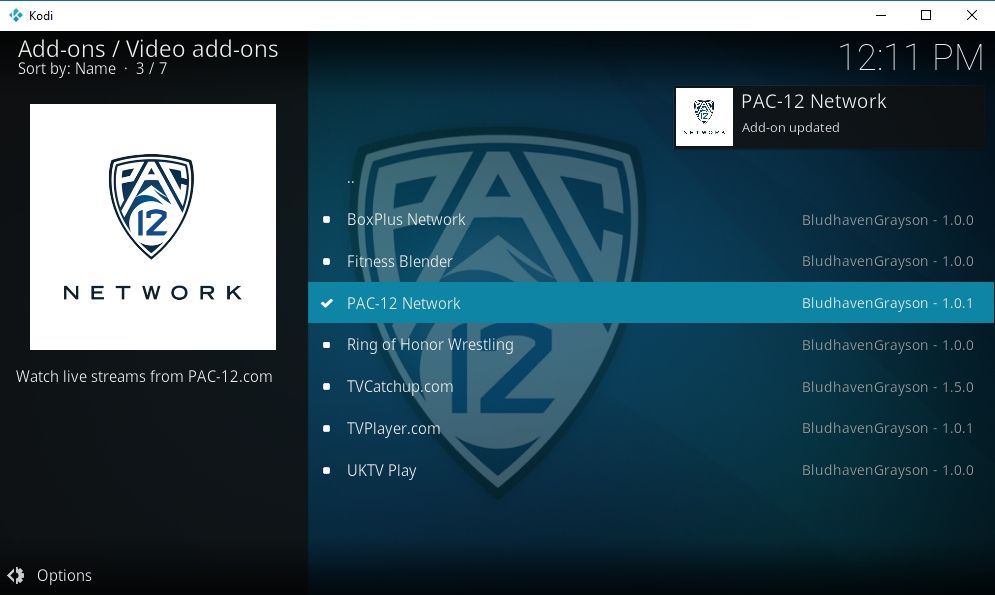 In the next window, choose Install from the lower right corner of the screen. Kodi will install the add-on to your system. You'll now be able to access it at any time from the main add-ons menu.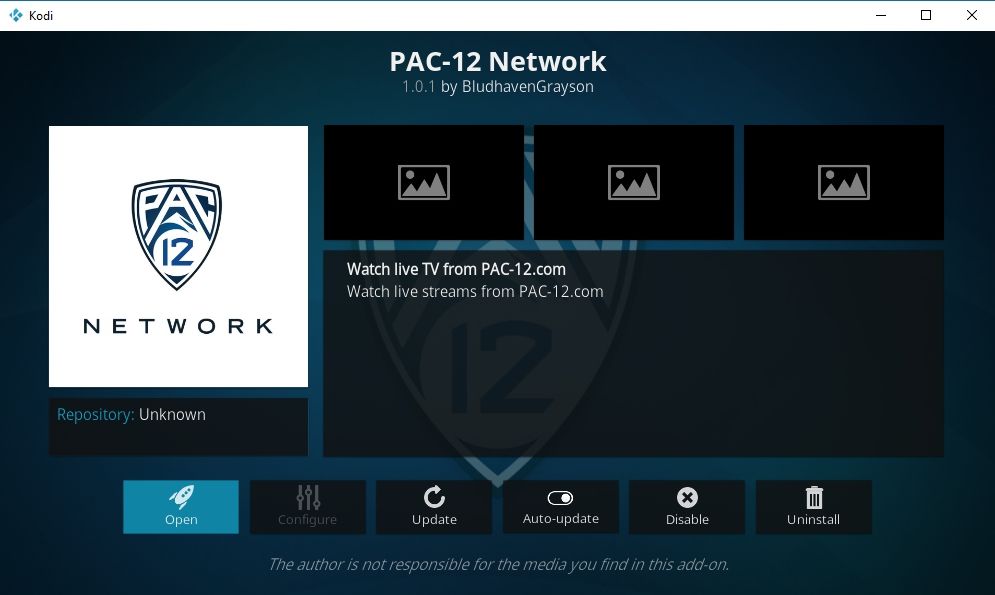 What's on Pac-12?
Now that you've got Pac-12 set up and ready to go, it's time to take a look at what you can do with this simple add-on.
Pac-12 Sports Channels
The Pac-12 add-on features a number of popular streaming channels organized by location. These allow you to stream live college sports content, including pre-game content, post-game shows, and the actual games, all with just a couple of clicks.

Pac-12 Network – Generalized content from Pac-12.
Pac-12 Arizona
Pac-12 Bay Area
Pac-12 Los Angeles
Pac-12 Mountain
Pac-12 Oregon
Pac-12 Washington
These channels are further expanded on the Pac-12 website with nearly 30 different sports covered, including both men's and women's versions of some competitions.
Baseball
Basketball (men's and women's)
Beach Volleyball
Cross Country
Field Hockey
Football
Golf (men's and women's)
Gymnastics (men's and women's)
Lacrosse (women's)
Rowing (men's and women's)
Rugby
Soccer (men's and women's)
Softball
Swimming & Diving (men's and women's)
Tennis (men's and women's)
Track & Field
Volleyball (men's and women's)
Water Polo (men's and women's)
Wrestling
Finding Your Favorite Sports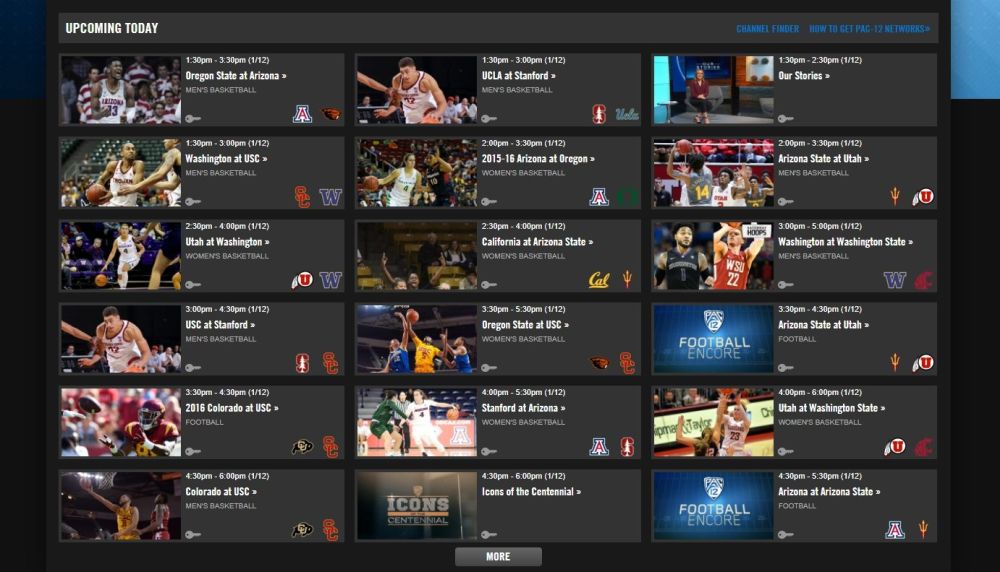 The unfortunate drawback to the Pac-12 add-on experience is it doesn't bring all the features over from the official website. Live channels can be confusing if you don't know what's on, so in order to catch the games you're interested in, you'll need to check the online schedule and plan your day accordingly. Fortunately Pac-12 makes it easy to browse by day and filter by network. Once you know the time and date, simply fire up Kodi, open the add-on, and enjoy.
Official Add-on Alternatives to Pac-12
Still a little hesitant to use unofficial Kodi add-ons? While Pac-12 is perfectly safe, a lot of users prefer sticking to officially developed and approved content. You'll get better quality streams, and you'll be safe in the knowledge that you never accidentally violated any copyright laws.
FOX Sports GO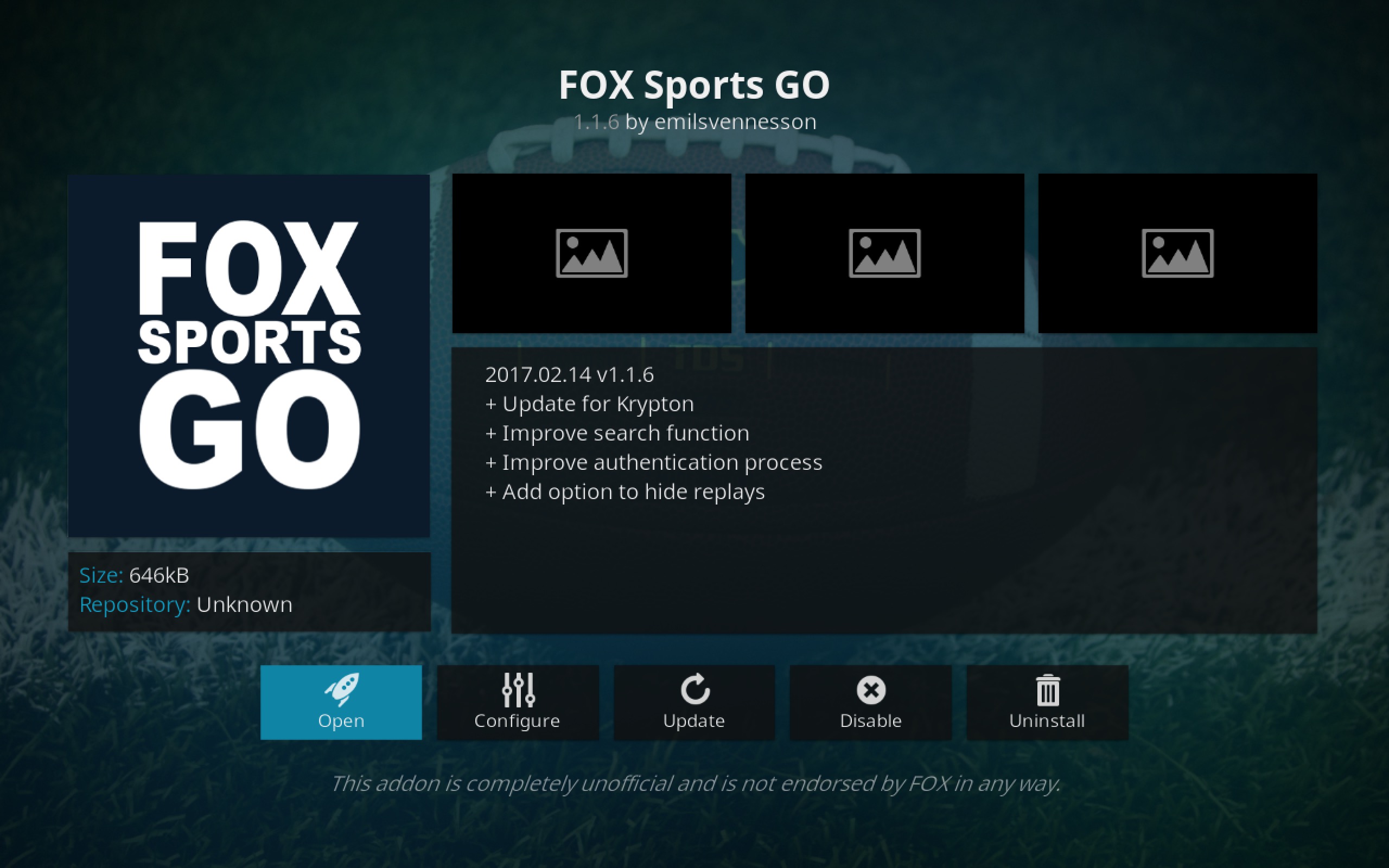 The official add-on for FOX Sports GO sources content from the network's TV Everywhere program, a service designed to deliver high quality broadcast content to the internet. With Sports GO's heavy focus on sports, you'll be able to catch everything from NBA games to Major League Baseball, the NHL, and even the Super Bowl! FOX Sports GO also streams highlights and interviews put together by the network's various channels, making it an excellent resource for sports fans.
Installing FOX Sports GO
The FOX Sports GO file is packaged with Kodi's official repository, which is included with every Kodi app download. You won't need to add new repo sources, just click a few options and start installing.
Open Kodi and head to the main menu.
Select Add-ons, then click the open box icon at the top of the navigation menu.
Choose Install from repository, then scroll and click Kodi Add-on Repository.
Choose the Video add-ons folder.
Select FOX Sports GO.
Click the Install button in the lower right corner.
How to Use FOX Sports GO
In order to stream from FOX Sports GO, you'll need to pair it with an existing cable TV account and activate the software through Kodi. After installing the add-on, just choose any video from Kodi and try to play it. You will be prompted with an activation window. Follow the steps below to confirm your account in seconds.
Copy the activation code from the Kodi window.
Visit foxsportsgo.com/activate
Enter your code, then select your cable provider.
You'll be redirected to the cable provider's login page.
Enter your details and sign in.
Once activation is complete, go back to Kodi and start streaming.
NBC Sports Live Extra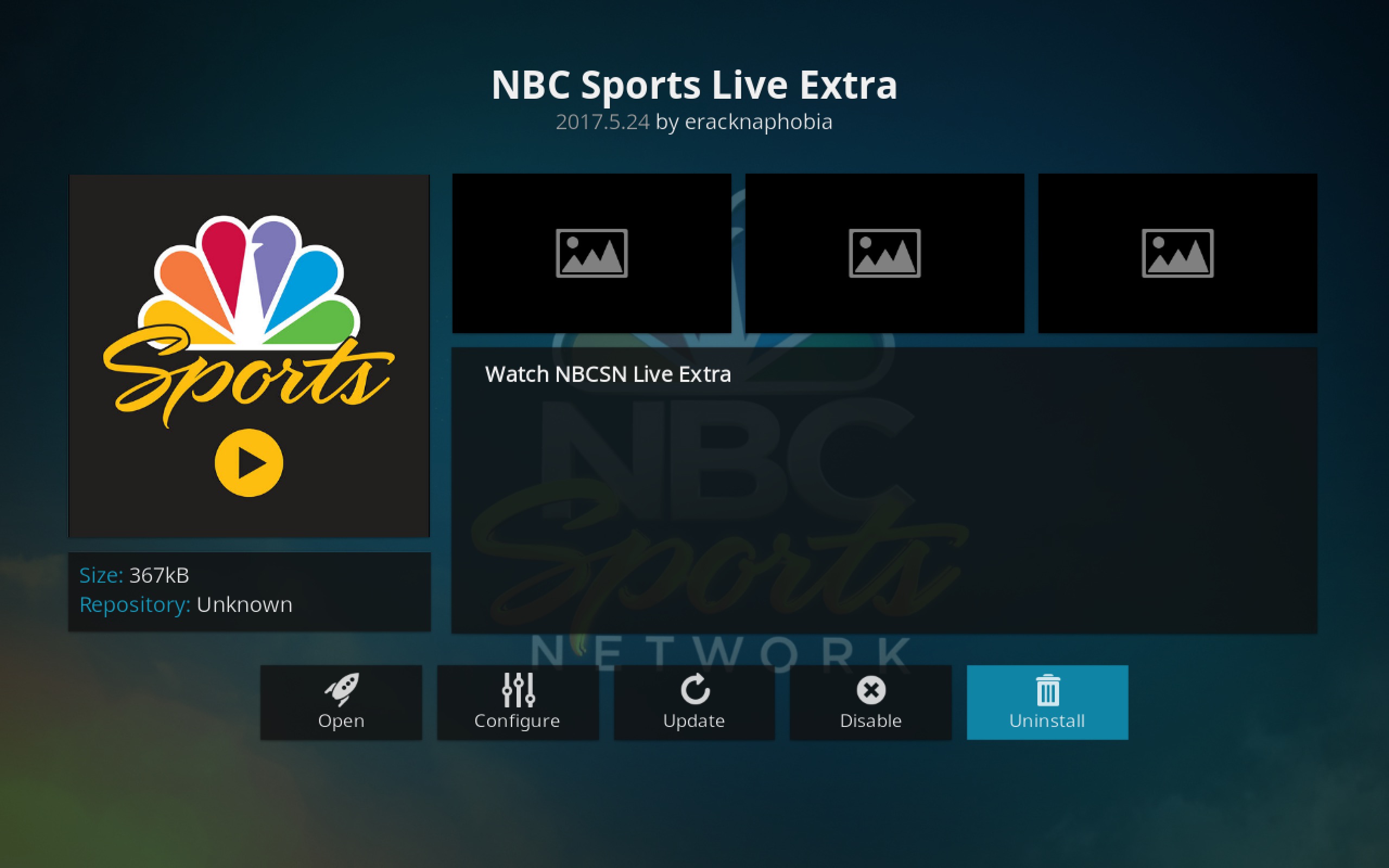 A similar service to FOX Sports above, NBC Sports Live Extra takes content from the network's broadcasts and makes it available to stream via the web and through Kodi. The channel is home to a number of sports organizations, everything from the NFL to NASCAR, the NHL, the PGA Tour, the Premier League, and even the Triple Crown of Thoroughbred racing. It doesn't show as much college sports content as FOX, but if you're a bigger fan of football, NBC is the way to go.
How to Install NBC Sports Live Extra
NBC Sports Live Extra is included in Kodi's official repository, which doesn't require any extra source additions or installation steps. Follow the quick steps below and you'll be set.
Run Kodi, go to the main menu, then choose Add-ons.
Click the open box icon and select Install from repository.
Scroll down and click Kodi Add-on repository.
Choose the Video add-ons category, then select NBC Sports Live Extra.
Click the Install button in the lower right corner of the window. Moments later the add-on will be ready.
How to Use NBC Sports Live Extra
NBC Sports Live Extra requires activation via your cable provider's login page before you can stream any sports. Install the add-on first, then Kodi will prompt you to pair your device. Use the instructions below to activate your account in seconds.
Visit activate.nbcsports.com
Enter your device and cable provider.
Type in your activation code listed in the Kodi pop-up window.
When activated, NBC's website will redirect you to your cable provider's login page.
Enter your details and sign in.
Once activation is complete, go back to Kodi, close the pop-up, and start streaming.
Stream Sports and TV Shows with USTVnow
USTVnow offers high quality live broadcasts from around the U.S. The service was designed for travelers and military personnel stationed outside of the country for long periods of time. By signing up with a free or paid subscription, you can keep up with your favorite shows and local programs from around the U.S., all from your favorite device. Free accounts come with a ton of broadcast networks, including ABC, NBC, CBS, and Fox, all of which show live sports, both professional and college, from time to time.. Premium plans include cable channels along with TV recording features so you can watch games at your convenience. To learn more about USTVnow or to get started installing the Kodi add-on, check out our complete guide: Install the USTVnow Kodi Add-on.
Conclusion
Pac-12 is a unique college sports resource a lot of people have come to rely on for their favorite games. The site makes it easy to keep up with local games from dozens of sports and cities, all with a single click to play interface. The Pac-12 add-on for Kodi takes the best parts of the service and simplifies it even more. It's never been easier to watch sports on your home devices, especially with Kodi as part of the picture!
Got any favorite college sports add-ons you like to use? Let the world know in the comments below!