We are reader supported and may earn a commission when you buy through links on our site.
Learn more
Best Kodi Wizards: How to Keep Kodi Fast and Light
Download a lot of add-ons for Kodi? Having a hard time sorting through them all, deleting the duds, and keeping your Kodi installation fast and lightweight? Kodi wizards to the rescue! These multi-purpose maintenance tools can help you clear your cache and remove unneeded content with just a few clicks. Read on for some of the best Kodi wizards available today, along with a few tips for our favorite ones.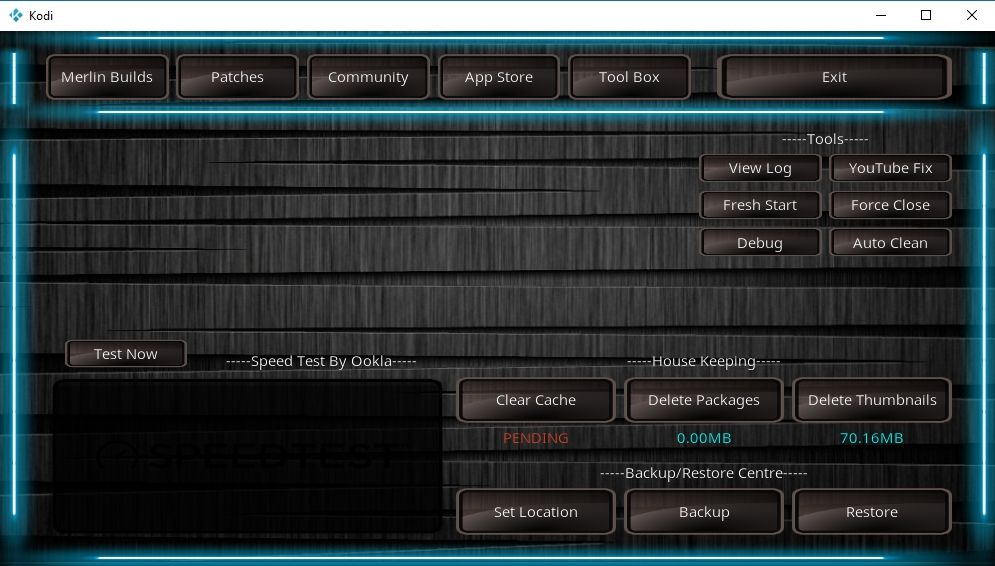 30-days money back guarantee
Keep Kodi Private with a VPN
Kodi itself doesn't include any content, making it completely free and legal to use. It's possible to download third party add-ons that stream pirated videos, however, which has brought the entire Kodi community under scrutiny. Streamers have even reported their ISPs throttling traffic or sending out copyright infringement notices!
To keep your online activities private, all you have to do is use a good VPN. VPNs encrypt data before it leaves your device, turning ordinary packets of information into unreadable code. No one can tell who you are or what you're streaming, so you can use Kodi under a perfect cloak of privacy.
IPVanish – the best VPN for Kodi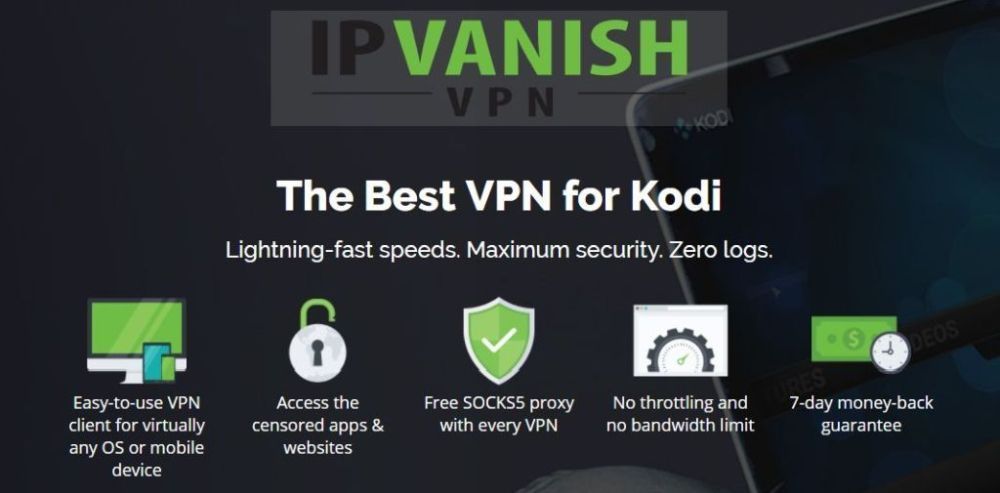 We took a look at some of the best VPNs on the market and evaluated them for use with Kodi. Out of all the services we tested, IPVanish came out on top. IPVanish delivers fast streams, anonymous downloads, and easy to use software on a wide variety of devices. You'll always have lightning fast speeds with this VPN, and better still, you'll never have to worry about anyone spying on your Kodi activity.
Some of IPVanish's top features include strong 256-bit AES encryption on all data, DNS leak protection for improved privacy, an automatic kill switch to guard your connection against accidental breaches, and an incredible zero-logging policy on all traffic. IPVanish also delivers anonymous access to Kodi's add-ons with no restrictions on P2P traffic or torrent content, letting you download anything you want, plain and simple. The service also runs a huge network of 950 servers in 60 different countries, all completely free from bandwidth restrictions and speed limitations!
IPVanish offers a 7-day money back guarantee which means you have a week to test it risk-free. Please note that Addictive Tips readers can save a massive 60% here on the IPVanish annual plan, taking the monthly price down to only $4.87/mo.
How to Install Kodi Wizards
As far as the installation process goes, Kodi wizards are just like any other piece of plug-in software. Kodi's community packages add-ons into repositories, which are large zip file collections hosted on external servers. To get an add-on you'll first need to install the repo. Because wizards are usually created by certain repo teams, you'll almost always find them bundled with zip files of a similar name, making them easy to recognize at a glance.
Kodi offers several methods of installing new repositories, including directly adding zip files to the system. We prefer the "external sources" method, as it keeps things tidy and is easy to use on every platform, including fiddly TV set boxes and smartphones. Before you can install anything, though, you have to enable one of Kodi's internal settings:
Head to Kodi's main menu, then click the gear icon to enter the System menu.
Go to System Settings and then click on Add-ons.
Click the slider next to Unknown sources. Make sure it's facing to the right.
Accept the warning message.
Now you're set! Follow any guide below for full instructions on how to download the repository and install the add-on wizard of your dreams.
Are Wizards Safe to Use?
Wizards are actually some of the safest software you can install on Kodi. They're designed to maintain your app, not provide a ton of potentially illegal content. It's true that some wizards do link to Kodi builds that can install shady third party add-ons, but saying that makes them unsafe is like calling Google unsafe because you can use it to search for naughty things. Wizards are just tools, and handy ones at that.
As far as making changes to your system is concerned, wizards usually won't make any major deletions or alterations without explicitly telling you what's about to happen. You don't have to worry about losing your customizations or finding your content has been erased. Even if something goes wrong, wizards often provide backup and restore features you can enable for better protection against unrecoverable accidents.
The Best Kodi Wizards
Ready to get some cleaning and tweaking done? Below are some of our favorite Kodi wizards, each one designed to help clear the gunk out of your system for faster streams and a smoother interface.
Looking Glass Wizard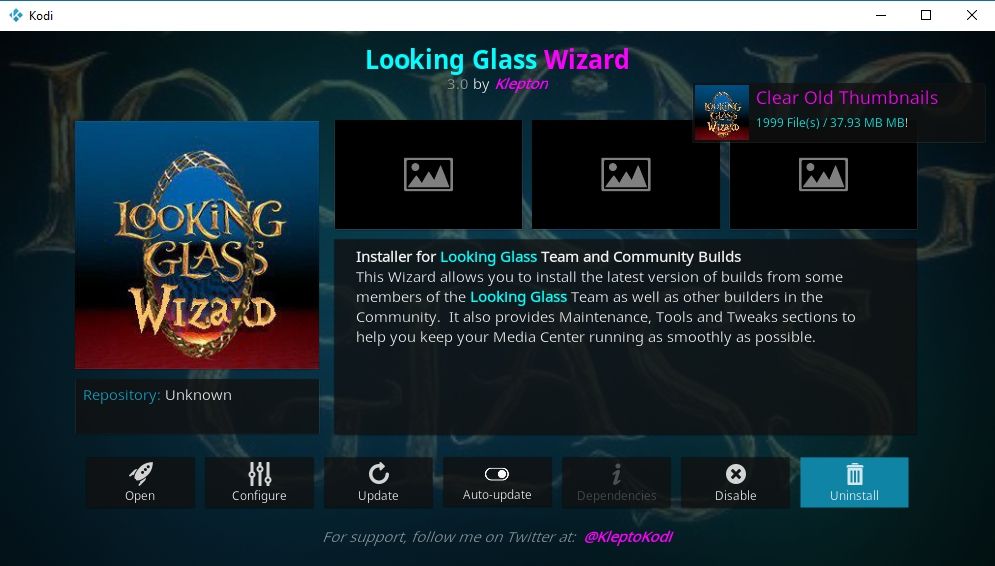 The Looking Glass repository has picked up a large following in recent months, partly due to the DMCA takedowns of its main competitors. The repo itself offers a handful of good streaming add-ons, but it also comes with the Looking Glass Wizard, which is one of the better, more feature rich Kodi maintenance tools out there today.
How Install Looking Glass Wizard
The Looking Glass Wizard is part of the Looking Glass repository. Install the repo first, then you can grab as many add-ons as you want, including the wizard. Follow the steps below and you'll be set.
Open your web browser and visit the Looking Glass repository page.
Download the zip file repository.lookingglass.zip
Save the file somewhere easy to access, like your desktop.
Open Kodi and go to the main menu, then choose Add-ons from the list.
Click the open box icon and choose Install from Zip File.
Find the repo file you downloaded and install it.
Return to the add-ons menu and choose the open box icon again.
Select Install from Repository.
Scroll to Looking Glass, then enter the Program add-ons folder.
Install the Looking Glass Wizard. After a moment it will show up in your main add-ons folder.
What Can the Looking Glass Wizard Do?
Looking Glass follows a familiar setup common to most Kodi wizards. As soon as you install the add-on it presents you with a list of auto-cleaning options, prompts you to check out its selection of builds, then turns you loose in front of a lengthy text menu.
Some of the more important tasks Looking Glass lets you do includes scanning for broken repos and sources, adjusting your video cache, creating backups of your entire Kodi installation, and performing automatic cleaning tasks each time you run Kodi.
Below is a quick overview of some of the main categories in Looking Glass Wizard:
Maintenance – The category you'll visit most is maintenance. Here you can do everything from getting rid of old packages, thumbnails, and video cache files to force add-on updates, create and restore Kodi backups, or even scan for broken sources or repos.
Community Builds – Enjoy customizing the look and feel of Kodi? Looking Glass comes with about two dozen unique builds you can quickly install.
Addon Installer – Install some streaming add-ons without having to go through the multi-step installation process.
Reviews & Tutorials – Read detailed opinions and guides on how to use the wizard's features.
Brettus Builds Wizard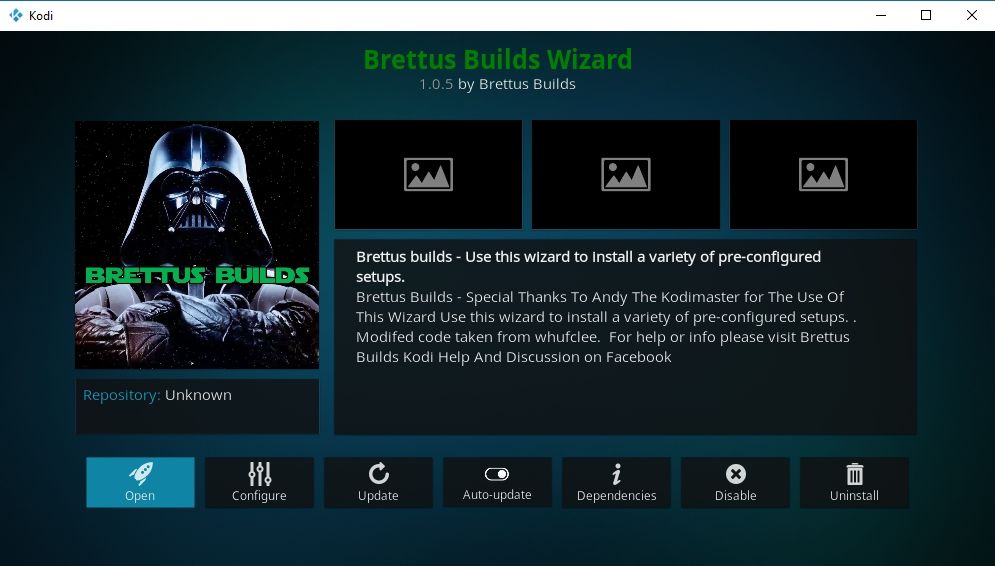 The Brettus Repository has a great variety of basic streaming add-ons, but it also has a superb wizard you can use to tweak Kodi and install custom builds.
How to Install Brettus Builds Wizard
The Brettus repo is available through a secondary repository, adding a small extra step to the installation process. Follow the guide below to get everything set up and install the wizard.
Open Kodi, go to the main menu, then click the gear icon.
Go to File Manager > Add Source.
Add the following URL: https://toptutorialsrepo.co.uk/kodi/Repos/
Enter an easy to remember name, such as toptuts
Click OK. Kodi will automatically add the repo to your sources list.
Go back to the main menu and select Add-ons.
Click the box icon at the top.
Choose Install from Zip File, then select the repo you named above.
Scroll down and find the file named repository.Brettusrepo-#.#.zip
Install the repo, then go back to the open box menu and choose Install from Repository.
Select the entry named Brettus Builds Repository.
Navigate to Program add-ons and look for the Brettus Builds Wizard.
Click to install the wizard. It will then be available from the main add-ons screen.
What Does the Brettus Builds Wizard Do?
Brettus Builds is one of the more straightforward wizards out there. Its main focus is working with new Kodi builds/skins, providing several dozen different options to browse, install, and remove them from your system. Always dreamed of a Star Wars, Twilight, or YU-GI-OH build? Brettus has several versions of them all, and a lot more, too!
Under the Brettus Builds Wizard "maintenance" folder you'll find a collection of tools useful for cleaning and speeding up Kodi. Here you can scan and fix add-ons, backup or restore content, clean out cache files, or even wipe the entire Kodi installation and start fresh. Not a lot of tools for power users, but if you don't need fine-grained control, Brettus gets the job done just fine.
Cosmic Saints Wizard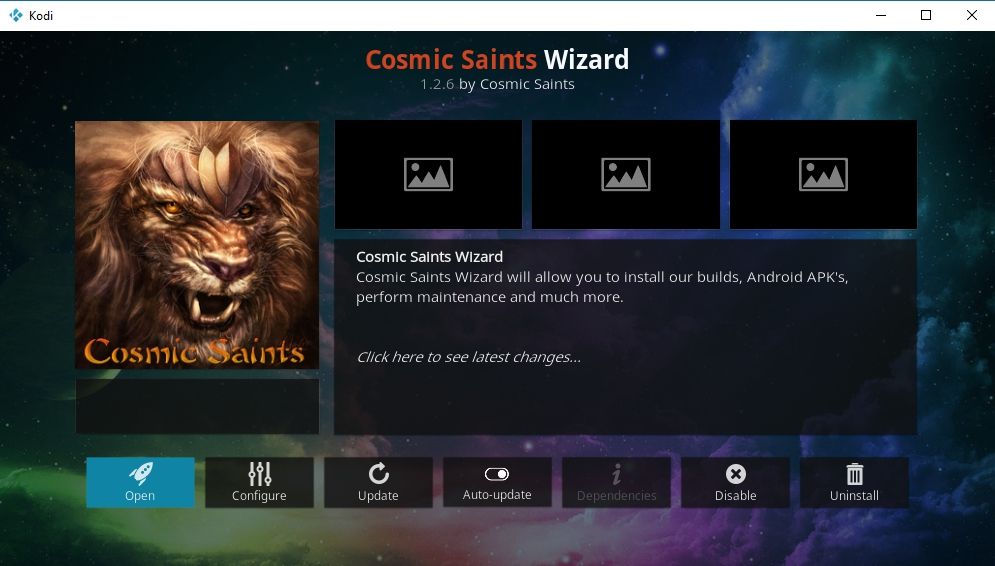 The Cosmic Saints Wizard add-on emulates a lot of the functionality provided by some of the classic Kodi wizards, including Ares and Cazwall. It comes with most of the main features you would expect, but it also has some great extras Android and Fire TV Stick device owners will appreciate.
Installing Cosmic Saints Wizard
The CS Wizard add-on comes as its own standalone installation, meaning you won't have to install a repository first, just grab the add-on file and go from there.
Visit the CSaintsWizard plugin download page in your web browser.
Download the zip file named plugin.program.CSaintsWizard.zip Save it somewhere convenient so you can access it again in a moment.
Open Kodi and select Add-ons from the navigation bar.
Click the box icon, then select Install from Zip File.
Navigate to where you saved the CSaintsWizard.zip file, then click OK.
The Cosmic Saints Wizard will install in the background. Check the main add-ons menu in a few moments and you'll see the wizard, ready to run.
What Can Cosmic Saints Wizard Do?
Cosmic Saints is a great multi-use wizard that wraps a lot of the most common cleaning and installation features in one straightforward design. Start by . All of the basic tools will help you speed up Kodi, install new builds, and remove broken content with just a few clicks. There are also some fantastic backup features you can employ to save custom data in case you decide to remove and reinstall Kodi. Explore the categories below to see what the wizard is really capable of!
Cosmic Saints Builds – Install Kodi skins to customize your current setup with a brand new look and feel.
Maintenance Tools – A detailed section with all of the wizard's main cleaning and tweaking tools. Use them to clear your cache, remove old thumbnails or add-on packages, perform a factory reset, get rid of unused content, even purge cluttered databases and thumbnails.
APK Installer – A fantastic feature Android and Fire TV Stick owners will want to check out. This section links over 30 different apks you can download and install right from the wizard, no need to sideload manually!
Merlin Wizard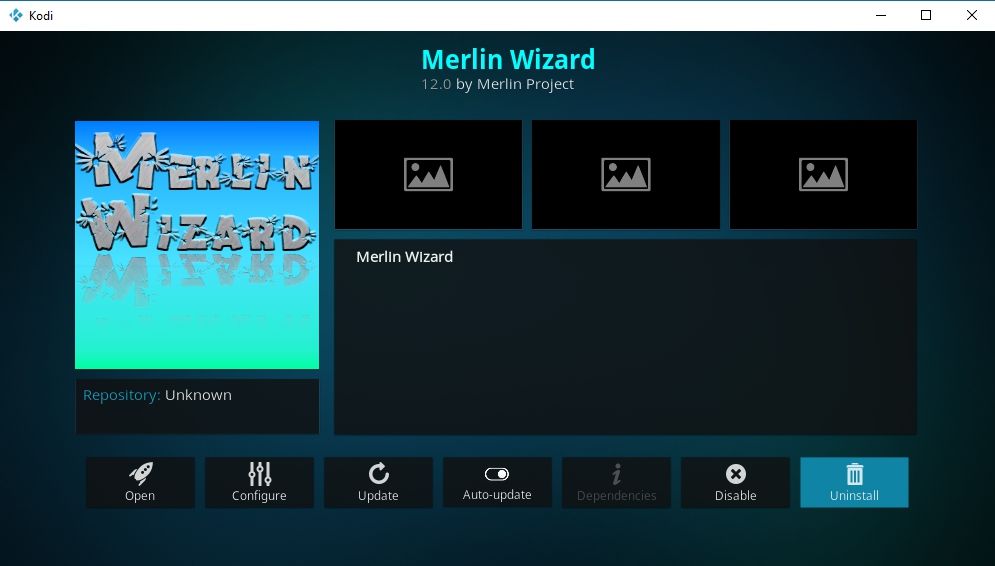 One of the more overlooked wizards in the Kodi community is Merlin, a standalone project that walks the line between maintenance tool and build installer.
How to Install Merlin Wizard
Installing Merlin is fast and straightforward. The repository itself doesn't come with a lot of extras, so you won't have to scroll through pages of unrelated content just to find our wizard friend.
Visit the Merlin repository download page in your web browser.
Download the zip file named repository.merlin.zip Be sure to save it somewhere convenient, you'll need to access it again in a moment.
Open Kodi and select Add-ons from the navigation bar.
Click the box icon, then select Install from Zip File.
Navigate to where you saved the repository.merlin.zip file, then click OK.
Go back to the box icon menu, then choose Install from repository.
Select Merlin Repository > Program add-ons > Merlin Wizard and install.
When the process completes, launch the Merlin Wizard from your main add-ons menu at any time.
Using Merlin Wizard on Kodi
Merlin's interface is unique in the wizard community. Instead of a bland text list, Merlin arranges things in a tidy, almost sci-fi dashboard, complete with textures and images. You'll see a menu at the top with several options to choose from, most of which are focused on new builds and community content.
Merlin Builds – Install some unique Kodi builds, or wipe out old ones and start fresh.
Community – See what builds the community has submitted.
App Store – Install Kodi add-ons right from the Merlin interface.
Tool Box – Speed and maintenance tools you can use to boost Kodi's performance. Includes everything from common plug-in fixes to cache clearing, package removal, thumbnail clearing, and full backup and restore options.
Rock Cleaner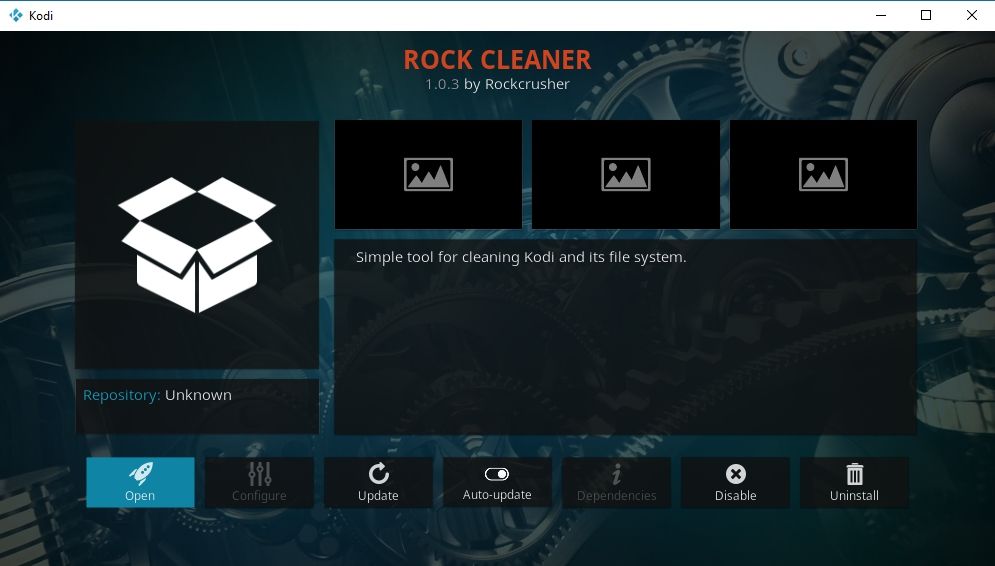 It's easy to appreciate the power behind Rock Cleaner. This pseudo-wizard ditches most of the complicated interface features in favor of straight-up cleaning. You won't have to wade through a ton of options just to gut your cache, and you can update or remove old content with ease. Rock Cleaner is perfect for anyone who wants just a few basic features and nothing more.
How to Install Rock Cleaner
The Rock Cleaner Wizard is part of the Rock Crusher repository. You'll need to add Crusher to Kodi before you can install Cleaner. Don't worry, it only takes a few extra moments. Follow the steps below to get started.
Launch Kodi and go to the home screen.
Click on the gear icon to enter the Settings menu.
Open the File Manager section, then choose Add Source.
A new window will open called "Add file source". Click where it says <None>
A text screen will pop open. Enter the following URL into the box and press OK: https://rockodi.com/
In the box below, type in a short name for the repository.
Click OK. Kodi will save the source for you.
Go back to Kodi's main menu and choose Add-ons from the left side menu.
Select the open box icon at the top of the next menu.
Choose Install from Zip File.
Find the repository you just created and select it.
Choose the repository zip file on the next screen. It should be something like repository.Rockcrusher-#.#.zip
Install the zip file. After a moment, Kodi will notify you that the repository was successfully added.
From the open box menu, select Install from repository.
Locate Rockcrusher Repository, then go to the Program add-ons folder.
Click ROCK CLEANER at the top of the list and install.
When it's done, access Rock Cleaner from the Add-ons > Program add-ons menu at any time.
What Can Rock Cleaner Do?
Rock Cleaner is much simpler than most of the wizards on the list, but that doesn't make it any less powerful. The add-on doesn't include any kind of build installations or community features, just straightforward cache cleaning, thumbnail deletion, package clean-up scripts, and force update features. It's all you need to give Kodi a speed boost, really, and it's nice not having to stare at ugly menus or dodge build installation pop-ups all the time.
Conclusion
Keeping Kodi clean and tidy is no small task. Installing a wizard can help transform a sluggish system into a sleek powerhouse of entertainment, all without complicated setups or configuration files. With wizards you can set your options, then kick back and let the add-ons do their thing. Got a favorite wizard you like to use with Kodi? Let us know in the comments below!