We are reader supported and may earn a commission when you buy through links on our site.
Learn more
Rogue Kodi Addon: How to Install Rogue for On-demand Content
The Rogue Addon is a brand new all-in-one Kodi addon which appears to have a lot to offer. The recent demise of other popular addons has left a gap in the market,and developers have been scrambling to ensure it is their software which fills the void. Rogue, which is a fork built on the JEN template appears as well placed as any to succeed.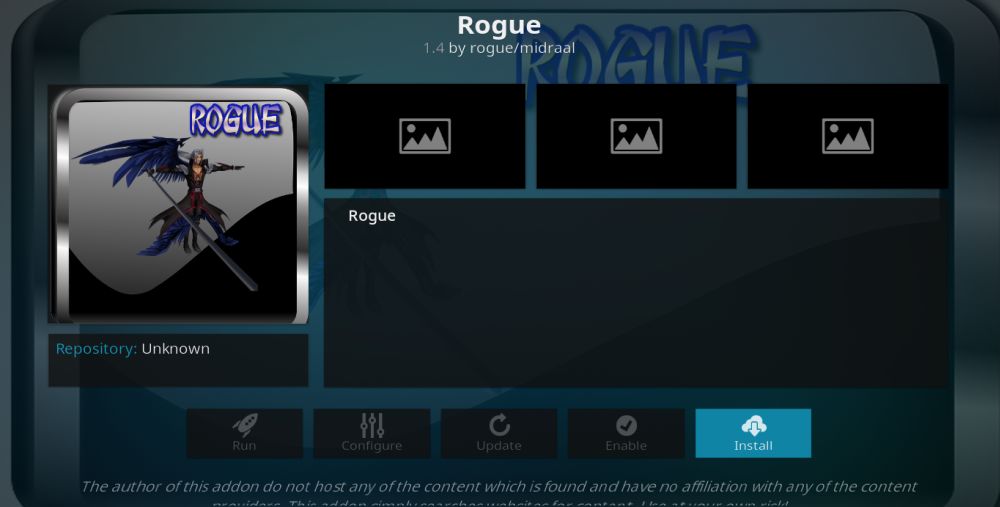 Despite its recent appearance, it promises plenty. There are menu options for Movies, TV Shows, Kids content, Music, Wrestling, and much more besides. The question is, does the Rogue addon live up to expectations? In this article, we will tell you everything you need to know about it. There is a full installation guide too, so if you like the sound of Rogue, you can be ready to enjoy it in just a few clicks.
30-days money back guarantee
Before You Download the Rogue Kodi Addon – Install a VPN
When using unofficial all-in-one addons such as Rogue on Kodi, it is always strongly advisable to use a VPN. This is because some unofficial Kodi addons can allow users to access copyrighted content. In recent times, the copyright holders have been cracking down on such addons and some users have found themselves in receipt of legal notices and even facing stronger legal action.
A VPN will encrypt all of your online data and hide your IP Address while streaming content on Kodi. This ensures your online activity remains private and safe from prying eyes. The question most Kodi users are asking themselves is not whether to use a VPN, but which one to opt for. Our testing has provided an answer to that dilemma too.
The Best VPN for Kodi – IPVanish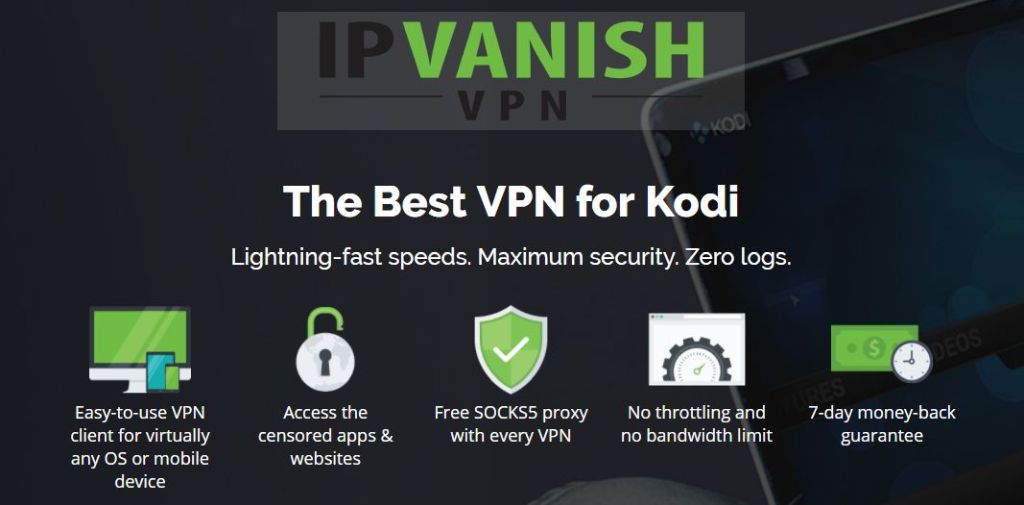 We have concluded that the best VPN for Kodi users is IPVanish, which offers the fast and consistent connection speeds needed when streaming content on addons such as Rogue. Importantly, it also combines these speeds with the strong encryption and reliable privacy protections Kodi users need too. These include a no user logs guarantee that you can trust. IPVanish has a server network consisting of more than 950 servers in 60+ countries all over the world which allows Kodi users to unlock content from just about everywhere. They also have no restrictions on either file types or data amounts you can use either, which is perfect for streaming on Kodi. They also have apps for just about every device imaginable too, including a dedicated app for Amazon Firestick users. Add all this together, and there can little doubt that IPVanish has everything Kodi users need from a VPN.
IPVanish offers a 7-day money back guarantee which means you have a week to test it risk-free. Please note that Addictive Tips readers can save a massive 60% here on the IPVanish annual plan, taking the monthly price down to only $4.87/mo.
How to Install the Rogue Kodi Addon
The new Rogue Kodi addon can be found in the new GenTec Repository. With many of the large repositories being shut down of late, the trend these days seems to be for new addons to be launched in their developers own exclusive repository. That is the case with Rogue too. While most users are unlikely to have downloaded the GenTec Repository previously, they need not worry as it is as simple to use as any other unofficial repository. To help make the downloading and installation of Rogue as smooth and straightforward as possible, we have put together a simple 10-step guide to walk you through the process:
Rogue Kodi Addon Review
When taking a look at a new Kodi addon such as Rogue, it is always necessary to give a little leeway to the developers on the basis that they are no doubt still ironing out some of the initial problems with the app. This is indeed the case with Rogue, but even with that caveat there is much to praise about this all-in-one addon. The most obvious starting point for any review is the Main Menu which features a long (but not exhaustive) list of featured content. The focus of Rogue at the moment is on-demand content rather than live feeds and it ticks most of the usual boxes in that regard, although there are a few gaps to be found. Let's walk through the menu options individually to give you more detail about what each has to offer: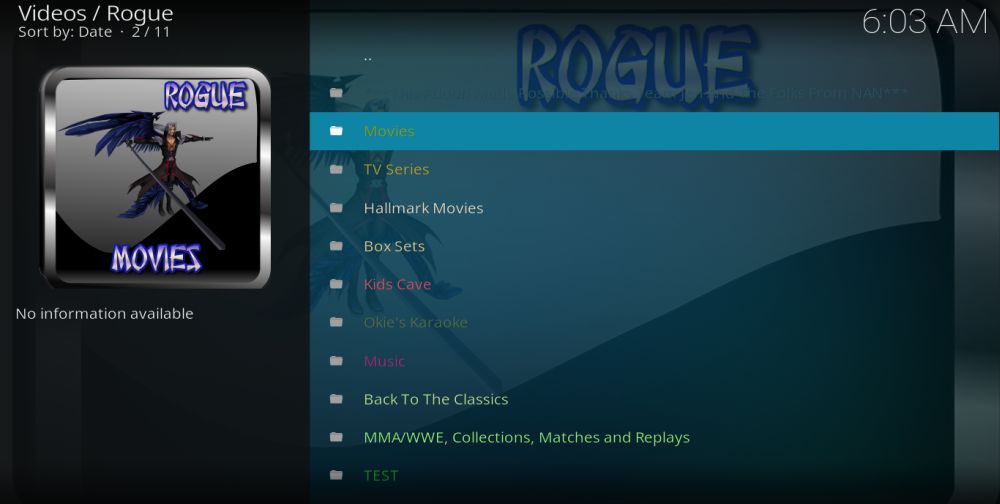 Movies
Underneath a token option which credits those behind the Rogue addon, the first menu tab is Movies. In this section, you can find a sub-menu consisting of a handful of options to explore. The Movie Scraper option aggregates movie links from different websites and is likely to be the main tab you will want to explore. Inside, a wide selection of movies can be searched by genres as well as a few different popularity options too. The genre list is far from comprehensive but can be expected to grow over time. Those that are available offer a decent selection of movies to choose from. Other sub-menu options include dedicated menus for the Marvel and DC movie franchises and a Ladies Cave option, which is full of the sorts of movies this developer thinks only ladies want to watch (your mileage may vary). There are also a couple of tabs which offer links to Cam movies of the latest releases too.
TV Series
The TV Series menu tab has just three sub-menu options, but they offer a fair bit of content nonetheless. The TV Shows Scraper option works in the same way as the Movie Scraper, by offering links to a wide variety of different on-demand TV content which you can search by genre. The other two sub-menu tabs offer direct links to Amazon and Netflix Series.
Hallmark Movies
This menu option links to almost 300 classic movies. There are no sub-menus to navigate your way around in this option. Just scroll down until you find the movie you want from the long list provided and with a couple of clicks you will be watching it. The only real drawback to this section is that the content is in no discernible order, apart from Christmas content being towards the top. That means if you are looking for something special, it can take a while to find.
Box Sets
This menu options links to all the most popular TV and movie box sets currently available. There is a short sub-menu on this option and they actually do help to narrow down your search. There is either the general Box Sets option, which allows you to search by title or Box Sets by Actors, which allows you to search by actor. There is also a Box Sets for Kids option which just links to family-friendly content.
Kids Cave
The Kids Cave menu tab works in conjunction with the Kids Cave addon. This is one of the most popular and comprehensive family-friendly addons available on Kodi and as a result, this option has a lengthy sub-menu. In it, you can link to almost every kid's TV show and movie you can imagine and there are good search facilities and other features to explore too. One point to note is that the sub-menu options do load very slowly the first time you use them. There is a warning to this effect on the menu itself and the reason is the sheer volume of content available. When you head back gain, the menus will load much faster.
Okie's Karaoke
This is a slightly unusual addition to a Kodi addon. But if you like Karaoke, there is a lot of fun to be had. Within this section, you can find a wide range of karaoke videos broken down by genres. These can be played, and of course sung along to, at your leisure.
Music
The music tab takes users to more regular music content. You can search for either live Concert Streams, Live Radio links, or Music Videos and the range of content is pretty comprehensive here. Regardless of your musical tastes, Rogue should have something to offer you.
Back to the Classics
If classic movies are your thing, then this is the menu tab to head for. Rather than search through the reams of content in the movies section, this option links directly to several hundred classic movies spanning the past four or five decades. There are lots to explore and more content is being added all the time.
MMA/WWE Collections, Matches, Replays
Last but not least is another unusual option. MMA and WWE have never been more popular, and it is clear the Rogue developers are fans too. So, they have added a tab dedicated to MMA and wrestling content. It features hundreds of bouts and full matches broken down into categories. But the highlight for us is the WWE brawls section which links directly to some of the best and funniest battles of all time.
Rogue Kodi Addon Pros and Cons
There is a lot of content available on Rogue, but at the moment there are still a few gaps. New content is being made available all the time, but it is inevitable that some users will be disappointed in the search for their movie of choice. Hopefully, over time, this is one issue the developers will be able to solve. However, another thing they need to look at is the usability of the addon which also does leave a little to be desired. Menus load quite slowly, especially the first time you use them, and navigating around can be tricky. In some sections, users have to search through long lists of content which are not in any obvious order and after a while, this can be frustrating. Content either needs to be alphabetised or broken down into clearer categories for ease of use.
The information offered alongside each movie and TV show available is pretty comprehensive and the large image should help you decide if it is what you are looking for too. Playback is good too, with most streams being of a high quality and users able to choose the quality of the stream to suit their internet connection speed. Clicking on a link allows you to choose the quality of stream you want to use and then your movie or TV show will play automatically. For most Kodi users this one (or in this case two)-click play feature is an advantage. But some prefer to choose the individual stream and if you are in the latter camp, Rogue will be disappointing on that front.
Conclusions
All in all, the Rogue Kodi addon is definitely heading in the right direction. The range of content available is pretty decent and the quality of the playback is good. The design of the addon is ok, but this and the usability could be tightened up a little bit more. There are some fun and unusual additions available such as karaoke videos and WWE/MMA content, but we would prefer the developers to focus on polishing up the basics before adding any more.
How have you found the Rogue Kodi addon to use? Did you find our installation guide helpful? Did you have any problems streaming content on Rogue? What content do you feel they need to include in their next update? We are always interested to hear your thoughts so why not share them with us and your fellow readers in the comments section below?