We are reader supported and may earn a commission when you buy through links on our site.
Learn more
Castaway Kodi Add-on: How to Install Castaway, Is It Legal?
There's nothing like sitting down at the end of the day and watching some live sports. Kodi has made it extraordinarily easy to access broadcast streams from around the world, bringing everything from football to cricket straight to your living room. Using those streams is as simple as installing the right add-ons, and Castaway has been one of the most popular in recent years. Read on to learn how to install the Castaway add-on and stay safe while streaming through Kodi.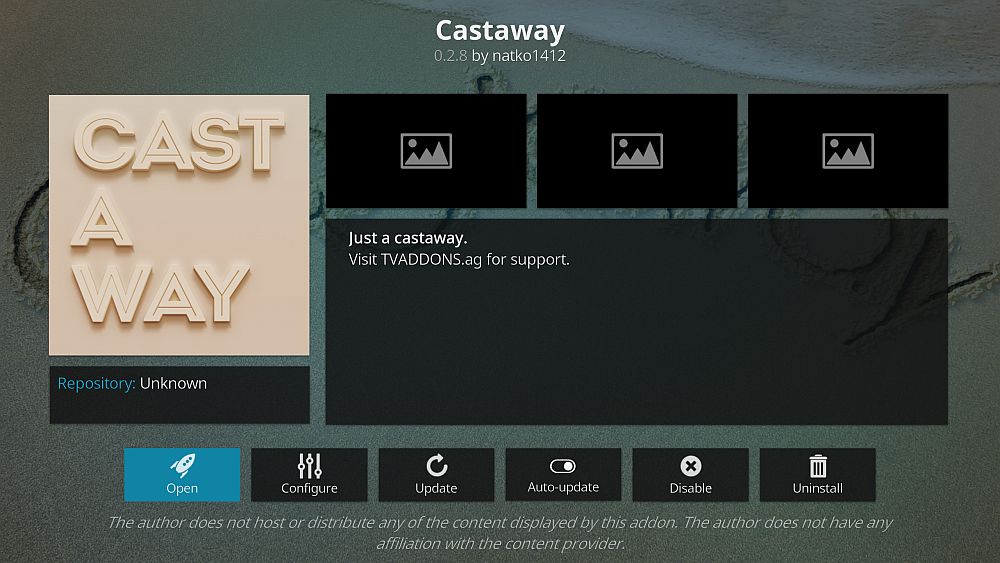 30-days money back guarantee
Before Using Kodi, Get a Good VPN
Kodi is free and completely safe to use, but some of its add-ons have been known to bend those rules. In recent years this has caused some concern among content rights holders and lawmakers alike. Some ISPs have started tracking Kodi streamers, throttling their downloads, and even sending out copyright infringement notices. The good news is that it's pretty easy to keep yourself safe from these threats, all you have to do is install a virtual private network.
We made our selection using the following criteria, ensuring you get the fastest, safest, and best VPN for all of your Kodi streams:
Fast downloads
No bandwidth restrictions
Unmonitored traffic
The Best VPN for Kodi – IPVanish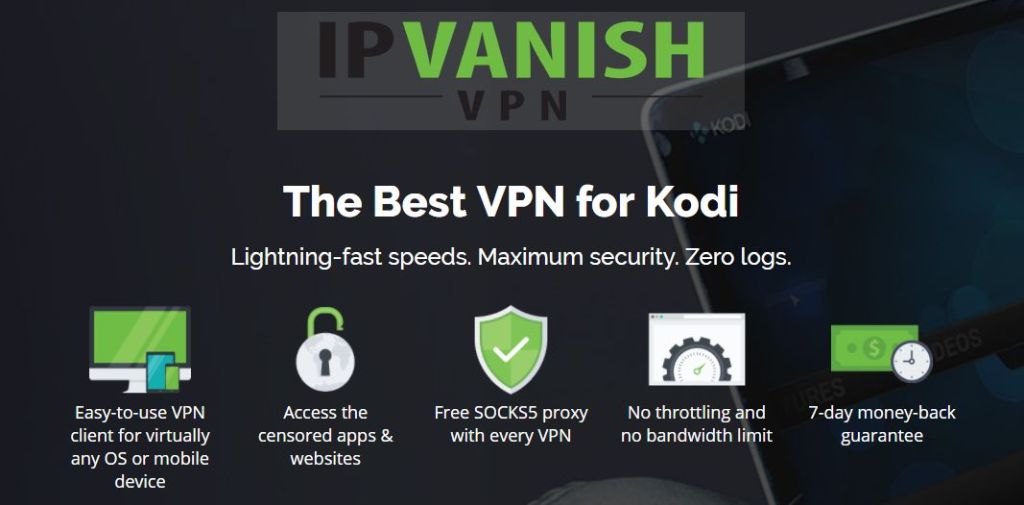 IPVanish has the right mix of features to make it the best VPN for HD and 4K Kodi movies. Speed and anonymity are two of the service's strongest points, both of which are absolutely necessary for maintaining privacy while watching video streams. IPVanish provides these features across a huge network of over 850 servers in 60 different countries, plenty of options to ensure you can find the fastest connection in the region you need, every time. A combined 40,000 shared IP addresses also creates a layer of anonymity most VPN's simply can't match.
To keep your data safe, IPVanish locks everything down with 256-bit AES encryption along with DNS leak protection and an automatic kill switch. These features ensure each packet is unreadable to third parties, and if you suffer a software crash or are disconnected from the VPN, your real location will stay hidden. All of this is backed by IPVanish's zero-logging policy on traffic, keeping your information and identity secure no matter what.
IPVanish offers a 7-day money back guarantee which means you have a week to test it risk-free. Please note that Addictive Tips readers can save a massive 60% here on the IPVanish annual plan, taking the monthly price down to only $4.87/mo.
How to Install Kodi Add-ons
Kodi's add-ons are often packaged in repositories, large files stored on external servers created and maintained by the community. Repos can hold dozens or even hundreds of add-ons, making it easy to install and update content with just a few clicks. Kodi offers a variety of ways to add repositories to your system. We prefer the "external sources" method, as it's easier to use on multiple devices and keeps things tidy in the long run. Before you begin you'll need to change a setting to allow this method to work:
Open Kodi and click on the gear icon to enter the System menu.
Go to System Settings > Add-ons
Toggle the slider next to the "Unknown sources" option.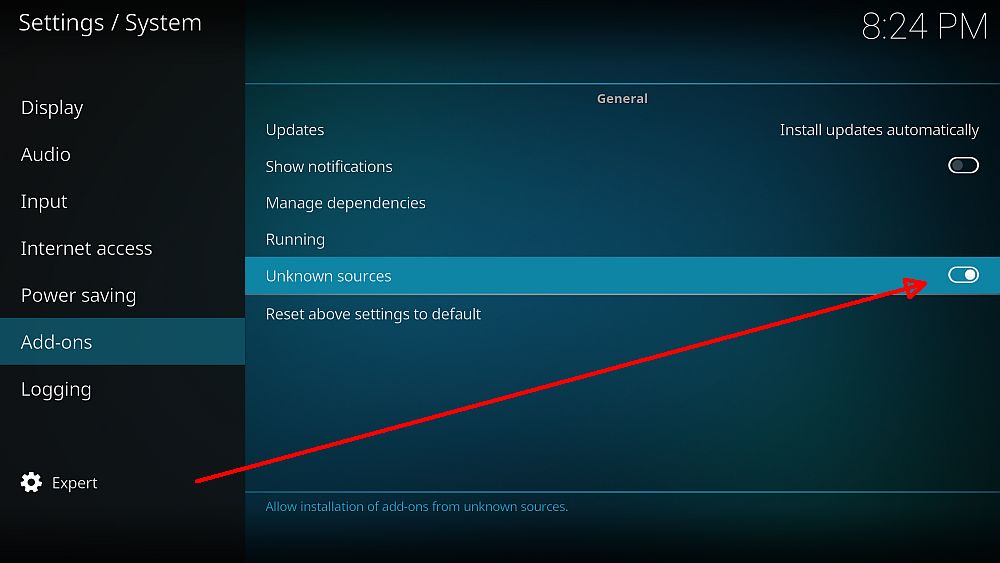 Accept the warning message that pops up.
With Kodi configured your next steps will be to find a repository URL, enter it into the file manager as a new source, then let Kodi install the repo for you. Now you can access all of the add-ons at your leisure. The process feels awkward the first time you do it, but after a couple of repositories you'll be able to do it in your sleep.
Note: Kodi's unofficial add-ons may link to unverifiable and possibly even illegal video sources. Addictive Tips does not condone or encourage any violation of copyright restrictions. Please consider the law, victims, and risks of piracy before accessing copyrighted material without permission.
Castaway – Sports, Movies, TV Shows, and More
Castaway is a multi-purpose streaming resource that features a wide array of content. One of its main focal points is streaming sports, however, which means you'll find a few dozen live and on-demand sections devoted to just that. The big sports such as soccer, American football, baseball, hockey, tennis, and golf are well-represented. You'll also find the occasional snooker game or an Olympic sport or two, depending on the source you select.
Outside of sports Castaway offers a fine selection of live TV channels from around the world. There are also a few choose-your-own-source options that pull content from P2P sites or even Reddit for fast, custom streams. All in all, Castaway makes a great add-on that's perfect for all kinds of sports and broadcast channels. Like the name implies, just pick a stream, then "cast" away.
The best way to install Castaway is through the SuperRepo repository. Follow the steps below to add SuperRepo followed by Castaway itself. If you already have SuperRepo as a source, skip to step 13.
How to install Castaway to Kodi
Fire up your browser, and open the GitHub link: https://github.com/kodil/kodil/raw/master/repo/plugin.video.castaway/ 
Click and then download the plugin.video.castaway-X.X.X file – it will begin automatically.
Go back to Kodi home screen, Select "Add-ons"
Click the open box icon at the top of the menu bar.
Choose "Install from Zip File"
Select the path where the file was saved, and click on the file.
Install the file named plugin.video.castaway-X.X.X (note that the version might change)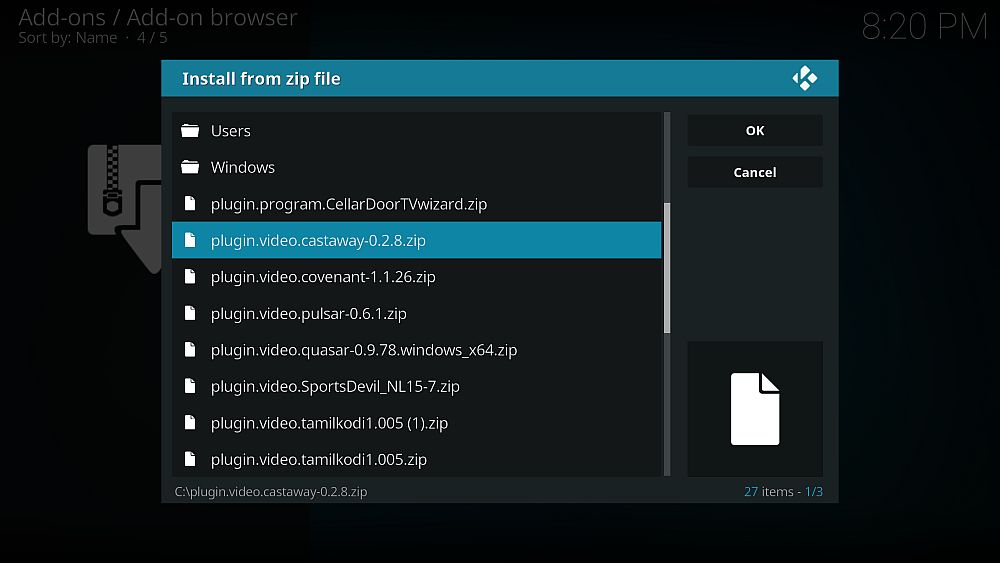 Access Castaway from the main menu when the installation is complete.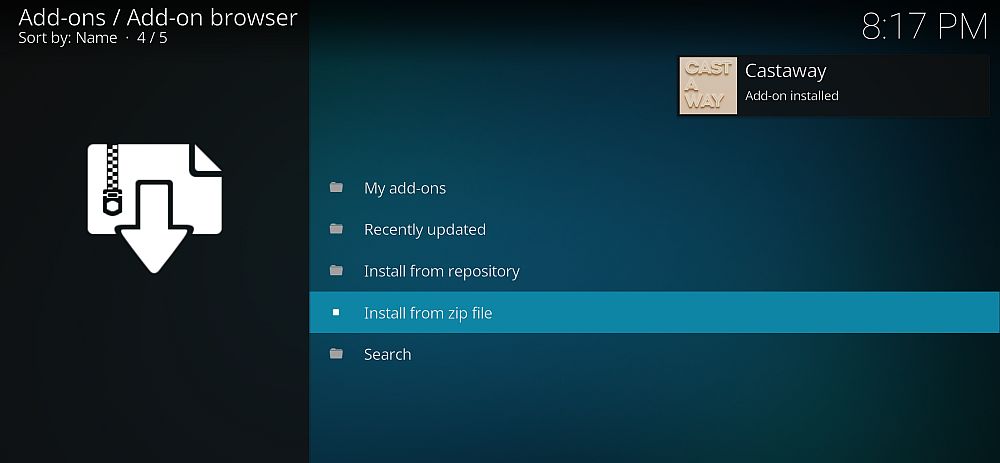 What Does the Castaway Add-on Do?
Castaway is largely a live sports and on-demand sports streaming resource, though it does include a fair selection of live TV channels as well. The interface is uncluttered and simple, letting you jump right in, choose your category, and start streaming. A wide variety of sources are featured in each section, so if one doesn't work you can easily try another one until the video starts to play.
Live Sports – Over a dozen streaming locations from around the world covering soccer, NFL, basketball, baseball, and more.
Live TV – Over a dozen broadcast TV channel sources, many of which are sub-divided into genre categories.
P2P Corner – Sports-centric P2P video sharing sources streamed directly to your Kodi installation.
Sports on Demand – Watch archived sports matches from American football to hockey, basketball, soccer, and more.
Subreddits – Add subreddits and stream content directly from there.
Is Castaway a Dead Add-on?
The official Castaway creator natko1412 announced in 2016 that Castaway would no longer be developed full time. Normally that spells doom for a Kodi add-on. However, since then new updates have been released in an attempt to keep Castaway functioning and relevant. Fixed content is rare, though, and there's no guarantee that new sources or features will be added in the future. For now, it's best to consider Castaway inactive but mostly alive.
An unfortunate side effect of Castaway's slow updates is that some of its sources no longer work. This is common in the unofficial Kodi add-on community, as off-site video and streaming repositories appear and disappear on a regular basis. Depending on the status of these sources you may find more dead links that usual. Of course, you may find everything you want functions just fine, it's kind of unpredictable like that.
DON'T FORGET
: Use a VPN when streaming through Kodi. IPVanish gives our readers 
an exclusive discount of 60%
 and you'll only pay $4.87 a month to keep your browsing safe and private.
Alternative to Castaway – SportsDevil
SportsDevil is consistently listed as one of the best sports related add-ons in the Kodi environment. It's a powerhouse, for sure, and it's constantly updated to feature all the latest, best, and highest-quality live sports streams around. You can navigate through highlight reels or on-demand archives, check out live streams, or kick back for some regular old TV channels streamed from around the world. Just about everything works flawlessly with SportsDevil.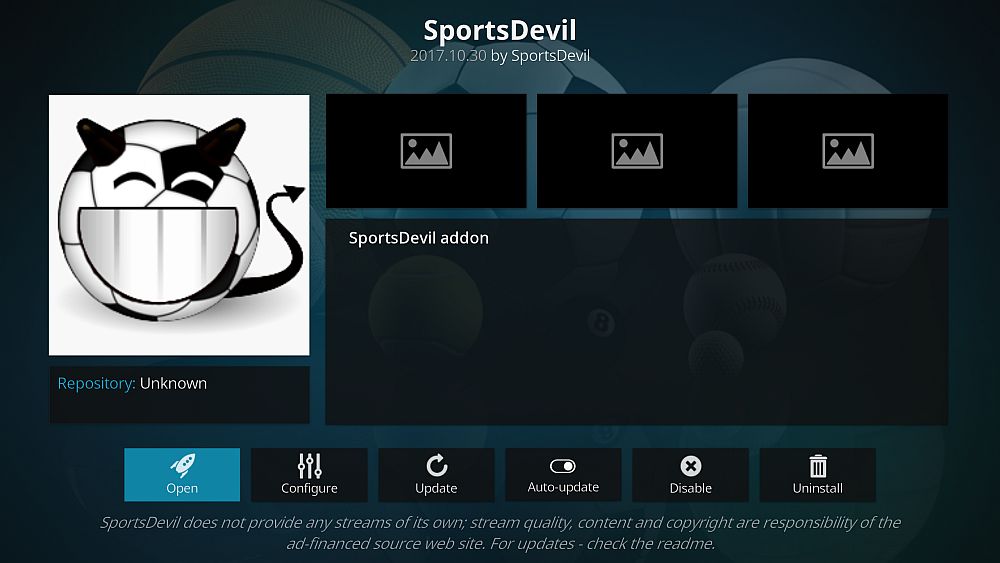 SportsDevil is available from a wide variety of repositories, but not all of them keep it up to date. By installing it from the Simply Caz repo you'll always have the latest version. Follow the steps below to install Simply Caz followed by SportsDevil. If you already have the repo on your system, skip to step 14.
How to add SportsDevil to Kodi:
Open Kodi on your local device.
Click on the gear icon to enter the System menu.
Go to File Manager > Add Source (you may need to click the double-dot to move to the top of the directory)
Type in the following URL exactly as it appears: https://repo.cazwall.com/sc/
Name the new repository ".cazwall". The decimal isn't necessary, but it makes it easier to locate later on.
Click "OK".
Go back to the Kodi main menu.
Select "Add-ons"
Click the open box icon at the top of the menu bar.
Choose "Install from Zip File"
Select ".cazwall"
Open the folder marked "Repository (Click Here)"
Install the file named repository.simplycaz-####.zip
Go to the Add-ons menu and click the open box icon.
Choose "Install from repository"
Find and click ".cazwall"
Go to "Video add-ons"
Choose "SportsDevil" and install the add-on.
You can now access SportsDevil from the main add-ons menu.
Is it Safe to Install Kodi Add-ons?
Kodi's unofficial add-ons have a bad reputation among some internet users. While Kodi itself is safe to use, add-ons have been discovered harboring malware or pointing to pirated content. It's not a common occurrence, but it happens often enough that you should take a few precautions before installing every add-on you find on the web.
The most powerful thing you can do to stay safe on Kodi is to stick with reliable repositories. Repo managers verify add-ons before including them on their site, ensuring you won't accidentally install something sketchy or dangerous. It's also a good idea to keep your anti-virus software and firewall active when using Kodi. If you start streaming, always make sure your VPN is active to keep your information safe from prying eyes.
We download and verify every add-on before featuring them in our articles. If you see it on the list above, it means everything was working and safe at the time of writing.
How do you get your live sports fix on Kodi? Share your thoughts and favorite add-ons in the comments below!