We are reader supported and may earn a commission when you buy through links on our site.
Learn more
Chocolate Salty Balls Kodi Add-on – Watch Adult Cartoons On Kodi
Older readers will remember a time when animated TV shows were exclusively aimed at young audiences. Of course, parents could watch along with their kids and enjoy them too, but there was very little content aimed at that older audience. The rise of the Simpsons put an end to that and much has changed in the past couple of decades. Today, TV channels are filled with episodes (mostly repeats) of adult animated content. There are so many great adult cartoons these days that it is hard to keep tabs on them all. Which is where the new Chocolate Salty Balls Kodi addon.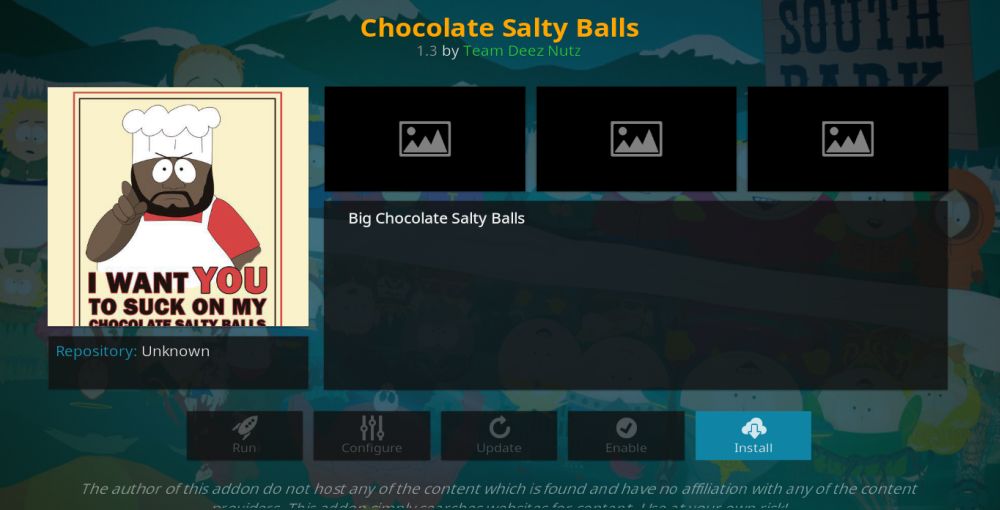 This smart and simple new addon offers link to streams of all the very best adult animation. It has everything from South Park and Futurama, to Family Guy and Beavis and Butt-head. There are plenty more besides and this specialised addon does a great job on delivering what its target demographic wants. In this guide, we will explain exactly how you can download and install the Chocolate Salty Balls Kodi addon as well as tell you everything you need to know about what it has to offer.
Before you download the Chocolate Salty Balls Kodi addon – Install a VPN
If you are planning to watch adult animation on the Chocolate Salty Balls Kodi addon, it is essential that you also make use of a VPN. This is because copyright holders have been pursuing unofficial Kodi addons and their users in recent months. As a result, users of addons such as Chocolate Salty Balls have been in receipt of legal letters or even faced further legal action. But a VPN can help to protect them. It will encrypt all of your internet data and change your IP Address, which helps to keep your online activity hidden from prying eyes. The question all Kodi users should be asking themselves is not whether to buy a VPN, but which VPN provider is the best one to choose.
The Best VPN for Kodi – IPVanish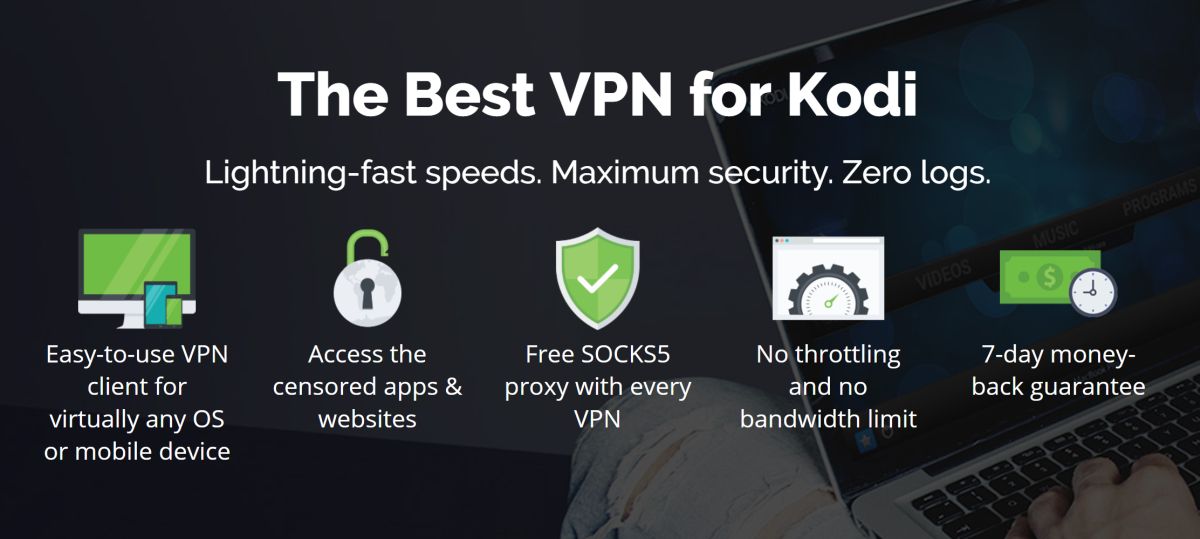 The best VPN on the market for Kodi users right now is, in our view, IPVanish. There are a number of compelling reasons why we have come to this conclusion. IPVanish offers fast and consistent connection speeds across its entire server network which is ideal for Kodi users streaming live sports. It also offers super-strong encryption which will ensure your data is kept safe.
Its privacy policies are as good as it gets and include a no user logs guarantee you can trust. The IPVanish server network consists of more than 850 servers in 60 countries around the world, which means users can access content from all the most popular countries around the world. IPVanish also has no restrictions on either file types or data amounts users can access and is available on every device you might conceivably be running Kodi on. Putting all this together, it is clear why we recommend IPVanish as the best VPN for Kodi users.
IPVanish offers a 7-day money back guarantee which means you have a week to test it risk-free. Please note that Addictive Tips readers can save a massive 60% here on the IPVanish annual plan, taking the monthly price down to only $4.87/mo.
How to install the Chocolate Salty Balls Kodi addon
The new Chocolate Salty Balls Kodi addon has followed the current trend with new addons and been made available primarily on the developers own repository. This is known as the Blamo Repository and is only home to a handful of their own addons. However, in practice it works like any other unofficial repository and using it is a pretty straightforward process. To download and install the Chocolate Salty Balls KOdi addon, all you need to do is follow this simple 10-step guide:
Chocolate Salty Balls Kodi addon review
If you are a fan of adult animation, or animation which targets adults and kids simultaneously, then there is quite simply no better Kodi addon around for you than the new Chocolate Salty Balls addon. (In case you are wondering, it is named after a song by the character Chef from the popular adult animation South Park).  It is an achingly simple and easy-to-use addon which does what so many other unofficial addons should be aiming towards. It has picked a popular content-matter and delivered a specialised addon which offers exactly what fans will want. It is well-designed, easy-to-use, and does not to complicate things or do too much.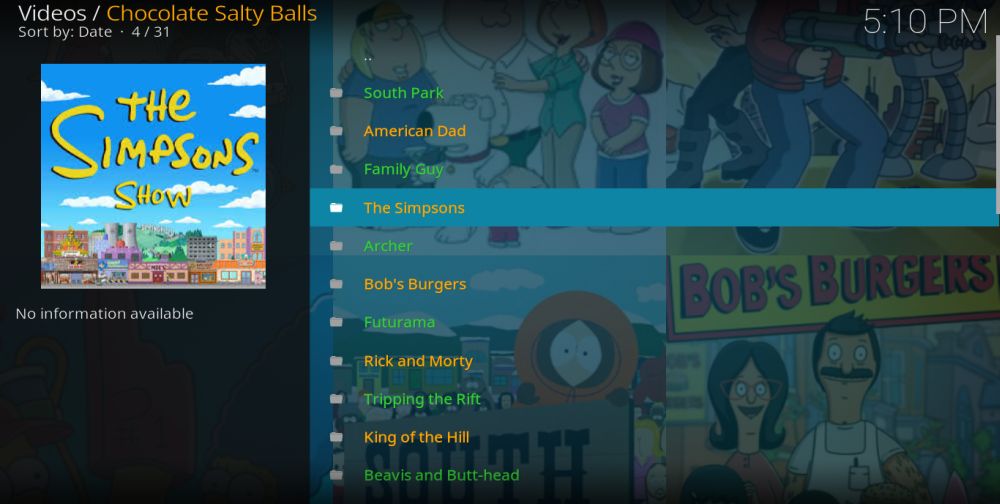 When you first open the Chocolate Salty Balls addon, you will meet a list of all the popular adult animations they have to offer. And there are plenty to choose from. There are no oddly named, menu's, sub-menu's, or features to navigate. All you have to do is click on the title of the show you want to watch. There are currently thirty-one different shows available and the developers are adding more all the time. But it appears they are being a little selective in what they put up which is, of course, to their credit. At the time of writing, the available shows are:
South Park
American Dad
Family Guy
The Simpsons
Archer
Bob's Burgers
Futurama
Rick and Morty
Tripping the Rift
King of the Hill
Beavis and Butt-head
Drawn Together
Robot Chicken
Animaniacs
Ren and Stimpy
Daria
The Boondocks
Adventure Time
Pinky and the Brain
Rocko's Modern Life
Johnny Bravo
Spongebob Squarepants
Courage the Cowardly Dog
Aquateen Hunger Force
The Cleveland Show
Regular Show
Cow and Chicken
Brickleberry
Back at the Barnyard
Squidbillies
Chocolate Salty Balls Kodi addon Pros and Cons
Pros
With the Chocolate Salty Balls Kodi addon, simplicity is the key. Click on your favourite show and you will find a list of Seasons. Click on your chosen season and an episode list appears. Click on the episode you want to watch and your choice of links appears. Kodi users couldn't really ask for an addon which is easier to navigate or quicker to playback content.
Once you have chosen an episode, playback links all appeared to work well and the quality of the streams was consistently excellent. Whist some links loaded a little slowly, depending on the source of the link, and some others required you to pair with another sites streaming service, playback was always reliable. We also didn't encounter a single issue with buffering which is extremely impressive.
Cons
There are a few small errors to be found in the information provided by the Chocolate Salty Balls Kodi addon. For example, if you believe the addon, all 8 seasons of Archer were made in 2009. There is also a search facility which works fine but seems a little superfluous given the excellent design of the addon. In our experience, it takes longer to search for an episode of a show than just to navigate to it directly.
When you click on a show link for the first time, it can take a little while for the next sub-menu to load. This is because the addon needs to process its metadata which can take a few moments. This is a common feature on almost all Kodi addons, but can nonetheless be a little frustrating at times. Once you have clicked on a link once, it will never happen again, which is at least some consolation.
Another small issue we found was that the links list includes the quality of each link, but as most are ripped from DVDs this seems a little bit unnecessary. A lot of Kodi users like to choose their own link, but for an addon like this we think auto-playing the best link would be a better approach. We are nit-picking a little bit though because the fact remains that there is very little to criticise about this addon.
Chocolate Salty Balls Kodi addon conclusions
We were extremely impressed with the Chocolate Salty Balls Kodi addon which should serve as a model for other specialised Kodi addons. It is well designed, beautifully simple, and easy to use. It has a great selection of content and the playback quality was consistently excellent. While we found a few issues, they were all relatively minor and do not detract from what really is a superb addon. If you are into adult animation in any way, Chocolate Salty Balls is a must-have addon for you.
How did you find the Chocolate Salty Balls Kodi addon Did you encounter any issues we didn't raise here? Did you find our installation guide useful? Can you think of anyways this addon could be improved? We are always interested to hear your thoughts, so please do share them with us using the comment box below.