We are reader supported and may earn a commission when you buy through links on our site.
Learn more
Colossus Kodi Repository – How to Install the Colossus Repo
With the demise of the original TVAddons repository, there was a big gap in the Kodi market. Users clamoured for a large unofficial repository offering a broad range of the most wanted addons. And into the breach stepped Colossus (also sometimes called Colossal Repository). Despite the return of TVAddons, Colossus remains arguably the most important unofficial Kodi repository and is a home to many of the most popular third-party addons.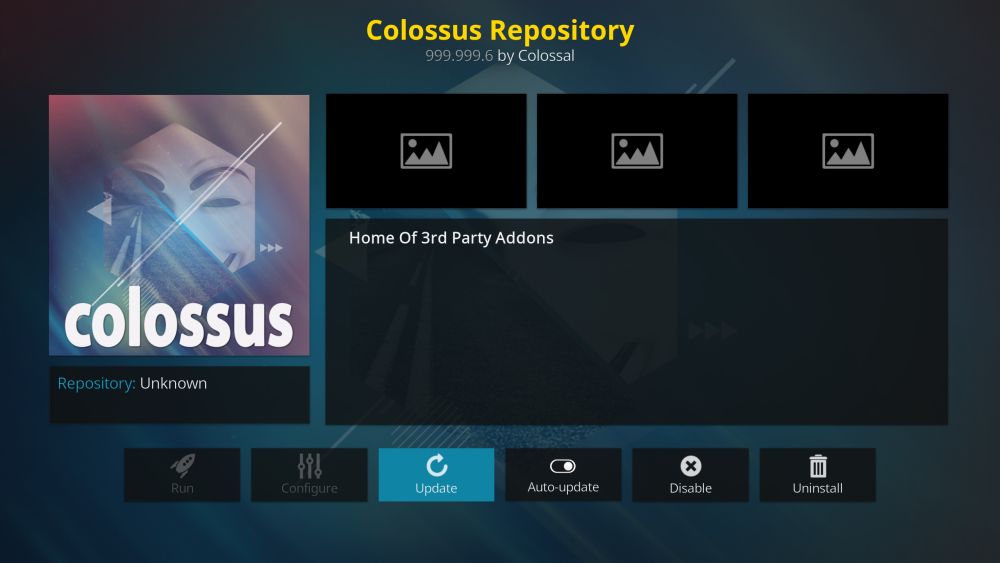 This includes a number that disappeared for a while after the initial fall of TVAddons, which have now jumped ship back. But there are plenty more besides, including some of the most exciting new addons to emerge in recent months like the Covenant addon, which has replaced the hugely popular Exodus. If you are wondering how to install the Colossus Kodi repository, don't worry. In this article you will find a clear step-by-step guide as well as more information about just what the Colossus repository has to offer.
30-days money back guarantee
Before Downloading Colossus, Install a VPN
When downloading and using unofficial addons from any repository, including Colossus, it is always advisable to use a VPN. This is because some unofficial addons source some of their content from unauthorized places in breach of copyright law. As a result, some Kodi users have been subject to legal actions for breach of copyright law. A VPN protects against this by encrypting all of your online data and hiding your location online. The difficult question for Kodi users is always, which VPN to choose.
The Best VPN for Kodi – IPVanish

The best VPN for Kodi users is undoubtedly IPVanish. It has some of the fastest connection speeds around, while taking your privacy seriously with a strict no-logging policy and nigh-unbreakable 256-bit AES encryption. Additionally, there are no restrictions on what files users can download or how much data they can use. And with more than 850 servers in 61 different countries to choose from, there is very little content you won't be able to access. IPVanish offers easy-to-use apps for almost every operating system, including an Amazon app for Firestick users. It is clear to us that IPVanish is head and shoulders above the rest of the market providers for Kodi users right now.
EXCLUSIVE OFFER for Addictive Tips readers: get 60% off an annual subscription to IPVanish, for low payments of just $4.87 per month! With a 7-day money back guarantee, you can try the service out completely risk-free!
How to Install the Colossus Kodi Repository
The process of installing the Colossus repository is a very simple one but, thanks to recent developments now requires the relevant files to be downloaded directly from Github. To help you out, we have included a simple step-by-step guide below:
First visit the Colossus Github page  and download the latest zip file, called repository.colossus-999.999.6.zip at the time of writing.
On the Kodi home screen, select Addons then click on the Addon Browser icon which resembles an open box.
Click on Install from zip file. Then go to the location of the zip file you just downloaded and click on it. This will download the Colossus Repository. Wait for the notification message to appear in the top right of the screen.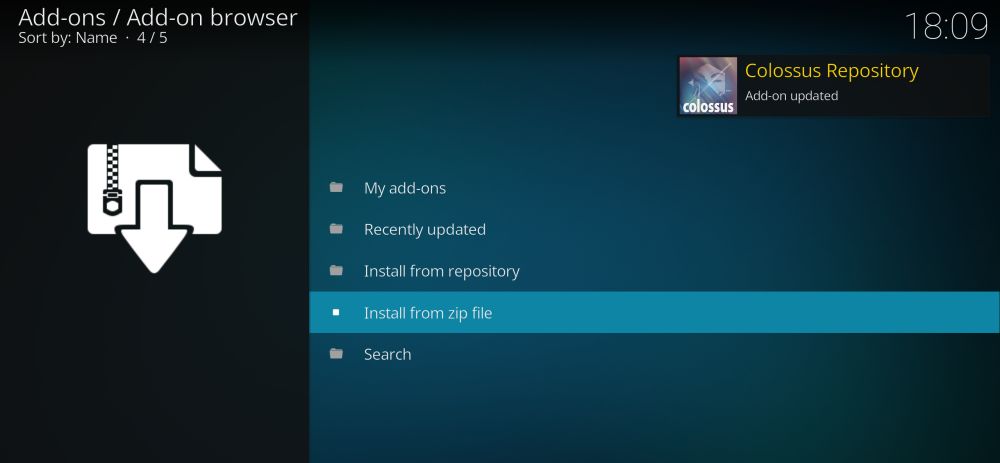 Return to the addon browser menu and click Install from repository. Colossus Repo should now be listed and if you select Video Addons you will see the full range of addons Colossus has to offer.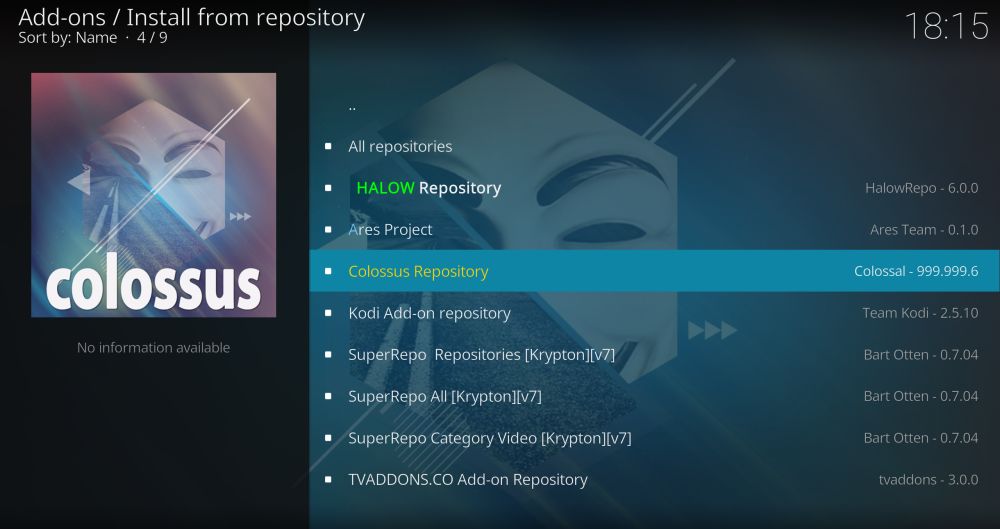 Problems Downloading the Colossus Repository?
Some users have reported having problems when trying to download the Colossus Repository. Patience is needed here. Colossus has struggled at times with demand. As the most popular repository on Kodi these days, traffic is often high and sometimes it gets to be too much. However, now that it has to be sourced from the Github, things should improve.
We have experienced this issue in testing, but through Github everything seems to be fine. But if you do have problems, the best advice is to keep trying. By trying again, or sometimes just leaving it for a few minutes, it does always download in the end. Colossus developers have been working on this problem and it is a lot less frequent than it was. But if you are unlucky, don't give up. Just give it a little time.
Addons Available in the Colossus Repository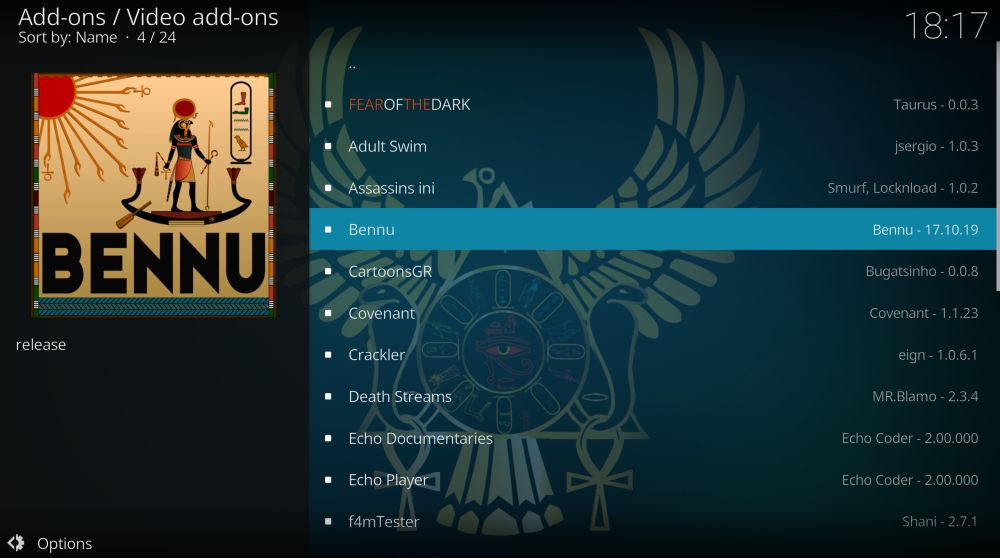 At the present time, the available addons from the Colossus Repository include:
Fear of the Dark
Adult Swim
Assassins ini
Bennu
CartoonsGR
Covenant
Crackler
Death Streams
Echo Documentaries
Echo Player
F4m tester
Football Today
Kidz
LiveStreamsPro
NBA On Demand
NHL On Demand
Ororo TV
Our Match
Sportie
SportsDevil
Tinklepad
XXX-O-DUS
YouPorn
This list of available addons is being regularly updated with names being added all the time. At the time of writing, all of the available addons appeared to be available for download and working properly. From this, we can say that Colossus is being regularly updated and ensuring that its addons are still available for its users.
Recommended Addons
There is a vast variety of content available on the Colossus repository. Covenant is one of the must-have addons right now, having replaced the much-missed Exodus. It is arguably even better than its predecessor and for anyone looking for on-demand movies or TV shows, it is the place to go.
Sportie and SportsDevil are currently the best addons for live sports links on Kodi, but Football Today, NBA On Demand and NHL On Demand, deliver a great service specialised to their particular sports too.  Echo Documentaries is a great option for those who love documentary or science shows, while Kidz is a great bet for cartoons and anime.
There is something for everyone which is why the Colossus repository has quickly become one of the most downloaded available and a must for all Kodi users. What are your favourite addons? Do you think Colossus fills the void left behind by TVAddons? Let us know in the comments section!