We are reader supported and may earn a commission when you buy through links on our site.
Learn more
How to Install the Indigo (Fusion) Installer on Kodi
The open-source media center software Kodi is incredibly easy to use. It works on a wide variety of devices, lets you watch movie streams from around the world, and even supports third party add-ons for extra content. Keeping Kodi up to date and in good working order can become a real task over time. The more add-ons you install and the more sources you browse, the more cluttered Kodi gets. Maintenance tools like Indigo (part of the Fusion repository) are an excellent resource for anyone who wants to tweak Kodi and get the most out of their streams. Check out our guide below to learn how to install the Indigo add-on installer to your version of Kodi.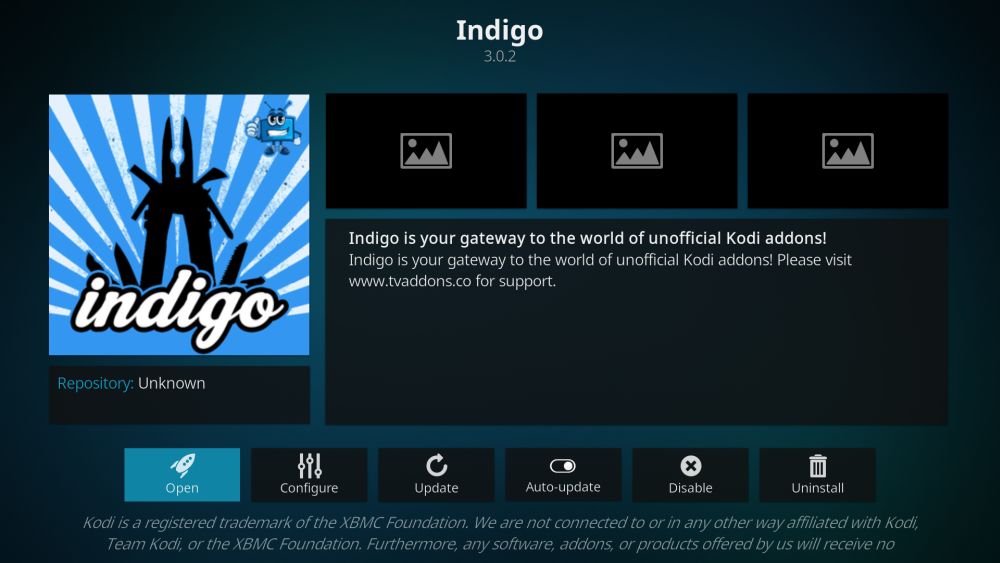 30-days money back guarantee
Before Using Kodi, Get a Good VPN
Kodi itself is completely free to use, and no matter what the rumors say, Kodi is legal, as well. Some of the unofficial add-ons you can install step into murky territory by accessing pirated streams and less-than-legal content, which has attracted the attention of rights holders and governments around the world. Many ISPs even throttle Kodi traffic or send copyright infringement notices to streaming users!
Fortunately, it's easy to protect yourself against these threats by using a virtual private network. VPNs create a private tunnel between your computer and the internet, encrypting every packet of data to make it unreadable to the outside world. ISPs can't tell what you're streaming, and governments can't tell which websites or add-ons you're using. VPNs let you watch all the best movies and TV shows in complete privacy. All you have to do is pick a reliable service and start streaming.
VPNs come with a number of other benefits, as well:
Prevent websites, ISPs, and government agencies tracking your activity.
Lock down your data while traveling or using public Wi-Fi hotspots.
Unblock censored websites and other region blocked content.
Evaluating the Best VPN for Kodi
Finding the best VPN for Kodi streams feels like a monumental task. There are encryption protocols to research, network distributions to compare, privacy policies to investigate, and much more. We've simplified the process by providing a recommended VPN below. We made our selection using the following criteria, ensuring you have a fast, private, and completely anonymous VPN for all of your movie streaming needs.
Fast downloads – Speed is king when it comes to streams. Encryption overhead means VPNs can be slower than a standard internet connection, which is why you need a service that puts a high priority on strong servers with excellent speed test results.
Zero-logging policy – VPNs can keep logs of user activity. Government agencies can demand access to these logs, which puts your privacy at risk. The best VPNs have a strict zero-logging policy to ensure your data doesn't stick around.
Good reputation – Using a VPN means sending all of your data through their servers. It's impossible to determine what the company does with that information, which is why a VPN with a good reputation is incredibly important.
No bandwidth restrictions – Several VPNs place harsh restrictions on the amount of data you can transfer each month. In order to stream HD and 4K Kodi movies, you need unlimited bandwidth, no exceptions.
Unmonitored traffic – Some VPN services block things like P2P networks and torrent downloads. Kodi add-ons use these technologies to stream movies. If you can't access P2P or torrent files, your entertainment options are severely limited.
Software and app compatibility – Kodi runs on a wide variety of devices, including tablets and smartphones. You'll need to run your VPN on the same device, which means custom software for all modern platforms.
The Best VPN for Kodi: IPVanish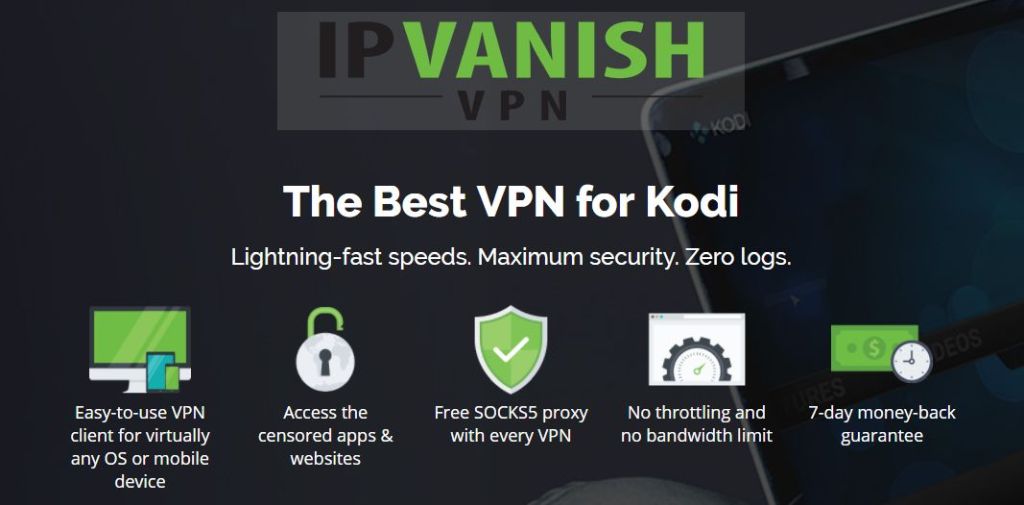 IPVanish has all the best features to make it the perfect VPN to stream Kodi movies. It's fast, it has great privacy policies, it offers excellent encryption, and it has a huge network of over 850 servers in 60 different countries. With IPVanish you'll have full access to all of Kodi's add-ons and can use them with complete anonymity. No more ISP throttling, and no unwarranted copyright infringement e-mails, either.
IPVanish's security features start on your device with DNS leak protection and an automatic kill switch. The former ensures your connection never uses DNS servers provided by your ISP, which can give away your location. The latter locks down your network and stops all transfers if you happen to lose connection to the VPN. All data that passes to and from your computer is secured with 256-bit AES encryption to make it unreadable to outside eyes, and IPVanish's zero-logging policy on traffic ensures your data doesn't leave a trace behind.
IPVanish's fast servers also make a huge different for Kodi streams, especially if you prefer HD or 4K movies. There are no speed caps to worry about, and you'll have unlimited bandwidth to use as you like.  Unmonitored traffic allows both P2P networks and torrent downloads, as well, so every Kodi add-on will have full access to the internet!
IPVanish's best features at a glance:
Custom built apps for all modern devices, including Windows, Mac, Linux, Android, and iOS.
Unlimited bandwidth and no restrictions on torrent traffic or P2P networks.
Download torrents and movies with full privacy and anonymity.
Lightning fast servers for perfect HD and 4K video streams.
Connect up to five devices at once.
IPVanish offers a 7-day money back guarantee which means you have a week to test it risk-free. Please note that Addictive Tips readers can save a massive 60% here on the IPVanish annual plan, taking the monthly price down to only $4.87/mo.
How to Install Kodi Add-ons
The Kodi community packages add-ons in files called repositories, each one containing dozens or hundreds of individual add-ons. Repos, as they're often called, are hosted on external sites and maintained by a group of volunteers. The key advantage of installing through a repository is the ability to keep all of your add-ons up to date without having to search for separate installation files each time a new release drops. If the repo managers update an add-on, Kodi will automatically install it.
There are multiple ways to install repos and add-ons, but we prefer the "external sources" method. It's easier to use on mobile devices and it keeps things more organized in the long run. Before you can do this you'll need to switch one of Kodi's options to allow it to download files for you:
Open Kodi and click on the gear icon to enter the System menu.
Go to System Settings > Add-ons
Toggle the slider next to the "Unknown sources" option.
Accept the warning message that pops up.
Now that Kodi is set, you're ready to install. First find a URL for the repository you want to use. Next, add that link to Kodi's file manager, then install it from the main menu. Once the repo is present simply choose "install from repository" in Kodi's add-ons screen, then pick and choose the extensions you'd like to use. It sounds like a roundabout way to install things, but once you do it a few times you'll realize how simple the process is. Our guides walk you through the installation from beginning to end, just to make sure you don't get lost.
Note: The Indigo add-on is largely designed for Kodi maintenance and doesn't contain source links itself. It does, however, allow you to install other third party add-ons, which may source a variety of unknown content. AddictiveTips does not condone or encourage any violation of copyright restrictions. Please consider the law, victims, and risks of piracy before accessing copyrighted material without permission.
How to Install Indigo (Fusion) Add-on for Kodi

Indigo is included with many different repositories, including SuperRepo. Due to the TVAddons shutdown, however, most old versions of the add-on are broken. You'll need to add the brand new TVAddons repo in order to gain access to Indigo. Follow the instructions below to install it (or check the step-by-step video tutorial below):
Open Kodi on your local device.
Click on the gear icon to enter the System menu.
Go to File Manager > Add Source (you may need to click the double-dot to move to the top of the directory)
Type in the following URL exactly as it appears: https://fusion.tvaddons.co
Name the new repository ".fusion2"
Click "OK".
Go back to the Kodi main menu.
Select "Add-ons"
Click the open box icon at the top of the menu bar.
Choose "Install from Zip File"
Click the file marked ".fusion2"
Select the folder marked "begin-here"
Install the file named "plugin.program.indigo-#.#.#.zip"
Wait for the installation to complete, then go back to the main Add-ons menu.
Find "Indigo" and open it.
You will be prompted to download and install additional files. Click "yes".
When the extra downloads are complete, you're ready to go!
What Can You Do with Indigo?
Indigo is a multi-purpose Kodi tool that's designed to do a little bit of everything. It can install or remove add-ons, tweak Kodi for optimal performance, save or view event logs, and more. Check out the features overview below to see what else you can do with the Indigo add-on.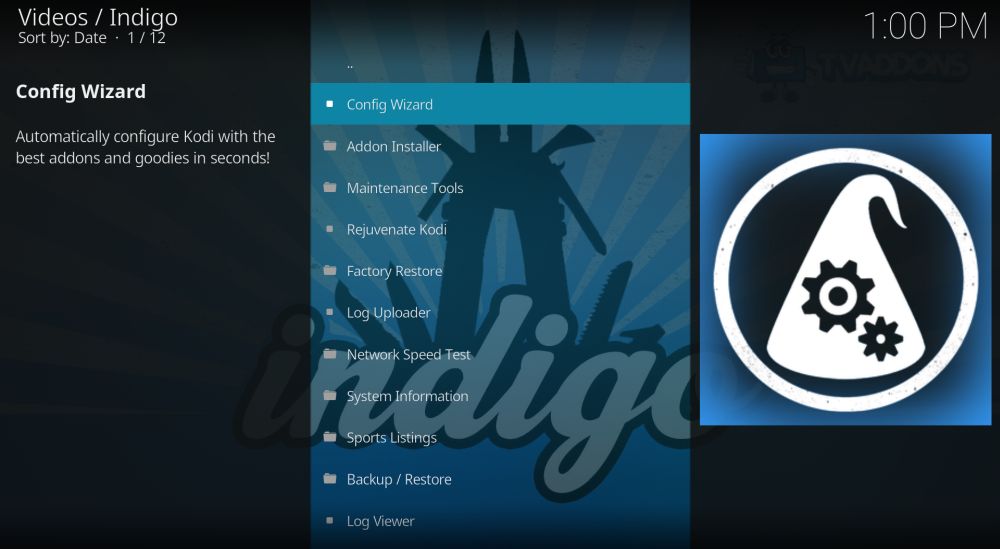 Config Wizard – Automatically configure Kodi with a pre-defined selection of add-ons and tweaks. Ideal for first time users or anyone with a fresh version of Kodi who wants to dive in right away.
Addon Installer – Search for new add-ons and skins by category, author, or type, then install as many as you like without having to go through the entire repository source process.
Maintenance Tools – Over a dozen commonly used tools you can run to keep Kodi fast and lightweight. Clear the cache, delete thumbnails, force add-on updates, install custom keymaps, or even remove all packages and add-ons in one quick move.
Rejuvenate Kodi – Clear your current configuration and start with a fresh, auto-configured version of the software.
Factory Restore – Wipe all customizations and return Kodi to its default state.
Network Speed Test – Upload a selection of files to see how efficiently your internet connection is. Sizes range from 100 Kb to 5 GB. Results give you written explanations as to what you can expect while streaming.
Sports Listings – See what important sports matches are scheduled for the day. Includes baseball, hockey, cricket, rugby, track and field, WNBA, and more.
Backup / Restore – Save your Kodi set-up in case something goes wrong.
Is TVAddons and the Fusion Repo Back?
In mid-2017 lawsuits from Bell Canada, TVA, Videotron, and Rogers took down the original TVAddons.ag website along with its associated add-ons. Pre-court battles ensued with the plaintiffs utilizing some sketchy techniques to bring TVAddons to its knees. The end result was a shutdown the entire service, leaving Kodi users frantically looking for alternatives.
Nearly three months after the takedown the TVAddons creator started a relaunch. Lawyers seized passwords for the site's social media accounts, so alternatives had to be established, including a new website located at TVAddons.co. Most of the Fusion repo's contents have returned, as well, and are available by entering https://fusion.tvaddons.co into your Kodi installation as a new source.
TVAddons has lost an incredible amount of momentum since the shutdown. The creator remarked that there was never a trial, just underhanded deals and high-powered attorneys flexing their muscle. There's no guarantee that the new domain or repo relaunch will be stable, but the more fans that return, the better.
Alternatives and Extras for Indigo (Fusion)
Indigo is an excellent collection of tools that will help you keep Kodi fast, lightweight, and filled with all the best add-ons. It's not the only maintenance tool on the block, however. A number of repository organizers and add-on developers have created their own sets of tools, each with slightly different features and styles. We've gathered a few of the best alternatives to Indigo along with a few excellent Kodi extras. Don't be shy about checking them out and installing a few to see which one you like best.
Is it Safe to Install the Indigo (Fusion) Add-on?
Kodi itself is an extremely safe piece of software. It's free to use, it's open-source, and it's used by tens of thousands of people every day. Once you get into third party add-ons the water gets a bit murky, however. Some add-ons have been discovered linking to pirated content or distributing viruses and malware. It's not extremely common, but it happens often enough that you should take a few easy precautions before diving in.
The main rule for downloading Kodi add-ons is this: stick to reputable repositories. Repo maintainers work to keep fake and malicious add-ons out of their product, which helps protect end users. You should also keep your firewall and anti-virus software active whenever you use Kodi, and if you're planning on streaming, double check to make sure your VPN is up and running.
Indigo is one of the safer add-ons for Kodi. It doesn't contain any content links itself, just a ton of useful tools and sources for other add-ons. All of its options are secured behind confirmation boxes, so even if you accidentally click on a reconfiguration wizard, you'll have a chance to cancel it.