We are reader supported and may earn a commission when you buy through links on our site.
Learn more
How to Use and Install a VPN on Kodi
If you've been searching for a comprehensive guide on how to install a VPN on Kodi, you're on the right page. You'll learn everything you need to pick, install, and run a VPN on your Kodi device. We'll also cover the handy Zomboided VPN manger to optimize your experience. We'll also cover the top VPNs for Kodi.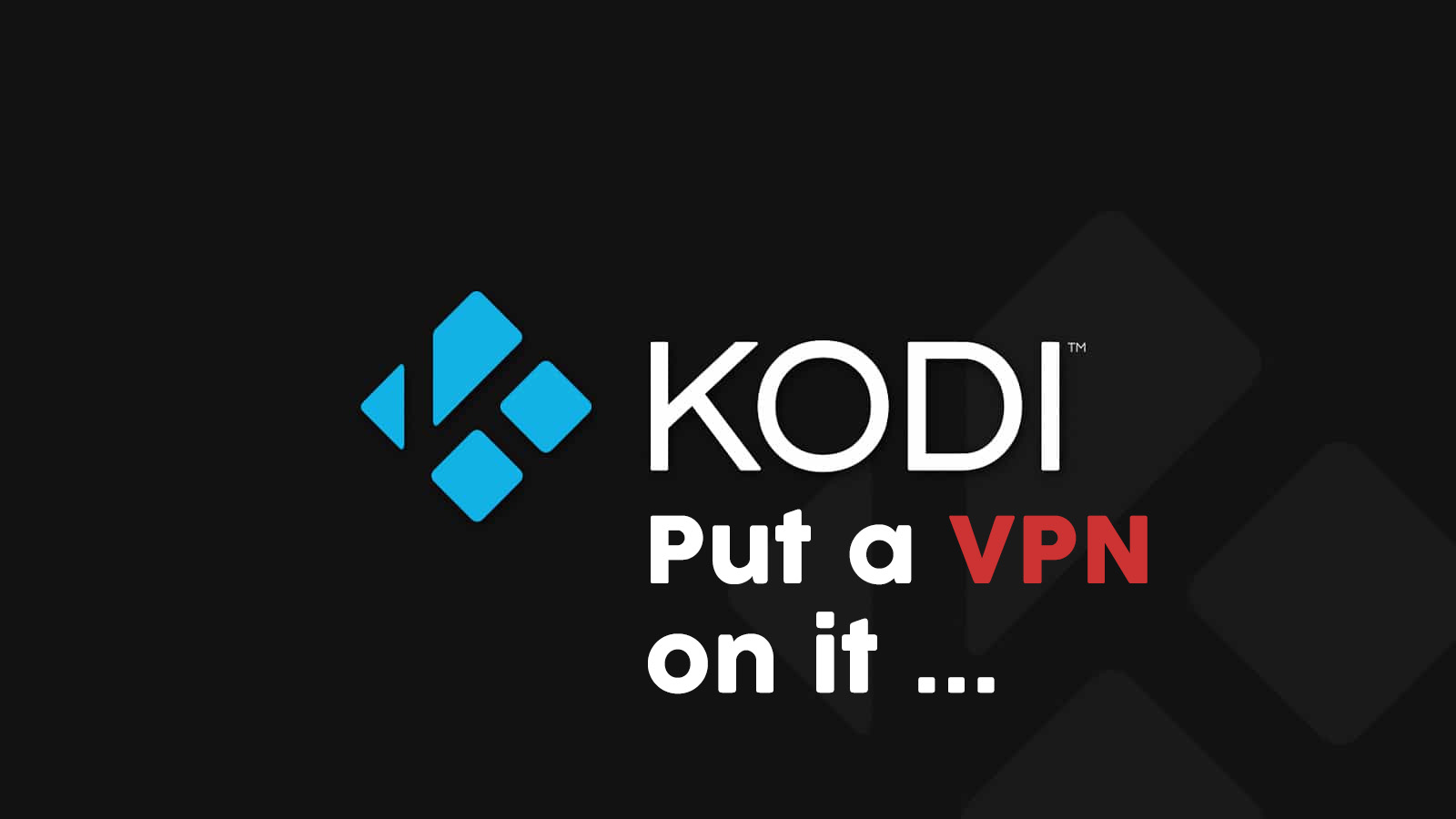 Virtual private networks (VPNs) are some of the best multi-purpose tools the modern internet user can enjoy. By adding encryption to every packet of data they allow us to surf the web in complete privacy, stopping things like ISP throttling efforts, preventing mass surveillance from spying on our identity, and even letting us break through geo-restriction barriers to access censored content or unblock Netflix.
VPN use-cases with Kodi are even more important than protecting your standard internet connection. Because Kodi is open-source, anyone can develop add-ons for the software. This means some content may be able to access pirated videos without your knowledge. ISPs and content publishers have taken note of this and often put Kodi users under special scrutiny. By using a VPN, you can avoid this altogether.
Below we look at some of the best VPNs for Kodi along with a full guide on how to install a VPN on Kodi. It's not as difficult as you may think, but it can save you from a lot of trouble with your internet service provider.
30-days money back guarantee
Three Ways to Install a VPN to Work with Kodi
When you're looking to protect your Kodi installation from spies and nosy ISPs, all you need is a good VPN running in the background. There are a few ways you can accomplish this, which we'll look at below.
1. Running a VPN on Your Device
This is by far the most common and the easiest way to install a VPN to use with Kodi. The process is simple: sign up with a reliable VPN service, download their app for your device (Windows, iOS, Mac, Android, etc.), install it, log in and connect, then launch Kodi and stream securely. As long as you run the VPN software each time you turn on your device, every piece of data that leaves the system will be secured, including Kodi movie streams.
The downside to this method is that some devices that support Kodi installs don't support VPNs. It's usually only true with smart TVs and certain TV set top box streamers, though, and in some of those cases, such as Fire TV, you can actually install a VPN on a Fire Stick through sideloading. This isn't always the case, though, which is where the below methods can come in handy.
2. Using a Router-Based VPN
You've probably heard of people installing VPNs on their routers. This method bypasses the need to load an app on every device each time you need VPN protection. It can take some extra time and technical knowledge to set up, though, and it doesn't have all the features of software-based protection, which is why not everyone uses the method.
If you want to protect Kodi, it's actually not a bad idea to install a VPN on your router. This ensures every device you stream from, including Fire TVs, Chromecast, and other TV boxes, stays protected even if you can't install apps on the devices themselves. It's a sure-fire way to keep your activity private and secure, just as long as you don't mind getting your hands dirty with a little manual router configuration.
3. Installing the VPN onto Kodi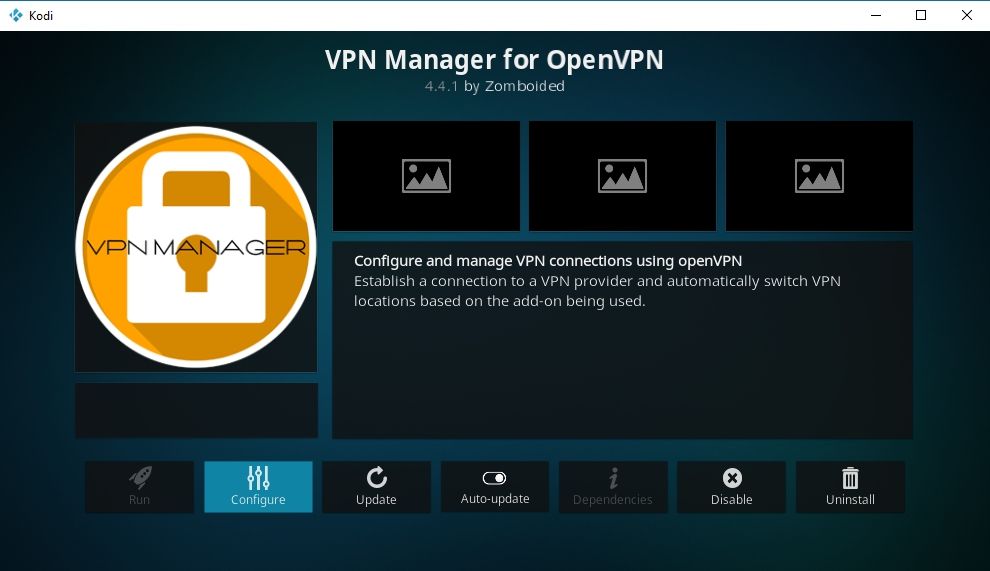 Strictly speaking, there's no way to directly install a VPN onto Kodi. The open-source software supports all kinds of third party add-ons and extras, but being able to integrate a VPN's protection into the app itself isn't really a priority. Your best bet is to keep your VPN software separate but always running in the background each time you start up a Kodi stream.
There are a few pieces of add-on software that let you manage your external VPN via Kodi's interface, the best of which is VPN Manager. We discuss this add-on below, complete with installation and setup instructions, so if you're interested in going down that route, read on for a full guide.
What Makes a Good Kodi VPN?
Selecting a VPN is probably the most difficult part of the entire process. Learning which features are important and which ones are just marketing speak can take some time, especially if you're new to the whole VPN thing. Below we've outlined the top criteria you should pay attention to when choosing a VPN. We then used these points to rank our recommended VPNs so you can enjoy fast, safe, and secure streams every time you fire up Kodi.
Network reliability – How large is the VPN service's network? How fast are the servers? These can make or break the speed and quality of your Kodi streams.
Logging policy – Some VPNs keep records of user activity, much like ISPs. To preserve your privacy, always use VPNs with a strict zero-logging policy.
Reputation – The more positive reviews and customer praise a VPN service has, the safer you'll be.
Security – Features like 256-bit encryption, DNS leak protection, and an automatic kill switch are vital for solid online security.
The Top 5 VPNs to Use with Kodi
IPVanish comes out on top as the best VPN to use with Kodi, but there are several other providers who deliver speed, security, and smart pricing structures that are worth a second look.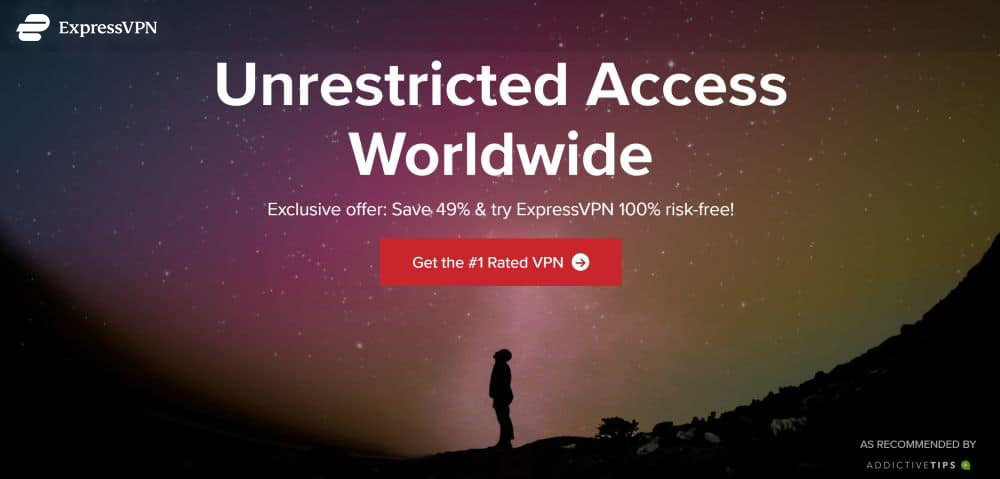 ExpressVPN is a fast and secure VPN that bundles the right blend of features to give you an incredible online experience. The company runs a dedicated network of 3,000+ servers across 94 countries around the world, combined with 256-bit AES encryption on all data, a thorough zero-logging policy on traffic, DNS requests, and IP addresses, and custom software with DNS leak protection and automatic kill switch features.
Read our full ExpressVPN review.
Pros
Unblocks Netflix and other streaming sites
Super fast, reliable connection
Secure encryption & VPN protocols
No logs for personal data
24/7 Live Chat.
Cons
Expensive month-to-month plan.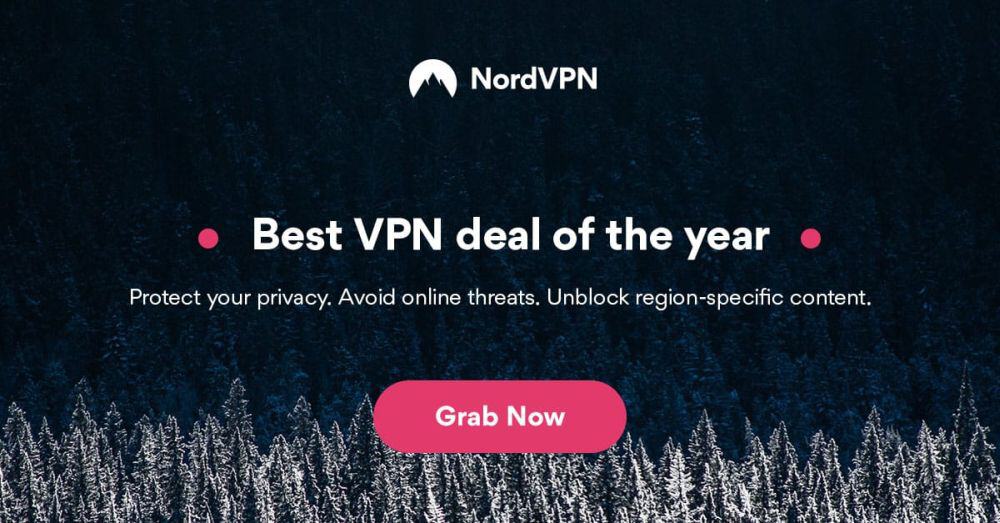 NordVPN is an impressive VPN with one of the largest server networks in the industry: over 5,500 servers in 60 different countries. This ensures you always have a fast connection available no matter where you are in the world, but it also provides unique features not found in other VPNs, including dedicated P2P connections, double encryption, and onion over VPN routing. On top of this, NordVPN provides a thorough zero-logging policy that covers bandwidth, traffic, time stamps, and DNS access, automatic kill switch and DNS leak protection features, and 256-bit AES encryption on all data.
Read our full NordVPN review.
Pros
Servers optimized for unblocking Netflix
Over 5,400 servers in 61 countries
No IP/DNS leaks found
Extra-secure Double VPN for data encryption
Live Chat Support.
Cons
Some servers can be slow and unreliable
Sometimes slow in procesing refunds (but always do).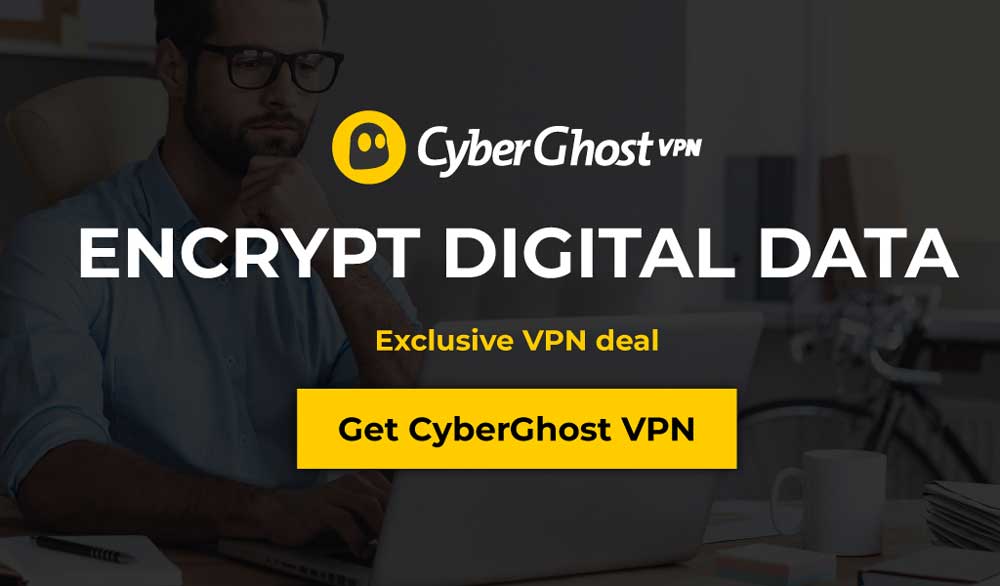 CyberGhost focuses on both speed and security, and it delivers the perfect end-user experience for surfers and streamers of all types. It starts with an incredible network of 5,900 servers across 90 countries for fast worldwide access. You also get 256-bit AES encryption, a zero-logging policy on traffic, time stamps, and IP address, and both DNS leak protection and an automatic kill switch.
Read our full CyberGhost review.
Pros
Unblocks US Netflix in web browser
P2P allowed on any server except in US and Russia
7 simultaneous connections
Private: Strong no logs policy
24/7 Live Support.
Cons
Can't unblock some other streaming sites.
PureVPN includes some truly unique features VPN users are sure to enjoy. Instead of plain and simple encryption, PureVPN offers DNS-level website filtering, malware shields, app blocking filters, and even a virus scanner, all bundled into one convenient package. You also get 256-bit encryption, a zero-logging policy on traffic, DNS leak protection, and an automatic kill switch for improved security. And PureVPN keeps speeds high with a large network of over 750 servers in 140 different countries.
Read our full PureVPN review.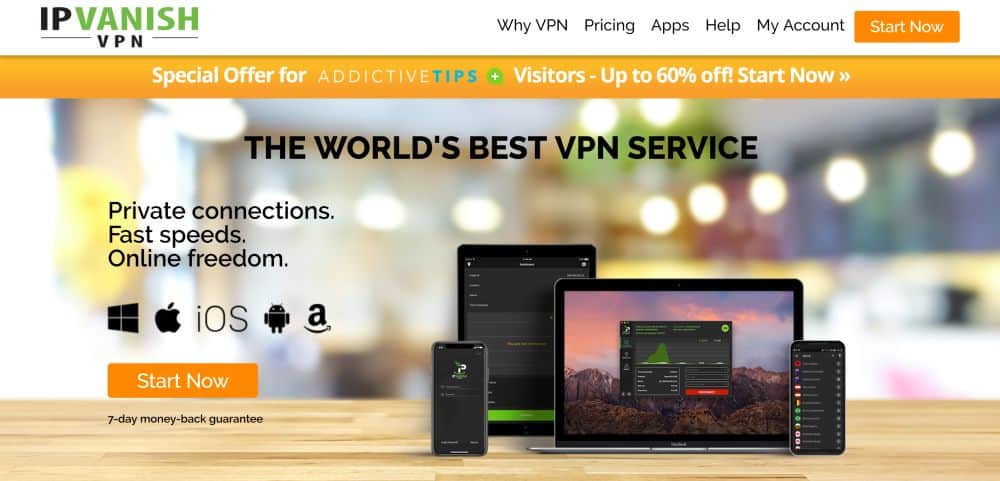 IPVanish mixes the best features every Kodi user needs for a fast and secure online streaming experience. The company provides lightning fast downloads with a large network of 1,300+ servers in 60 different countries, complete with tens of thousands of IP addresses to choose from for superior anonymity. For privacy, IPVanish's apps come with DNS leak protection and an automatic kill switch. All data is kept secure with 256-bit AES encryption and a zero-logging policy on traffic, as well, which provides full security every time you log in. You also have unlimited bandwidth and completely unmonitored traffic, so you can access torrents, P2P connections, and all of Kodi's add-ons with full freedom.
Read our full IPVanish review.
VPN Manager by Zomboided
While it's perfectly acceptable to use a VPN separate from Kodi, there's also a useful add-on tool you can install to gain access to some unique VPN protection features for your Kodi content. Below we'll discuss the pros and cons along with full usage instructions.
Why Use VPN Manager?
Running a VPN encrypts and protects every packet of data that leaves your device. This includes Kodi content and all of its streaming add-ons. There's no need to install a specific Kodi VPN add-on to access these features, so why bother?
One of the advantages of using an extension like VPN Manager is the ability to control which add-ons are funneled through your VPN. Some may not work from behind a VPN, including official add-ons that access subscription-only content. With VPN Manager you can easily specify which add-ons to protect and which to allow through unimpeded, making Kodi a lot simpler to use in the long run.
Another advantage is easy of access. If you use the OpenElec or LibreElec operating systems to run Kodi, or if you only want your VPN to work when Kodi is active, setting up the Zomboided VPN Manager is a great way to accomplish this. It controls VPN actions automatically to keep your add-ons secure at all times without having to mess with the VPN program itself.
Note that you will still need VPN software on your system to make use of the VPN Manager, as well as an active subscription with your provider. The add-on isn't a replacement for VPNs, merely an automated management program.
How to Install VPN Manager
The VPN Manager tool in packaged in the Zomboided repository. It's technically a third party "unofficial" add-on, but because it doesn't contain any streaming resources that could potentially access pirated content, it's completely legal. The repo comes with two tools: VPN Manager for OpenVPN, and Zomboided Tools. We'll be installing the first one.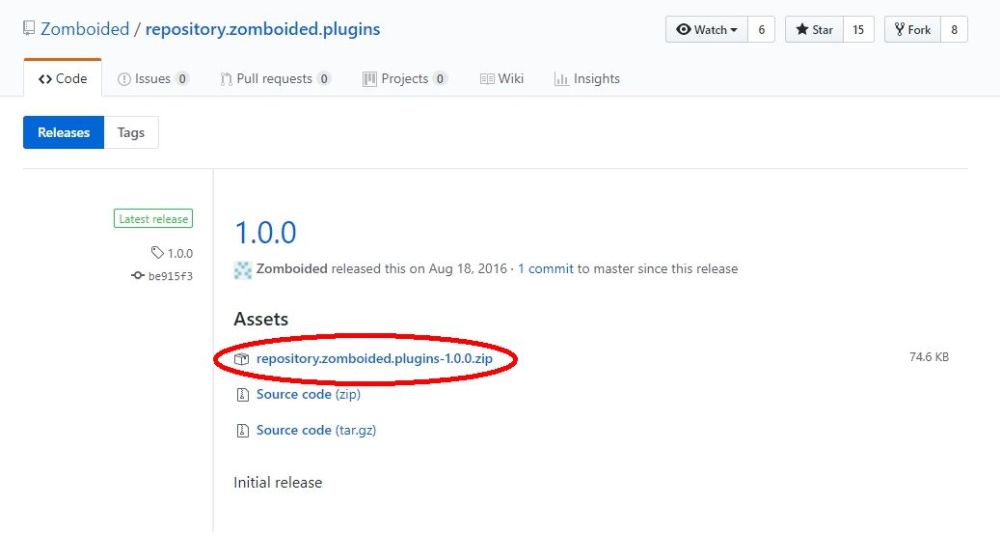 Start by visiting the Zomboided repo page and downloading the latest version. Click on the newest file marked repository.zomboided.plugins-#.#.#.zip and the download will immediately begin.
Launch Kodi and go to the home menu. Select Add-ons first, then choose the open box icon at the top of the small navigation menu at the left. Next, select Install from zip file, then navigate to the repository you downloaded above. Kodi will add it to the system, copying the necessary files over so you can delete the original zip.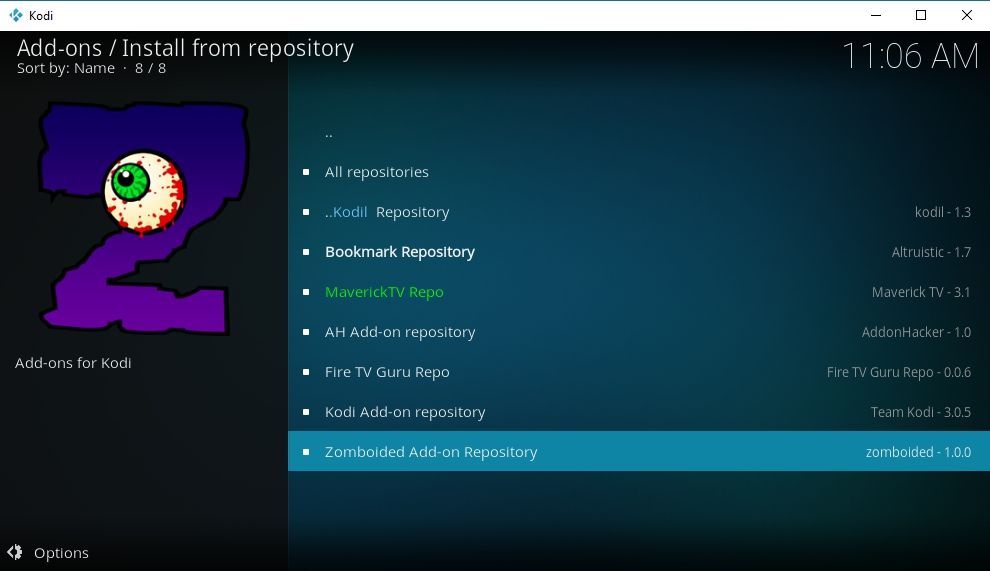 Back in the open box menu, choose Install from repository. Find Zomboided on the list (it should be at the bottom), select it, then choose the Services folder. You should see VPN Manager for OpenVPN at the top. Select it, then choose the Install button in the lower right. Kodi will install the add-on right away.
Once VPN Manager is ready to go, you can access it from the main Add-ons menu under Program Add-ons. Launching it will give you a few options to choose from, including changing the settings, pausing the add-on filtering, and displaying the current VPN status.
Setting up Zomboided VPN Manager
As soon as you install Zomboided you'll be presented with the settings screen. You need to go through some of these sections to configure the add-on to work with your VPN. If you accidentally close the menu, you can re-open it by highlighting the VPN Manager for OpenVPN icon in Kodi's add-ons menu, right clicking to access the options screen, then choosing Settings.
Starting at the VPN configuration option at the top (it should be automatically selected), you'll need to enter your VPN's details, including username and password. Set these in the box to the right. It's ok to leave the rest of the details in this box alone, as Zomboided will take care of them for you.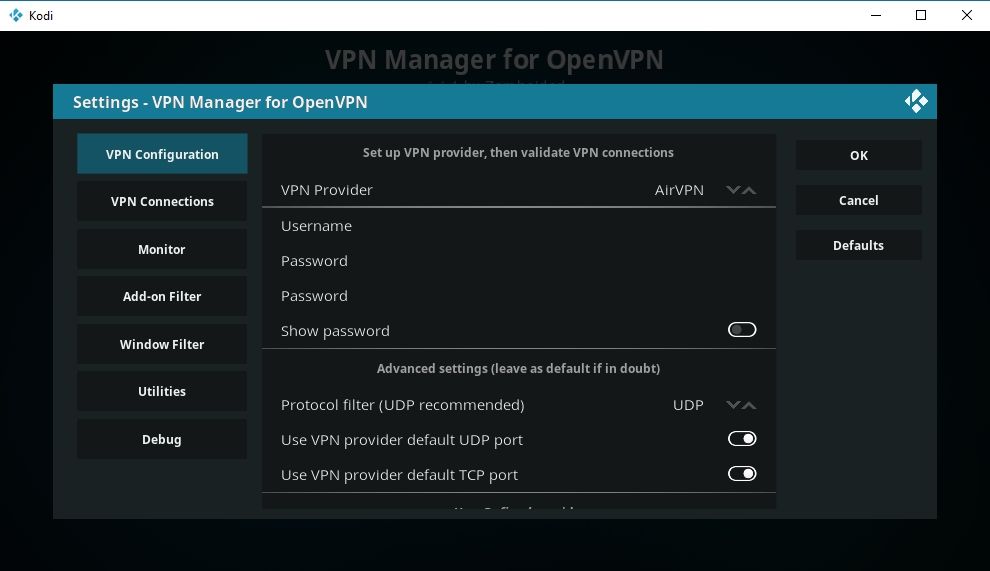 Next it's on to the VPN connections tab. Once you've entered your VPN account details, you'll be able to specify this account to connect to each time you start Kodi. This is an optional step, but crucial if you run multiple VPNs. If you only run a single VPN, go ahead and skip to the next section.
The Monitor tab lets you specify how Zomboided manages the VPN connection itself. Most of the settings will be toggled on, so you can leave them as-is. However, for informational purposes it's a good idea to skip to the bottom of the list and set the following option to "active":
Display IP, location and Service Provider in VPN cycle notification (toggle right)
This lets you see information about your VPN each time it connects, serving as a convenient reminder that your streams are kept safe.
The Add-on Filter category is optional if you just want Zomboided and your VPN to protect all of Kodi regardless of which add-ons you're using. If there's an add-on that doesn't function with VPNs, such as one of the live sports streaming services available through Kodi's official repository, you can quickly specify them to be ignored. You can also invert the filtering list so you specify only the add-ons that need VPN protection, though this is generally less secure than the former option.
Unless you specifically need to make changes, the last three sections can safely be skipped. Window Filter performs like the add-on filter except for active windows. Utilities helps you clear VPN data or change key mappings. Debug lets you set some technical information about OpenVPN.
Using VPN Manager
Once you have it installed and configured, there really isn't anything you need to do to take advantage of VPN Manager. It runs quietly in the background protecting your add-ons from being spied on or throttled. Whenever you add a new extension you may want to re-check VPN Manager's settings, but apart from that, you're free to enjoy Kodi as you please.
Conclusion
Installing a VPN on Kodi isn't a difficult task, nor will it take you more than a few minutes to set up and get going. Once it's done, you'll be able to stream any content you like with complete safety. Stop worrying about slow servers and spying ISPs and enjoy a good movie.