We are reader supported and may earn a commission when you buy through links on our site.
Learn more
Chromecast VPN – How to Install a VPN on Chromecast (Guide)
If you're not quite sure how to install a VPN on Chromecast, you're not alone, since Google's minimalist streaming device does not officially support third-party app installations. Luckily, you can get around this by installing a VPN on your router, which will maximize the security of your Chromecast in just a few simple steps. This guide shows you how.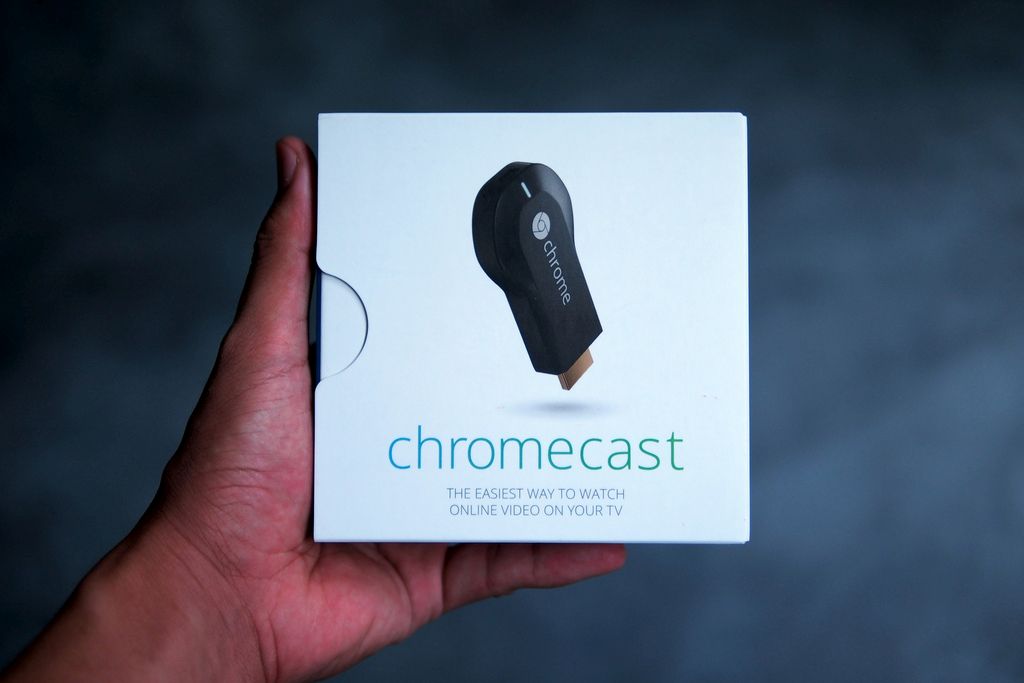 Chromecast has made it easy to share your media with a wide range of devices throughout your home. Push content from a phone to your TV, watch movies stored on your PC without having to sit at a desk, or even stream content between devices for maximum comfort and usability.
These router-friendly VPNs boost the security and streaming power of your Chromecast:

NordVPN – Best for Chromecast – NordVPN's simple router setup, massive network, and military-grade encryption make it the ideal choice for securely bypassing geoblocks on your Chromecast.
Surfshark – Surfshark offers smart functionality that auto-configures your VPN for the best settings to beat internet restrictions.
ExpressVPN – There are very few providers faster than ExpressVPN–ideal for HD streams.
IPVanish – IPVanish is tailor-made for unblocking buffer-free streams with its quick network.
VyprVPN – IPVanish is tailor-made for unblocking buffer-free streams with its quick network.
To take full advantage of Chromecast, you'll want to use it along with a virtual private network. VPNs create a private and secure tunnel to the internet that opens up a wide variety of extra features, including the ability to watch geo-restricted content.
30-days money back guarantee
Chromecast and VPNs – Benefits and Limitations
Google's Chromecast technology works as a simple relay between internet connected devices and your TV. If you're watching a video on your computer, for example, and want to kick back on the couch, all you have to do is "cast" your screen to a Chromecast-enabled device connected to your television. In an instant you're watching HD videos on TV without having to run cables across the room or burn media to DVDs. A lot of apps, TV box devices, and dedicated Chromecast sticks exist to help make this as easy and convenient as possible.
Chromecast works by sending data to another device located on the same network. The only real catch is both pieces of hardware have to be connected to the same router, either through physical wires or Wi-Fi. This means Chromecast can access the local network but not the internet at large. You can push just about anything from a cast-enabled device, but all Chromecast does is mirror the content on another screen. It sounds too simple to be much good, but it's surprisingly useful in practice, as any Chromecast user can attest.
VPNs give you the ability to switch your virtual location at the push of a button. Among other things, this lets you watch videos on Netflix, Hulu, BBC iPlayer, and related streaming services as if you're from another country. If you try casting the content to a Chromecast device, however, you'll often encounter an error screen. This is because VPN software only affects the computer it's software is currently running on. Chromecast can't share the VPN connection by default, which limits what you can cast to your TV from your laptop or PC.
There's a way to let Chromecast use a protected VPN connection: router installations. Instead of running VPN apps on all of your devices, you'll simply configure your router to run the software for you. This means anything that connects to your home network gains the protection of a VPN by default, no additional installations necessary.
How to Find the Best VPNs for Chromecast
VPNs sound like incredibly complicated things. There's encryption strengths to compare, security protocols to investigate, speed scores, traffic restrictions, and so much more. We've streamlined the process and selected the most important features you should consider when looking for a Chromecast-friendly VPN. We used the criteria below to make our recommendations, so follow them and you'll be watching HD video streams with complete privacy in no time.
Router support – If you're going to use a VPN with Chromecast, the service has to offer router software. Most providers use OpenVPN or a manual configuration file to achieve this, though a few don't support routers at all.
Simultaneous connections – One of the lesser-known limitations of a VPN is how many devices can connect at a single time. The industry average is just three, meaning a laptop, a PC, and a smartphone at once, that's it. Our recommendations feature extended base numbers or options to connect more devices at once.
Speed – Encryption can slow a VPN down by 10-20%, which will turn your HD video streams into a stuttering mess. To keep everything crisp and smooth, we chose VPN providers with the highest speed test scores on the market.
Zero-logging policy – The data you send through a VPN can be logged and tagged with your IP address, making it theoretically possible for third parties or government agencies to get their hands on it. The best VPNs keep no traffic logs, period.
Bandwidth and traffic restrictions – Some VPNs are known to limit monthly bandwidth or even restrict things like P2P networks and torrent traffic. Our recommendations provide unrestricted, unmonitored access to the web without exception.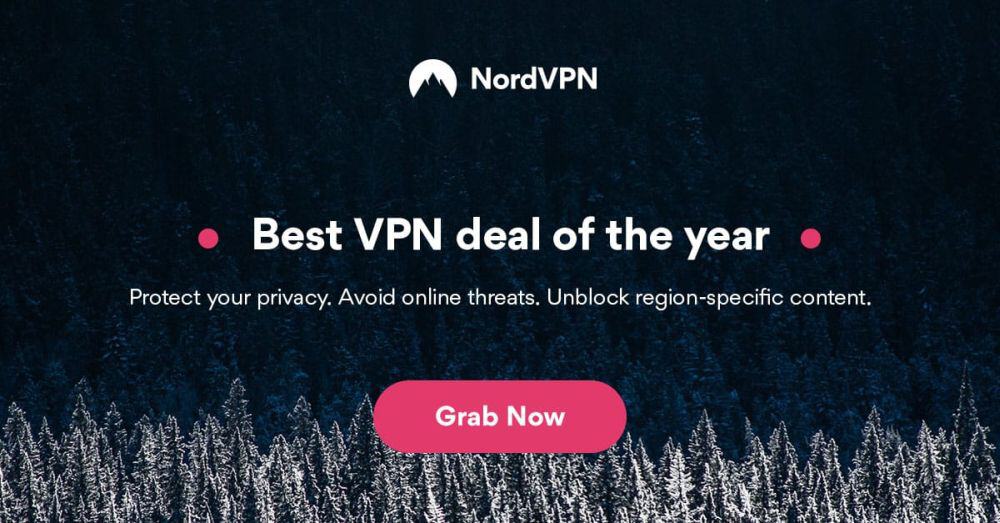 NordVPN tackles the problems of online privacy from multiple angles, all without sacrificing speed or ease of use. NordVPN operates an impressive network of over 5,600 servers in 60 different countries, one of the largest in the marketplace. You'll also find the most comprehensive zero-logging policies around, covering everything from traffic to time stamps, bandwidth, and IP address logs. Combine that with unmonitored traffic that allows P2P and torrent connections and unlimited bandwidth and you've got a recipe for an amazing all-round VPN. Best of all, these features are delivered with lightning-fast speeds around the world, ensuring your connection never lags.
More of NordVPN's best features include specialized servers that deliver double encryption, onion routing, and anti-DDoS features; support for six simultaneous device connections, the highest in the VPN marketplace; easy install scripts and instructions for VPNs on Tomato and DD-WRT routers; offers routers with compatible firmware and NordVPN service pre-installed; reliable access in censorship heavy countries like China and Turkey. NordVPN is also one of the few VPNs that maintains reliable access to Netflix.
Read our full NordVPN review.
Pros
Very fast speeds make this a strong choice for 4K streaming
Extensive server park of over 5,400 different servers
Connect up to 6 devices at once
Based in Panama
Customer Service (24/7 Chat).
Cons
Some servers can have average d/l speeds
Apps can be a bit cumbersome to use.

While not directly compatible with Chromecast, Surfshark is extremely easy to set up on any modern router. With 24/7 live chat support and a section of their site dedicated to configuring your VPN router, you'll be up and running in no time.
So what can Surfshark do for Chromecast users? They offer a respectable 800 servers in 50 countries, giving you ample choice for IP spoofing and unblocking–letting you change your Chromecast's region and watch foreign streams. This network is extremely modern, with RAM-only infrastructure that is fast and highly secure.
And with powerful 256-AES-GCM encryption, you can set up an OpenVPN or WireGuard tunnel to route your data past your ISP's network quickly and in complete anonymity. There are never any limits on bandwidth, traffic type, server switching, or even simultaneous connections. Surfshark guarantees no logging as well, so no worries about leaving behind breadcrumbs of your activity online.
Pros
Every server optimized for unblocking Netflix, BBC iPlayer, Hulu, and more
Unlimited server switching
30-day satisfaction guarantee
VPN home jurisdiction in British Virgin Islands is ideal for privacy
Refund requests are simple and fast–no waiting or hassle.
Cons
Server network is not nearly as expansive as major competitors
Power users may wish for more settings to fiddle with.
Read our full Surfshark review.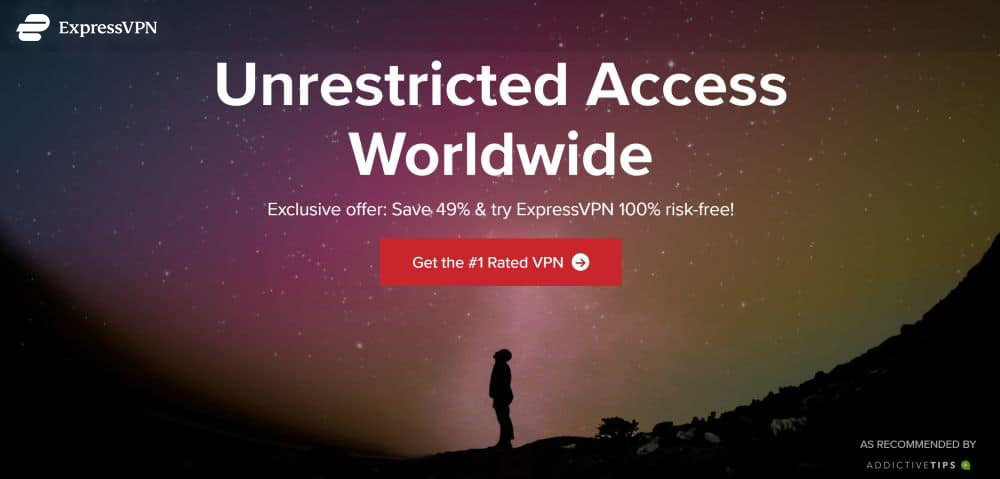 True to its name, ExpressVPN is one of the fastest VPNs available. The service runs a network of over 3,000 servers in 94 different countries, each delivering incredible speeds to cities around the world. And if your connection feels like it's lagging, just fire up the built-in speed test to see a full list of speed and latency scores. Along with these incredibly fast servers, ExpressVPN also delivers 256-bit AES encryption, unlimited bandwidth, no restrictions on P2P or torrent traffic, and a zero traffic logging policy to keep your activity private and safe.
More ExpressVPN features include extra privacy features include an automatic kill switch and DNS leak protection on several versions of their custom apps; offers router purchases with pre-installed firmware and ExpressVPN service; reliable access to Netflix through the website; support for both Tomato and DD-WRT router firmware.
Read our full ExpressVPN review.
Pros
Works with US Netflix, iPlayer, Hulu and other services
94 countries, 3,000+ servers
Very simple and easy to use
No personal information logs kept
Great customer service via chat.
Cons
Limited configuration options
High cost for month-to-month users.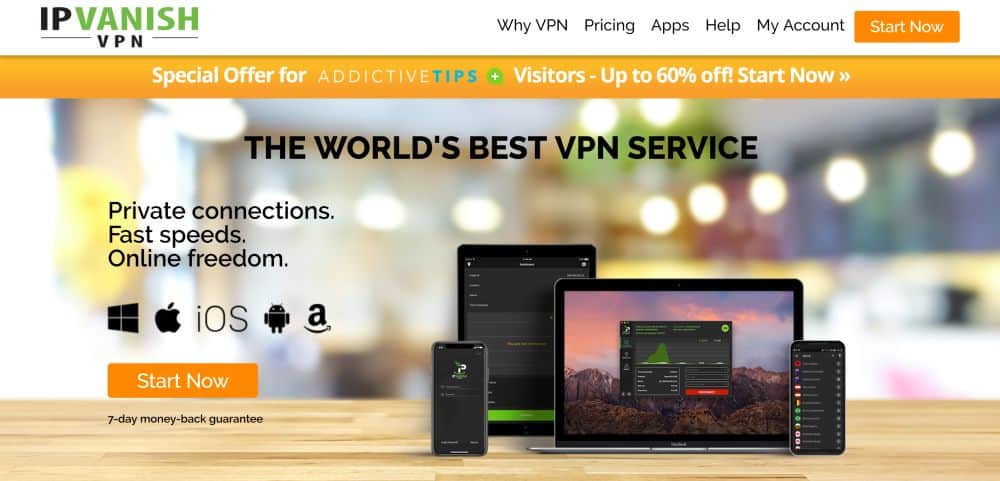 IPVanish knows a thing or two about staying invisible online. The company has a strong focus on speed, privacy, and security, all expertly tuned to deliver an easy to use VPN experience that just works. It starts with 256-bit AES encryption on all transfers and no traffic logs to help keep that activity safe. DNS leak protection and an automatic kill switch stop your identity from sneaking out in case of an accidental disconnect, as well. All of these features are tied directly to IPVanish's huge network of over 1200 servers in 60 different countries, providing lag-free connections that are safe and anonymous.
Your IPVanish subscription also nets you a variety of useful features such as the ability to download torrents with full privacy and anonymity, keeping you safe from ISP warning messages; up to five simultaneous device connections, perfect for Chromecast users; the option to buy a ready-to-go router with the right firmware and IPVanish pre-configured, fast and secure servers allow for incredible video streams through Kodi; easily manual installation of the VPN onto both Tomato and DD-WRT routers.
Read our full IPVanish review.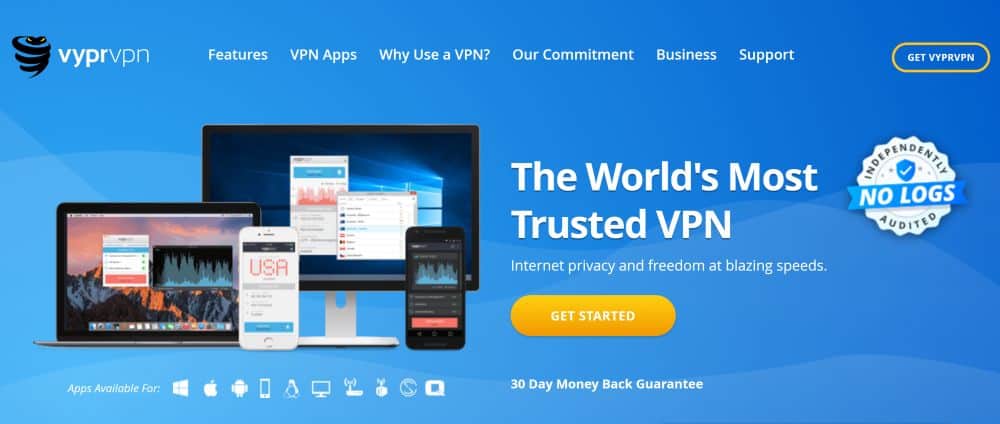 VyprVPN is the place to go for complete online privacy. The service ticks all the right boxes under speed, ease of use, and strong encryption, but it goes to the next level by providing a couple of features no other VPN can match.
The biggest boost to your privacy is the fact that VyprVPN owns and operates its entire network of servers. Third parties never have access to the hardware or software, meaning no one has the chance to see your data. VyprVPN also runs its unique Chameleon protocol that helps defeat deep packet inspection. If a government is censoring websites or your ISP is throttling traffic, Chameleon can help you slip by unnoticed, preserving your anonymity and keeping the internet open and free.
VyprVPN includes unlimited bandwidth and no restriction on P2P traffic or torrent downloads; easy, streamlined set-up for both DD-WRT and Tomato router installations; a strict zero-logging policy that covers both traffic and DNS request logs; plus a large network of 700 servers in 70 different countries for robust spoofing.
Read our full VyprVPN review.
Best Routers to Use with a VPN and Chromecast
All routers run their own style of firmware that lets you access and customize its features through a browser interface. Some of these custom setups offer built-in VPN configuration pages, but the vast majority don't. Fortunately, you can install your own firmware to just about any router and use that to run your VPN. Two lightweight, open-source firmware alternatives with the best VPN support are Tomato and DD-WRT.
There are hundreds of router brands that support Tomato and DD-WRT out of the box. Some ship with the alternative firmware already installed, allowing you to hop on and enable your VPN within seconds. For other brands you'll need to add the firmware yourself, which can be a bit of a nuisance. It's much easier to grab a powerful router that comes with either DD-WRT or Tomato already installed. We've collected a list of some of the best DD-WRT routers available, offering a great starting point for your Chromecast-VPN adventure.
How to Install a VPN on a Router
If you already have a router with DD-WRT or Tomato installed, you can start setting up your VPN right away. The process will vary slightly depending on your VPN service's credential details, so make sure you have a separate browser tab open with the right information displayed before jumping into the configuration.
How to use a VPN with a DD-WRT router
Go to your VPN provider's support page and look for the router installation section.
Create or download a config file (usually .ovpn) provided by the VPN.
Go to your router's admin page and log in.
Go to Services > VPN and enable "Start OpenVPN Client"
Open the .ovpn from the DD-WRT interface, or simply copy the correct information into the boxes provided.
Click "Save" followed by "Apply Settings".
Enjoy your router-based VPN!
How to use a VPN with a Tomato router
Go to your VPN provider's support page and look for the router installation section.
Create or download a config file (usually .ovpn) provided by the VPN.
Go to your router's admin page and log in.
On the menu bar, click "VPN Tunneling" followed by "OpenVPN Client"
Using a text editor, open the .ovpn file you downloaded above.
Enter the details from the file under the "Basic" and "Advanced" tabs, if necessary.
Copy and paste the keys from the .ovpn file into the "Keys" section.
Click "Save" and you're done!
How to Use Chromecast with a Router VPN
Once you have a router with the right firmware and a VPN enabled within, the hard part is over. Because your router is broadcasting Wi-Fi secured by the VPN's installation, Chromecast will automatically take advantage of it each time you connect. Simply follow the steps below to start casting securely.
Run the Chromecast app or setup guide.
Choose the network your VPN router is broadcasting.
Enter the password.
Tap "Set Network"
Your Chromecast is now taking full advantage of the VPN!
Alternative – Use a VPN with Chromecast through a Virtual Router
If you don't have access to a DD-WRT or Tomato router and can't set up your VPN that way, there's an alternative method you can use to tie your Chromecast into a VPN. Virtual routers share your desktop PC's internet connection like a hotspot, allowing other devices to connect and take advantage of the VPN. Assuming you have the appropriate hardware that supports running in access point mode, you'll be able to create a virtual router with just a few commands.
Note: Linux users will need to use Hostapd to configure a virtual wireless access point.
Before you begin, if you use Windows you should make sure your computer supports virtual routers. Follow the steps below to find out:
Windows support for virtual routers
Press Win+S to launch the Windows search bar.
Type "cmd" without the quotes.
Right click on the Command Prompt icon and choose "Run as Administrator"
Type the following into the command prompt: netsh wlan show drivers
A screen filled with text will show up. Look for the line that says "Hosted network supported"
If this line says "yes", you're ready to run the virtual router.
If the line says no, make sure your network adapter drivers are updated, or use the router method outlined above.
How to create a virtual router on Windows
Press Win+S to launch the Windows search bar.
Type "cmd" without the quotes.
Right click on the Command Prompt icon and choose "Run as Administrator"
Type the following into the prompt, but don't press enter just yet: netsh wlan set hostednetwork mode=allow ssid=NETWORK key=PASS
Replace "NETWORK" with a name you choose for your network.
Replace "PASS" with a password for your network.
Press "enter" to run the command.
When the virtual router has been created, run your VPN software.
Open your Chromecast and connect!
How to create a virtual router on Mac
Click on the Apple logo and choose "System Preferences"
Go to the Network section.
Add a new service by clicking on the plus sign.
Set the following options in the window that opens:
Interface: VPN
VPN Type: L2TP over IPSec
Service Name: (choose your own name)
Click "Create"
Go back to the Network section and click the L2TP connection you just created.
Fill in the Server Address and Account Name boxes with information from your VPN provider.
Check "Show VPN status in the menu bar"
Click the Authentication Settings button.
Click the "Password" radio button and enter your VPN's password in the box.
Enter any set of numbers in the Shared Secret. Make sure you can remember them.
Click "Ok" to go back one screen, then click "Advanced"
Click "Options" and make sure the top three boxes are checked.
Save all of your changes and exit the settings pages.
Go back to System Preferences and click "Sharing"
Click "Internet Sharing" on the left, then choose your L2TP VPN connection on the right.
Check the Wi-Fi box below so Chromecast can access the connection.
Click "Wi-Fi Options" and create a name and password for your new Wi-Fi hotspot.
Save your changes and go back to System Preferences.
Check the box next to "Internet Sharing" to activate the VPN network.
Wrapping up
So there you have it: everything you need to know about installing and using a VPN with Chromecast. It isn't quite as simple as on other devices, but our step by step guide breaks it down so anyone can follow it.
Run into any trouble with our guide? Sound off in the comments below, and we'll try to help you out ASAP.