How to Mirror iOS Devices to the Firestick
Looking to mirror your iOS device onto your big screen, but don't have Apple TV? No problem–if you're a Firestick owner, we'll show you how to make seamless use of the two devices together for hours of home entertainment.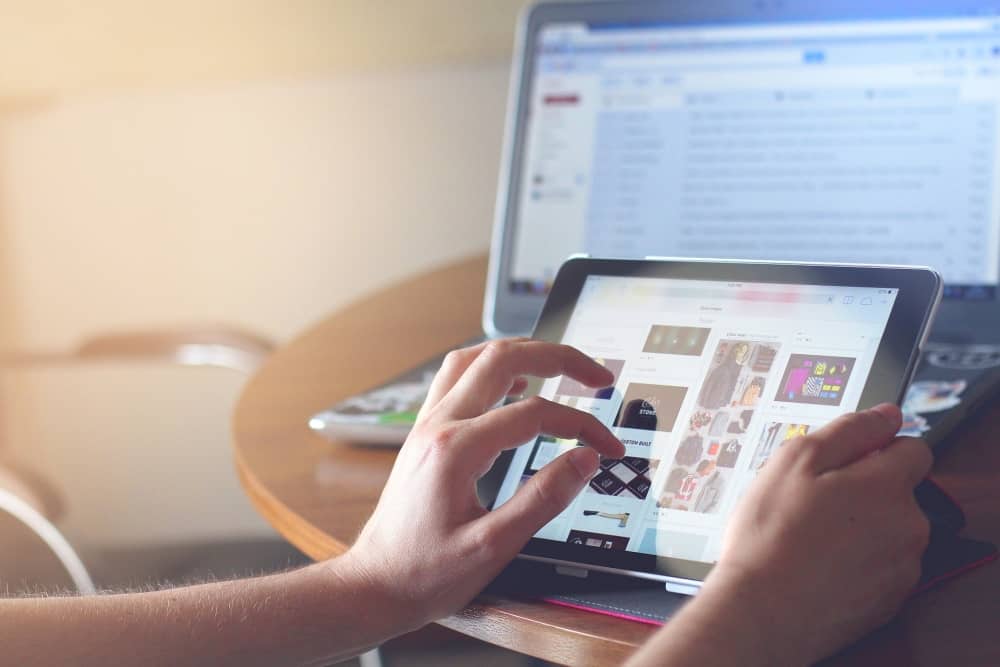 Sometimes it seems like Amazon's Fire TV and Fire Stick devices can do just about anything. You can use them to stream free movies, catch up on sports, watch live TV, play games, and so much more. With a free afternoon you can even sideload new apps onto your Fire Stick and gain access to a massive new world of content, including free TV shows and live broadcasts!
Fire TV also has a hidden feature that makes it even more useful: screen mirroring. With the right setup you can stream content from your PC to Fire TV, or even cast your iPhone screen to Fire TV.
Today we'll discuss how to mirror your iOS devices, including both iPad and iPhone, directly to your TV using Amazon's reliable Fire Stick hardware.
30-days money back guarantee
First things first – Protect your privacy with a VPN
It doesn't matter if you're streaming movies on Fire TV or watching 1080p HD movies on Kodi, you can't stay safe without a good VPN. There's always the chance someone is monitoring your online activity or trying to steal your identity. Maybe it's a mass surveillance program, a cyber criminal, or even your own ISP recording and storing data.
The only way to protect yourself and your Fire TV is to use a VPN
With a good VPN your data gets encrypted before it leaves your device, locking down private information so no one can monitor your activity or discover your location. You can stream anything you want from any source, confident that you're safe and secure no matter what.
And if you're not sure how to pick the best VPN for Fire TV, we've got all the details below.
NordVPN – Best VPN for Firestick and iOS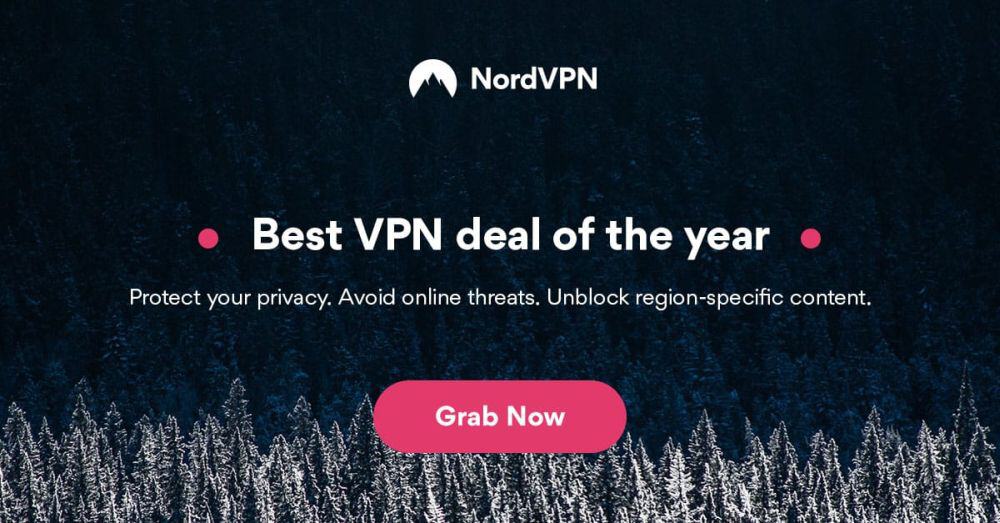 NordVPN has been around for a while, and many consider them to be the best provider in the industry. That's because they've never been content to rest on their laurels, and are constantly pushing the envelope for what makes a great VPN. Nowadays, they offer the most complete privacy solution on the market, at an attractive price point to boot.
Your subscription nets you access to an absolutely huge network, encompassing 5,500+ servers in 59 countries and tens of thousands of spoofable IP addresses. What's more, there are numerous specialty nodes optimized for a variety of common use-cases such as obfuscation, anti-DDoS, P2P, Onion over VPN, dedicated IP addresses, and even multi-hop routing. And crucially for Firestick and iOS users, NordVPN servers all feature built-in SmartPlay smart DNS functionality that allows you to seamlessly bypass advanced VPN blocking measures like those used by streaming sites like Netflix.
Need more? How about powerful yet processor-friendly apps available for virtually every device, including Fire TV and iPhone. There's even adblocking and anti-malware courtesy of CyberSec mode. And perhaps most importantly, NordVPN never keeps identifiable logs of your activity, so in conjunction with NordLynx encryption, you can stream in complete anonymity.
Read our full NordVPN review.
Pros
Very fast speeds make this a strong choice for 4K streaming
Different IP addresses aervers
DNS leak protection, kill switch
No logs and encrypted connections for total privacy
Great support (24/7 chat).
Cons
Apps can sometime be slow to connect.
Mirror iOS devices to Fire Stick – Getting started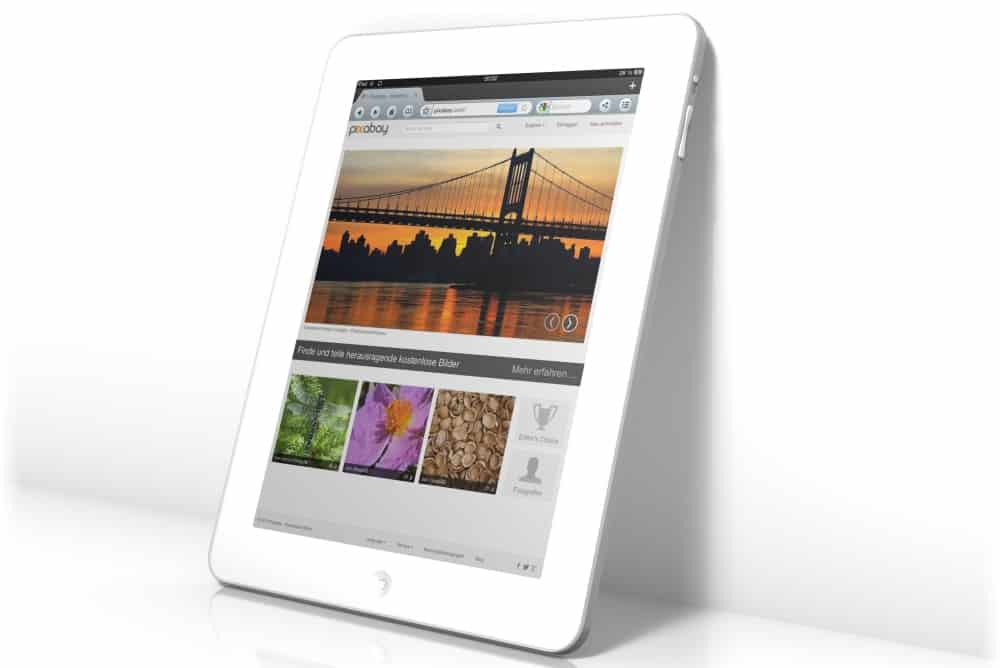 Amazon made it easy to mirror/cast content directly to Fire TV. Most of what you need for a wide variety of devices is built right into the hardware.
Things get a little trickier when it comes to iOS support, however, as Apple utilizes different protocols to cast content from iPhone and iPad to Android-based devices. We'll cover all the basics below to get you started.
What are mirroring, casting, and streaming?
There are several terms used for copying the contents of one device to another. Casting and mirroring are perhaps the most common, though you'll also hear streaming in the context of sending iOS content to Fire TV.
Mirroring – Taking the contents of one device (iPhone, iPad) and displaying them simultaneously on another (Firestick). The two screens function in practically the same way.
Casting – The same as mirroring, but generally used in context of Chromecast. Like mirroring, casting can be fast enough for playing some videos, but its main purpose is just showing one screen on another device.
Streaming – Specifically designed to send high-definition movies from one device to another, including audio. Requires beefier hardware than simply mirroring content, as a lot more data is transferred during the process.
What would you use each of these methods for? In general, streaming is the best way to watch videos that are playing on your iOS device on a big screen TV.
Casting or mirroring might not have the fidelity to preserve the content's quality. If you just want to show a website or a few pictures to someone and aren't interested in crowding around a tiny iPhone screen, mirroring is what you need.
Reliable home Wi-Fi
Your Fire TV and iPhone or iPad need to be connected to the same Wi-Fi network in order to mirror content. In other words, you can't mirror an iOS screen located in one city to a TV located in another one.
This is a simple security precaution that prevents hackers from taking over devices, but it also ensures higher quality mirroring since the two devices are using the same connection.
iOS Versions
No matter which iOS device you own, an iPhone, iPad, iPad Air, iPod, or iPad Mini, you should be able to connect and mirror content using the guidelines below.
The only catch is that most casting apps require iOS 9 or above to work. This won't be a problem for the majority of users, only people purposefully holding onto old hardware for nostalgia purposes.
Two devices, two apps
All casting solutions below require installing the same app on two different devices: one on your iPhone or iPad, the other on your Fire Stick. This allows the software to overcome the protocol differences employed by iOS and Amazon hardware used to mirror screens.
The apps ensure everything goes smoothly, but they have to be able to access and communicate between devices to make this happen.
What about AirPlay?
AirPlay is Apple's method of mirroring content from one device to another. It's incredibly easy to use if you own iPads, Apple TV, or iPhones. AirPlay isn't natively compatible with Fire TV, however, which is why we have to install separate apps in order to get screen mirroring to work.
How to mirror iOS devices to Firestick
Gather up your iOS devices and Fire TVs, it's time to install some apps! Any of the suggestions below make it extremely easy to cast or mirror content from one piece of hardware to another. Try them out and see which one you like the best.
30-days money back guarantee
AirBeamTV Mirroring Receiver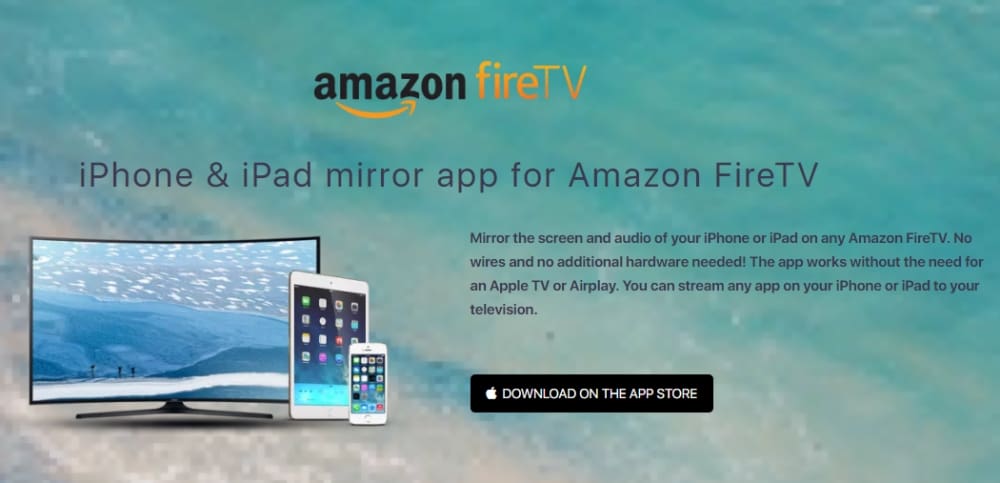 AirBeamTV's Mirroring Receiver app is one of the best iOS casting options. It works with all iPhone and iPad devices right out of the box, and it's compatible with Mac PCs and laptops, as well.
AirBeamTV passes everything from videos to music, screenshots, photos, and more, all without the need for cables or additional hardware. It's usually called the "Chromecast alternative" for iOS, and it works like a charm.
You'll need to purchase the full version of the app to use it, but apart from that there's nothing standing between you and iOS to Fire TV screen mirroring.
To get the AirBeamTV casting app up and running, start by installing it to your Fire TV. Next, purchase and install Mirror for Amazon Fire TV on your iPhone or iPad. When both apps are running and connected, you can seamlessly mirror content from your iOS or Mac device to your Fire Stick.
Video & TV Cast for Fire TV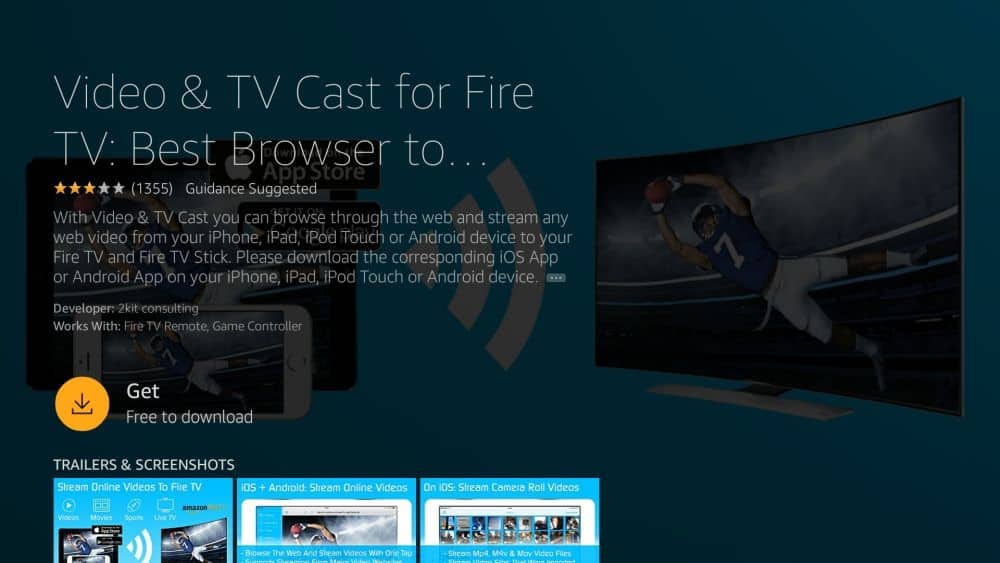 This free mirroring app from 2kit is about as straightforward as things can get. Once installed on iOS and Fire TV devices, Video & TV Cast will allow you to stream the contents of your iPhone or iPad directly to your television.
Watch videos, check out live sports, send music or photos to your Fire Stick, all with just a couple of taps. The app is free to use but offers a premium edition with several useful extras.
Download Video & TV Cast for iOS first and get it set up on your device. Next, turn on your Fire TV and install the app from Amazon. Once both apps are on and connected, all you need to do is choose which content you want to stream on your iPhone or iPad and Video & TV Cast will do the rest.
iWebTV
The iWebTV app aims to be the high-end mirroring solution for all your iOS and Fire TV mirroring needs. The app delivers HD quality video streaming, including 720p, 1080p, and even 4K movies.
It supports a huge variety of video formats, not just mp4 like many casting apps, and you can add new content to your queue without interrupting playback.
Mirroring is as simple as installing the app and hitting play, making it a superb solution for anyone trying to get iPhone content on their TV without all the hassle.
To use iWebTV, start by downloading the app for iOS. Next, get the iWebTV app for Fire TV wither by searching for it directly on the device or sending it via the link above. Once both apps are connected, open the iOS version and select the videos you want to play.
iWebTV is free to use on both devices, but there will be a banner ad obscuring some of the content. You can remove this by making a one-time in-app purchase.
AllConnect for Fire TV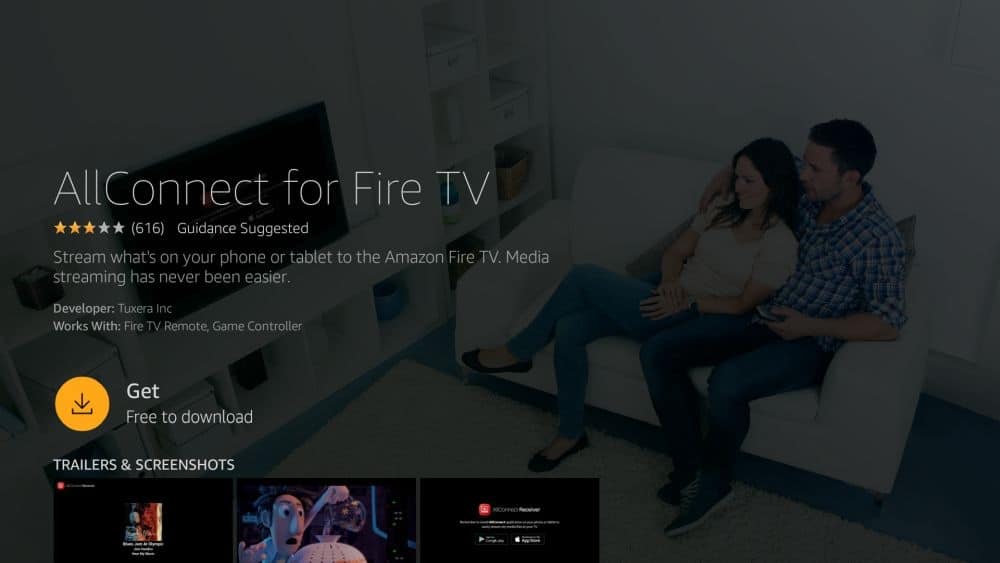 The simple, lightweight mirroring app does exactly what you need it to do: mirror content from your iPhone to Fire TV. Use it to browse video channels like YouTube and Vimeo, then send everything to your TV with a couple of quick taps.
You can also stream FLAC and mp3 music files, use it to cast Plex or Kodi content, and even play files in the background while you browse for more content. No hassles and no tricks, just a lot of easy streaming from iOS to Fire TV.
To use AllConnect, download and install the app for iOS. It's free to use but has some advertisements as well as limits on the number of devices you can connect to, both of which are removable via in-app purchase.
Next, install the AllConnect app for Fire TV. Once the software is connected on both systems, add content on iOS and start mirroring.
AirPlayMirror Receiver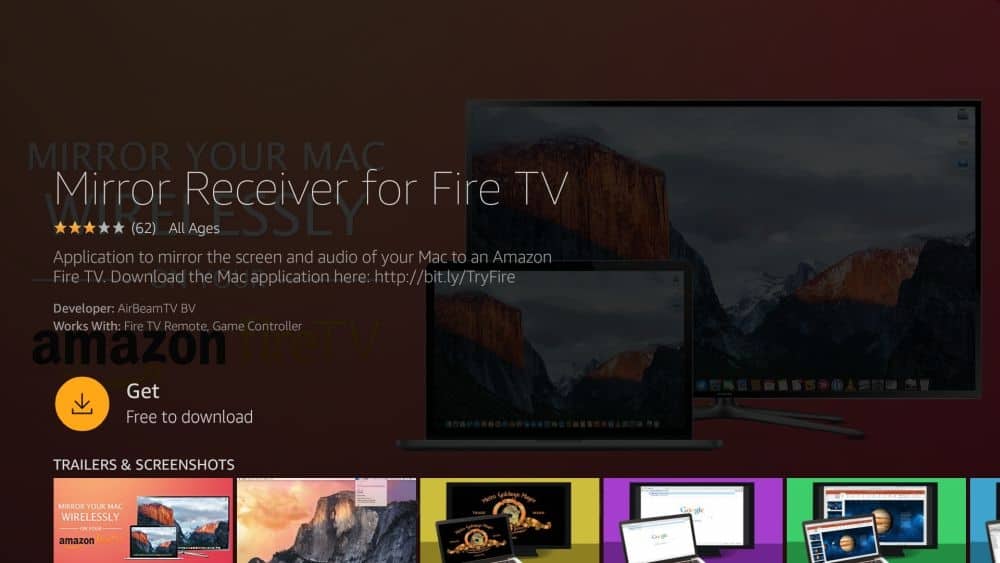 AirPlayMirror is a simple all-purpose mirroring app that works for iOS devices and Fire TV. With it you can cast from up to four Apple devices at once, watch YouTube or Netflix, and play any media content from iPhone or Mac, including photos, images, and videos.
The app isn't free, unfortunately, but it does come with a no-charge 15 minute trial version so you can test things out before getting the full version.
Using AirPlayMirror is a little different than other apps. Start by installing it on your Fire TV. Open the app and enable your device as a receiver, then grab your iPhone and enable AirPlay.
Choose your Fire TV from the AirPlay receiver list. Connect the devices, then pick content on your iOS hardware and start mirroring.
Reflector 2 – AirPlay Receiver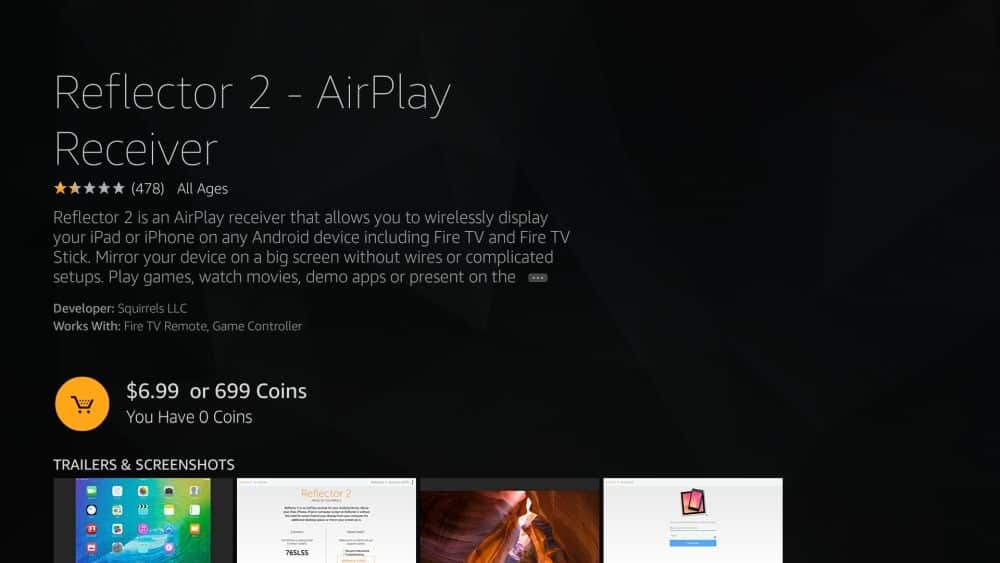 Reflector 2 takes direct advantage of Apple's AirPlay technology to let you cast your iPhone and iPad's screen to any Android device, including Fire TV and Fire Stick.
Using it is as simple as installing the app, turning on AirPlay, then choosing the audio, video, or visual image you want displayed on your TV. Reflector comes with a pretty high price tag, unfortunately, but it does what it advertises and keeps video quality high.
To use Reflector 2, start by downloading the app for your Fire TV. Install it and set the Fire TV as a receiver. Next, grab your iOS device and open the AirPlay interface.
Choose Fire TV from the list of receivers, then pick the content you want to cast and enjoy.
AirReceiver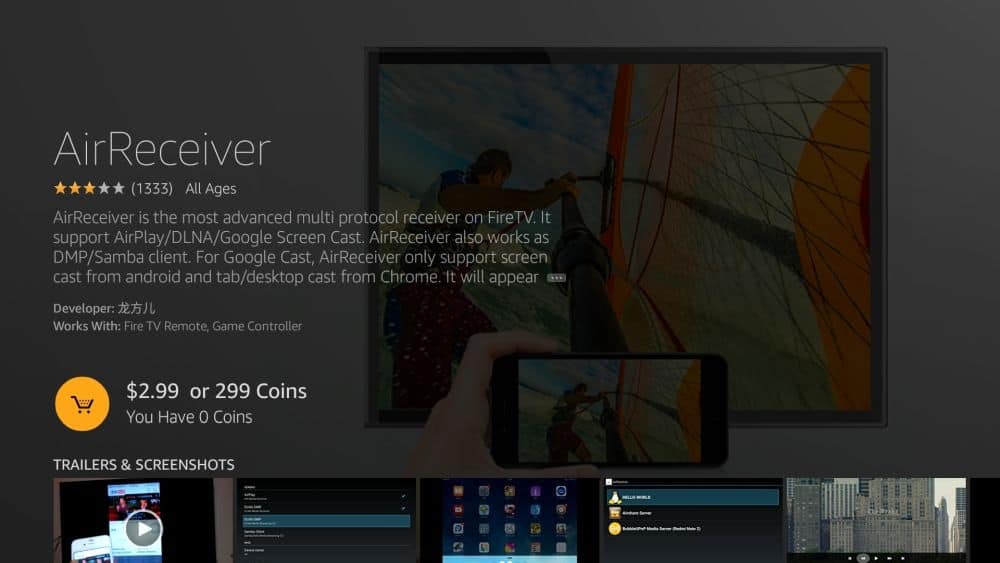 This handy full-featured app may be the most challenging to use of all the mirroring solutions, but it makes up for it with a wealth of features. With AirReceiver you can stream and mirror both music and video content from your iOS devices in stunning high quality. Send YouTube content directly to your TV, pull media from your NAS server, run the app in the background while you edit and queue more content, and so on.
The app carries a price tag, but it's worth it for the huge number of features you'll have at your disposal. Just be prepared to spend some time getting used to things before you can mirror your screen.
To use AirReceiver, start by downloading the app from Amazon's appstore. Run it and set your Fire TV as an active receiver. Next, get your iOS device and switch on AirPlay. Choose your Fire TV as a target, then simply pick the content you want to mirror.
Mirroring iOS Devices with a VPN – Does it Work?
VPNs have nothing to do with streaming, casting, or screen mirroring. They can't help you beam content from one device to another, and they don't interfere with the process, either.
Nevertheless, it's a very good idea to keep a VPN running in the background of both your iOS and Fire TV devices, as you never know what kind of personal data you might be sharing with the world wide web. Use our guide below to protect your information before mirroring a single file.
To get started with VPN-protected mirroring, first open a web browser on your Mac or Windows PC, then sign into your VPN account. Use the links inside to send apps to Firestick and iPhone/iPad. You'll need to set the service up on both devices, not just the iOS hardware.
Install the VPN on your Fire TV and iPhone/iPad. Launch each one, then sign in using your VPN credentials. Most apps will automatically connect to a fast server as soon as you launch.
Give it a moment to locate the best node, and once it's active, you can safely minimize the VPN app and let it run quietly in the background.
After you've completed the steps above, choose an app and follow the mirroring instructions in the previous sections to start the casting process. Your VPN won't interfere with your connection in the slightest, giving you a safe and secure streaming experience.
Conclusion
With all the movies, TV shows, apps, and games available on Fire TV, you'll never be bored again. With screen mirroring available on your iOS devices, you'll also never run out of ways to share content between hardware.
Why play iTunes movies on that small screen when you can beam it straight to your HD TV?!
Which mirroring app do you like the best?
What are you most looking forward to streaming once you get things set up?
Let everyone know in the comments section!