We are reader supported and may earn a commission when you buy through links on our site.
Learn more
How to Watch ESPN Live on Amazon Fire TV and Fire Stick
Looking for a guide showing you how to stream ESPN Live on your Amazon Firestick? Read on! We demystify the process of unlocking hours of live sports streams. Using a VPN, you can even retain access to ESPN should you travel abroad. We show you how below.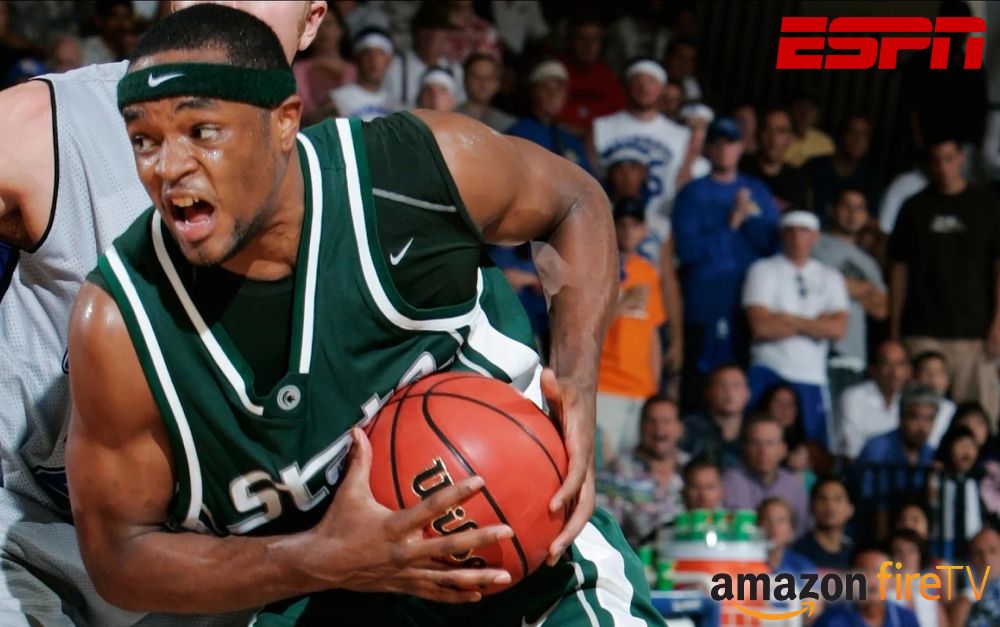 There's no shortage of broadcast channels and video streaming services that deliver a 24 hour sports feed. One of the biggest and best is ESPN, the U.S.-based cable and satellite network. The channel has been a top destination for a huge variety of sports for over four decades, including football, basketball, soccer, hockey, golf, tennis, and everything in-between.
With the rise of cable networks and the subsequent popularization of digital media, ESPN did everything it could to stay on top of the game. Cordcutting is the new way to get live sports, and ESPN isn't fighting the movement.
Running short on time before the game? Unblock ESPN Live on Firestick anywhere in the world with these buffer-free VPNs:
NordVPN – Best VPN ESPN – NordVPN is the world's premier site unblocker, with thousands of US servers you can use to unblock ESPN Live on Firestick. Stream buffer-free and free from ISP throttling thanks to unbreakable NordLynx encryption.
Surfshark – A budget VPN that punches well above its weight in terms of features. Powerful encryption, leak protections, smart DNS available.
ExpressVPN – The fastest VPN, with stable servers that won't drop out in the middle of the game. Now even faster with Lightway encryption.
IPVanish – The classic solution for Firestick, and an outstanding choice for low-powered streaming devices of all kinds.
Using a device like an Amazon Fire TV or Fire TV Stick, you can quickly and inexpensively stream ESPN and countless other sports channels from the comfort of your own home. No expensive cable subscription required, just a Fire TV and an endless barrage of football.
30-days money back guarantee
Remember to Stay Safe while Streaming
Keeping your online activities private is growing more difficult by the day. Internet service providers have been caught collecting user information and selling it to advertisers, government agencies engage in mass surveillance programs, and hackers are lurking at every corner. A normal connection to the internet doesn't offer any kind of protection against these threats.
To keep your activity secure, you need a solid virtual private network.
VPNs encrypt data that leaves your device, making it impossible for anyone to tell what sites you visit or what you're streaming. They also keep your identity hidden by routing traffic through non-local servers, blurring out location details and replacing them with anonymous IP addresses.
All you have to do is run the VPN in the background while you stream. The software takes care of everything else, and you stay safe no matter what.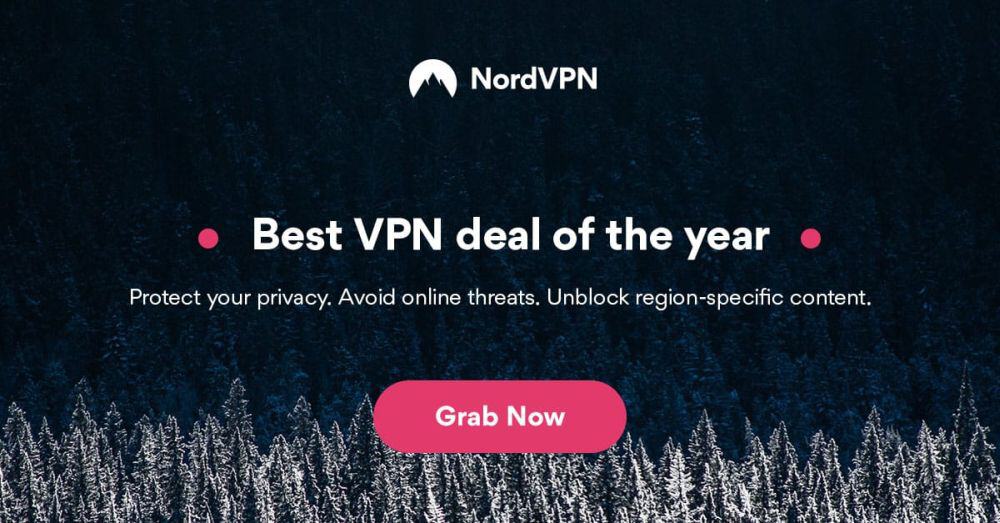 NordVPN is the most powerful privacy solution on the market, and has all the tools you need to unblock ESPN Live from abroad. Yes, it's compatible with Firestick, offering snappy performance and low-latency connections that make buffering a thing of the past. What's more, with 256-bit AES encryption via NordLynx on your side, you'll hide your activity from ISPs, shielding you from unfair throttling or outright content blocking.
Moreover, NordVPN respects your privacy, enshrining your right to anonymous VPN connections in an independently vetted no-logging policy. Overall, there's no more reliable method for watching the game on Firestick than with NordVPN.
Read our full NordVPN review.
Pros
Unblocks US Netflix, iPlayer, Amazon Prime and other streaming services
Extensive server park of over 5,400 different servers
Torrenting/P2P explicitly allowed
Strict zero logs policy on both traffic and metadata
Customer Service (24/7 Chat).
Cons
Some servers can have average d/l speeds
Can't specify City or Province in App.

Surfshark is an incredible deal, offering NSA-grade encryption at rock-bottom prices. It offers reliable content unblocking thanks to built-in smart DNS and blanket obfuscation on each of their 3200+ servers in 65 countries. Thus, any US server will work perfectly to access ESPN Live. And with myriad leak protections, adblocking, a kill switch and one of the industry's best no-logging policies, Surfshark truly has your back.
Pros
Robust servers blast through geoblocks to access your favorite streaming sites
Unblock Netflix on any server, no more picking and choosing
TrustPilot 4.3/5 rating
Based in the British Virgin Islands, where there are no data retention laws
Helpful 24/7 live chat with an actual human being.
Cons
Growing network doesn't have same coverage as more mature VPNs
Power users may wish for more settings to fiddle with.
Read our full Surfshark review.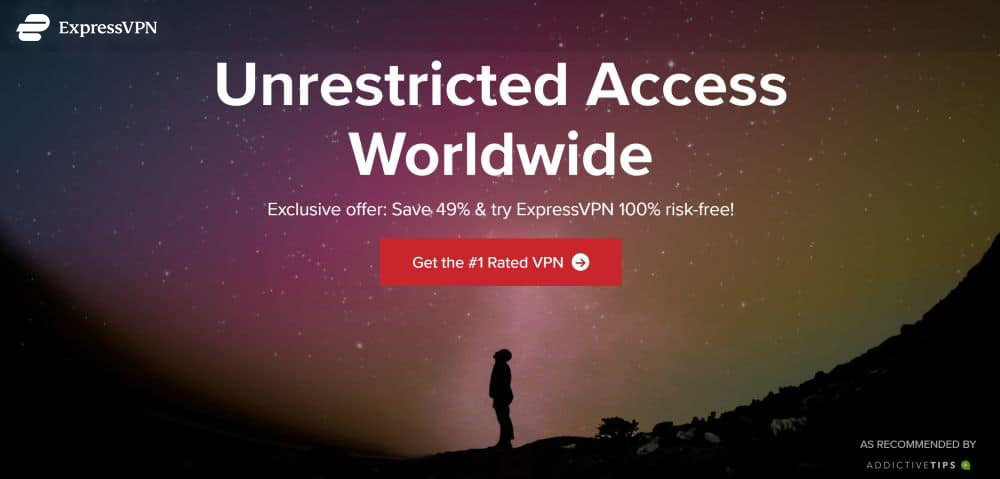 Internet speed is crucial when you're trying to stream live sports, especially if you're accessing an HD feed. ExpressVPN ensures you always have a fast connection to the 'net, all without sacrificing online privacy. The company runs a solid server network (over 3,000) that covers hundreds of locations in 94 different countries, each one secured with 256-bit AES encryption and a zero-logging policy on traffic, DNS requests, and IP addresses.
You also get to take advantage of automatic kill switch and DNS leak protection features to keep your identity secure.
Read our full ExpressVPN review.
Pros
Unblocks US Netflix
94 countries, 3,000+ servers
Very simple and easy to use
No logging policy well enforced
Live Chat Support.
Cons
Power-users configuration options.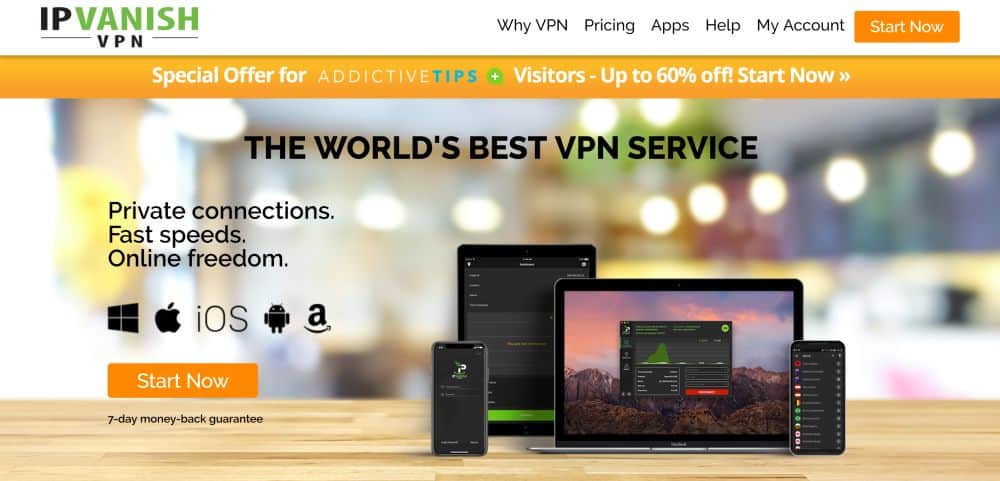 IPVanish has all the right ingredients for a solid VPN, especially if you use it with Fire TV.
The network is 1,300 servers strong, covering 60 different countries with low-latency and high speed scores across the board. DNS leak protection and an automatic kill switch keep your identity secured at all times, and you'll enjoy 256-bit AES encryption and a zero-logging policy on all traffic.
IPVanish is one of the easiest VPNs to use with Fire TV, as you can download and run it directly from the appstore.
Read our full IPVanish review.
Watch ESPN Live on Amazon Fire TV – Best Paid Options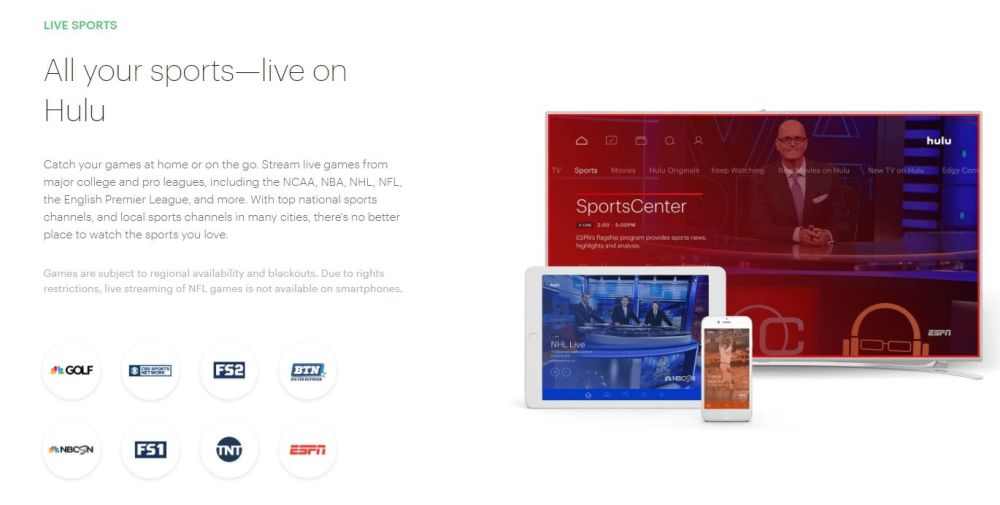 Getting your sports fix has never been easier. It's also much more affordable than in the past, all thanks to intense competition from competing online streaming services. ESPN is available through a variety of subscription services as a base-level add-on. All you have to do is download the app to your Fire TV, set up an account, then let the HD sports feeds commence!
Hulu with Live TV
The U.S.-based streaming service is one of the largest and most popular in the world, ranking just below Netflix in terms of user base and volume. Joining Hulu means gaining instant access to a massive variety of current and classic TV shows, with new episodes added the day after they air. You'll also get to watch a few select movies and enjoy Hulu's exclusive original programming. Not a bad deal, especially if you're a binge watcher!
A new service Hulu has been experimenting with is Hulu with Live TV. This flat fee subscription lets customers in the United States enjoy a big selection of broadcast channels shown live on any device 24/7. This includes ESPN, ESPN 2, and ESPNews, along with dozens of other sports, broadcast, and cable network channels.
To watch ESPN, simply download Hulu to your Fire TV, sign up for the Live TV service, then choose ESPN and start streaming.
PlayStation Vue
Just because it has "PlayStation" in the title doesn't mean you can't use it on Fire TV! The PlayStation Vue streaming service targets cordcutters fed up with the high price of cable TV. Vue delivers hundreds of on-demand and live channels in different packages, each one focusing on certain themes like live sports, movie releases, and TV shows.
PlayStation Vue splits packages into four tiers: Access, Core, Elite, and Ultra. Each one adds new features and includes the content found in lower packages. ESPN is available at the base Access package for $39 per month. Upgrade to the $45 Core tier and you can watch both ESPN2 and ESPNews, along with plenty of other sports and cable channels.
To watch ESPN on Fire TV with Vue, simply download the app to your device, then sign up for any of the packages.
Sling TV
The "a la carte" TV streaming service Sling takes a wonderfully unique approach to live channels. Instead of bundling things together in packages, you get to pick and choose only the channels you're interested in. This is perfect for sports fans who just want live games, not all these weird kid shows and daytime movie channels shoved in with most cable packages. Pay for the content you want, not what the streaming service wants you to buy.
ESPN is available via Sling TV. You can grab the network on its own, or sign up for the sports extras that includes ESPN and other live broadcasts. You'll need the most basic Sling package before you can add ESPN, which is the $20 Orange tier. After that, you're free to add or remove content as you like!
To watch ESPN on Fire TV with Sling TV, download the app to your device, set up an account, subscribe, and start streaming.
Other Ways to Watch ESPN Live on Fire TV
The above resources are easy to use, inexpensive, and offer high quality access to live TNT sports streams. Not all of them are available outside the U.S., however, and even if you have a good VPN you may not be able to load the streams. If that's the case, check out the alternative resources listed below. They won't be quite as reliable, but if you're in a bind, they're worth a shot!
Note: The add-ons below may access content marked as illegal in your country or region. Addictive Tips does not condone the use of piracy to access content illegally. Please consider the victims of piracy and know there may be consequences for your actions.
WatchESPN for Fire TV (Official App)

ESPN has a dedicated streaming app called WatchESPN. They released an official Fire TV version a few years ago that brings in all the functionality of the main app fine-tuned for Fire devices. WatchESPN gives you full access to live sports, major events broadcast on ESPN, news and highlights videos, and game analysis from all your favorite ESPN commentators.
To use WatchESPN for Fire TV, simply download the app to your Fire TV. You'll need to sign in with an existing cable or satellite provider to unlock the content, but beyond that it's completely free to use.
Stream ESPN on Fire TV with Kodi
If you're not averse to sideloading content on your Fire TV, you can crack open a massive new world of entertainment options. All you need to do is read our guide on how to install Kodi on Fire TV, then install either of the add-ons listed below. In just a few minutes you'll have access to ESPN and hundreds of other live sports channels from around the world!
ESPN on the FTFA Kodi Add-on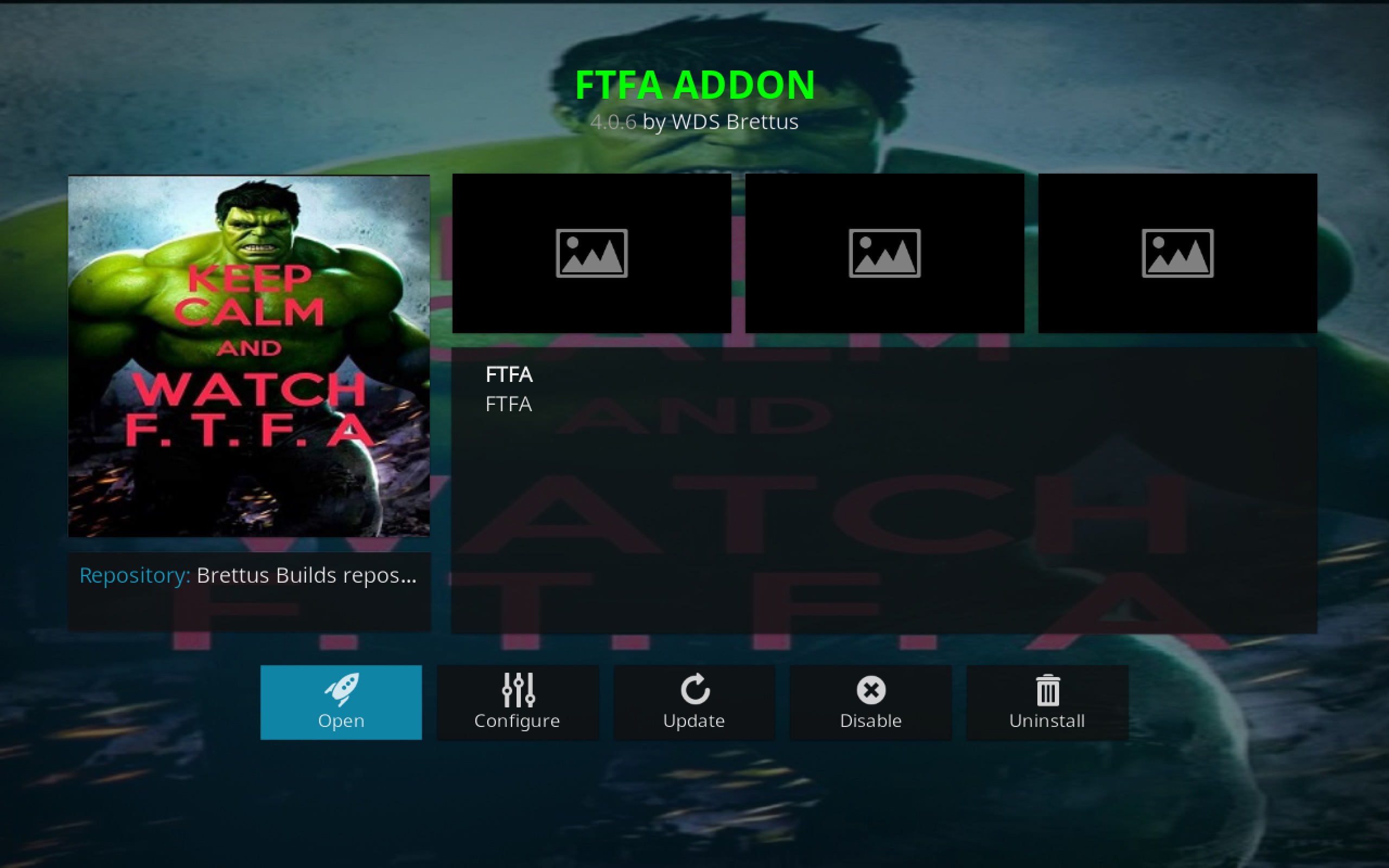 FTFA is one of the best live stream add-ons for Kodi. The service collects hundreds of channels from the U.S. and UK, bundles them in server groups, then presents you with a massive list to browse through. All you need to do is hunt for the channel you want and click to start the stream. It's fast, friendly, and high quality, too!
How to Install FTFA
Once you've got Kodi on your Fire TV, all you need to do is install the Brettus Repository, then the FTFA add-on itself. Follow the step by step tutorial below and you'll be ready to go.
Run Kodi on your Fire TV, go to the main menu, then click the gear icon.
Go to File Manager > Add Source.
Add the following URL into the text box: https://toptutorialsrepo.co.uk/kodi/Repos/
Enter an easy to remember name, such as .toptut
Click OK. Kodi will add the repo to your sources list.
Go to the main menu and select Add-ons.
Click the box icon at the top of the menu.
Choose Install from Zip File, then select the repo above.
Scroll down and find the file named repository.Brettusrepo-#.#.zip
Install the repo, then go back to the open box menu.
Choose Install from Repository.
Select the entry named Brettus Builds Repository.
Navigate to Video add-ons and scroll until you see FTFA.
Install, then launch the FTFA add-on.
How to Watch ESPN on FTFA
FTFA aims to replicate a satellite TV experience, not an on-demand movie program. To that end, the add-on packs its content into servers by location, then simply lists channels in one big collection. It can take some getting used to, but it also encourages you to try out new sources, some of which you may like more than ESPN!
To get at ESPN, start by choosing one of the U.S. IPTV server locations. Scroll down the alphabetical list until you see ESPN. There are usually half a dozen or so channels online at any moment. At the time of writing we could access ESPN, ESPN2, and the HD broadcasts of both channels. This may vary from day to day, but there's always something good to watch.
Vader Streams Kodi Add-on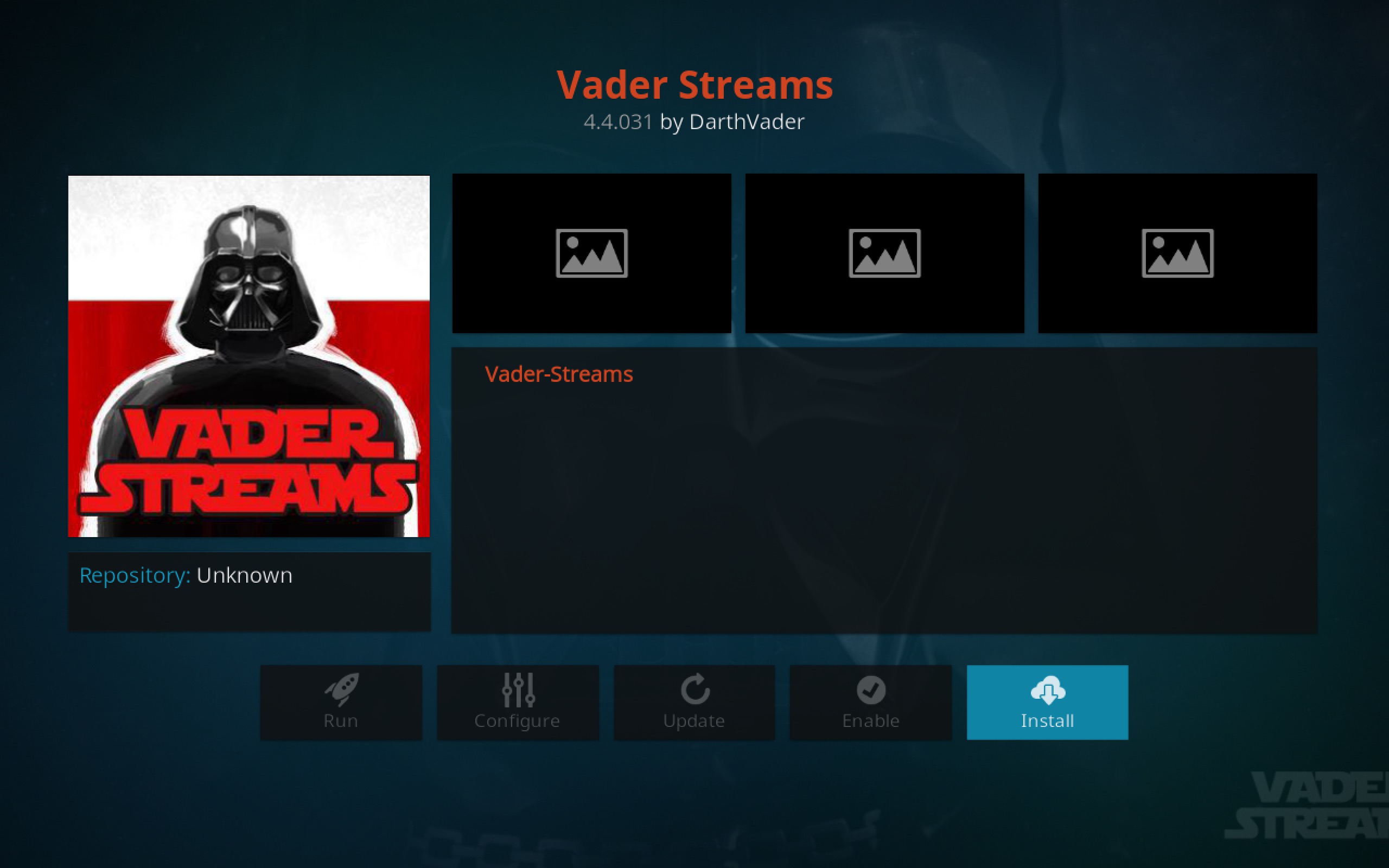 Vader Streams for Kodi offers a huge selection of live IPTV channels delivered directly to your device, including Fire TV. The add-on lets you access thousands of channels from around the world, all you have to do is verify your account and pay a minimal subscription fee of $15 per month, which is less than most streaming services charge.
To use Vader Streams you'll need to set up an account. Go to the official website and browse the packages, pick one that fits your budget, then enter your details and pay. Login information will arrive via e-mail shortly afterwards, giving you fast access to a variety of ESPN channels on your Fire TV through Kodi, not to mention hundreds of other streaming sources.
Installing Vader Streams
With a Vader Streams account ready and Kodi properly set up on your Fire device, it's time to install the add-on.
Start at Kodi's main menu, then click the gear icon at the top.
Scroll to File Manager, then choose Add source in the left pane.
In the new window, click the center where it says <none>.
Type the following URL into the box that opens: https://vaders.tv/repo
Click OK, then type a name in the box where indicated. Use something descriptive like vader
Click OK, then return to the Kodi main menu.
Open Add-ons and click the open box icon at the top.
Choose Install from zip file and select the entry you created above.
Click the file marked repository.vader-streams.tv-#.#.#.zip followed by repository.vader-streams.tv-#.#.#.zip
Wait for the install to complete.
From the open box menu, choose Install from repository.
Scroll down and open Vader-streams.tv Add-ons
Enter the Video add-ons folder and choose Vader-Streams.
Install, then access the add-on from the main menu.
Using the Vader Streams Add-on
Once you have an account set up and the add-on installed, Vader Streams lets you pick and choose channels from a main list of sources. To watch ESPN or ESPNews, just fire up the app, make sure you're logged in, then choose the channel you want to watch. Vader Streams automatically picks the most reliable sources and delivers them to you without fuss.
Conclusion
There are dozens of options for watching ESPN live on Amazon Fire TV. Some deliver the full selection of ESPN content, some focus on HD streams and on-demand archives. All of them are fast and convenient, letting you enjoy your favorite sports without having to sign up for expensive cable or satellite TV packages.