We are reader supported and may earn a commission when you buy through links on our site.
Learn more
How to Sideload Apps on Amazon Fire TV and Fire Stick
Sideloading apps onto Amazon's Firestick isn't nearly as difficult as it's made out to be. With step-by-step instructions like the ones we provide below, absolutely anyone can dramatically boost the utility of their streaming stick. Ready to access a world of exciting new content? Read on!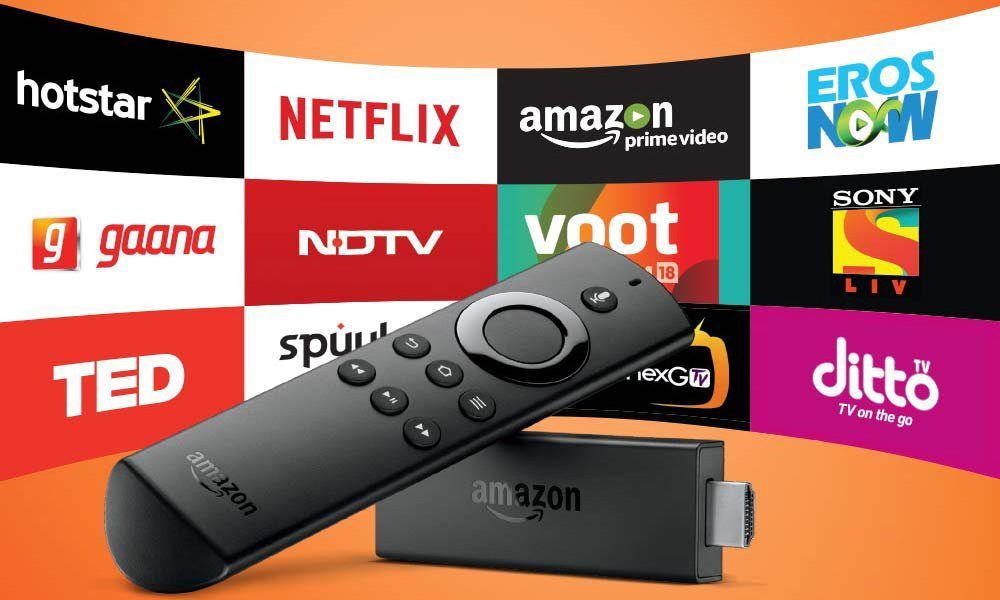 In the mood to do some Fire TV hacking? Sideloading apps isn't exactly high level software manipulation, but it does let you do more with your Fire TV than intended. With sideloading you can install software otherwise unavailable on the Amazon appstore, no rooting or jailbreaking required. Simply pick out your compatible apps, follow the guide below, and you're set!
30-days money back guarantee
Stay Anonymous and Safe with a VPN
Everybody wants to stay safe online, but very few people take steps to achieve it. Our data is routinely sent across the world unencrypted and unprotected, making it easy for government agencies to track us, ISPs to sell private information, and hackers to pick and choose their targets. Even streaming content on Fire TV transmits your personal data across the internet.
VPNs make it easy to stay safe and hidden online. VPNs create a private tunnel of encryption between your device and the internet. With encrypted data nobody can tell who you are or what videos you're streaming, keeping everything safe from prying eyes. This is a great way to protect your smartphone or Fire TV while traveling and using hotel Wi-Fi, or just to prevent your ISP from throttling your internet speeds.
NordVPN – Best VPN for Amazon Fire TV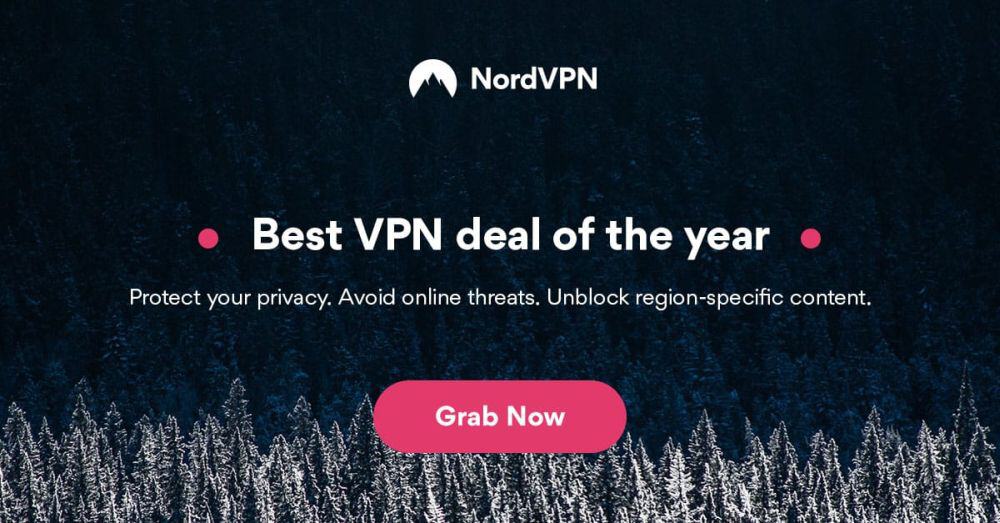 Once upon a time, NordVPN was unavailable for direct download onto Firestick. You couldn't even sideload it; it had to be installed onto your router first. Those days are over, and the world's best VPN is now natively available in the Amazon Appstore.
This is good news for privacy buffs and streaming aficionados alike. Simply connecting to one of their 5,800+ servers in 59 countries gives you the ability to spoof past geoblocks, and access all types of foreign content. But because these server connections come protected by 256-AES encryption courtesy of the ultra-fast NordLynx protocol, you can block out ISP snooping at the same time. What's more, VPN spoofing often alleviates unfair network throttling, allowing for buffer-free streams on your Firestick.
Additional provisions include SmartPlay, a smart DNS function which allows you to get past even the toughest site blocks like Netflix's infamous proxy error. You also get DNS leak protection, and a strong no-logging policy that ensures you never leave a trace of your activity behind.
Read our full NordVPN review.
Pros
SPECIAL OFFER: 2-yr plan (68% off - link below)
Fast and stable connections
Zero leaks: IP/DNS/WebRTC
Retains no metadata of your browsing
24/7 Customer Service.
Cons
Very little
They can take 30 days to process refunds.
Basics of Sideloading Apps on Fire TV
Sideloading isn't as complicated as you might think. The process refers to installing apps on any piece of hardware without going through the main channels (iTunes App Store, Google Play, etc.). It can involve jailbreaking or rooting, it can even mean physically altering your device. No matter the method, the results are always the same: unrestricted access to install anything you want.
Sideloading apps on Fire TV couldn't be more straightforward. You won't need root access, you won't need to tamper with your hardware. All you need is a third party app and Wi-Fi access and you're set. To speed things up you can even use free PC software to sideload apps manually.
Is Sideloading Safe?
Perfectly safe, yes. Sideloading on Fire TV doesn't require any kind of hacking, just accessing the device from a Wi-Fi network and installing software by hand. You're not tampering with the operating system or doing anything the Fire Stick can't handle. Feel free to install a few or even a few dozen apps. That's what this thing is made for, after all!
Which Apps are Compatible with Fire TV?
Fire TV runs on a modified version of Android. This means that, for the most part, you can install Android apps and they'll work fine. To get better results, stick to apps that specifically state they work with Fire TV. Kodi is the perfect example of this. The software isn't available to download directly to your Fire device, but by sideloading it, you can run the media center app without any issues.
Prepare Your Fire TV to Sideload
The Fire TV operating system comes with a built-in option to enable or disable external installations. It's disabled by default, so if you try sideloading you'll just get an error. If you enable it, however, sideloading is a breeze. Follow the quick steps below to prepare your Fire TV for the process.
Go to your Fire TV Stick's settings page located at the top of the home menu.
Scroll right and choose Device
Move down to Developer Options
Set Apps from Unknown Sources to ON.
Accept the warning message about installing external apps.
How to Sideload Apps on Fire TV
Below are some of our favorite methods of sideloading apps on Fire TV. Each one has its own strengths and weaknesses, so you don't have to use them all. Try one out, and if it seems confusing or simply won't work, try another one!
Method 1 – Downloader App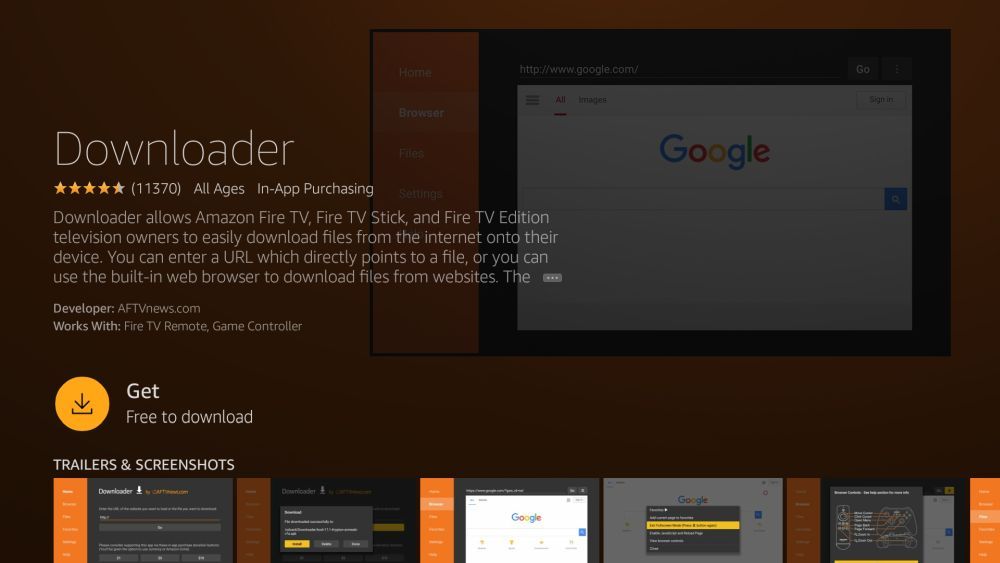 The simplest way to sideload software onto your Fire TV is to use Downloader. This app is completely free and can be found on the Amazon appstore in your Fire TV. All it does is provide an empty URL bar for you to enter download links for apks, the files Android devices use to install apps. Type in the link and Downloader will grab the apk and installation will begin shortly.
Requirements: Fire TV, a connection to the internet, about 30 seconds of free time.
Open the Amazon appstore on your Fire TV.
Search for Downloader and install the program.
While that installs, go to another device and locate the direct URL for the apk you want to install. Make sure it ends with .apk, otherwise it won't work.
Open Downloader and type in the URL. You can also use the built-in browser to navigate the web, but it's much easier to use a PC.
Download the file through Downloader. Once complete, you can install it by selecting "Files" within the interface.
Sideloaded apps will appear on your Fire Stick's main page along with the rest of your software.
Method 2 – adbLink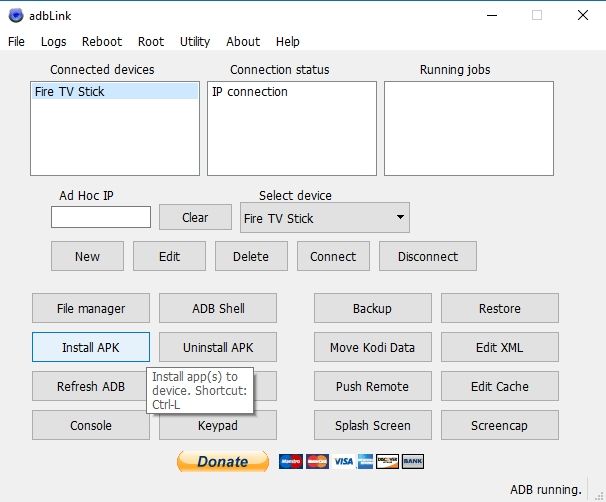 adbLink is a free third party program for Windows, Mac, and Linux. It connects directly to your Fire TV over Wi-Fi and can be used to manage installed programs, add new content, or remove apps you no longer need. It's extremely easy to use, especially since you'll have a full PC keyboard and mouse to work with. The setup can be a little more confusing for some people, though, since you need to find IP address information before beginning. Work your way through the early steps and you'll find adbLink is by far the best way to sideload apps on your Fire TV.
Requirements: A PC or laptop connected to the same Wi-Fi network as your Fire TV.
On your Fire TV Stick go to Settings > About – Network and write down your device's IP address.
On your PC visit the adbLink website and download the program for your operating system.
Run and install adbLink.
In adbLink click "new" next to the devices box and add your Fire TV Stick.
In the next window, type a unique description and the IP address of your Fire TV Stick.
On your PC, download the apk files you want to add to your Fire Stick.
In adbLink, click the "Install APK" button.
Navigate to the file you downloaded and click "ok"
adbLink will automatically install the app to your Fire TV device.
Method 3 – apps2fire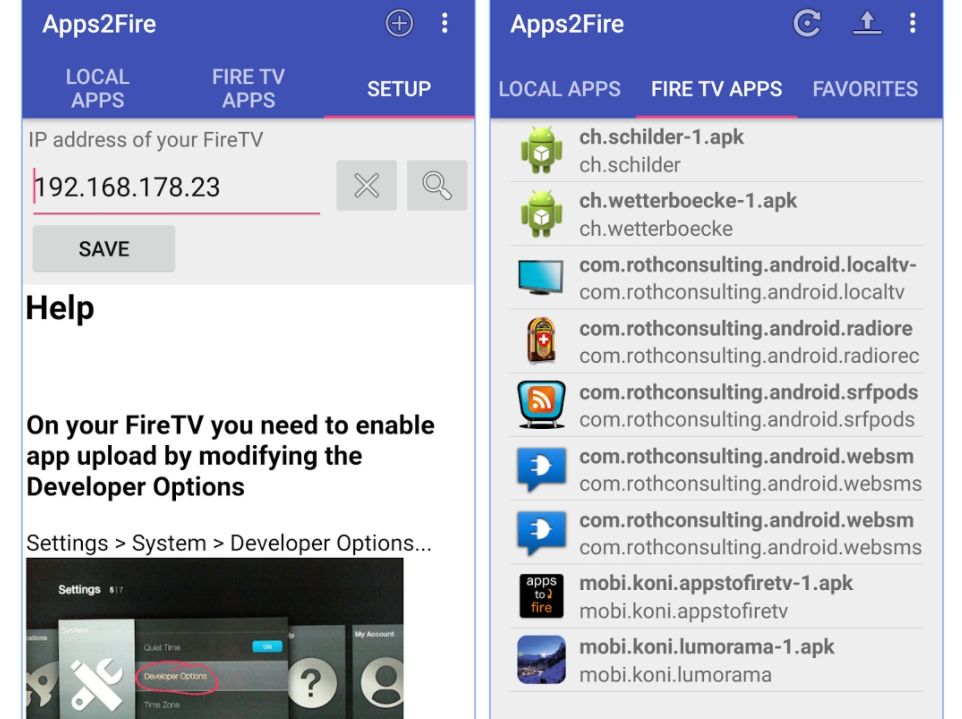 Got an extra Android device laying around? An old phone or tablet will do just fine, it doesn't need to be powerful or up-to-date. With an additional piece of hardware you can install apps2fire, a straightforward app that lets you "push" content from one Android device to your Fire TV. It's entirely free to use, all you have to do is download it, download the app you want, then send it to your Fire TV.
Requirements: A separate Android device connected to the same Wi-Fi network as your Fire TV.
On a separate Android device, install apps2fire from Google Play. Make sure it's the one developed by Koni, as there are some copycats.
On the same device, search for the app you want to install on your Fire TV. Install it as normal.
Run apps2fire and let it create a list of your local installs.
When the scan is complete, slide the menu left and tap Setup.
On your Fire TV, go to Settings > About – Network and write down the IP address on the right.
In apps2fire, enter your Fire TV's IP address from the above step, then tap "Save". You may also need to tap "Search Fire TVs" just below that.
Go to the Local Apps tab and scroll down to the app you want to install on Fire TV.
Tap the app, then select "Install" when the window opens.
After a moment, the app will upload to your Fire TV and automatically install. This can take a few minutes depending on the app's size and the speed of your internet connection.
Run the app on Fire TV.
Method 4 – ES File Explorer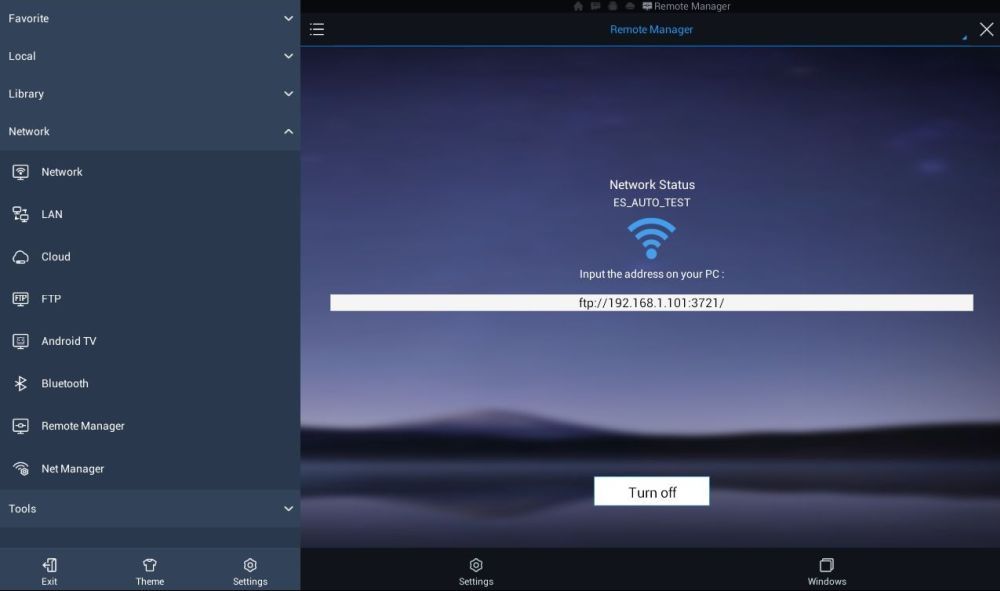 ES File Explorer is an incredibly useful multi-purpose utility. It lets you navigate your Fire TV's file structure, look for downloaded content, and even manage some functions remotely. It's also great for sideloading apps, though some users may find its interface more confusing than useful. Either way, ES File Explorer is free, and it makes it easy to install third party apps on your Fire device without running separate programs.
Requirements: Fire TV, a PC with FTP software, and a few minutes of your time.
On your PC, find the app you want to sideload onto your Fire TV.
Download the apk file and save it somewhere easy to access.
On your Fire TV, go to the appstore, search for and install ES File Explorer.
Run the explorer, then go to Network > Remote Manager from the menu on the left.
Click the Turn On button at the bottom. An FTP address should show up.
On your PC, run an FTP program like Filezilla and type the FTP address as it appears.
Your FTP program will now have direct access to your Android TV's file structure.
Navigate to the Download folder in your FTP program.
Copy the app's apk you downloaded into this folder.
When the transfer completes, go back to your Android TV.
Click the Turn Off button to terminate the FTP connection.
Navigate the left menu in ES File Explorer and choose the Download folder.
The new apk will load on the right. Select it to install it to your device.
Accept any permissions requests and you're ready to go!
Best Apps to Sideload on Fire TV
Now that you know how easy it is to sideload apps on Fire TV, it's time to install some fun stuff! You can add just about any Android-compatible app to your Fire Stick, everything from streaming resources to games. You're still limited by the Fire TV's low-powered hardware and remote control interface, of course, but that doesn't mean there aren't dozens of great sideloading options at your disposal.
VPN
Our recommended VPN service IPVanish can be installed directly from Amazon's appstore. If you already use another VPN, though, you can easily sideload their app onto your Fire TV. Check the VPN's support pages for a direct link to an Android or Fire TV apk. Copy the link or download the file and use one of the methods above to sideload it, then you're set! If you need a hand, check out our guide on how to put a VPN on a Fire TV the easy way.
Kodi
The king of all media streaming apps isn't available on Fire TV directly. Sideloading it is another story, though. Fortunately the Kodi team keeps their software lightweight and easy to use. It runs perfectly fine on Fire TV and makes for a great movie and TV show binge watching resource. For detailed instructions, check out our guide on how to install Kodi on your Fire TV Stick.
YouTube
In early 2018 Google announced it would remove YouTube from the Fire TV marketplace. This was a huge blow to video fans, of course, but sideloading experts didn't panic. The Android YouTube still works perfectly on Fire TV, all you have to do is install it yourself. The best way to do this is to follow method three outlined above, as finding a clean YouTube apk can be risky.
Conclusion
All set to start your sideloading adventure? There are countless apps you can install on Fire TV, all without breaking your warranty or harming the hardware. Unlocking a new world of streaming options is as easy as sideloading the right apps, and that just takes a couple of minutes, tops! Got a favorite app you love sideloading on Fire TV? Share your thoughts in the comments below!