We are reader supported and may earn a commission when you buy through links on our site.
Learn more
How to Download and Display Subtitles in Kodi
Lots of people like to watch shows or movies in other languages – for example, maybe you're an anime fan who wants to watch Japanese animes but you need English translations, or you might want to watch a TV show like Narcos which has dialogue in both English and Spanish but you don't understand Spanish. Sometimes, video files will have subtitles hard-coded into them (this means that the text of the subtitles is saved as a part of the video file) so when you play them you will always see the subtitles automatically. But often, especially if you are streaming videos from the internet, then the video files will not have subtitles attached to them. In these cases, you need to display subtitles on the video. Subtitles are also useful for those who are hard of hearing, or those who want to watch videos at a low volume so as to not disturb other people nearby.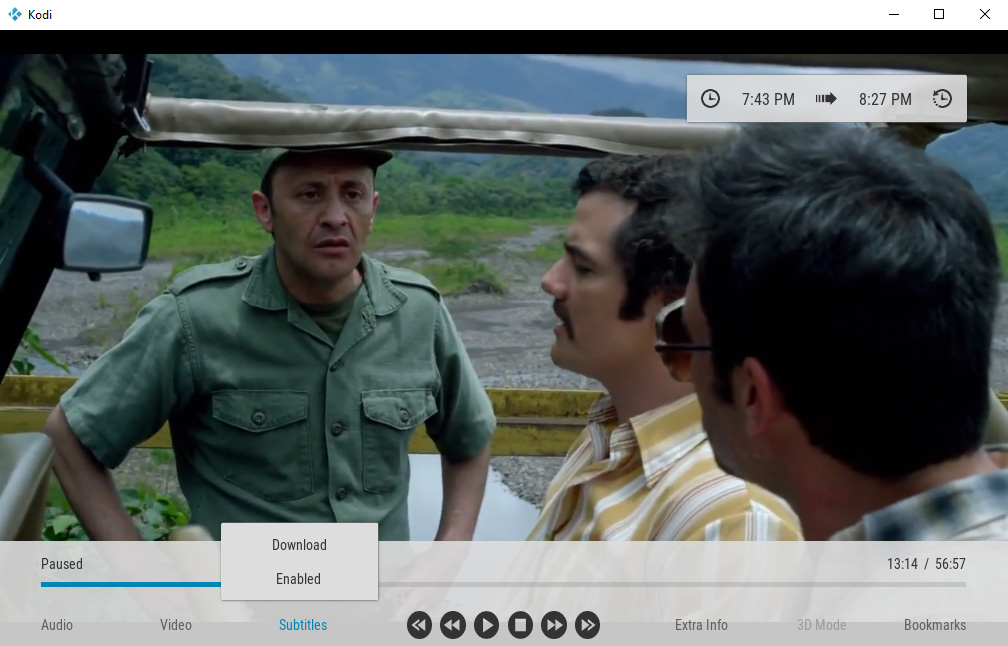 In these cases, you can use Kodi's subtitle function to display subtitles in the language of your choice. This process requires a little bit of setting up, but once you have set up your subtitle system then you can very quickly find subtitle files for almost any different TV show episode or movie in a large number of different languages. Below we'll show you step by step instructions and tips on how to download and display subtitles in Kodi.
30-days money back guarantee
Why You Should Get A VPN To Use With Kodi
The Kodi software itself is fully legal and is free to use. It is also open source, meaning that anyone can view the code of the program and can edit it to create their own form. This is how add-ons are created: people who are not officially affiliated with Kodi decide to create an additional piece of code which performs a new function. These add-ons can then be shared over the internet where users can download them.
The problem is that these add-ons are unmonitored and that some add-ons may allow users to access content illegally. If you are caught using one of these add-ons by your ISP then you could be liable for prosecution or for a fine. To stay safe, we recommend you use a VPN, which protects you by encrypting all of the data that your device sends over the internet. So equipped, no one – not even your ISP – can see what sites you have been visiting or whether you have been streaming content.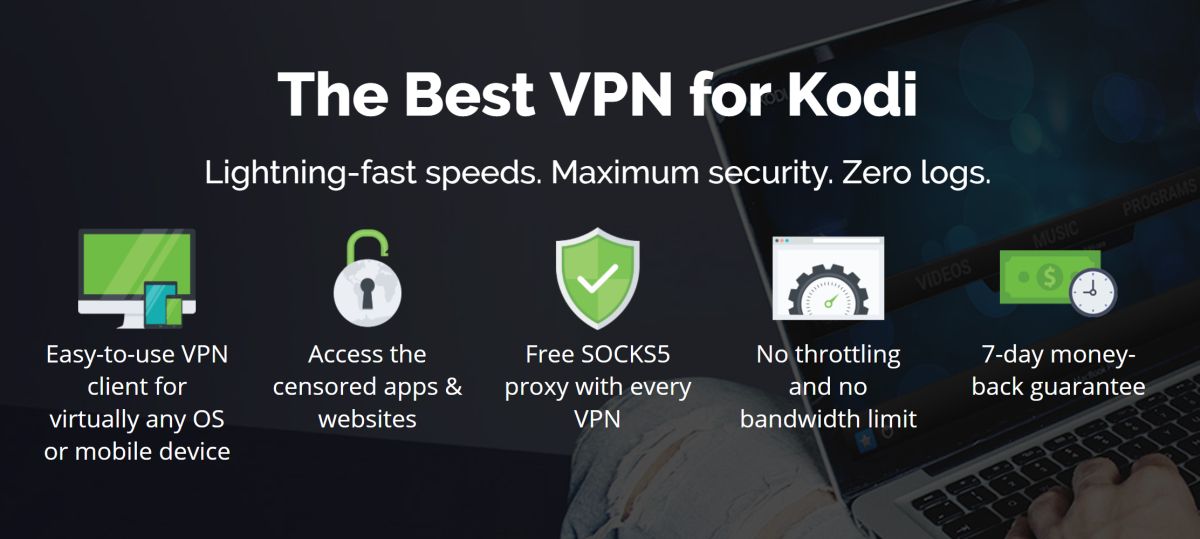 When it comes to Kodi users, the VPN provider that we recommend is IPVanish. This recommendation is due to the service's lightning fast connection speeds which are perfect for streaming video. The service also has a high level of security with its strong 256-bit encryption and no logging policy. The large server network covers more than 850 servers in 60 countries, and the software can be installed on Android, iOS, PC, and Mac.
Try IPVanish with our EXCLUSIVE deal! Sign up and score a 60% discount on yearly plans, only $4.87 per month. You can even use the seven day money back guarantee to try before you buy.
How To Enable Subtitles When Watching Kodi
When you are watching a video in Kodi, it's easy to start displaying subtitles. The big advantage of the Kodi subtitle system is that it works in the same way and works equally well on video files that are stored on your hard drive, or on video files which you are streaming from the internet. In either case, it's simple to find and display the subtitles for movies or episodes of TV shows that you are watching. Here's how to enable subtitles in Kodi:
Start the video file playing as usual
Press any button to bring up the bottom menu on the video
Select Subtitles

Go to Download
This will open a box labelled Open Subtitles where you see a list of subtitles that you can download for your particular video

Click on the name of a .srt file to download a subtitle
You can also enable subtitles using a remote for Kodi, such as the Android Kore app. Here's how to do this:
Open up Kore on your Android device and make sure that it is connected to your Kodi installation
When you have started your video, swipe to the left on your remote to bring up the currently playing page
Click on subtitles
Click on this and it will bring up the same open subtitles dialogue on your Kodi system
From here, select the subtitle file you want and click OK
Now your subtitles will be shown on your Kodi video
How To Download Subtitle Add-ons In Kodi
When you want to load up subtitles for any video that you're watching, you need to download one or more subtitle services. These services offer databases of subtitles files which are submitted by their community. Here is how to install a subtitle service. We recommend that you select one of the subtitle services from the official Kodi add-on repository as this is the most safe and reliable way to download add-ons.
Start off on your Kodi home screen
Go to Add-ons
Click on the icon that looks like an open box
Go to Install from repository

Select any subtitle service. Click on the title to bring up the information box about the subtitle service

Click on Install from the menu at the bottom of the box
Wait a second until you see a notification that the service has been installed
Now the subtitle service is installed and is ready to use
When it comes to choosing which subtitle service you want, this will depend on your needs. One of the most popular subtitle services is Open Subtitles, so you may want to select this service if you want English subtitles. However, you will need a username and password from them opensubtitles.org website. You can head to this website to sign up for a free username. Once you have this information, you need to add it to your Kodi subtitle settings. To do this, right click on the Open Subtitles title, then click on Settings. Add in your username and password into the text boxes, then click OK. This will save your settings and now you are ready to use the Open Subtitles service.
Alternatively, you might not want to sign up for another website. In this case, you can try the Super Subtitles service instead. This service requires no sign up and works well for English subtitles as well as Open Subtitles.
In the same official Kodi add-on repository for subtitle services, you can also find subtitle services in Spanish and other languages. For example, the Subtitulos.es service provides subtitles in Spanish, or the traduttorianonimi.it service provides subtitles in Italian. You can use these other services to subtitle your videos in other languages, so if you want a non-English service then you will find them here too.
How To Find The Subtitles You Want In Kodi
When you open the Open Subtitles dialogue, you might find that you are presented with 5 – 10 different options for subtitles for one file. These will have different names like [show].[episode number].HDTV.Xvid.srt or [show].[episode number].1080p x264.srt. Probably you can select any of these options and the subtitles will work ok for your video, but you might need to sync them up to get the timing right (see below). To maximise the chance that you get a subtitle file which matches your video and doesn't require syncing, look at the file names. If you know that you're playing a high definition 1080p video, then choose the subtitle file with 1080p in the title. If you're using a low definition 480p video, look for a subtitle file without 1080p or 720p in the name. This gives you the best option for finding a subtitle that requires no tweaking from you.
Note that the system will automatically search for subtitles based on the name of the video file that you are watching. If the file is on your computer or from a streaming service, then it will probably be able to automatically find the name of the movie or TV show episode that you are watching and assign the right subtitles for it.
However, sometimes your video file might be unhelpfully named, or you could be streaming from an unusual source. In this case, the system may not be able to automatically detect the name of the file and therefore it won't be able to find any subtitles for the video. But don't worry, there is still a way that you can find the subtitles that you need. You just need to use the manual search option.
When the Open Subtitles dialogue appears, you'll see a menu option on the right that says Manual. Click on this and an input box will appear. Type the name of the episode or movie that you are watching – for example, type in Narcos 1×01 and press OK. Now the system will search through your subtitles services for subtitles which match your search query. When you find the subtitle file that is right for your video, just click it and the subtitles will be displayed. Note that the manual search function does not work with every subtitle service. Of the services we're discussed above, for example, manual search does work with opensubtitles.org but does not work with Super Subtitles.
How To Sync Subtitle Add-ons In Kodi
One problem you might have with subtitles is syncing. This is where the subtitles do not line up in time correctly with the action on the video. This is because there are different versions of a video – for example, an episode of a TV show may be available in several different formats, such as when it has been ripped or uploaded by different teams, or when it is available in multiple different definition formats. This means that there might be different adverts or clips at the start of an episode, so the timing of videos and subtitles can differ.
This is frustrating as it is hard to watch videos and follow the subtitles when they are not properly synced up. Fortunately, there is an easy way to fix this in Kodi. In the subtitles menu, you'll see an option called Sync subtitles. This is a setting you can use to change the timing of the subtitles. Click this and it will bring up the subtitle offset dialogue.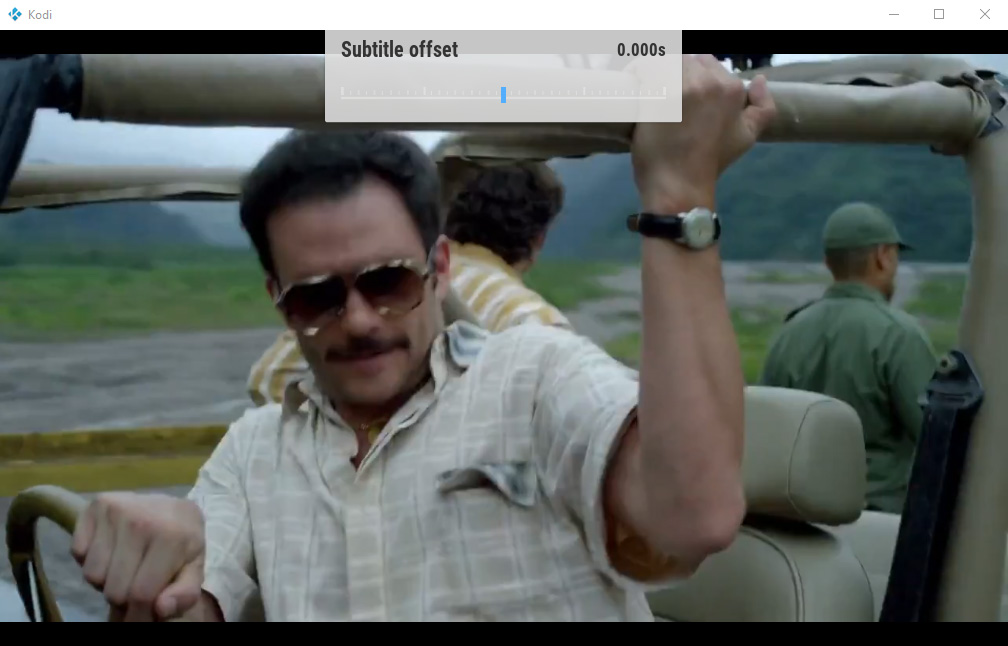 Here you can change the delay between the subtitles and the video, by pressing the left or right keys on your Kodi control. Going to the left will make the subtitles display earlier relative to the video, while going to the right will make the subtitles display later relative to the video. Use these controls to tweak the subtitle offset until everything lines up correctly. Then press OK to dismiss the subtitle offset prompt and you can watch your video with the subtitles correctly lined up.
Conclusion
Subtitles are handy for all sorts of situations. When you're watching a video in Kodi, you might find it hard to hear exactly what words are being said, or you might want to play the video at a very low volume if other people in your home are sleeping. You'll also need subtitles if you are watching a show or movie which contains dialogue or text in a language that you don't speak, as few video files that you find online will have subtitles hard coded into them. Or some people just prefer watching everything with subtitles, even if they speak the language, because they find it easier to concentrate.
In all of these cases, it's very useful to be able to load up subtitles on your Kodi system. It's worth taking a few minutes to set up a couple of different subtitle services on your Kodi system so that you can find subtitles whenever you want them, whether it's for video files that you have on your hard drive or for files that you are streaming over the internet. You can follow the steps above to have subtitles ready whenever you need them.
Do you use subtitles when watching videos on Kodi? Which subtitle service is your favourite? Let us know about it in the comments below!