We are reader supported and may earn a commission when you buy through links on our site.
Learn more
How to Install NordVPN on Kodi
The open source media centre software Kodi is massively popular thanks to its flexibility and support for many different platforms. The software is free and can be configured in a bunch of different ways to meet your needs, though its basic functions are to organise and display your media collection like videos, audio files, and images. There are, however, some security concerns with using Kodi, particularly if you download unofficial add-ons to do things like stream TV shows for free.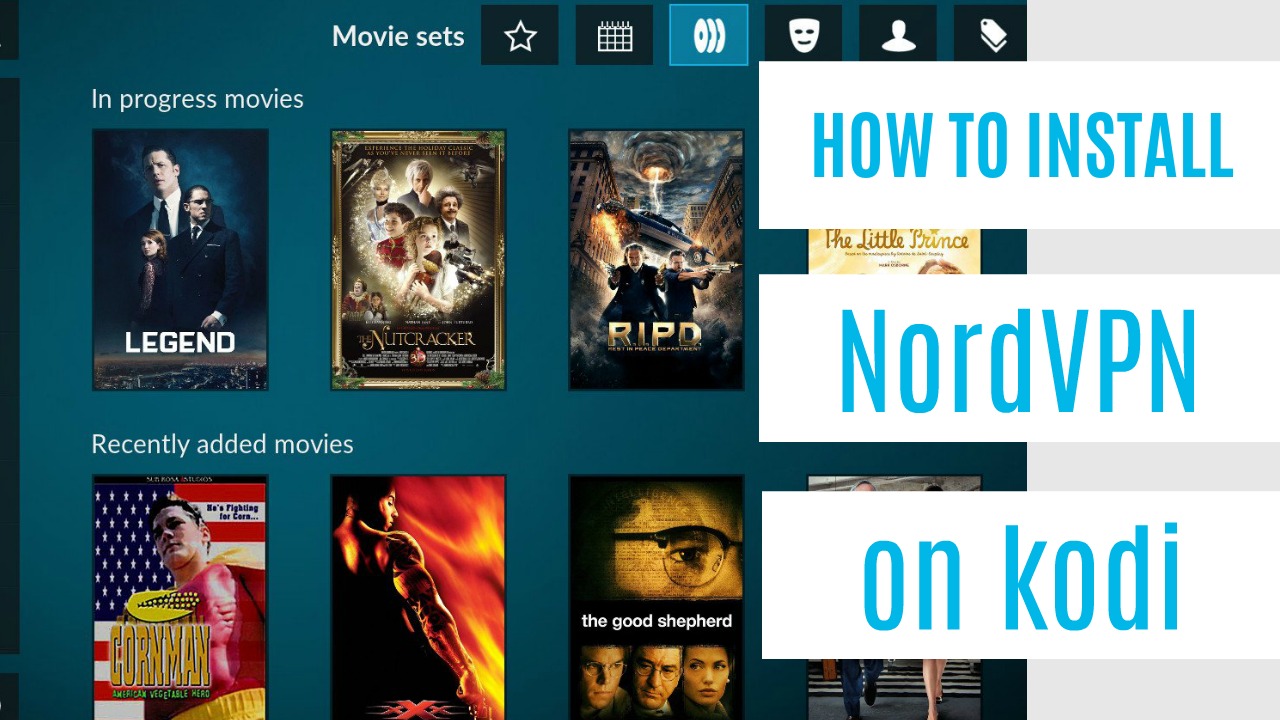 We strongly advise that Kodi users get a virtual private network to protect themselves. One of our favorite VPN providers is NordVPN, which offers exceptional security and boasts a wealth of configuration options. In today's article we'll discuss why Kodi users need a VPN and then give you full instructions for how to install NordVPN on Kodi.
30-days money back guarantee
Keep Yourself Safe With A VPN For Kodi
When you use Kodi, and especially if you use add-ons, it is important to take steps to keep yourself safe. Though the Kodi software itself is totally legal to use, it is open source which means that anyone can write their own additions to the software. If you want to expand the functionality of Kodi, you can install extra add-ons from the official repository, which will let you do things like watch YouTube, watch Twitch, or watch publicly available content like Food Network shows. However, there are also lots of unofficial add-ons available which are created by third parties. These let you do things like streaming or downloading movies, TV shows, and music for free.
The problem with using these unofficial add-ons is that because they breach copyright law, they are illegal in most countries. If your ISP or law enforcement catches you using an add-on to stream or download copyrighted content, you could face a range of consequences like getting kicked off your ISP's network, being forced to pay a fine, or even being prosecution for copyright infringement. What's worse, you may be hit by these countermeasures even if you're playing by the rules; copyright trolls are not exactly surgical when it comes to persecuting Kodi traffic.
To avoid these problems when using Kodi add-ons you should get a VPN. This is a piece of software which will encrypt all of the data that your Kodi device sends over the internet, so that no one can see whether you are streaming or downloading. With a VPN connected, not even your ISP will be able to see what you do online or what you do with Kodi. This keeps you safe when using Kodi add-ons.
Unblock Streaming Services On Kodi Using A VPN
A further reason to use a VPN with Kodi is that it allows you to access region locked content from add-ons. There is some content that you can only access from a particular location – such as the BBC iPlayer add-on for Kodi that can be used to watch loads of BBC content, but only from within the UK. If you try to use the add-on from outside of the UK, the video streams will not work. Similarly, the CBC add-on is great for watching sports, but it only works if you are located within Canada.
With a VPN you can make it appear as if you are physically located in a different location, which is called location spoofing. You use the VPN to connect to a server in the location that you want – in this case the UK or in Canada – and then all of your traffic is routed via that server. This means that you can use add-ons like BBC or CBC to watch content for free from anywhere in the world. Using the same method you can also watch content from other countries like the US, Japan, or Australia.
NordVPN – A Sophisticated Security Solution For Kodi Users

NordVPN is a VPN that is great for both advanced users and beginners alike. VPN veterans will love the configuration options like the use of speciality servers for P2P downloading, onion over VPN, dedicated IP, and more. If you are a new user, you'll appreciate the easy to use map interface and clear labelling in the software. Whatever your situation, you're sure to be satisfied with the security, which includes the use of strong 256-bit encryption and a no logging policy to keep your data safe and private.
Connections are consistently speedy across their massive server network (numbering over 3500 in 60 countries around the globe), which together allow for smooth streams and ample spoofing options. There is even an app-specific kill switch, which is ideal for torrent users who absolutely must have protection online at all times. Dedicated software is available for Windows, Mac OS, Linux, iOS, Chrome OS, Android, or Windows Phone
Read our full NordVPN review here.
How To Install The NordVPN Software On Your Kodi Device
To start off the process of installing and using the NordVPN software, first we need to go the the NordVPN website to download the correct installer. Then we can install the files that we need to run the VPN onto the device that we use for Kodi. If you are on Android or iOS, you can head to the Google Play Store or the App Store to download the app that you need by simply searching for NordVPN. If you are on Mac, chromeOS, Windows Phone, Linux, or Raspberry Pi, you can find installation instructions on the NordVPN website. To install on Fire Stick, see our guide here.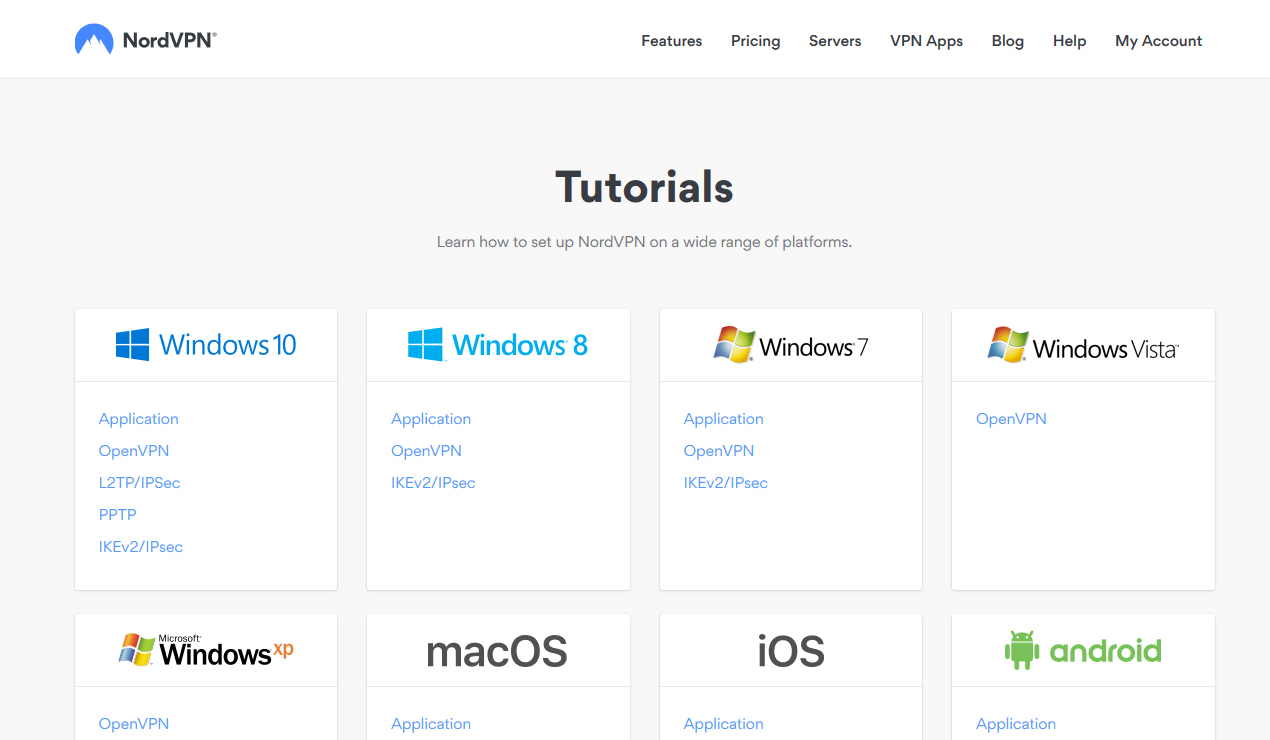 If you are on Windows, simply follow the instructions below to install the NordVPN software:
Open up your web browser and navigate to the NordVPN website at https://nordvpn.com
This page will automatically detect the system that you are using and present you with a download option for the correct software. Alternatively, select the operating system that you want from the menu at the top: Android, Windows, macOS, iOS – iPhone – iPad, Android TV, Chrome, and Firefox

Now click the large red Download button to start downloading the installer
Your web browser will ask you whether you want to save the file or open it. Save the file to a convenient location like your desktop
Once the download has completed, double click the .exe file to start the installer
In some cases you may be prompted to install the OpenVPN TAP adapter driver if you don't already have it. This is a driver which allows your system to interface with VPN software. Click through the OpenVPN TAP wizard by selecting Next, I Agree, Next, and Install to install the OpenVPN software
Now the NordVPN installer will open. Click Install on the first screen and if you want to, choose which folder the software will be installed to
The installer will begin the installation process. Keep an eye on the progress bar until it is complete
Once the installation is complete the NordVPN software will automatically open. You can also find a shortcut for the application on your desktop
If you had to install the OpenVPN TAP earlier then you will now be asked if NordVPN has permission to install a TAP driver. Select Allow if you see this message
Now you will see the login page on the NordVPN software. Enter your username and password and click Login now
This completes the installation and first use process. To learn how to configure and use the software, see the section below
How To Use The NordVPN Software With Kodi
With the NordVPN software installed, you can use it to connect to one of NordVPN's servers. This means that all of your data is encrypted and then passed via that server for decryption before being sent on, which makes it impossible for outsiders like your ISP to observe what you are doing on Kodi. This keeps you safe by making sure that when you view streams of content on Kodi, your ISP cannot tell what it is that you're doing.
Below we'll walk you through how to configure NordVPN and use it to connect to a server to use with Kodi for the first time:
When you open the NordVPN app you will see an illustration of a map with blue markers on it. At the top is a slider with a power button, currently slid to the left, and a note saying You are not connected
To connect to a server, locate the country on the map that you want to connect to (you can zoom in and out by scrolling with the mouse wheel) and then click the blue indicator over that country
Alternatively, if you aren't sure where to connect to, just wait a few seconds. If you stay on the map view without connecting to a server, an option for the Connection wizard will appear in the bottom left of the screen. Click on the Connection wizard button and the wizard will give you recommendations for which server to connect to
Once you have selected a server to connect to, you will see a message that the VPN is connecting. Wait for a few seconds while the VPN connects
Once the connection has been made, the slider will slide to the right and the power button will turn green. The note below will say You are connected to [the country of your choice]. Your new IP address is [the IP address of the server you are connected to]


If you don't like using the map interface, you can use the list of countries instead. To do this, look in the top left where it says Maps, Countries, and Settings. Click on Countries
This brings up a list of the many different countries where servers are available. If you are already connected, you will see information on the left like a title saying Connected! and information about the connection such as what server you are connected to, what speeds you are uploading and downloading, and the option to add your current server to your favourites

If you are not already connected, you can choose a country to connect to from this list. The list is alphabetical, so just scroll down to find the country that you want. When you hover over a country name, it will change to say Connect to [country name]. Click this to connect to a server automatically
Alternatively, you can see the specific servers which are available in a country. This is useful if, for example, you play online games and you want to connect to a server with a low ping. To see the servers, look to the right of the country name for an icon that has three horizontal lines in a circle. Click this icon
Now you will see more information about the servers available in that country. You can sort these servers by various factors: The Best Servers for you, Alphabetical Order, Least Loaded, or Closest to You
Next to the name of each server (they are labelled with country and then number, such as Albania #2, for example) you will see a heart on the left which you can use to add the server to your favourites for easy access later. To the right of the country name is information about the server load (displayed in a percentage, you usually want a server with a low load percentage) and the distance to the server from your current location (displayed in miles, you usually want a server that is close to your location for best speeds)
Click on the name of a server to connect to it

That isn't all though – there are even more ways of finding the right server for you. If you have already found a server in the past which worked well for you, you can add it to your favourites and then access this from the My Favourites menu option at the top of the country list page

Finally, if you have particular needs (such as when you want to use torrents in certain Kodi add-ons) then you can look in the Speciality Servers option at the top of the countries list page. In this menu you will find options for Anti DDoS, Dedicated IP, Double VPN, Onion Over VPN, and P2P. Click on the type of server that you want to connect to – for example, choose P2P if you want to use torrents, or choose Anti DDoS if you want to play online games and protect yourself from DDoS attacks

Finally, we are going to configure NordVPN so that it automatically starts the software and connects to a server whenever you turn on your computer. This means that you don't have to go through this configuration process every time you want to use Kodi – the software will run in the background and protect your device automatically.
In the settings menu, find the option for Start NordVPN on startup and toggle the switch to on. Then find the Auto connect option and toggle this to on as well. You can also choose to automatically connect to a particular country or a particular speciality server here if you want. While you are here, you might also want to enable the option for CyberSec to avoid ads and add malware protection to your system
Now all of the VPN configuration is done and you are safe and protected. Now you can start using Kodi without worrying about any security issues. Just open the Kodi software and use it as usual
Conclusion
Kodi is a powerful and popular way to watch movies, TV shows, live sports, and lots more. However, you have to be careful when using third party add-ons that let you access copyrighted content for free, as these add-ons may be illegal and you could get in trouble if you are caught using them. To keep yourself safe when using Kodi, you should use a VPN such as NordVPN.
VPNs can seem intimidating to new users, but if you are setting up NordVPN to use with Kodi for the first time then you just need to follow these steps to keep yourself safe and protected while using Kodi.
Have you tried using NordVPN with Kodi? How did you find it? Let us know what you thought in the comments below.