We are reader supported and may earn a commission when you buy through links on our site.
Learn more
Kodi Smash Repository – How to Install the Smash Repo for Kodi
The Smash repository is host to a lot of fan-favorite Kodi add-ons that have disappeared due to various copyright strikes on other prominent repositories. Let's see how you install this repo, and how to get the most out of some of its best add-ons.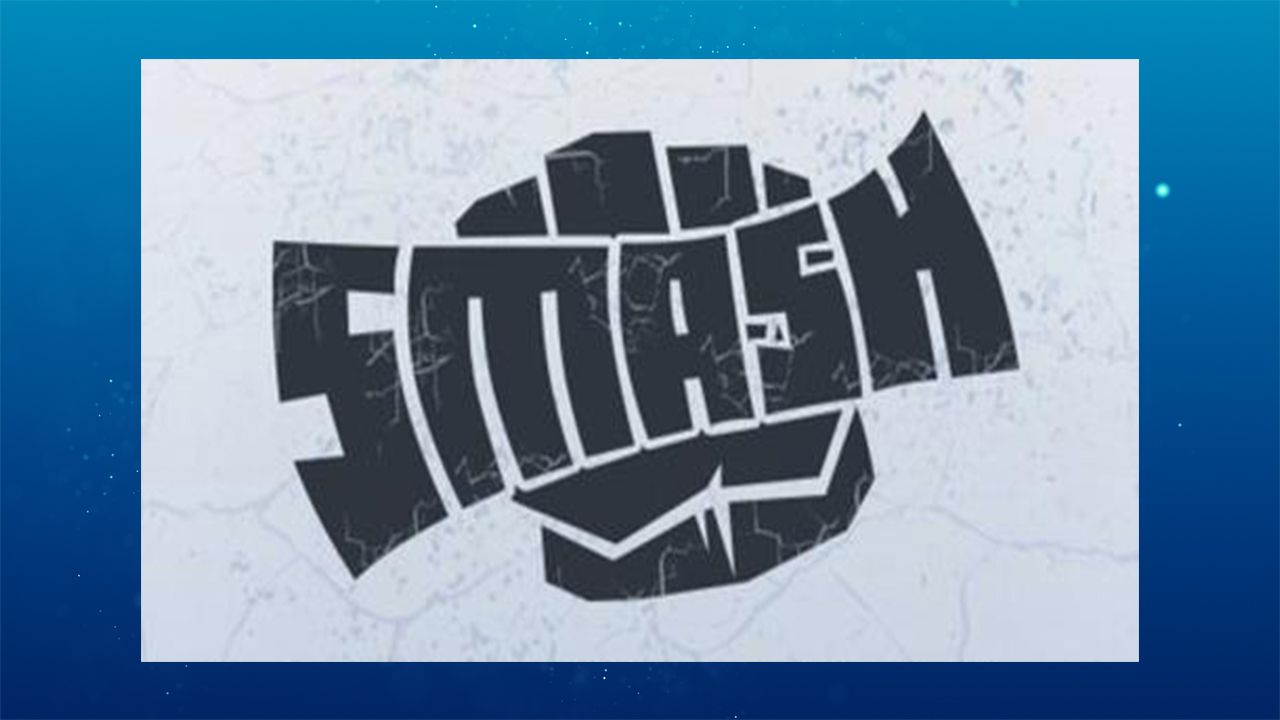 In early June of 2017, prominent Kodi repository TVAddons.ag was hit with a lawsuit from Dish Network. TVAddons (also known as Fusion TV) was once host to a large number of popular IPTV/streaming solutions. Among the most prominent of these were ZemTV, Exodus and Stream All The Sources (SALTS), all three of which allowed users to stream TV and movies for free.
Within the following few months, however, TVAddons collapsed. In the time since, other communities and developers have arisen to fill the gap left behind. SmashTheGamingCanuck (a prominent community member known for his YouTube channel dedicated to reviews of video games and Kodi add-ons) stepped up with the Smash repository. His aim was to replace the lost TVAddons/FusionTV repository, and allow a new way for people to access their favorite Kodi IPTV streaming add-ons.
AddictiveTips does not condone or encourage any violation of copyright restrictions. Please consider the law, victims, and risks of piracy before downloading copyrighted material without permission.
Before we go further with this guide on using and installing Smash repo, we need to discuss a critical security tool you should be using.
Streaming on Kodi? Use a VPN
A VPN, or Virtual Private Network, serves two primary purposes:
To protect your privacy and security by masking your IP address and encrypting your traffic against snooping ISPs or governments.
To bypass censorship (like the Great Firewall of China) or access geographically restricted content (like another country's Netflix library or the BBC iPlayer).
If you're going to be streaming on Kodi, you're definitely going to want to consider a VPN, which will protect you from copyright strikes internet service interruptions by your ISP. As your encrypted traffic will be routed through proxy servers located all over the world, you'll want to choose a VPN that offers adequate connection speeds for streaming or downloading large files.
Best VPN for Kodi: IPVanish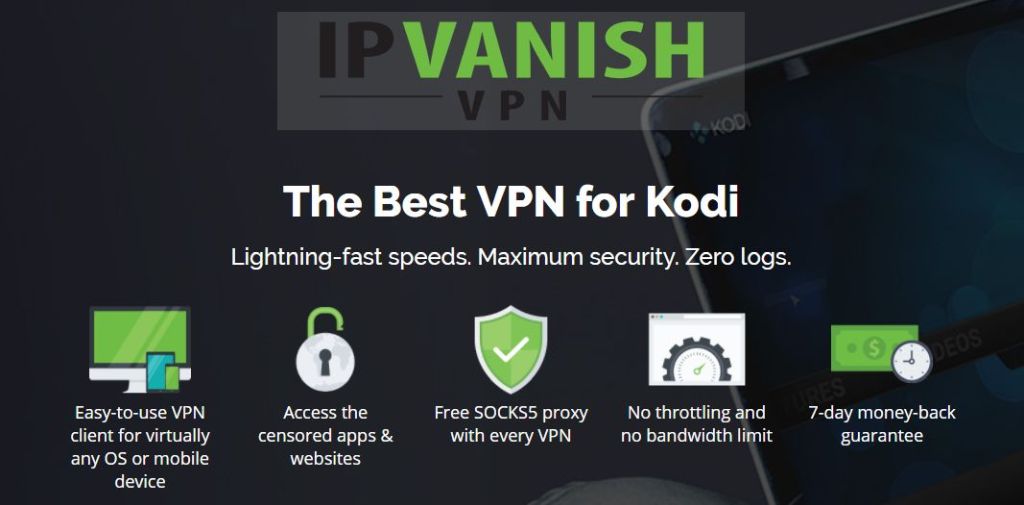 You'll be hard pressed to find a better VPN for streaming with Kodi than IPVanish. We appreciate its 256-AES encryption, DNS leak protection, automatic kill switch and massive network of more than 850 servers in 60 countries. Additionally, this provider maintains absolutely zero logs, so you never have to worry about a record of your activity being kept around to be used against you later.
Additionally, IPVanish offers:
Fast, easy-to-use software for PCs, laptops, tablets, smartphones, even Chromebooks.
Customer support that's available 24/7 in case anything goes wrong.
Unlimited bandwidth, no speed caps, and zero restrictions on traffic.
IPvanish offers a 7-day money back guarantee which means you have a week to test it risk-free. Please note that Addictive Tips readers can save a massive 60% here on the IPVanish annual plan, taking the monthly price down to only $4.87/mo.
What are the notable add-ons I can find in this repository?
The Smash Repo is host to a lot of great add-ons, but we're going to list the most notable of them right here for your benefit. All of these are recommended to make the most out of your Smash repository installation.
1Channel
1Channel, or PrimeWire, is a popular online IPTV streaming service. In addition to being a web platform that allows access to a host of popular movies and TV shows, there's also a number of add-ons available to expand its capabilities. Overall, this is one of the most solid streaming solutions available in the Smash repository.
Exodus
Exodus is one of the most important add-ons saved from the oblivion of Fusion's collapse. Thanks to its age and wide support, Exodus is an extremely popular and effective piece of software for streaming on Kodi. We do, however, recommend pairing it with a few other IPTV solutions just in case it doesn't offer the sources you're looking for.
Icefilms
Icefilms is a popular streaming site that mostly focuses on films, though it also has a decent offering of TV series as well. Direct downloads of its content are also available. However, the Kodi add-on allows users to stream this content on demand. This, in addition to the fact that Icefilms is generally quite punctual about posting new content when it goes live, makes it a worthy addition to your IPTV add-on collection.
SportsAccess
SportsAccess is a premium service that offers live HD sports streams for $14 per month or $38 for 90 days. For sports enthusiasts using Kodi, this makes SportsAccess a great option for keeping track of all of their favorite games. The premium price point also ensures better streaming speed and quality than you may get from other free providers and add-ons.
Stream All The Sources (SALTS)
Once upon a time, an add-on developer had a noble goal: to create an add-on capable of streaming all the sources! As the name of this section may imply, that add-on became Stream All The Sources, and for the most parts, SALTS fulfills its mission. There may be a few missing here and there, but those gaps can be easily filled with the other video add-ons on this list. As such, we highly recommend installing multiple IPTV add-ons from the Smash repository to make sure you don't miss anything you want to watch.
Before We Begin: Make Sure You Have Unknown Sources Enabled!
Since this repository comes from a non-official source, make sure that you have this option enabled in Kodi. Otherwise, the rest of this guide will be not work!
In Settings, select "System Settings."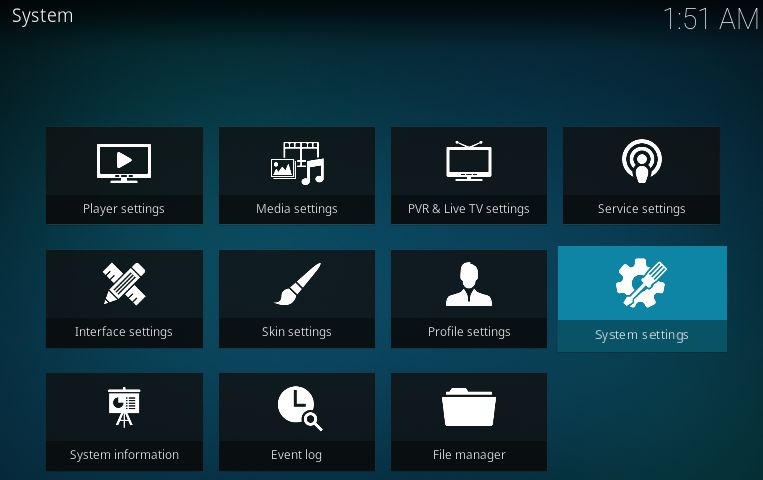 Now, select "Add-ons," and make sure that "Unknown sources" is enabled, like below.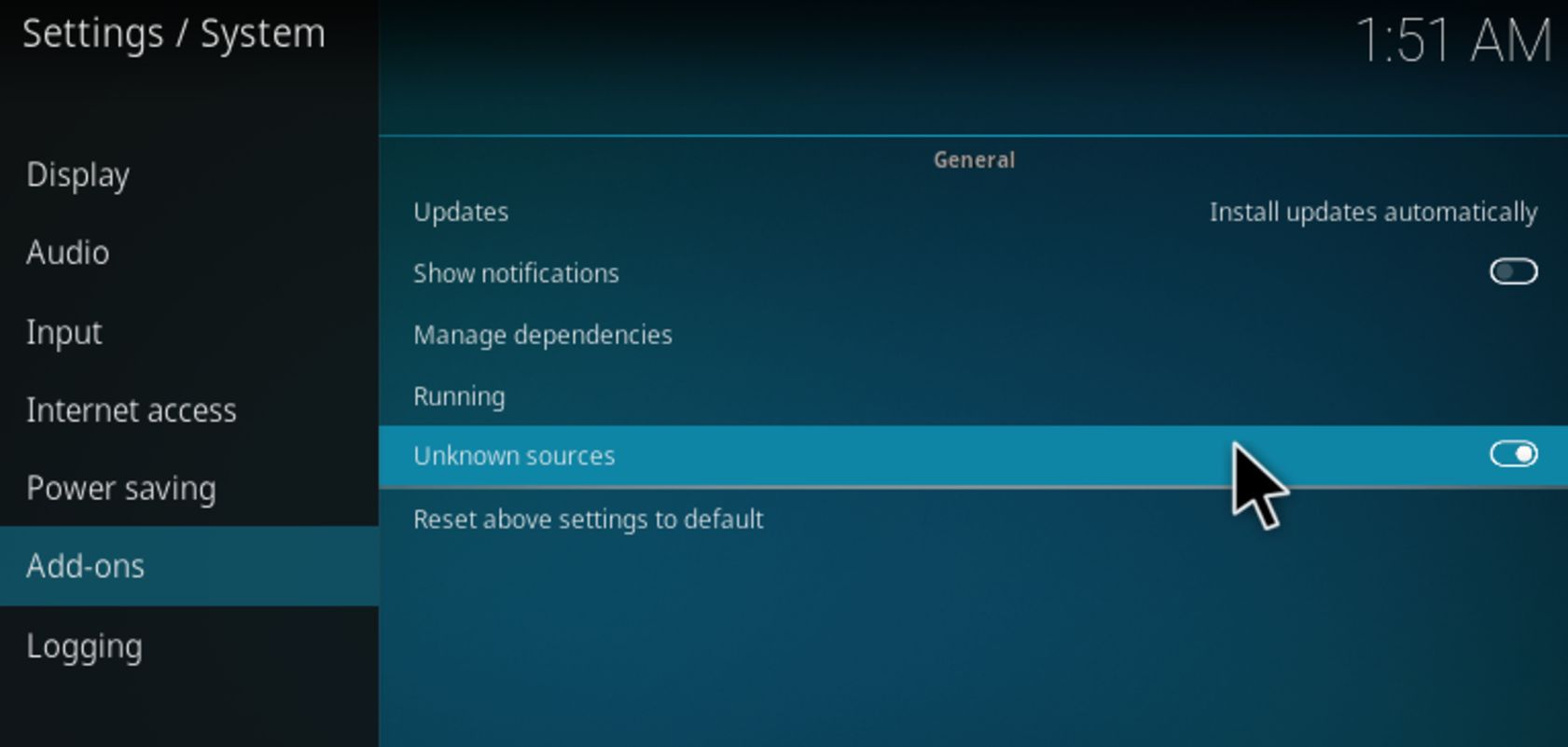 How do I install and use the Smash Repository?
Go ahead and open Kodi. Once you do, open your Settings menu. By default, this will be the gear icon on the top-left of your screen.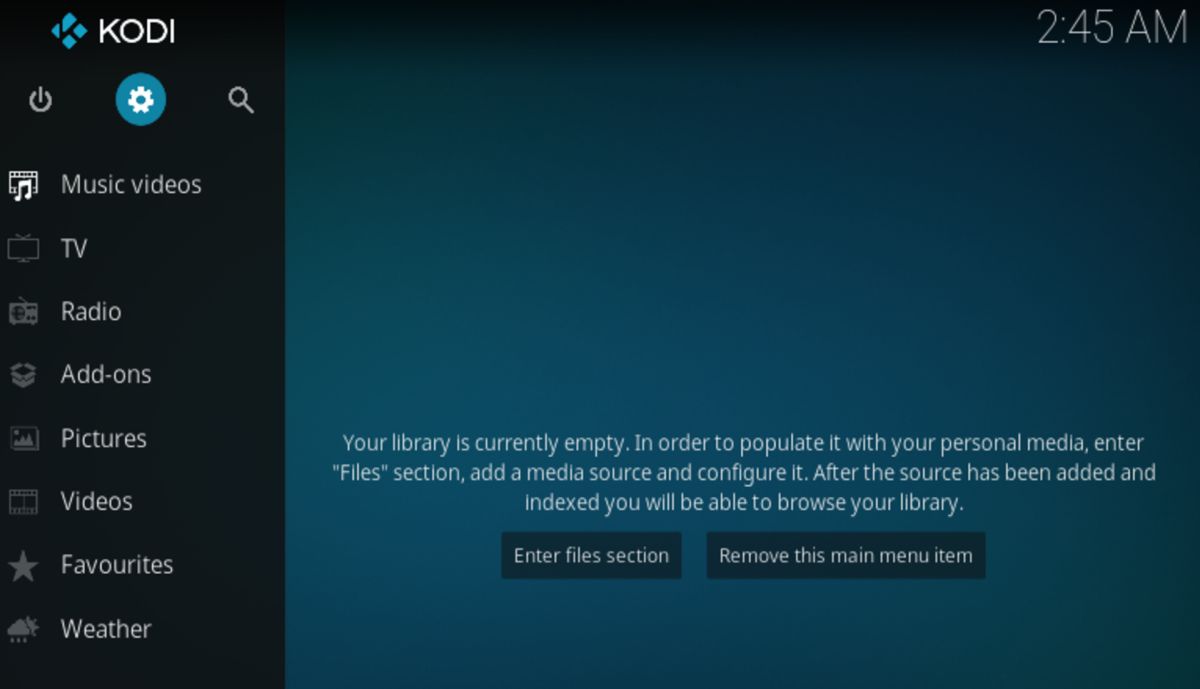 Now that you're here, highlight "File manager."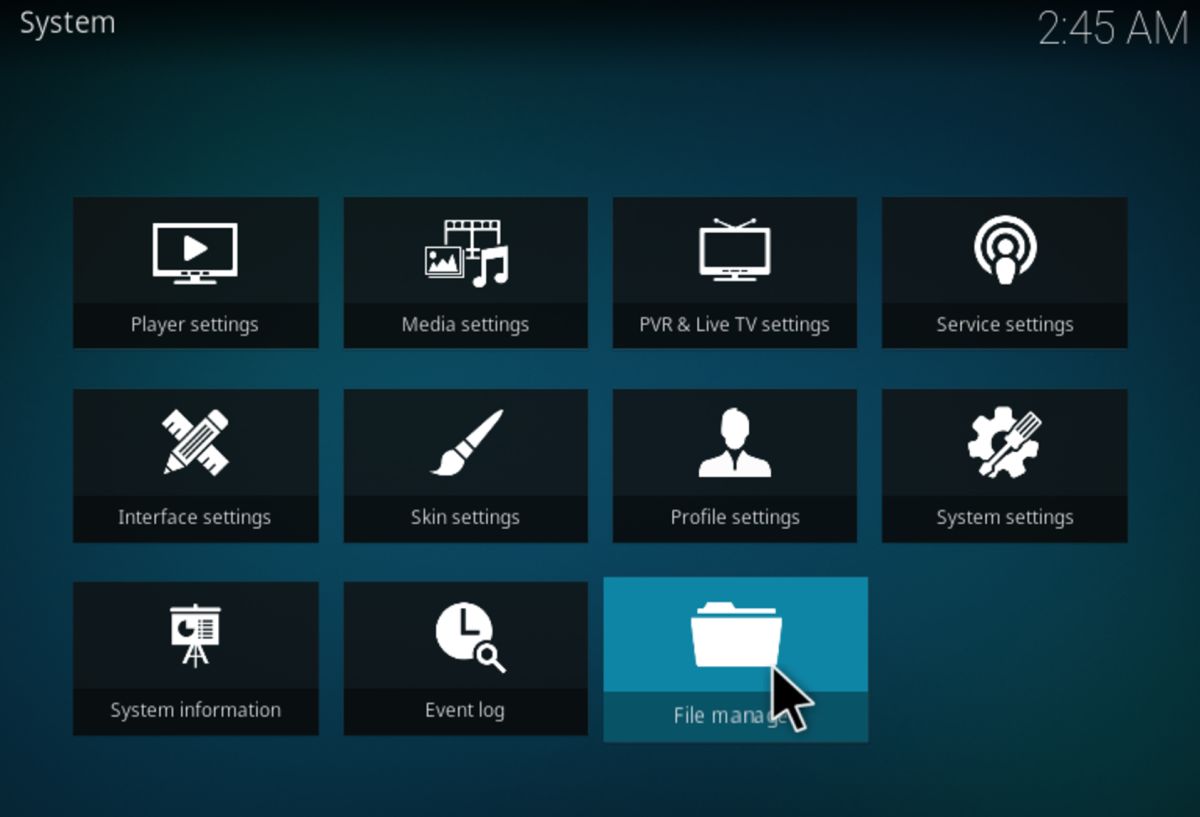 To access the repository and the add-ons therein, we'll need to add the online file source to get to it. Double-click "Add source."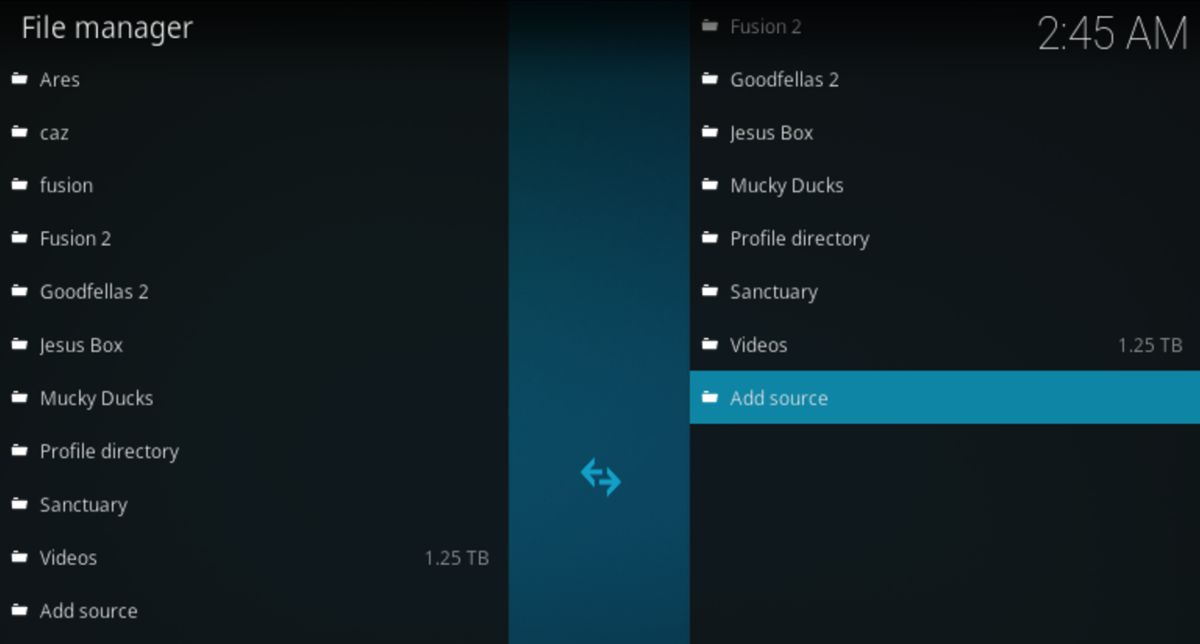 Double-click <None> and paste the following, exactly, into the text box that pops up: https://mediarepos.net/kodistuff/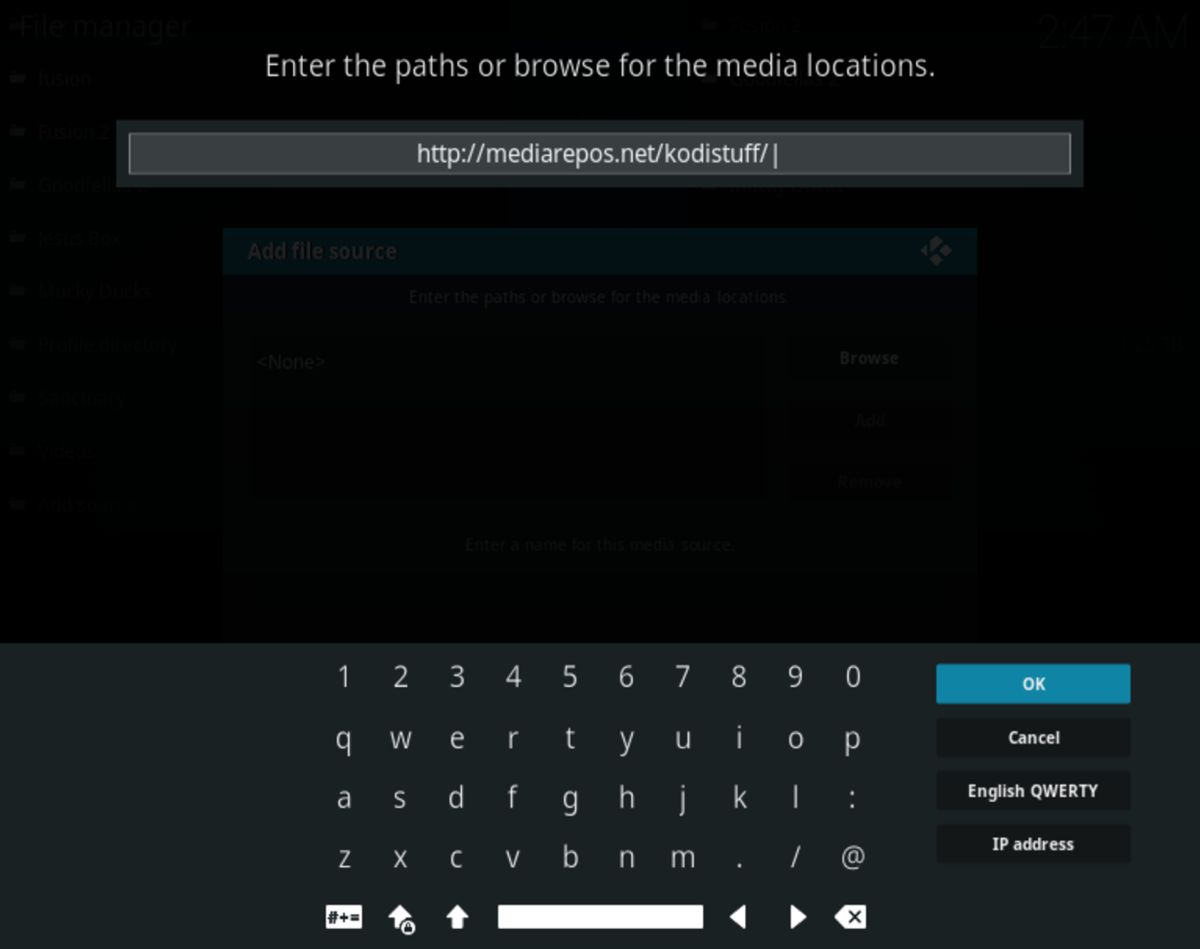 You can name the media source anything you like, but we recommend going with "Smash" or something similar so you'll know what it is.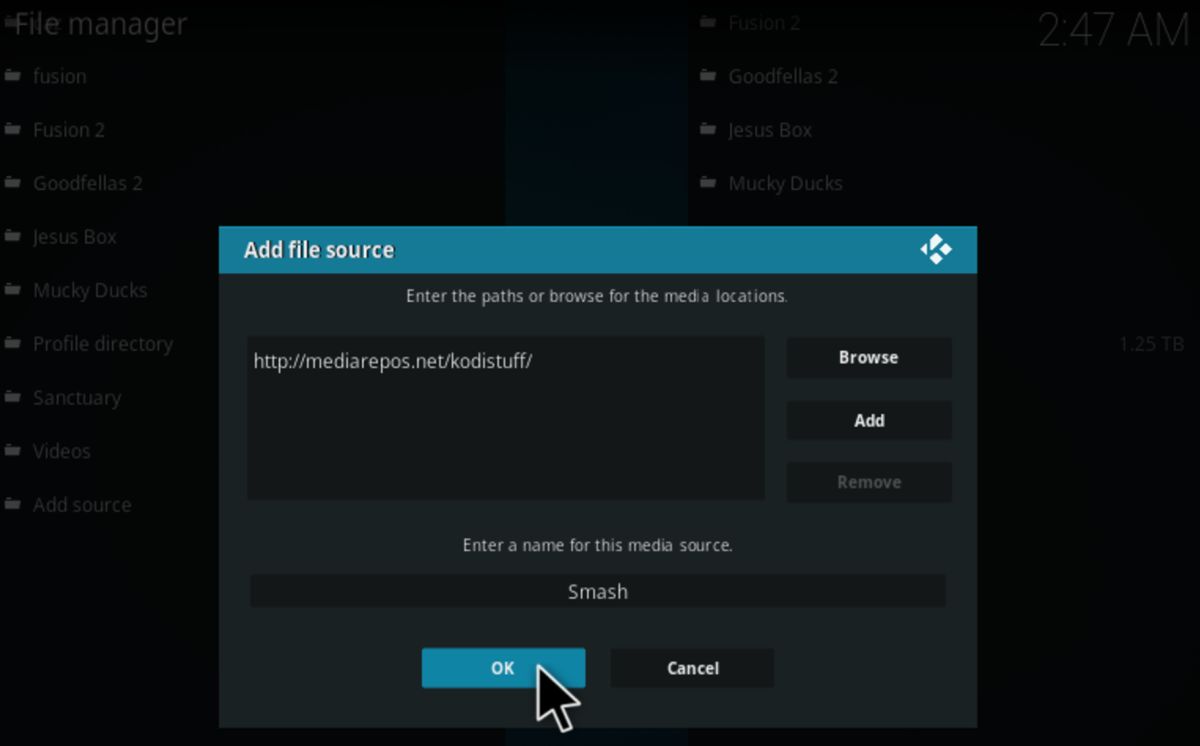 Now, head back to Kodi's main menu and hover over "Add-ons."
In the Add-ons menu, click "My add-ons."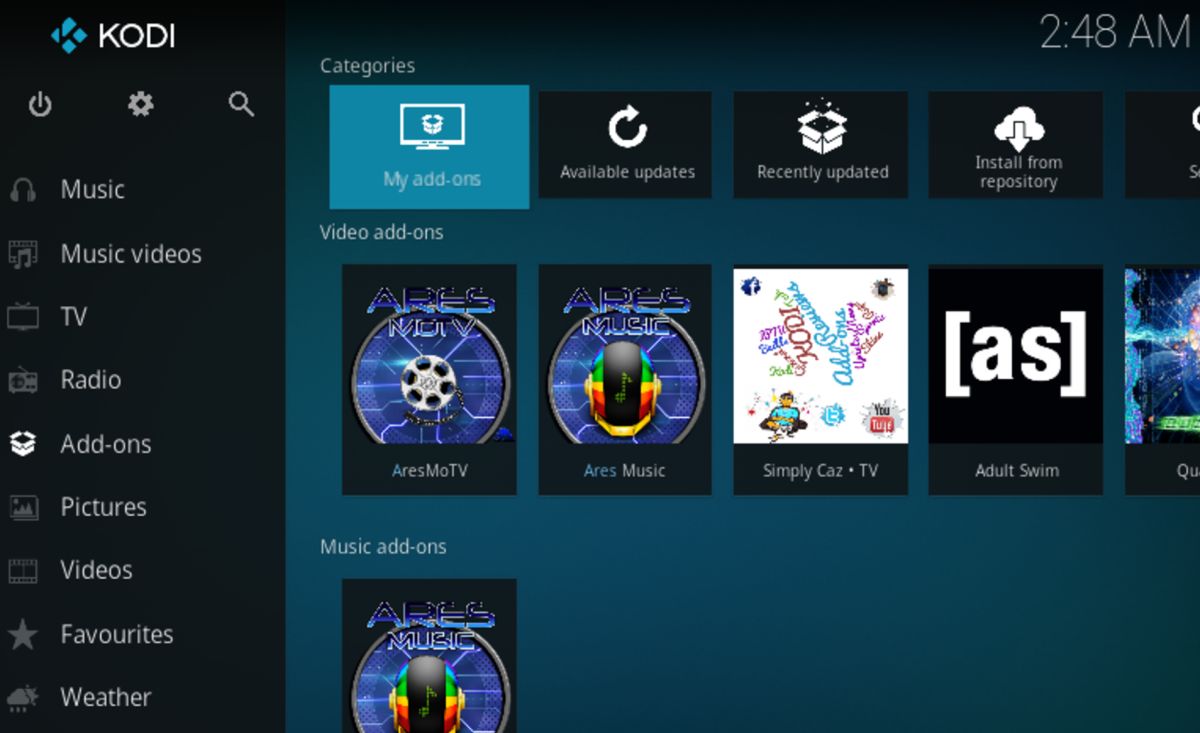 Within this menu, click the ".." at the very top of the screen.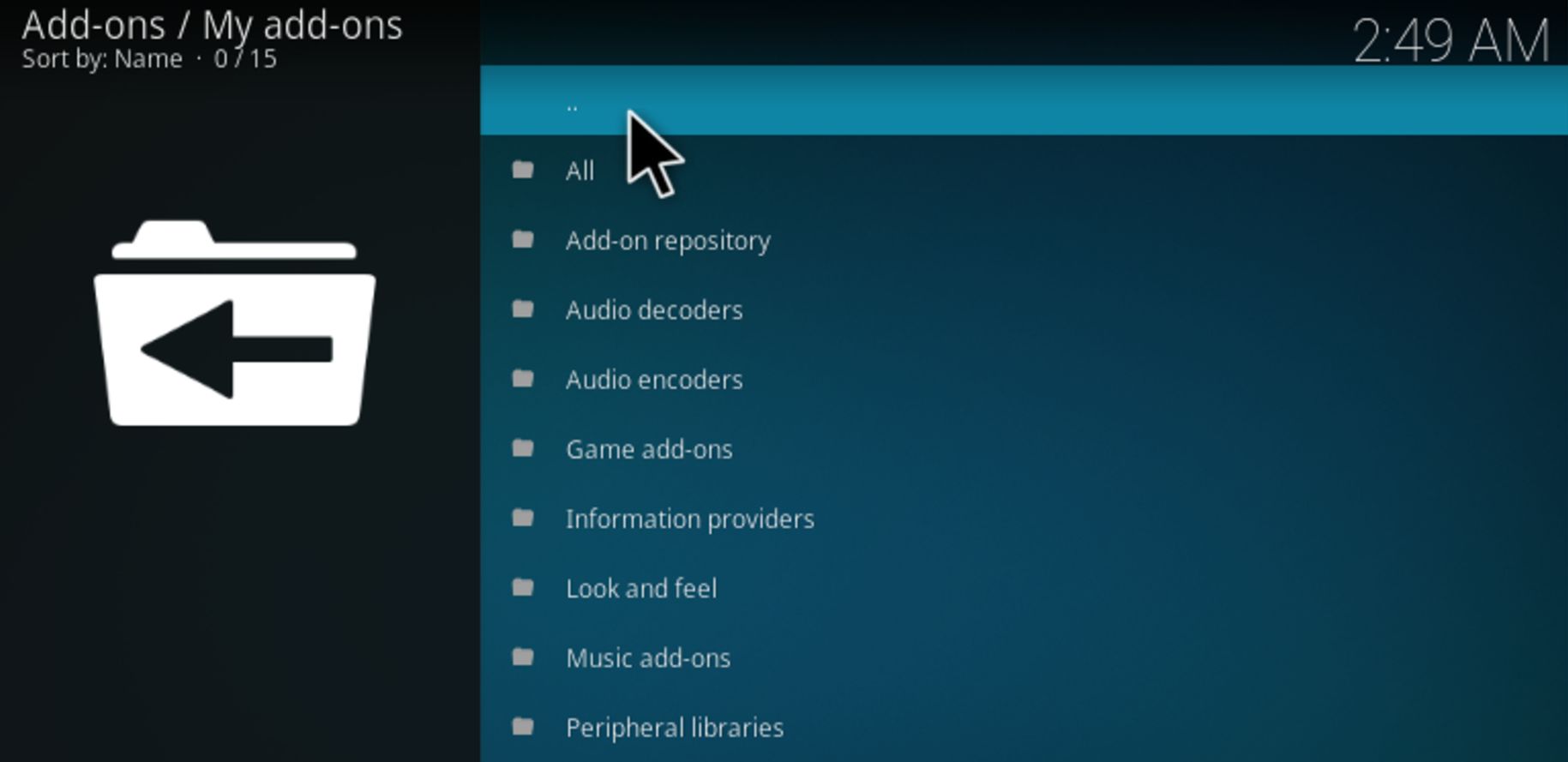 Now select "Install from zip file."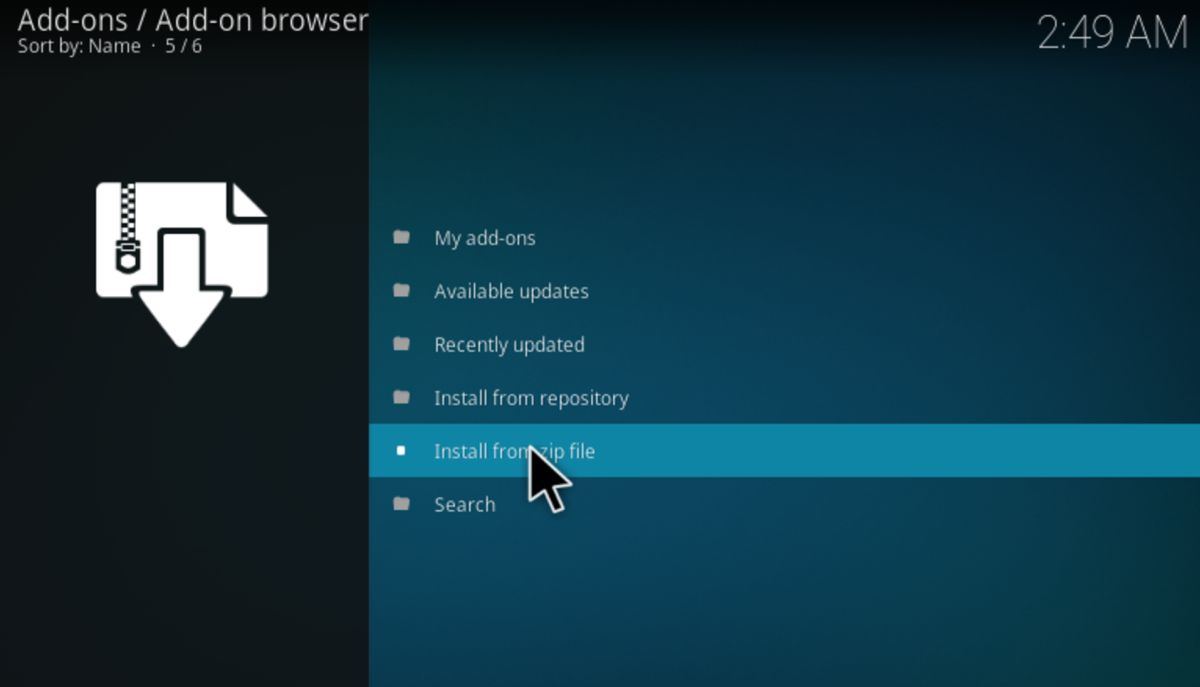 Scroll down and find the Smash media source that you created earlier on in this tutorial.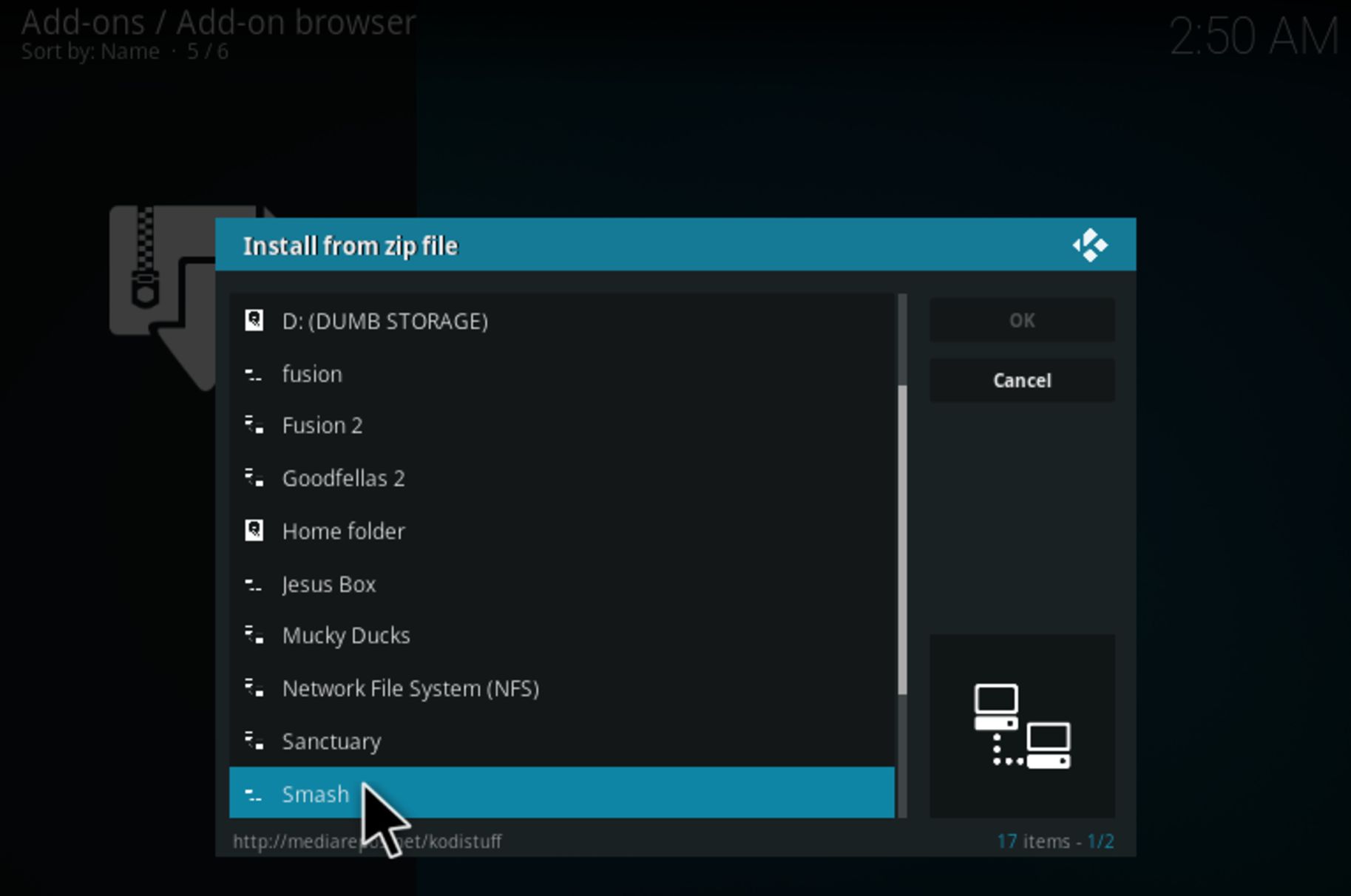 Now, select the SmashRepo zip.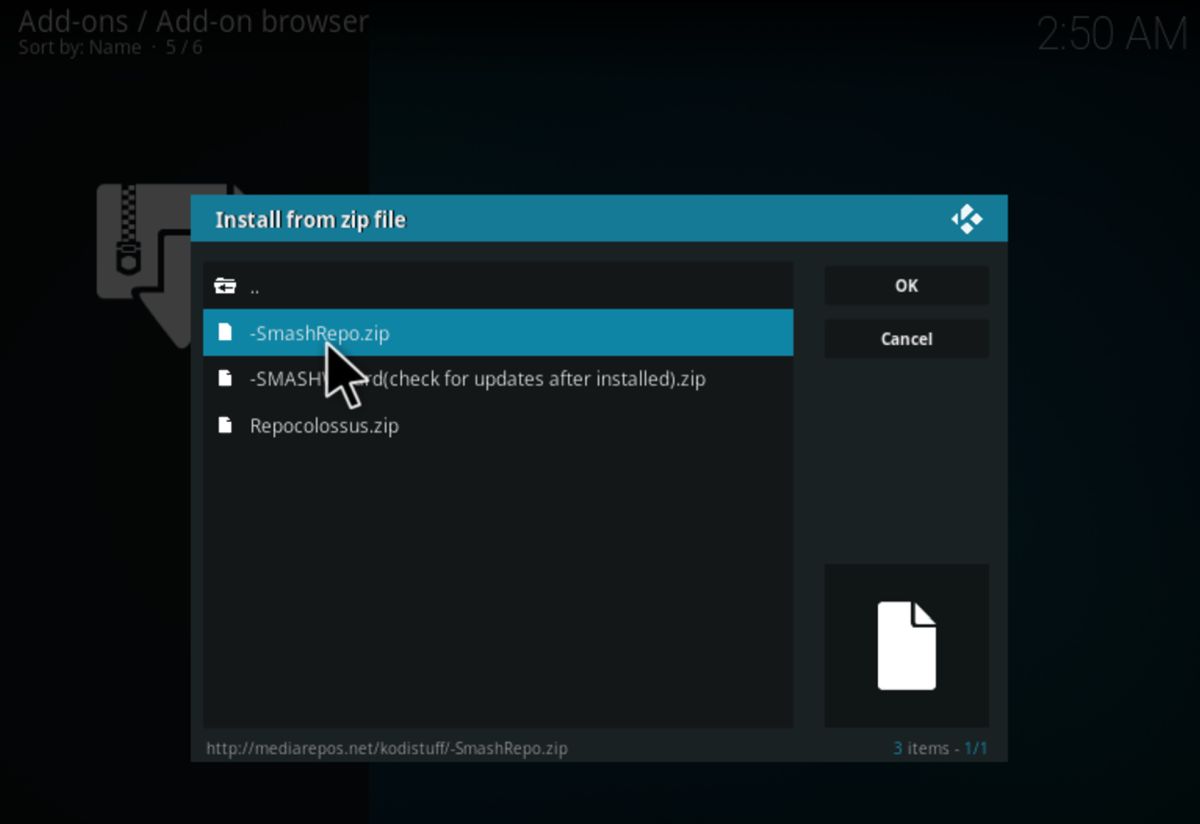 Congratulations! You've installed the SmashRepo. Now you can start installing add-ons from this repository. Let's install Exodus.
Example: How to install Exodus add-on from Smash Repo
Select "Install from repository."
Now, choose the SMASH Repo. It even has pretty colors! For the main offerings, we recommend heading for the Video add-ons.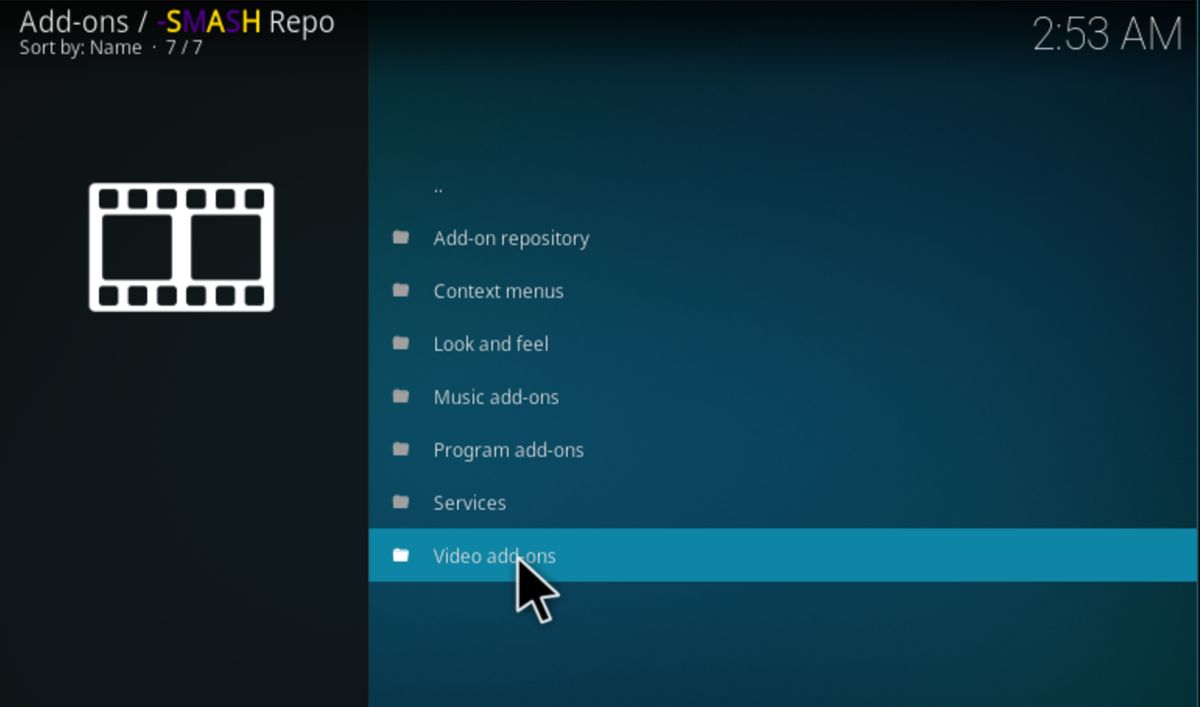 Example: Installing Exodus from Smash Repo
To demonstrate the installation process, we'll go ahead and install Exodus.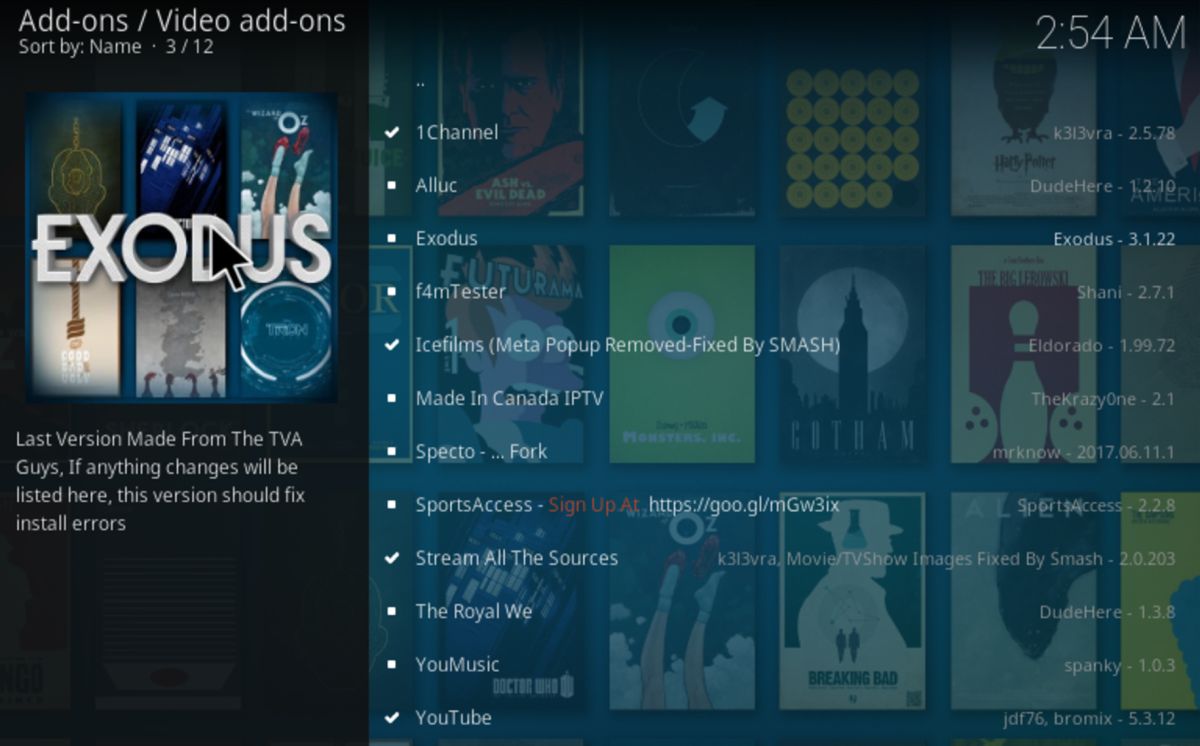 First, click "Exodus."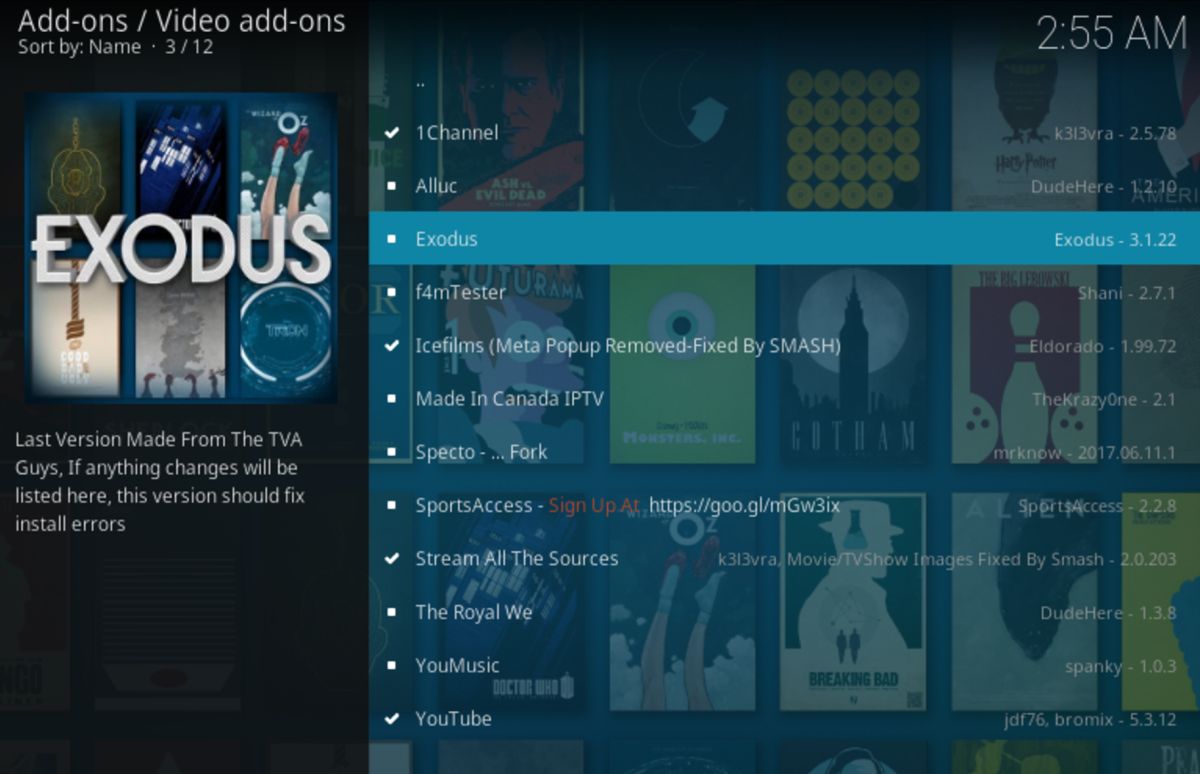 Now, just click "Install."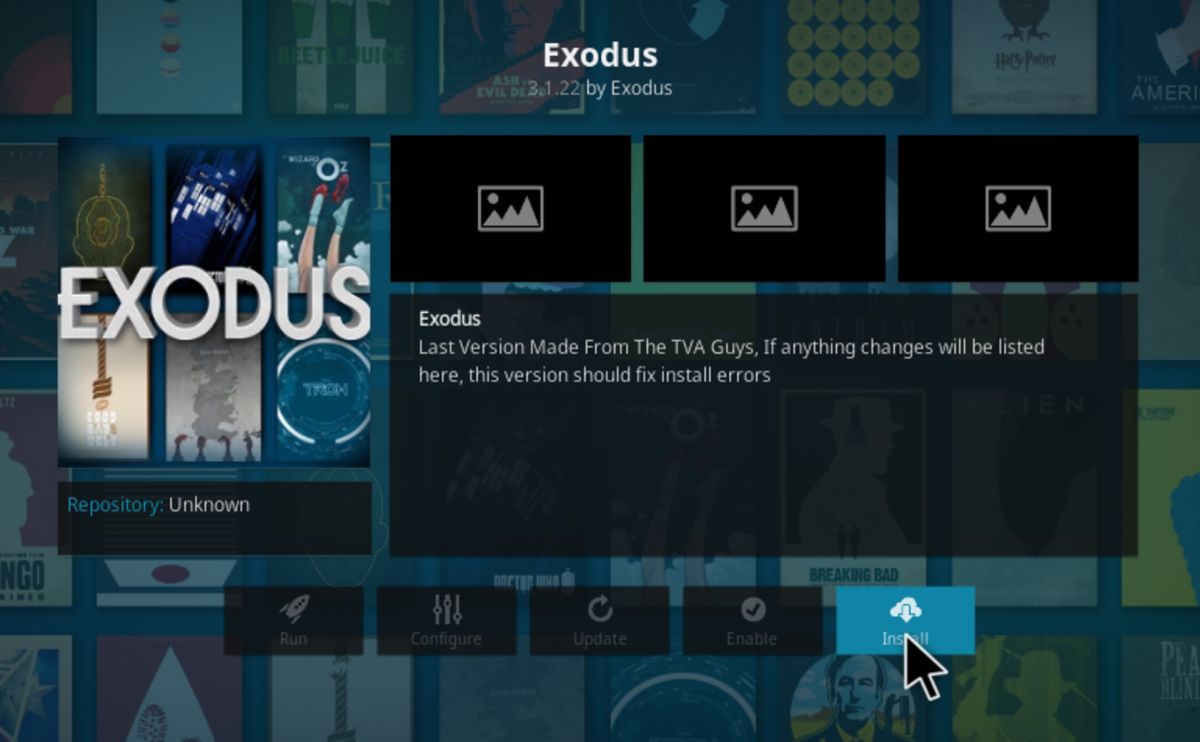 Congratulations! You now know how to install the Smash repo and install the add-ons it contains.
Conclusion
We hope this article helped you out. Comment below and let us know if we missed anything, or if you need help with other Kodi add-ons. The Smash repository offers a lot of great IPTV add-ons, and we hope that you enjoy using it!