We are reader supported and may earn a commission when you buy through links on our site.
Learn more
Install Kodi for Xbox One – How to put Kodi on the Xbox, fast!
After years of wishing and begging and pleading, Kodi has finally made its way to Xbox One. The victory isn't due to some workaround discovered by the Kodi team, however, it's simply due to the fact that Microsoft has started integrating Windows 10 code into the Xbox One core. This allows access to a massive variety of new apps, including our favorite media center program. Read on for a complete guide on how to install Kodi for Xbox One.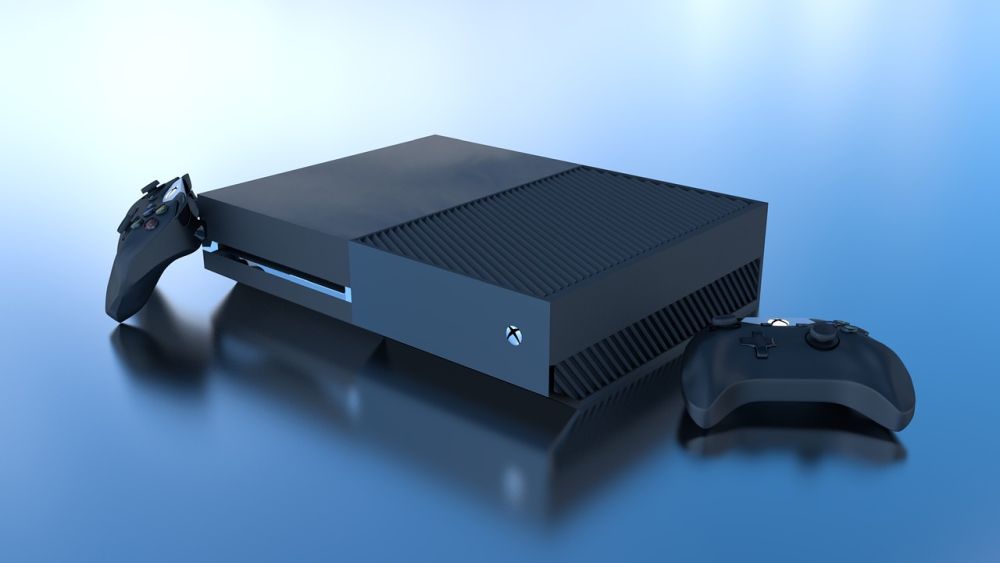 30-days money back guarantee
Secure Your Connection with a VPN
Before you trample off and start installing Kodi, you should seriously consider adding a VPN to your home network. Not only do VPNs provide a vital encryption service for each packet of data, ensuring your information stays unreadable and untraceable, but they also give you location variability and can help protect against DDoS attacks. All of these features are extraordinarily useful when streaming through Kodi or gaming online. And when it's time to watch a movie, you'll be able to break through geographic restrictions with ease.
Despite Microsoft's efforts integrating Windows 10 into the Xbox One core, the system can't support most VPNs directly. The easy and simple workaround is to use a reliable service that offers router-based protection, allowing you to secure your entire home network at once, including Wi-Fi and gaming console connections. Below are a few of our recommendations for the best VPN to use with Xbox One and Kodi, each one featuring fast downloads, unrestricted web access, and top notch privacy.
1. IPVanish – Best VPN for Xbox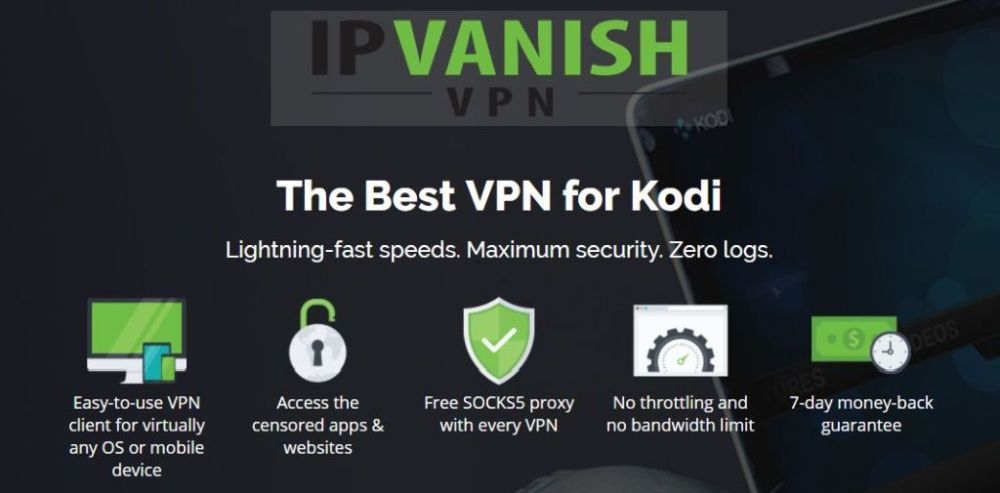 When you can't sacrifice privacy in the name of speed, IPVanish is the VPN for you. The service delivers 256-bit AES encryption on all data, DNS leak protection, an automatic kill switch, and a zero-logging policy on all traffic, creating a solid foundation for online privacy and invisibility. Add to that completely unrestricted access to the internet, including a network of over 950 lightning fast servers in 60 different countries, and you've got the perfect recipe for a killer VPN to use with your Xbox One.
As with most VPNs, IPVanish can't install directly to your Xbox system just yet. Your best option is to install it through your router, a process which IPVanish's support pages will walk you through step by step. This will keep all your home devices safe, too, including gaming consoles, smartphones, and other streaming hardware.
Go ahead, give IPVanish a shot with our EXCLUSIVE deal! Sign up today and nab a 60% discount on yearly plans, only $4.87 per month. You can even use the seven day money back guarantee to try risk free before you buy.
2. ExpressVPN – Easiest to Install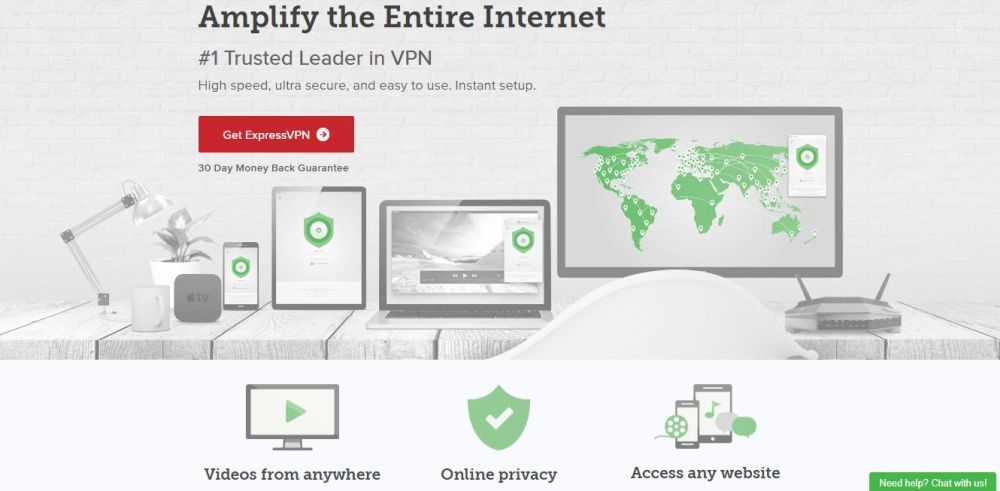 ExpressVPN is fast, friendly, and has one of the best installation processes for protecting your Xbox One traffic. The service provides 256-bit AES encryption on all data, a zero-logging policy that covers traffic and DNS requests, and both kill switch and DNS leak protection, all features you'll need to stay safe online. You'll also get access to a blazing fast server network with over 140 locations in 94 different countries, all of which help keep your streams and online games running smoothly. No lag with ExpressVPN!
ExpressVPN is one of the few major VPN providers that offers router-based installs and a direct DNS-based connection method for consoles. All you have to do is sign up for a free Dynu account, set up ExpressVPN to use the new hostname, then configure your Xbox to use this connection as a proxy. ExpressVPN guides you through the entire process, and it's much easier than you might think!
Hungry for a fast VPN? Take advantage of our EXCLUSIVE deal today! Sign up for a year with ExpressVPN at $6.67 per month and get 3 months for FREE! There's also an easy 30 day money back guarantee, just in case you're not completely satisfied.
Pros
SPECIAL OFFER: 3 months free (49% off - link below)
Fast serves with minimal speed loss
Very simple and easy to use
Strict no-logs policy for personal information
Great customer service via chat.
Cons
Month-to-month plan has high cost.
How to Install Kodi on Xbox One
The Xbox One's default media player leaves a lot to be desired. Improvements have rolled out slowly over the years, but when it comes to raw features and customization, you can't beat Kodi. Follow the steps below to install it to your Xbox system. Don't worry, it's free!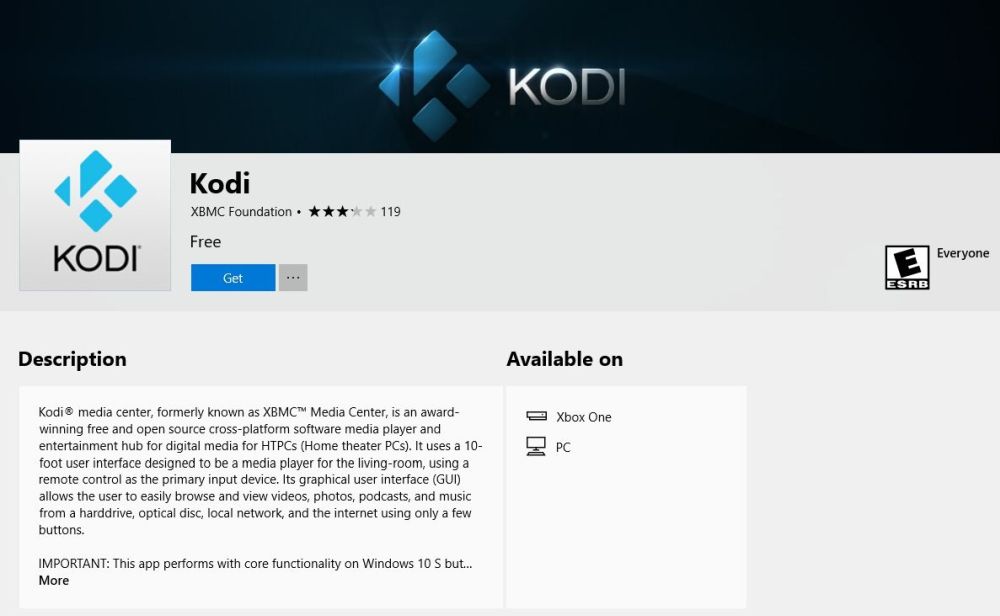 Turn on your Xbox One and make sure it's connected to your home network.
Open the store app from the console's main screen.
Go to the search box at the top and type in "kodi", without the quotes.
The official Kodi download should show up at the top of the results. Open it.
In the app info screen you'll see a button labeled "Get". Click it and the install will begin.
Once Kodi is installed, you can access it from the console's apps menu.
How to Update Kodi on Xbox One
Keeping software up to date is incredibly important, especially when it's under active development. Updating Kodi can give you access to new features, stability fixes, and better security. It also means you'll get higher versions at a faster rate, including the highly anticipated Kodi 18 "Leia".
If you haven't turned off automatic updates, the Xbox One console will check for new content while idle, then notify you an updated version is available as soon as you launch the app in question. If a Kodi update was released, you'll have the option to download it right away. If this doesn't happen, you can always manually check for new versions by navigating to My Games & Apps > Updates.
How to Uninstall Kodi on Xbox One
If you're running out of space and need to get rid of some content, Xbox lets you uninstall games and apps in just a few steps. Kodi itself doesn't take up much space on your system, but if you need to uninstall it, just follow the guide below.
From the Xbox One Home screen, select My Games & Apps.
Search for Kodi on the list. Filter or sort the content if necessary.
Highlight the Kodi app, then press the menu button on your controller.
Choose "Manage app", then "Uninstall". Kodi will be removed from your system right away.
What Can You Do with Kodi on Xbox?
Kodi started its life as XBMC, or the Xbox Media Center. The software was designed to transform the original Xbox console into a media powerhouse, allowing it to play and organize your entire video collection with ease. Kodi eventually took on a life of its own, but it's fitting that it can finally enjoy a space on the modern Xbox One system. Below are a few of the more popular uses for Kodi on Xbox.
Use a Better Media Player
Kodi is built to play every type of media imaginable, from music to movies to live TV. There's nothing you can throw at it the software can't handle, and it does so without stuttering or crashing, too. Kodi's controls have been designed to work well with all sorts of alternative input methods: touch screens, remote controls, gamepads, and everything in-between. It's a fantastic replacement for the console's default media player. Once you get used to Kodi, you'll have a hard time going back.
Install Add-ons
Kodi's add-on community is another reason why the media center software is so popular. Each download comes with the official Kodi repo pre-installed. This gives you access to dozens of free and legal streams, everything from movies to TV shows to webcam content. There's also an enormous ecosystem of unofficial add-ons that extend Kodi's functionality to include movie streams, live TV channels, classic films, and much, much more.
Stream Live TV
Xbox One offers a handful of live streams, but with Kodi, you can watch so much more. Install the right add-ons and you'll be able to view broadcast content from around the world. Want to catch new TV episodes as they air? How about keeping tabs on local events from outside your home town? Kodi makes it possible, and it works like a dream on your Xbox console, too.
Watch Sports
Getting access to reliable, high quality sports streams is never easy. Kodi bridges the gap quite well with a host of free sports streaming services that pull in content from around the web. You can catch live soccer, basketball, baseball, hockey, tennis, golf, recent football matches, archived highlights, interviews, and just about anything else you can imagine.
How to Install Add-ons to Kodi on Xbox
Another benefit of joining the Kodi community is enjoying a unified interface that doesn't change between systems. The app runs on dozens of different hardware configurations, even smartphones, Fire TV Sticks, and PCs. Normally this would mean a different layout for each screen and control scheme, but Kodi ditches that in favor of a single universal design. Any time you see instructions for installing Kodi add-ons, you can use them on your Xbox One, no problem.
Kodi Add-on Install Process
Once you install Kodi on your Xbox, a world of content is suddenly at your disposal. The options are staggering, so much so that you may feel a little lost and confused at first. Don't worry, though, after a few installs you'll get the hang of it! Kodi's content is free and easy to use, so there's no harm in adding something you won't need. Follow the steps below to install an add-on to enrich your Kodi experience.
Find an add-on you want to install along with the associated repository URL. It's best to do this on a PC. You can start with our Kodi category for a few great suggestions.
On your Xbox One, run Kodi, then navigate to Gear Icon > System Settings > Add-ons
Toggle the slider next to the "Unknown sources" option.
Go back to the System menu, then head to File Manager > Add Source
Type the URL of the add-on repository, create a custom name, then select "OK".
Go back to the Kodi main menu and select "Add-ons".
Click the open box icon at the top of the menu bar and choose "Install from Zip File".
Select the repository you just added. Once it installs, choose the "Install from repository" menu option.
Navigate to your add-on and install it.
After a moment, the add-on will be made available through Kodi's main add-ons menu.
Compatibility Notes
The Kodi development team has stated that all add-ons won't be immediately compatible with the software on Xbox One. This has to do with the porting process and will likely be remedied as time goes by. If you encounter an add-on that won't launch or won't stream, chances are it's having trouble accessing necessary files on the Xbox. Your only option is to use an alternative add-on or wait for a compatibility fix to be released.
Are Kodi Add-ons Safe to Use?
The short answer is yes, the longer is yes, probably. Kodi's add-on community has a bit of an undeserved reputation for being full of pirated content and angry developers looking to take advantage of unsuspecting streamers. The truth of the matter is you rarely encounter problems when using add-ons. The biggest danger is a stream won't load. This doesn't mean you won't encounter malicious code, though, which is why taking a few basic precautions is an extremely good idea.
The best defense against bad add-ons is to stick with reliable repositories. Anything from Kodi's official repo (included with the app) is guaranteed to be safe. Other content is riskier, but if you pick repos that are popular and well-maintained, they're more likely to be clean. It's also a smart move to use a VPN while streaming on Kodi, even on an Xbox One. We've provided two recommended services above, both of which are great places to start.
Conclusion
It took a few years to properly materialize, but now that Kodi is available on Xbox One, it's easy to transform your console into an incredibly powerful media streaming machine. Blockbuster movies, TV series, anime, foreign films, live sports, you name it, Kodi has it. Once you find the right add-ons and protect your connection with a good VPN, you're free to explore a world of content.