We are reader supported and may earn a commission when you buy through links on our site.
Learn more
UFC 218 on Kodi: How to Live Stream the Max Holloway v Jose Aldo Fight
UFC 218: Holloway vs. Aldo 2 is on its way. The Ultimate Fighting Championship bout is scheduled for December 2, 2017 in Detroit and pits current UFC Featherweight Champion Max Holloway against former WEC Featherweight Champion Jose Aldo. The fighters previously met in UFC 212 with Holloway taking the win, so Aldo is looking to set things even with a stunning upset in UFC 218.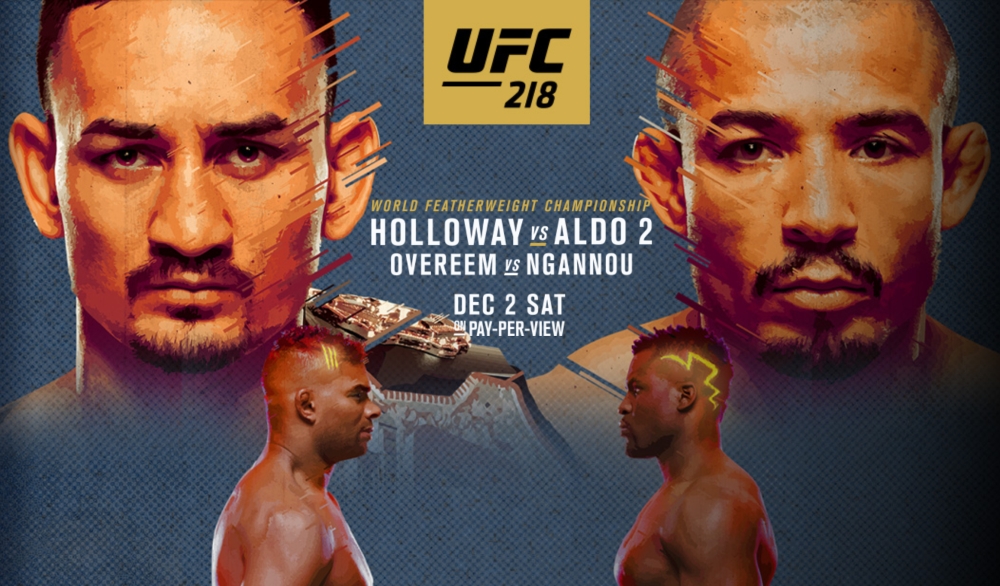 Getting worldwide access to UFC fights is always a hot topic, especially when big matches like Holloway vs. Aldo 2 are on the schedule. There are a few online resources that can help you stream via pay per view or even for free, but the best way to catch the bout is to download the free, open-source media center Kodi and install a few choice add-ons. We've collected all the best ways to watch UFC 218 online and on Kodi so you can be ready to go when the fight begins!
30-days money back guarantee
UFC 218 – What You Should Know
UFC has emerged as the premier mixed martial arts tournament that pits some of the world's most talented athletes against each other. Fighters come from a wide variety of backgrounds, everything from aikido and muay thai experts to high-ranking jiu-jitsu belts and professional wrestlers and boxers. The one-on-one bouts take place approximately once a month with smaller Fight Night events held between numbered tournament matches.
UFC 218 takes place December 2, 2017 at 10 PM EDT (UTC-5) at the Little Caesars Arena in Detroit, Michigan. Tickets are still on sale at the time of writing and start at $75 per person. Pay per view matches via cable subscriptions or digital marketplaces range in price but are generally around 50 USD.
The UFC 218 Fight Card
UFC Fight Pass preliminary card matches pull in four sets of fighters ranging from women's strawweight to heavyweight contenders. Cooper vs. Magaña starts things off, followed by welterweights Alhassan vs. Homasi, heavyweights Willis vs. Crowder, and light heavyweights Jeremy Kimball vs. Dominick Reyes.
The Fox Sports 1 preliminary card matches include women's strawweights Herrig vs. Casey, lightweight Teymur vs. Klose, and welterweight Oliveira vs. Medeiros. The final bout between Al "Raging" Laquinta and Paul "The Irish Dragon" Felder could prove one of the more interesting fights, as these two athletes are closely matched in both skill and experience.
The main card pulls in some of the more popular fighters in UFC, starting with strawweight Torres vs. Waterson and moving up the weight list to Alvarez vs. Gaethje, Cejudo vs. Pettis, and Overeem vs. Ngannou. The title match between Holloway and Aldo will be the last fight of the evening, and it's shaping up to be an incredible event you won't want to miss.
UFC's Background
The Ultimate Fighting Championship dates back to 1993. It was initially conceived as a way to test forms of martial arts against each other in one-on-one bouts. Boxers took on tae kwan do masters, wrestlers faced off against kickboxers, there was even a sumo wrestler tasked with fighting an experienced mixed martial arts athlete! The event slowly morphed from a style vs. style showcase to the popular fighting event we see today. Modern UFC is based out of Las Vegas, Nevada but broadcasts bouts around the world.
Stay Safe While Streaming with a Good VPN
Kodi itself is safe, easy to use, and completely free. Many of the add-ons you can install bend those rules a little bit, however. This has brought increased scrutiny to the entire Kodi community. Even casual streamers may find their internet connections throttled just by watching a movie or live event on Kodi!
ISPs love to monitor your online activity and can even sell collected data to third parties. To keep your activities private and safe, you need a good VPN. VPNs create a private tunnel between you and the internet by encrypting every packet of data that leaves your device. No one can tell what you're watching or who you are, allowing you complete freedom and anonymity.
Choosing the best VPN is no small task, however. We've simplified the process by providing a recommended service below.
The Best VPN for Kodi – IPVanish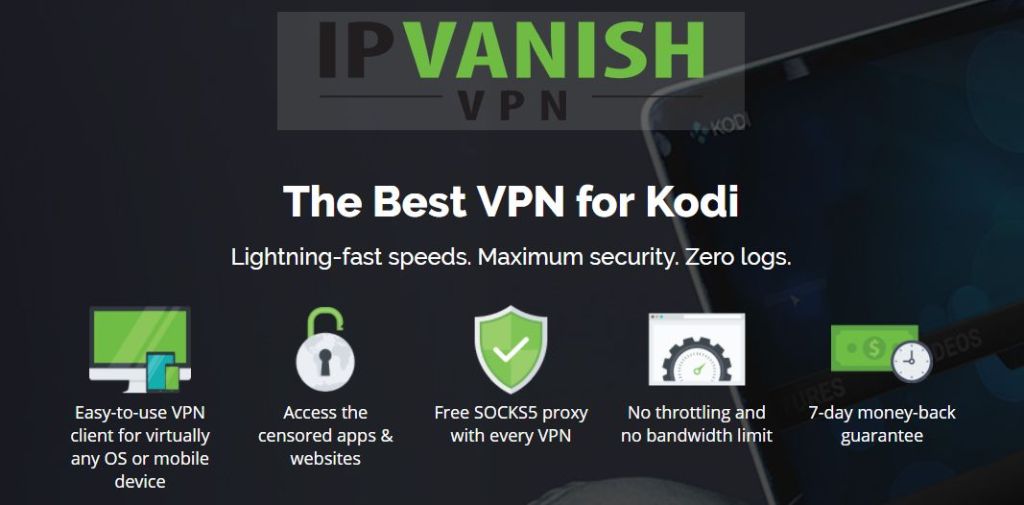 After weighing all the pros and cons of some of the most reliable VPNs around, IPVanish emerged as the best choice for Kodi users. The service achieves the right balance between speed and security, never letting one take priority over the other. With IPVanish you'll have access to over 850 servers in 60 different countries, all of which are blazing fast. Your data will be protected by tough 256-bit AES encryption, DNS leak protection, an automatic kill switch, and a zero-logging policy on all traffic. No matter where you go or what you watch, IPVanish gives you the best and most private Kodi experience possible.
IPVanish offers a 7-day money back guarantee which means you have a week to test it risk-free. Please note that Addictive Tips readers can save a massive 60% here on the IPVanish annual plan, taking the monthly price down to only $4.87/mo.
Our favorite IPVanish features include:
Unrestricted access to Kodi add-ons with no speed caps or bandwidth limitations.
Anonymous torrent and P2P downloads without restrictions.
Easy to use apps for Windows, Mac, Linux, Android, and iOS.
Configurable encryption options for better security.
How to Watch UFC 218 on Kodi
Kodi is one of the best ways to stream live sports from the comfort of your own home. The software is free to use, runs on a wide range of devices, and is easy to set up and configure. You'll need to install the right add-ons to watch most sports content, however, especially live UFC matches. Add-ons are incredibly simple to download, all you have to do is follow our guides and you'll be streaming in no time.
Before you can install add-ons, there's one quick setting you need to toggle. This lets Kodi access external sources so it can download and manage repository URLs for you.
Open Kodi and click on the gear icon to enter the System menu.
Go to System Settings > Add-ons.
Toggle the slider next to the Unknown sources option.
Accept the warning message that pops up.
Note: Some of Kodi's add-ons may link to pirated sources or otherwise illegally obtained content. AddictiveTips does not condone or encourage any violation of copyright restrictions. Please consider the law, victims, and risks of piracy before accessing copyrighted material without permission.
Watch UFC 218 on SportsDevil
Ask any Kodi user which sports add-on is the best, and most of them will say SportsDevil without hesitation. This incredibly straightforward extension comes with dozens of live sports streams that are ready to go. Watch soccer matches, NFL games, NBA playoffs, even things like golf, hockey, and tennis!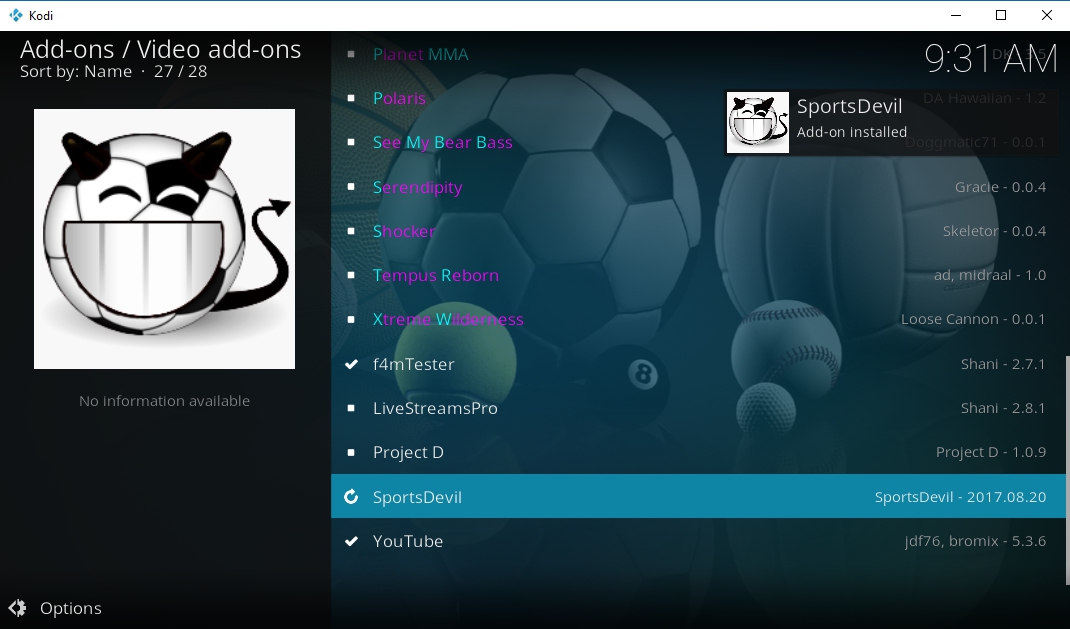 Installing SportsDevil
Like most Kodi add-ons, SportsDevil is included with several repositories to make it easier to keep up to date. Installing it means first grabbing the repo, adding it to your system, then entering the repository file and searching for SportsDevil. The entire process won't take more than a few minutes to complete. We've outlined the entire process below to make it as easy as possible.
How to install SportsDevil through the Looking Glass repo:
Open your web browser and visit the Looking Glass repository page.
Download the zip file named repository.lookingglass.zip
Save the file somewhere easy to access, like your desktop.
Open Kodi, navigate to the main menu and choose Add-ons.
Click the open box icon at the top.
Choose Install from Zip File.
Locate the file you downloaded and install it to your system.
Return to the add-ons menu and choose the open box icon again.
This time, choose Install from Repository.
Scroll to Looking Glass.
Enter the Video add-ons folder.
Find SportsDevil near the bottom.
Click the Install button.
After a few moments the add-on will be available!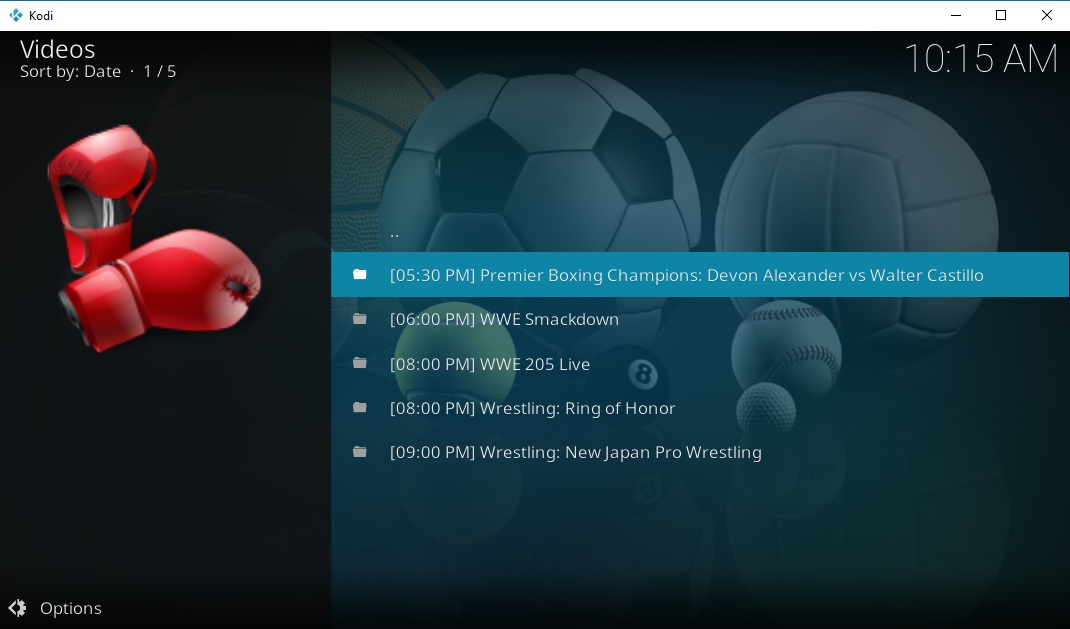 Using SportsDevil to Watch UFC 218
With SportsDevil installed, you're ready to browse some streams. Everything is organized by streaming source, then sports category, so you may have to do a little surfing to find the content you want. You also won't be able to find streams until the event kicks off, which can be something of a gamble.
For live UFC matches, look for folders centered around boxing, MMA, or wrestling content. Some sources even have dedicated UFC channels to watch, but that's not always the case. SportsDevil also has Live TV and Sports TV options that broadcast channels from around the world. Some of these may show the prelims or even the title card, but your best bet is the Live Sports section. Below are a few of the most reliable links to MMA type content. On game day, go into the Live Sports folder and check the following sources first.
Dimsports.eu – Has a dedicated folder with UFC, WWE, and boxing stream sources.
FirstRowSports.eu – Includes boxing, UFC, and WWE streams in one large category.
SportStream365 – Hosts both boxing and UFC streams.
LiveTV.ru – Has an excellent "now playing" section with worldwide broadcasts.
DON'T FORGET
: Use a VPN when streaming through Kodi. IPVanish gives our readers 
an exclusive discount of 60%
 and you'll only pay $4.87 a month to keep your browsing safe and private.
Watch UFC 218 with the FTFA Add-on
Something of a newcomer on the Kodi scene, FTFA is a multi-purpose streaming resource that pulls together everything from HD movies and TV shows to cartoons, classic films, old TV series, and a lot more. One of the service's big features sports fans will appreciate is a dedicated Live PPV section that will likely broadcast UFC 218 as it airs.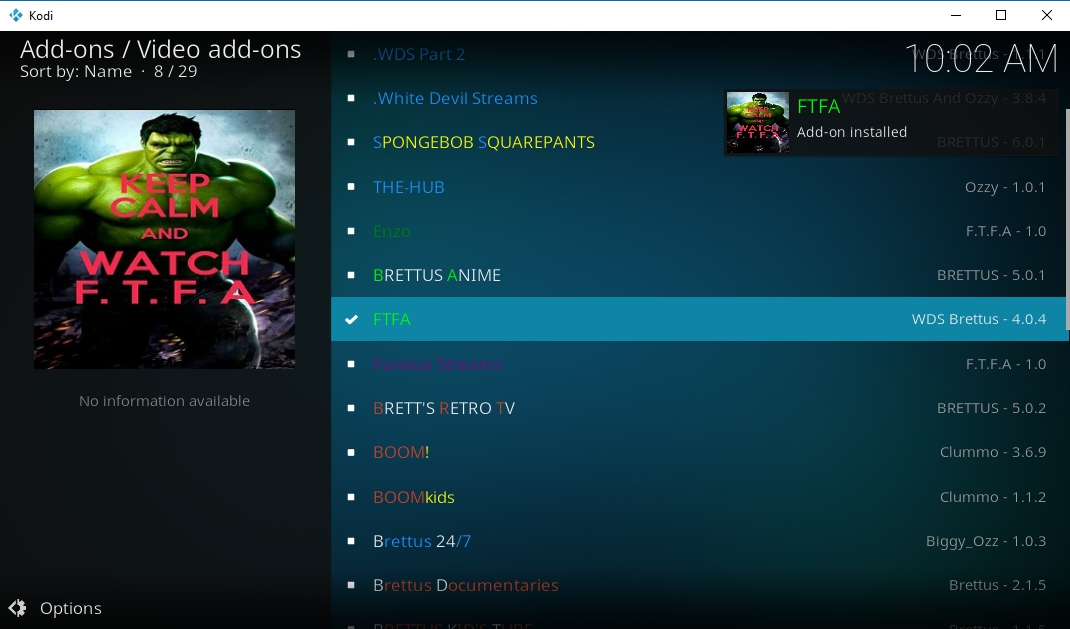 Installing FTFA
FTFA is available through the Brettus Repository. Installing it is a little more involved than some repos, as it's contained in a larger collection of add-on files you'll need to navigate through. We've outlined the necessary steps below. Follow them and you'll have FTFA set up in a jiffy.
How to install FTFA through the Brettus Repository:
Open Kodi on your device and click on the gear icon.
Go to File Manager > Add Source.
Add the following URL exactly as it appears: https://toptutorialsrepo.co.uk/kodi/Repos/
Enter an easy to remember name, such as .toptuts
Click OK. Kodi will add the repo to your sources list.
Go back to the main menu and select Add-ons.
Click the open box icon at the top of the menu bar.
Choose Install from Zip File, then select the repo you just added.
Scroll down and find the file named repository.Brettusrepo-#.#.zip
Install the repo, then go back to the open box menu.
Choose Install from Repository.
Select the entry named Brettus Builds Repository.
Navigate to Video add-ons.
Look for the FTFA add-on in the list and install it.
After a moment the add-on will be available to use.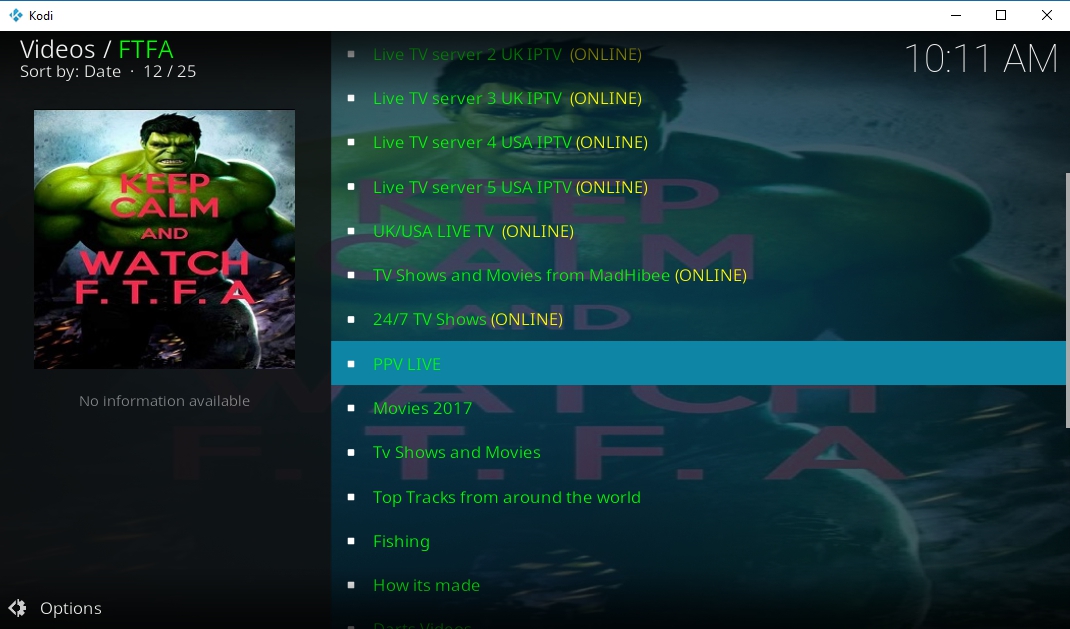 Using FTFA to Watch UFC 218
Now that you've got the repository and add-on installed, you're ready to stream. FTFA includes a ton of different resources for watching movies, TV shows, broadcast channels from the U.S. and UK, and everything in-between. You can catch some live sports content on the live TV servers, but for the main UFC releases, check the PPV Live folder. When UFC 218 begins you'll be able to find links to any available streams listed in this category.
Ways You Can Watch UFC 218 Online
UFC events used to be restricted to pay per view services that went through your cable TV provider. Now that a wider variety of marketplaces exists on different platforms, it's much easier to gain access to UFC matches on your PC, smartphone, or gaming console. Prices are generally the same across devices, too, so you can pick your favorite one and settle in for a good fight.
Method 1 – Pay Per View from a Cable Provider
Most major cable TV providers offer pay per view events you can purchase through their website or via a dedicated PPV channel. UFC 218 has an official list of cable companies offering access to the upcoming fight, including DirecTV, AT&T, VerizonFiOS, Comcast, Dish Network, Cox, Rogers, and more. This is by far the easiest way to watch UFC 218, as it just takes a couple of clicks to purchase and have things ready for the big night.
Method 2 – Set Top TV Boxes
If cable isn't your thing, a number of digital content providers will let you buy UFC 18 for a small fee. You may need to download a dedicated UFC app to access the content, but otherwise it's a quick and simple process. Supported markets include the Xbox Live Marketplace, Amazon Fire TV, Apple TV, Roku, and Samsung Apps.
Method 3 – Watch online in your browser
Two quick options are available to get UFC 218 in your web browser: UFC Fight Pass and UFC TV. Both are official products that are safe and easy to use, and they work with any computer or operating system, including laptops.
Method 4 – Watch on Android Devices
UFC operates an official app on Google Play. It's compatible with both Android smartphones and tablets and allows you to keep track of UFC news and MMA events along with exclusive videos, interviews, and live streams. Pay per view matches are just a few taps away, as well, and you can even set up alerts to catch breaking news.
Method 5 – Search the UFC Website
The official website for UFC 218 has a few more options for catching the fight live, including an exhaustive list of cable and app providers. You can also buy tickets to see the event in person or browse bars in your area that are showing the match.
Conclusion
Are you ready for UFC 218? Holloway vs. Aldo 2 is shaping up to be an important fight. Even the preliminary cards feature some heavy hitters and bitter rivalries! No matter which platform you favor or who your top fighters are, UFC 218 is going to be a blast. If you know of any other tips or tricks for watching the match as it airs, let us know in the comments below!