We are reader supported and may earn a commission when you buy through links on our site.
Learn more
Maverick Kodi Add-on: Is Maverick Legal and Safe? How to Install?
Maverick TV is one of the most popular add-ons for Kodi, used for streaming TV shows, movies, sports, and lots more. You may know that the Kodi software itself is free, open source, and totally legal to use, but add-ons like Maverick are created by third-party developers and are not supported officially by Kodi. So is it safe for you to use Maverick? Is the add-on legal? These are the issues we're going to cover today.
We'll describe the legal issues around Maverick and how you can use the add-on safely. Then we'll show you how to install and use the add-on. Read on to find out more!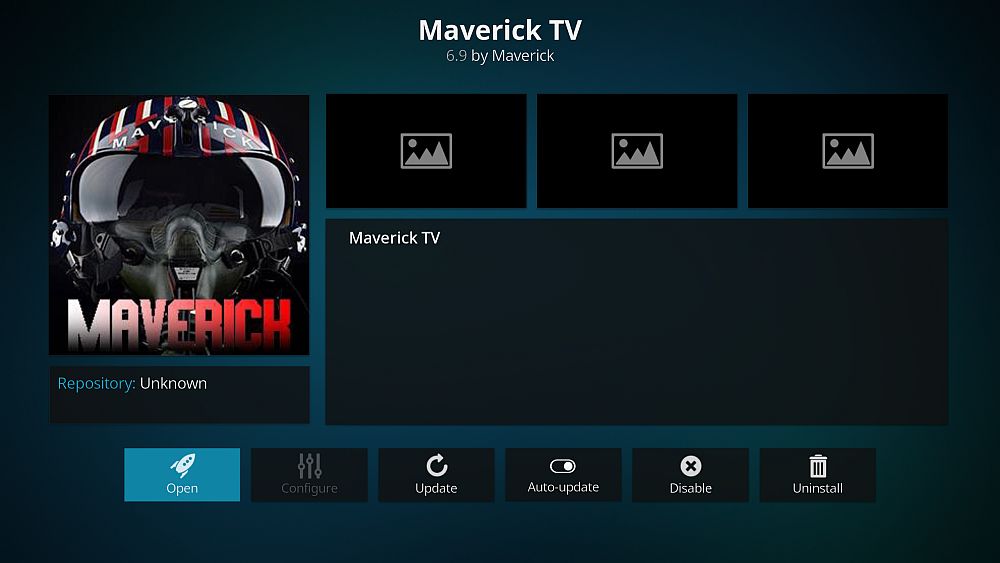 30-days money back guarantee
You Should Consider Getting a VPN for Kodi
Due to this legal risk, if you're going to use streaming add-ons such as Maverick then you need to keep yourself safe. The best way to do this is to install a VPN, which is a piece of software which encrypts all of the data that is sent from your machine over the internet. When packets of encrypted data leave your machine, they head to a server which is run by your VPN provider, where they are decrypted before being sent on their way. The upshot of this encryption is that even if your ISP or law enforcement chooses to look into your internet usage, all they can see is the amount of data you have transferred, not what sites you visited or what content you may have streamed or downloaded.
We hope you can see the value in using a VPN to protect yourself when streaming. But there are so many VPN providers out there. How do you know what to look for in a provider? These are the factors that we consider to be most important when choosing a VPN:
Software available for multiple operating systems
No logging
Plenty of servers in multiple countries
We Recommend IPVanish
With these factors in mind, the VPN provider that we recommend is IPVanish. This service meets all of our requirements with fast connections, strong 256-bit AES encryption, software for PC, Mac, Android, and iOS, a strict no logging policy, and 850 servers in 60 countries.
IPVanish offers a 7-day money back guarantee which means you have a week to test it risk-free. Please note that Addictive Tips readers can save a massive 60% here on the IPVanish annual plan, taking the monthly price down to only $4.87/mo.
Is Maverick Legal?
So here's the big question: is the Maverick add-on legal? The answer to that depends on where you are, as different countries have different laws about accessing copyrighted content. However, in general it is not legal to host copyrighted content and to allow other people to access it. That means that the websites which host content for streaming when they are not the copyright holder are breaking the law in most places.
What about the add-on itself? An important thing to realise is that Maverick doesn't actually host any content, it only provides an interface and links to other sites which host the streams. So this makes its legality even more complicated. Although copyright holders are pushing back against this, currently services like Maverick are usually considered to be link aggregators rather than hosts, so they are not responsible for the legality of the sites they link to. Think about Google – you could use Google to find illegally hosted content, but that wouldn't make the Google website itself illegal.
However, this area of law is still very new and is still developing. You'll find that link aggregating sites are frequently taken down by their hosts, when the hosting company does not want to get in trouble with copyright holders like big record companies or movie studios. The Maverick add-on itself is therefore in a legal grey area in most places.
Could Using Maverick Land Me in Trouble?
What does this mean for users? Could you be breaking the law when you use Maverick? Unfortunately, possibly yes. When you click a link which you find in Maverick, the stream that you see will be pulled from a hosting site. And by streaming that content, you are accessing it illegally.
However, streaming is not the same as downloading. For example, when you download content using torrents, you are simultaneously making that content available for others to download from you. This means that you are essentially 'hosting' content for download, and this can get you in big trouble. But streaming is different. When you stream a file, you access it to view it but you don't save a copy to your hard drive, and you don't make it available for other people to download. Generally, then, streaming is much safer as you cannot be prosecuted for distributing content.
This also depends on where you live, as some countries are stricter than others. Generally, streaming content is not as risky as downloading it. But there have been examples of users from countries like Germany, the UK, or the US who have been prosecuted for streaming. Therefore, using a streaming add-on like Maverick is not without risks.
Once you have a VPN ready, we can move on to installing and using the Maverick add-on.
Installing the Maverick Add-on for Kodi
Just follow these step by step instructions to install the Maverick add-on for Kodi:
Start on your Kodi home screen
Go to settings, then to File Manager
Click on Add source
Click on where it says <None>
Enter in this URL: https://mavericktv.net/mavrepo/ Make sure that you type it exactly, including the https://, or it won't work
Give the source a name. We'll call it mavrepo, then click OK
Wait for a second and the source will be added
Now go back to your Kodi home screen
Go to Add-ons
Now click the icon that looks like a box
Choose Install from zip file
Navigate to mavrepo, then to the file called repository.macerickrepo-1.7.zip
Click this file and wait a second for the zip file to be installed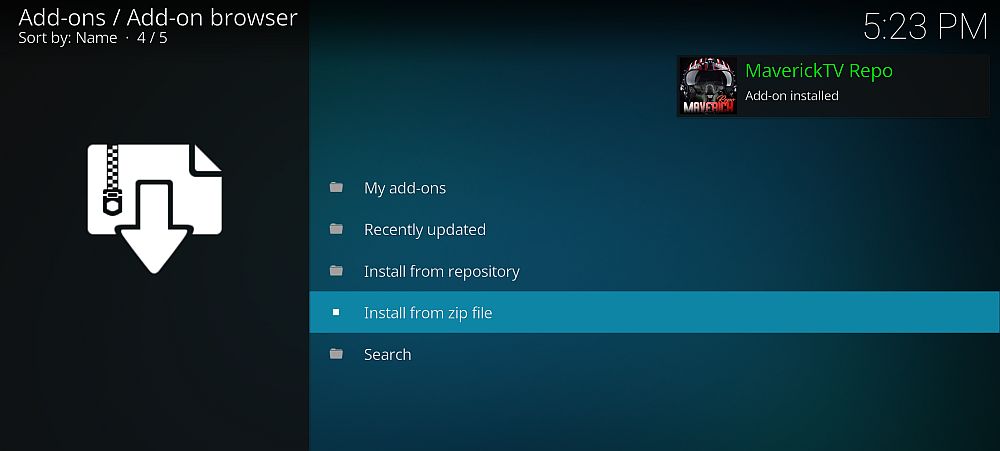 Now go to Install from repository
Click on MaverickTV Repo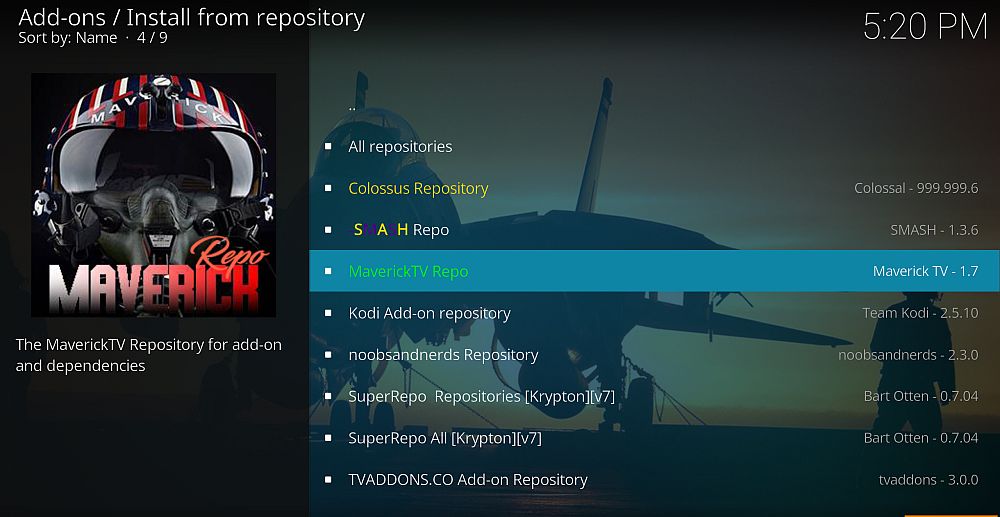 Go to Video add-ons
Click on Maverick TV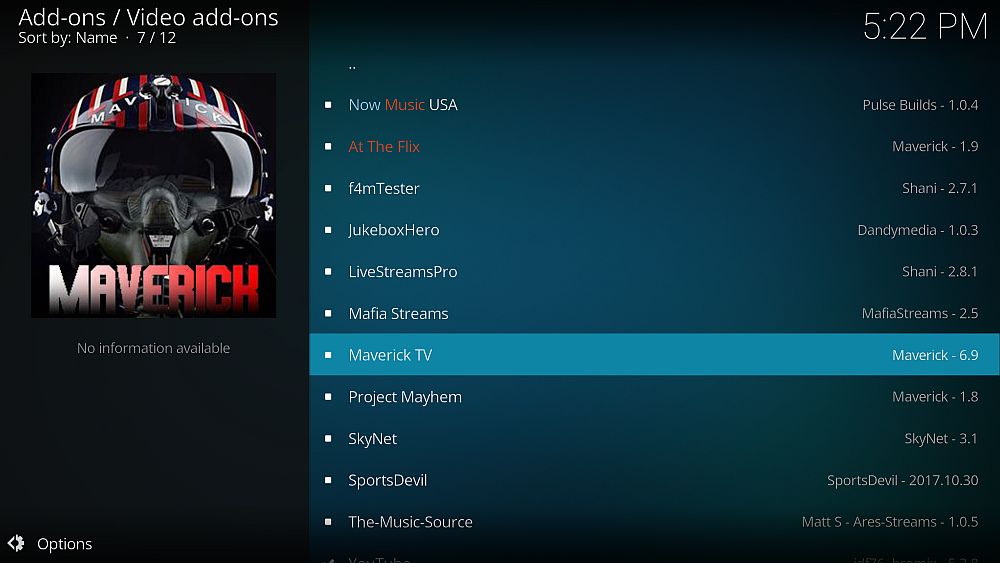 This will bring up a page of information about the add-on. Select Install from the menu at the bottom
Wait for the add-on to download and install. A notification will appear once it's complete
That's it! The add-on is installed and ready to use.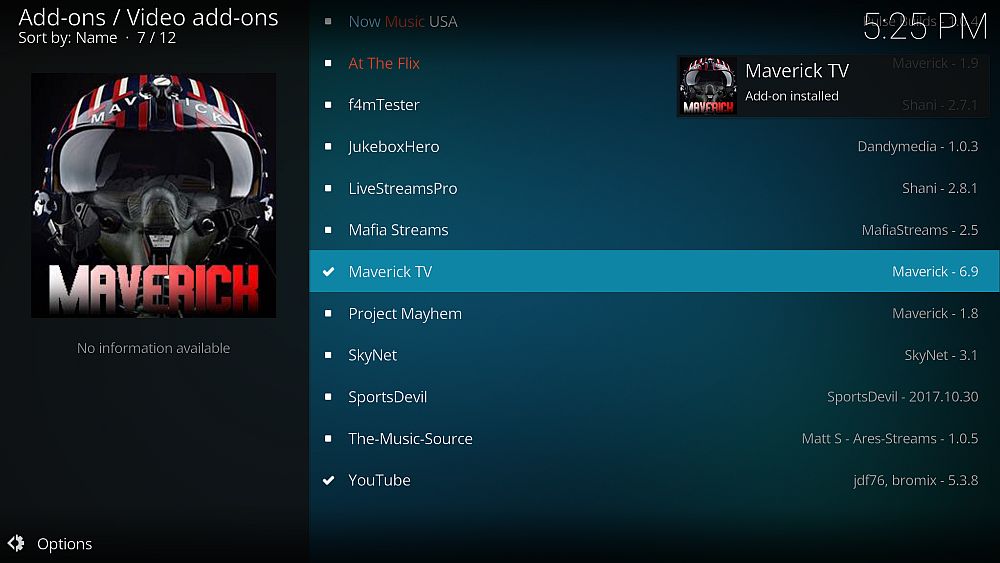 And here's how to open the Maverick TV add-on:
Start on your Kodi home screen
Go to Add-ons
Select Video Add-ons
Find the Maverick TV icon and click it
This opens up the Maverick TV add-on and you can start watching
Using the Maverick Add-on for Kodi
Maverick TV has a huge amount of content. When you first open the add-on, you'll be greeted by a list of the following options: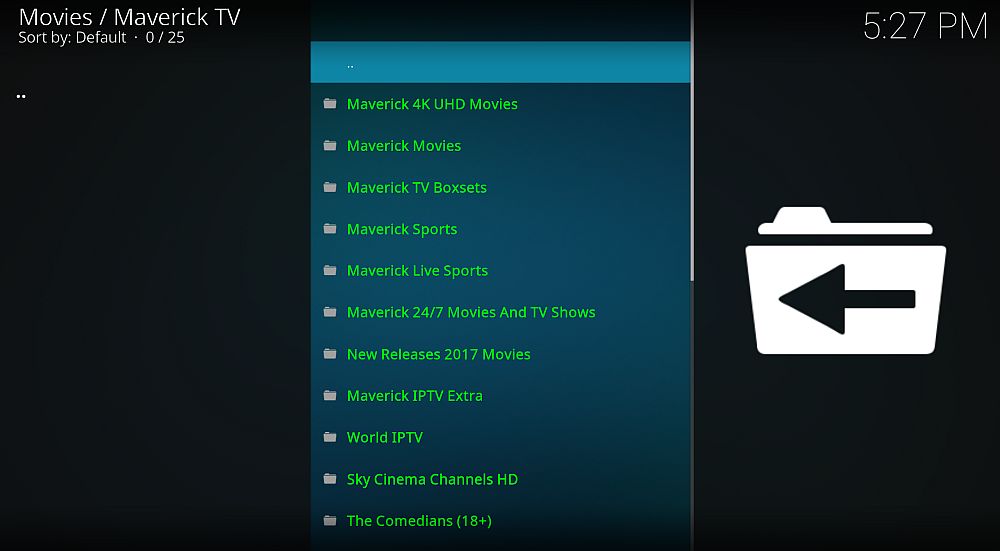 Live Streams
A unique feature of Maverick TV compared to other TV and movie add-ons is its live streams. Firstly, it has live streams from YouTube, like ones from NASA that allow you to watch live telescope feeds of the stars, or nature cams that allow you to watch streams of animals in zoos.
It also has a section called Maverick 24/7 Movies and TV shows, which has a list of many live streams which are very popular with users. These are endless streams of content, arranged by genre. For example, the Maverick Movie 24/7 Action channel is a stream of currently popular action movies. Or you can relive your childhood with a round-the-clock stream of Batman the Animated Series. If you just can't decide what to watch, the live streams can give you some ideas and you can watch along for as long as you like. Generally, you'll find that the quality of the videos in these streams is acceptable but not exceptional.
There is a section called Maverick 24/7 Cable Channels which shows live streams of US cable channels. These are not always the most reliable streams as they can sometimes be slow or laggy, but they are worth checking out if there's a live event or a particular show which you just much watch live.
4K Movies
If you have a big screen, a fast connection, and a love for quality movies, then you absolutely must check out the 4K Movies section of Maverick. This allows you to stream extremely high-definition versions of certain films that look absolutely stunning. The selection of movies available in 4K is based on what has come out in cinemas recently, and which genres look best in high definition, so expect lots of sci-fi, action, and special effects-heavy movies here. It can take some time for each movie to load as it is such a large file, and you'll need a quick connection to avoid endless buffering, but if you can live with this then you can watch movies in gorgeous 4K ultra high definition.
Other Movies
Even if you don't need ultra-HD movies, you'll find tons of other movies to enjoy in Maverick. The Movies section has helpful categories like recent releases or genres, and there's a section for 1080p and 720p movies too, so you can choose other resolutions. There are even specialty sections like HD 3D, or movies from the 40s and 50s. Almost all of the movies are in at least 720p definition, so they look crisp, sharp, and high quality when you stream them.
TV 'Boxsets'
Another unusual feature of Maverick is its TV Boxsets category. These are collections of complete seasons of TV shows in consistently high definition, which you can watch like you would a box set of DVDs. This doesn't cover all shows, but rather focuses on the kind of specific shows that you would want to binge watch. There's a prevalence of British shows in this section, so if you like the kind of TV which is short on budget but big on writing then check this category out.
Sports
There are two sections for sports in Maverick: The Sports section and the Live Sports section. Sports allows you to re-watch recent or classic sporting events, from football to soccer to baseball. Some of these streams will require installing the SportsDevil add-on as well, but Maverick will prompt you and show you how to do this if necessary.
International Channels
Yet another neat features can be found in Maverick's IPTV section. Here you can find live streams of international channels, and British ones in particular. If you love the BBC then you'll find streams for BBC channels here in their own section, as well as an international section with streams from all over Asia and Europe. Some of these require the SportsDevil add-on as well.
Stand-up Comedy
One kind of video entertainment that often gets overlooked by streaming services is stand-up comedy. Not so in Maverick, where there's a whole section for stand-up! The shows are presented in lovely quality, and the selection is clearly chosen by a big comedy fan. Once again there's a bias towards British comedians – and be warned, this section is marked 18+ to indicate some of the foul language and crude humour you can expect – but this is a great place to discover a new comedy favourite.
And Much More!
There are plenty more sections to choose from in Maverick. As well as the categories we mentioned above, you'll also find categories for Documentaries, Music TV, YouTube, Kids' TV, and more.
Conclusion
The Maverick TV add-on is one of the best and most loved Kodi add-ons. However, because it allows you to stream movies, TV shows, sports, and more, all of which are copyrighted, using it can be dangerous. Depending on where you are in the world, using the add-on to stream content can be illegal and could lead to a fine or prosecution.
In order to keep yourself safe when using add-ons such as Maverick TV, we strongly recommend that you get a VPN. With a VPN service active you can be confident that no one can see what web pages or content you are accessing, not even your ISP.
When used with a VPN, the Maverick add-on is a trove of wonderful content that can be hard to find elsewhere. There's a good reason that it's so popular, but remember to be careful when streaming.
Do you use the Maverick TV add-on? How has it been for you? Or is there another add-on which you prefer to use instead? Let us know in the comments below!